Your dining area is most likely personal to you and your family's needs and style. Whether you have an open floor plan to style all together, or an enclosed room, having natural light in your space is important. We have compiled our favorite tips on how to choose the best dining room window treatments for your home in order to create a peaceful and cozy vibe. 
Choosing Dining Room Window Treatments: Where to Start
It's important, when redesigning spaces, to keep in mind the rest of your home. This includes your window treatments, you want to keep a cohesive style. But what about function? What specific natural lighting perks are you trying to keep and which issues are you trying to rid?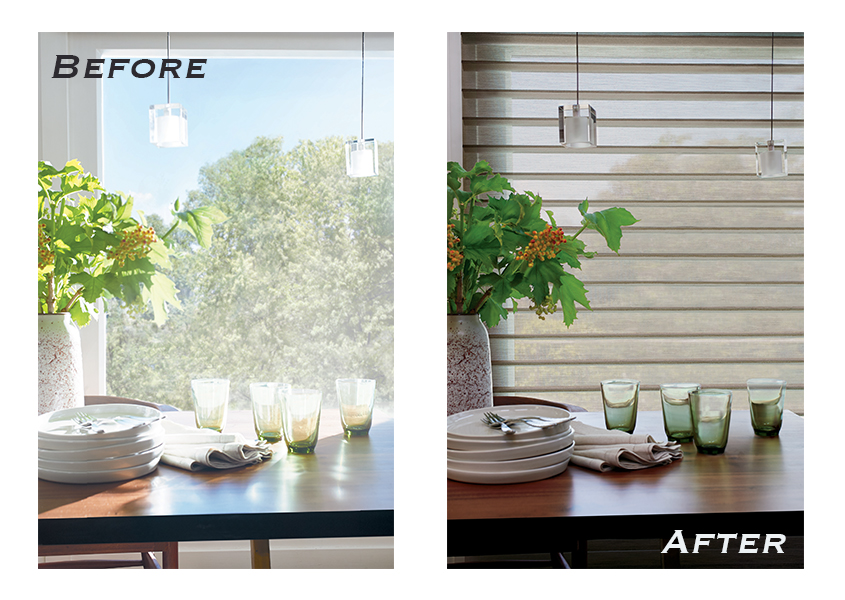 This dining room is showing a common problem that many of us face in certain areas of our homes, "hot spots". When it's at its brightest, that end of the table would never be sat at. By implementing the best dining room window treatments, there is now a whole new feel to the atmosphere because of the softer natural light. 
Some of our favorite solutions for common dining room window issues are…
Windows Are Built In Art
Adding fabrics to a room can completely transform the entire space. In your dining room, one of the best ways to add those transformative textiles is with draperies. Your windows often act as built in art as they showcase your stunning yard. Drapery panels help to frame out that art and pull the whole space together. And if you're looking for more flexible light control, layering your draperies with another window treatment is an excellent route to take.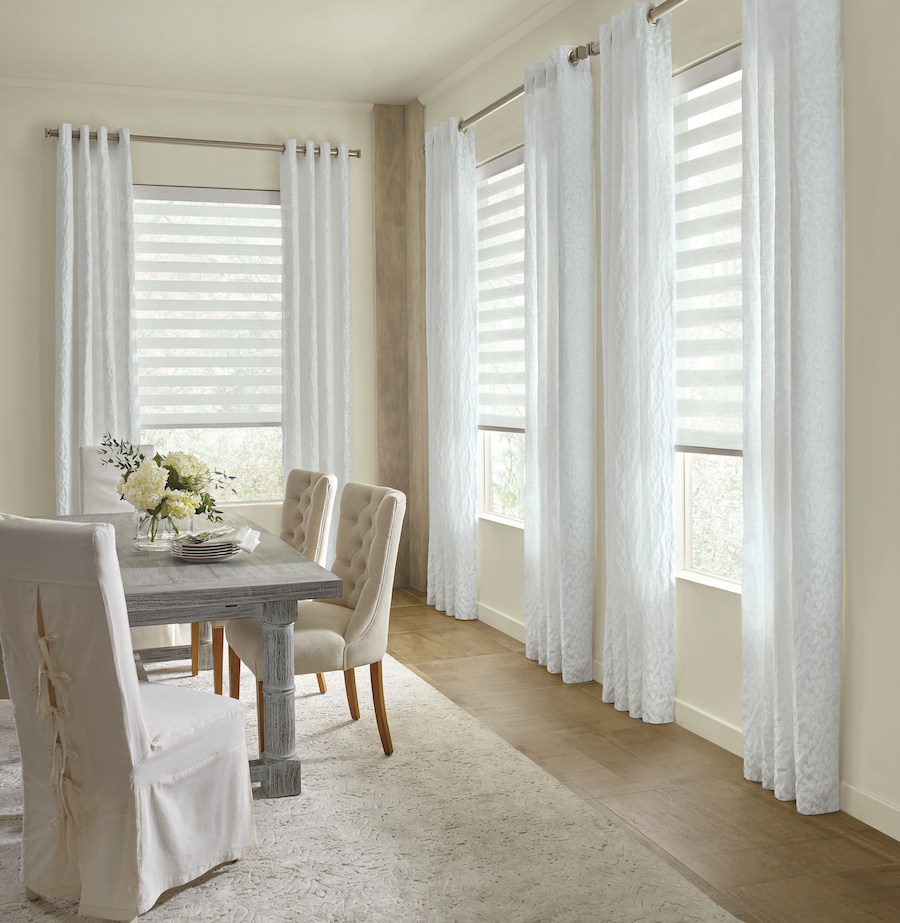 Designer Banded Shades create a base layer that can add additional light control and privacy as well as a view-through shade that allows for a softened light atmosphere.
Diffuse the Natural Lighting
If softening the light was speaking your language, we have even more solutions to introduce you to! Having too bright of a room will make you and your guests have to squint throughout dinner. This is where floor to ceiling windows can seem a little tricky, but oh do we have the solutions for you.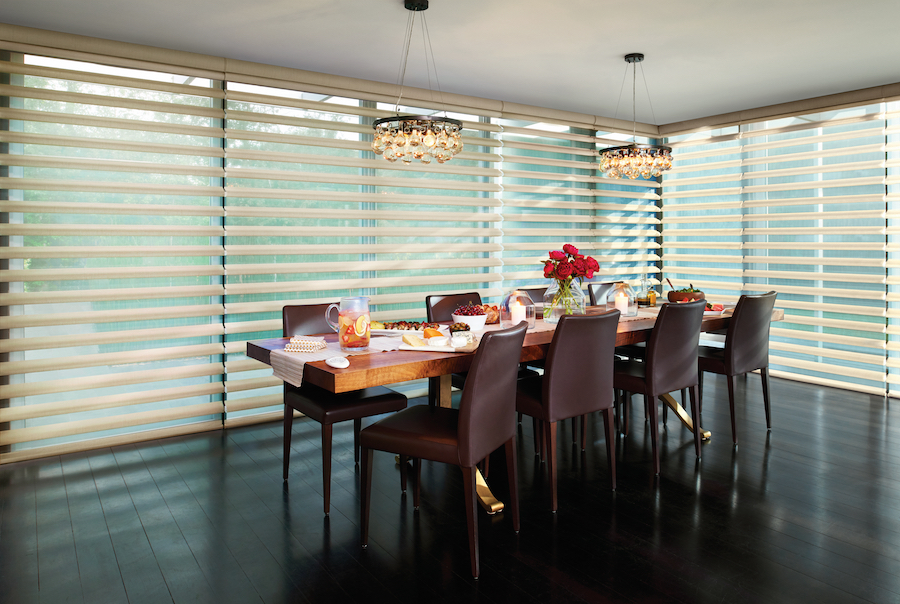 Your dining room window treatments should provide you with all the function and control, as well as style, that you need. Pirouette shades are one of our go-to's when it comes to checking all the window treatment boxes. There is a light filtering sheer fabric that allows for you to still see through to your yard when they are open, and then when you close them you will be met with privacy and light blocking.
Added Privacy & Extra Light Control
Do you live in a neighborhood? If you do, does your dining room face the street? If you're hosting a dinner party and there are always people walking past, it can be a bit distracting. This is where top down bottom up shades come in! They offer complete privacy, while still allowing the natural light to pour in near the ceiling. But, plantation shutters are popular for the dining room, and they have a similar feature!
The "split tilt" technology means you can open just the top portion of the shutter to direct the light toward the ceiling where it won't be right in anyone's eyes, while the bottom portion stays shut for the privacy you want. If you love the look of interior shutters but the function of top down shades, this is the best of both worlds!
Endless Opportunities for Your Dining Room Window Treatments
Window coverings may not be your first thought when it comes to redesigning your home, but they're such an important step! Our team keeps both style and functionality needs in mind when helping you through the entire process from introduction to installation of your window treatments. Contact California Window Fashions today for your FREE consultation.