With just the right amount of natural light in your Roseville area home, you notice an increase in productivity and elevated mood. What about your pets? They benefit from an accessible view and a healthy dose of sunshine, too. In a pet proofing article posted on Houzz, you're taken room-by-room to 'pet proof' your home. With pet safe window coverings, the environment your pets live in will not only be more pet friendly and safe from harm, but your investment in window coverings will stay looking as fresh as the day they were installed.
Long-lasting Durability
Pets live at the windows, don't they? They stand guard. Sniffing. Jumping. Climbing. You need pet safe window coverings that will withstand the high traffic of pets throughout the day. One option that our client with pets love is the contemporary design of Skyline Gliding Panels.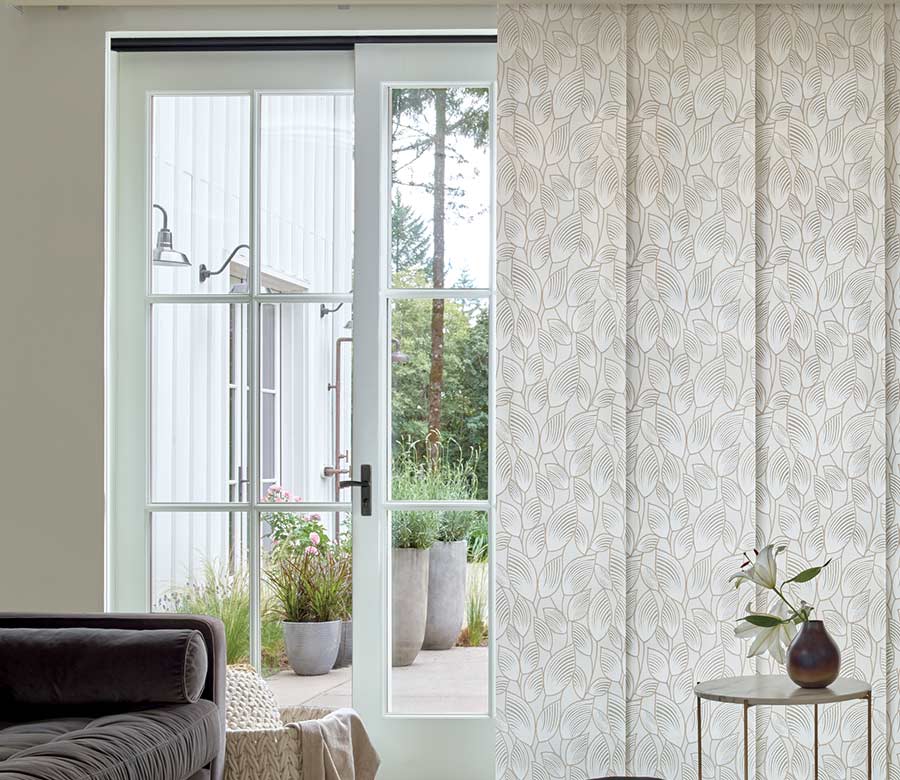 A great solution for sliding glass doors and large windows – both common areas for pets – the function is simplistic and easy for access. The pets themselves can easily push the panels aside for a quick look when they are closed, and the panels slip right back into place like nothing happened! You can ensure privacy and light control, while the pets can stick with their daily routine. It's the best of both worlds.
Cordless & Controlled Cords for Safety
With pet safe window coverings, the safety is affected by the operating system. Pets are naturally curious, and dangling cords, or loose pulls, can be tempting toys to play with. Cordless options are available in both LiteRise and PowerView Automation, as effortless movement places your shades in the adjusted position you need without a second thought.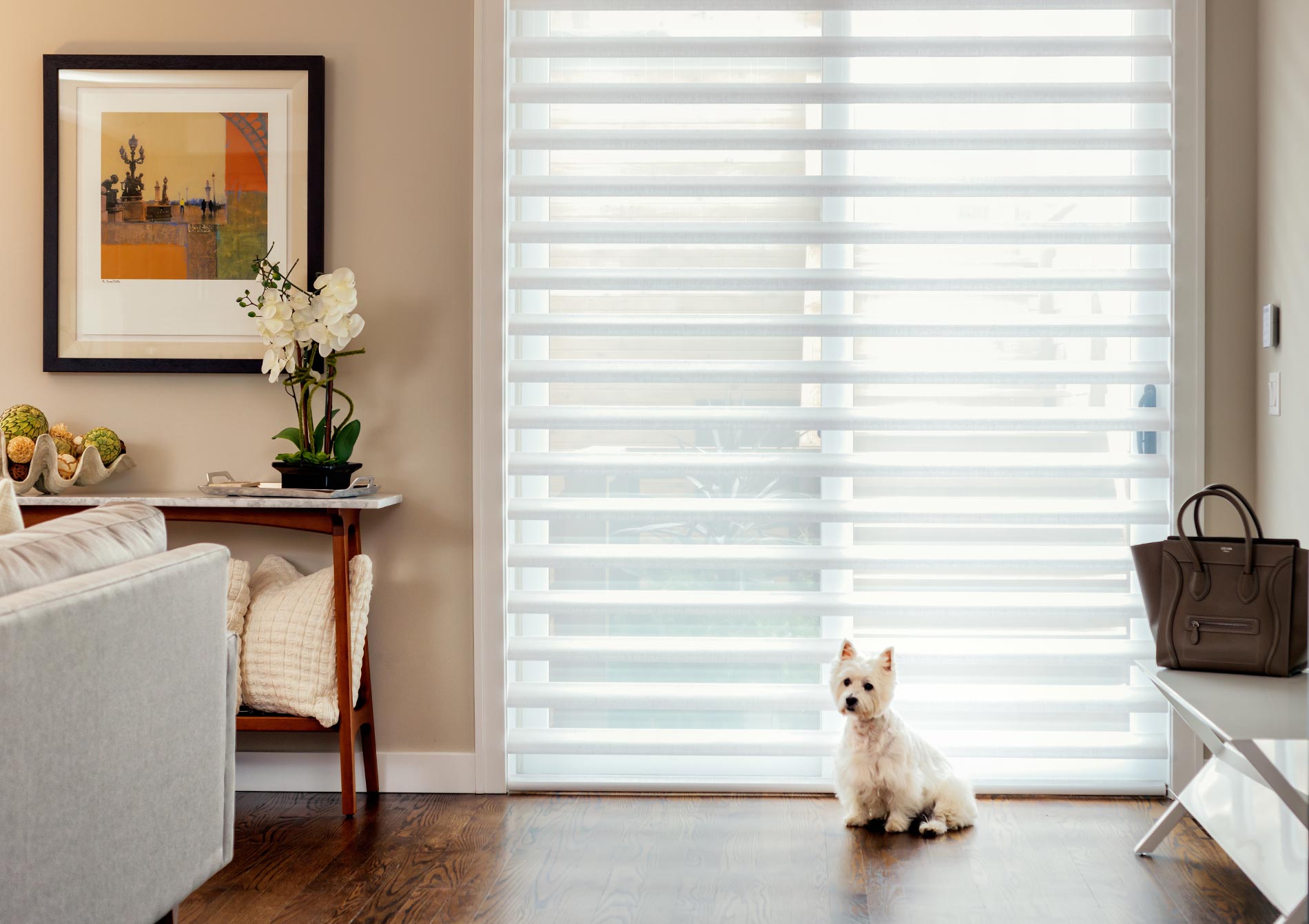 If a cord is needed, cord safety is a reality with Cordlock technology. The retractable cord of UltraGlide is short and out of reach. The continuous cord loop is securely fastened and out of the way. All of these choices work well for pet safe window coverings, like our Pirouette Window Shadings, that offer the versatility of a beautiful view while reducing the glare with sheer fabrics. Your pet will have access to the view – no muss, no fuss.
Speaking of That View…
Some pets just want to camp out in front of the window all day, basking in the sunshine, watching the world go by. Others? The view excites them, and not in a good way; they might be better off with a shield between them and the outside world. Pet safe window coverings are customized to fit you and your pet's specific lifestyle needs.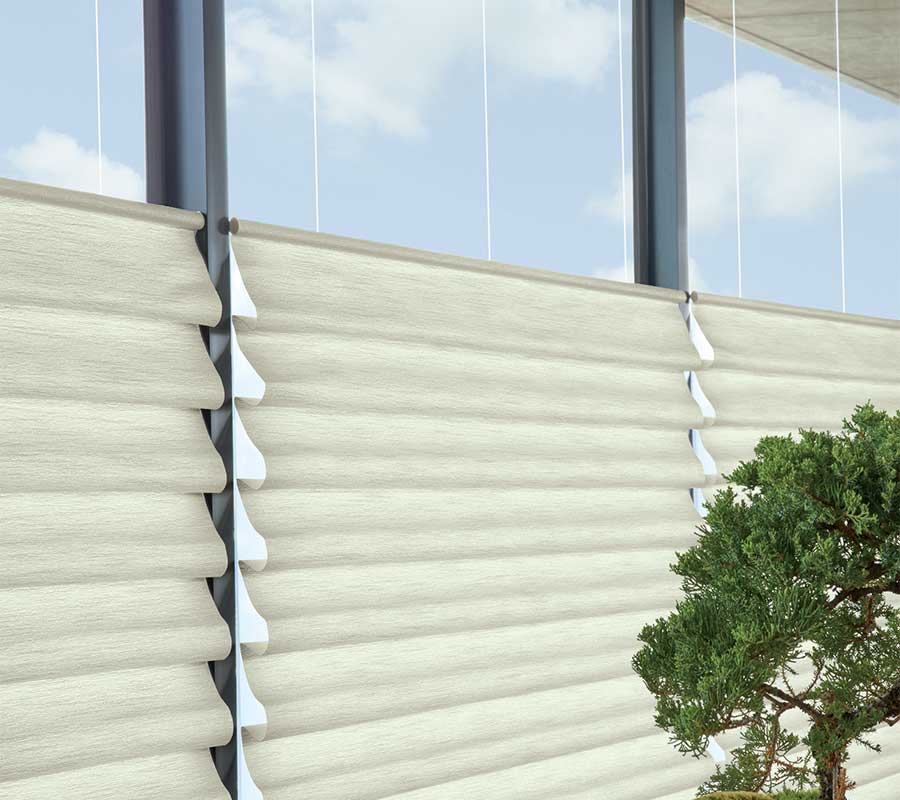 With window shades like Vignette Modern Roman Shades, you can offer your pet a perfect viewing spot, adjusted open so they get a front row seat. Top/down, bottom/up can be perfect for your pets. While it's easy to give them a view, it's also easy to keep them secluded. In that case, allow them an environment with continuous natural light. You can decide what's best for them, without your pets feeling like they are missing out.
Cleanliness: The Ultimate in Pet Proofing.
Pet safe window coverings are also good for you. Our window coverings – many of the fabrics and materials being dust & soil resistant – keep your investment looking fresh for years to come, regardless of traffic.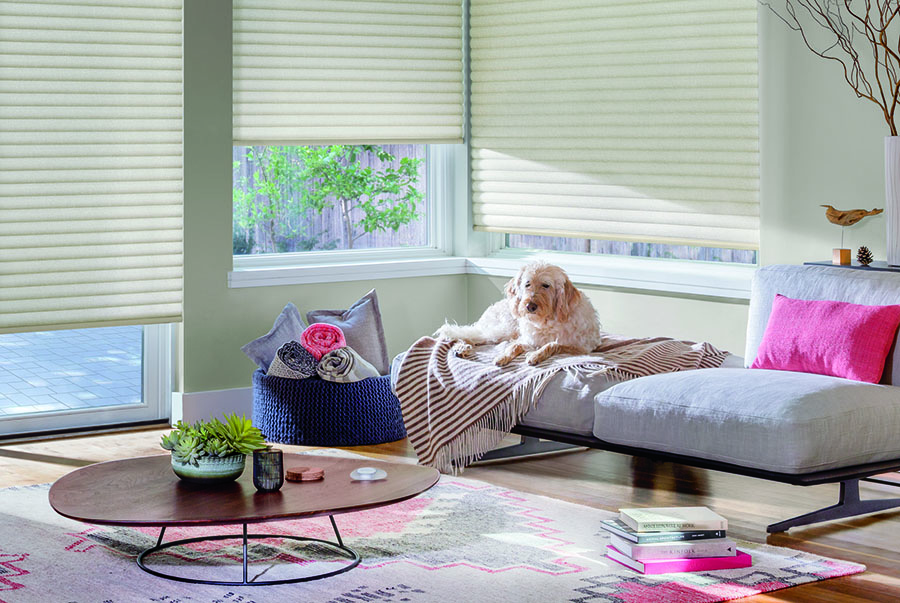 Easy to clean, while not attracting hair and dirt, can be a lifesaver when it comes to your cleaning routine. Not only that, but you don't have to shy away from the organized appearance of cellular shades, like the beauty of Sonnette Cellular Roller Shades. The cells are structured to resist everyday wear and tear, rolling up nicely out of the way when needed.
Pets are members of the family, and their safety is important. With pet safe window coverings, you will have peace of mind. And, your home will have the polished appearance you have always wanted. Our team, at California Window Fashions, will help you choose the features and fabrics that fit your pets in your Roseville area home. Contact us for a free, in-home consultation.