Your dining space is an important room in your home. You spend time with loved ones, make memories with friends, and indulge in yummy meals. What's the atmosphere like? Is there something missing? We have 10 dining room design photos to get you inspired! Here are a few ideas for transforming your dining area.
#1 Popular Lighting
Take a look at the lighting in this dining room design. The lights are enveloped by a glass case, which is then surrounded by a minimal metal frame. We love the industrial flair, and this is one of the most popular styles this year. Choose a metal that will match your dining decor.
#2 Elegant Sophistication
Do you want your dining room design to be tailored, yet comfortable & inviting? This space does it well. The chairs, which have elegant nail detailing, are plush and comfortable. The greenery adds a natural, welcoming touch. And, we can't forget about the incredible style of the grasscloth wall covering.
#3 Contrasting Colors
Contrast is a huge buzzword in the design world, and this dining room design shows us why! The dark blue wall creates a stunning contrast with the black and white photos. The wooden tabletop creates farmhouse appeal, and the greenery adds a pop of color. Lastly, the gorgeous chandelier brings in a modern touch.
#4 The Perfect Backdrop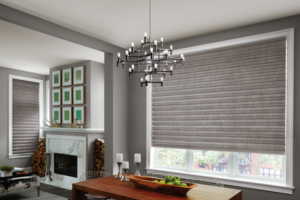 Does your dining area have large windows or doors? They can be beautiful additions, but they also cause glare, bring in too much sunlight, and take control of your home's temperature! Instead of suffering through these issues, incorporate window treatments into your dining room design. They will add immense beauty and give you function.
#5 Accents Galore
Make your dining room design special with accents. Personalize the overall design by choosing accents that show off who you are and what you love! This space is unique with its geometric wallpaper, dark accent wall, and blue decor.
#6 Chic + Simple
Have you ever heard the saying, "less is more?" It certainly holds true in this dining room design. The simplicity of the decor makes this space chic and inviting. The neutrals blend beautifully, while the centerpieces add a pop of color. We especially love the varying heights, which create dimension.
#7 Classic Style meets Modern Design
This dining room design features classic elements, like wallpaper and gold accents. But, the modern twist makes this space anything but traditional. The geometric styling and hue of gold give this space a contemporary appeal while incorporating design favorites!
#8 Black & White
Elegant, traditional, and always in style–black and white is a classic choice for dining room design. You can't go wrong with this color combination, and it's so easy to work with! Mix and match your favorite patterns to create a unique black & white design.
#9 Fresh Bouquets
Fresh, seasonal flowers are always a great addition to your home. Take your dining room design to the next level by incorporating multiple vases. Add life and character to your space with your favorite fresh flowers. You'll enhance your mood and design!
#10 Be Bold!
Don't be afraid to show off your personality in your design. Is neutral not your style? Go bold! Incorporate your favorite colors and elements. We love the eclectic feel of this space, especially that bright ceiling! Let your design style shine.
Get Started on Your Dining Room Design
Do you love neutrals? Eclectic decor? Something simple and elegant? Let your dining room design speak for you! Incorporate all of the elements you love to create the perfect place for gathering with friends and family. We'd love to help. We'll show you how to enhance your environment and add incredible beauty. Contact our team at California Window Fashions to get started!