Metallics have enduring fame in the home design style scene. And the classic, sophisticated favorite is definitely gold. If you're wondering how to mix it into your own home and personal style, your first question might be, "What goes with gold?" Our design experts have the answer and the inspiration you need. (Check out our latest Houzz project featuring Gold Window Treatments!) We think you'll be surprised to discover gold's versatility. It fits easily into a range of color schemes and displays beautifully on all kinds of decor pieces. Just take a look…
With Black & White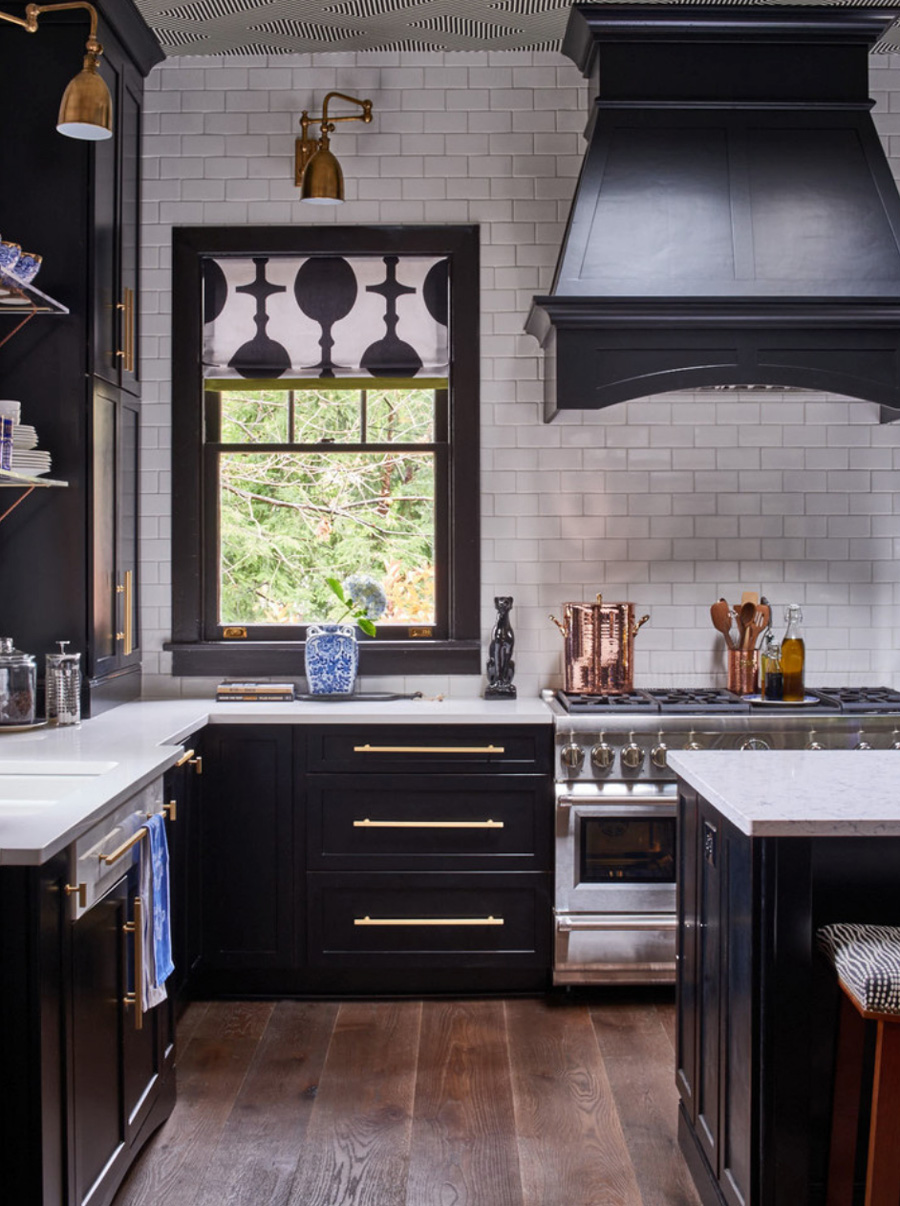 It's quite fitting that a classic metal works so well with a timeless color pairing. This black and white kitchen is stunning in and of itself, but the gold hardware really completes the look. Pops of gold are then echoed up high in the light fixtures to round out the design. These small elements have a big effect!
With Blues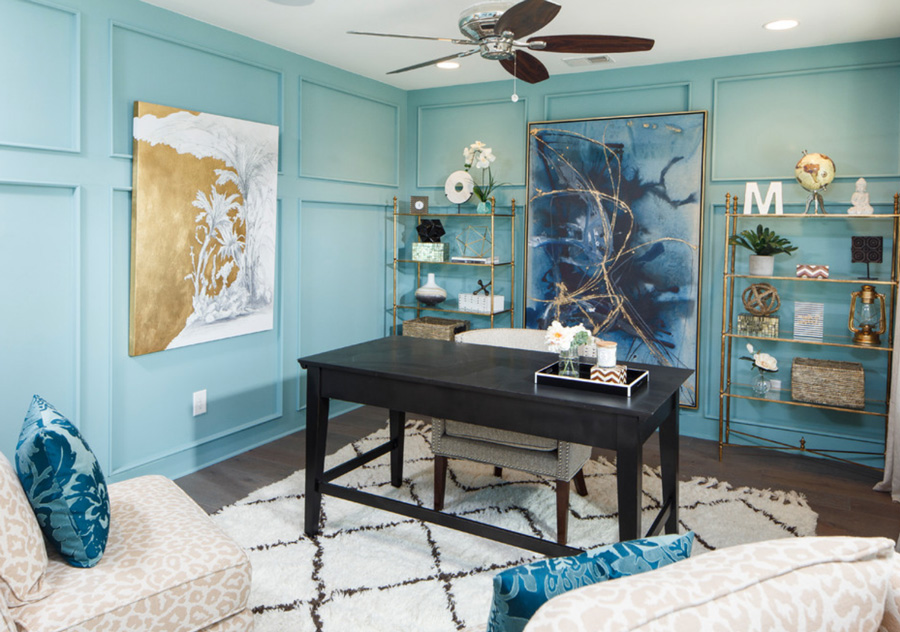 Whether it's pale, dark, bold, or muted, blue is a perfect complement to gold. Here, gold shelving and artwork create a delicate shimmer that plays gorgeously with beachy blues. If you're looking for what goes with gold, you can't go wrong with a pick from the blue color family!
With Pinks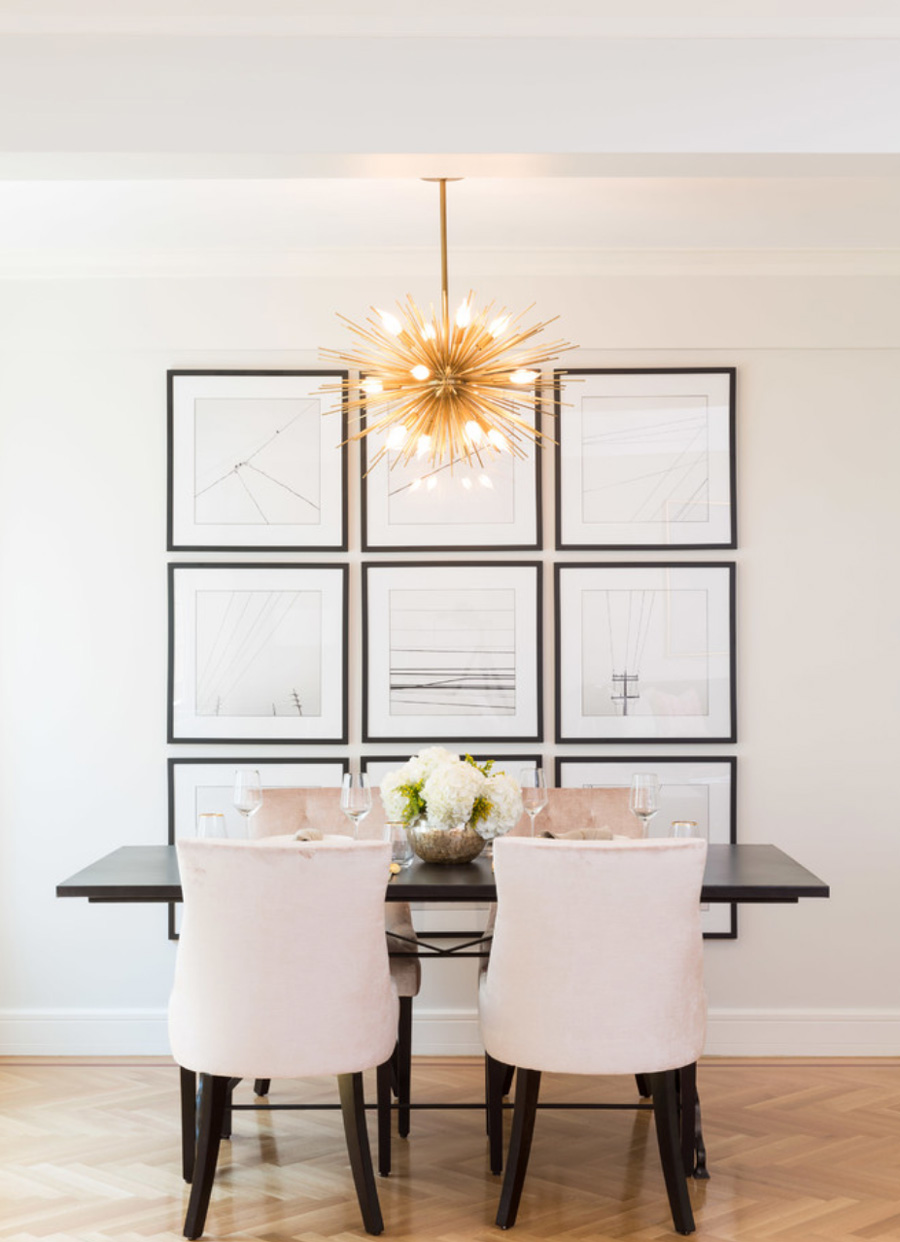 Does pink and gold strike you as a nursery color scheme? If so, you sure know your style trends! New parents are choosing this duo more and more these days, and it's stunning. But, pink and gold isn't simply for wee ones. Just look at this dining room. It's exquisite! The chairs in blush pink, rather than a neutral, add subtle color. And the chandelier…it's a showstopper!
With Gray & White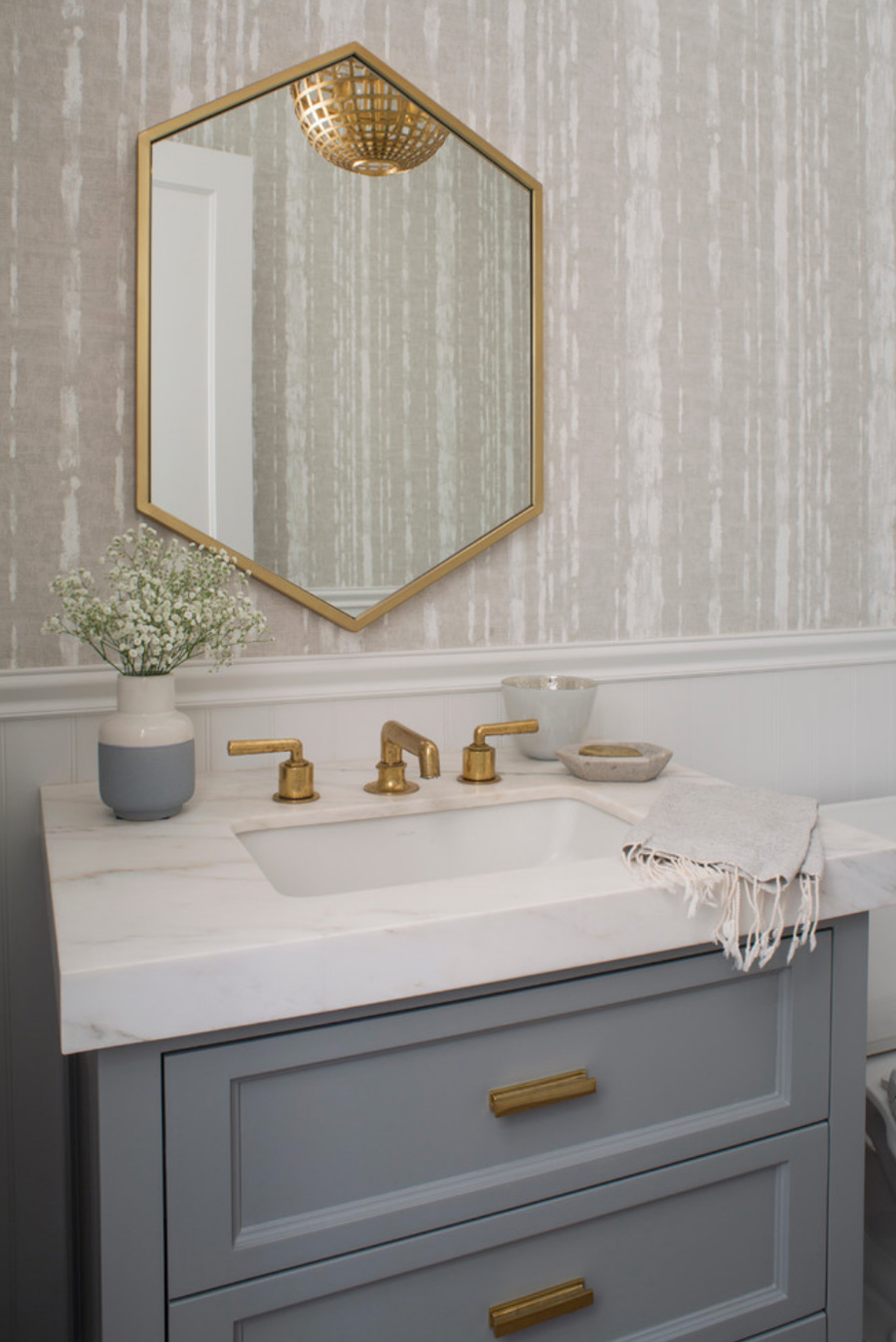 As you ponder what goes with gold, your mind doesn't likely jump to gray. But, it should! The softness of gray and white is actually an ideal backdrop for showcasing gold accents. In this powder room, gold hardware brings a bit of classic styling alongside contemporary elements for an appearance of true beauty and grace.
With Greens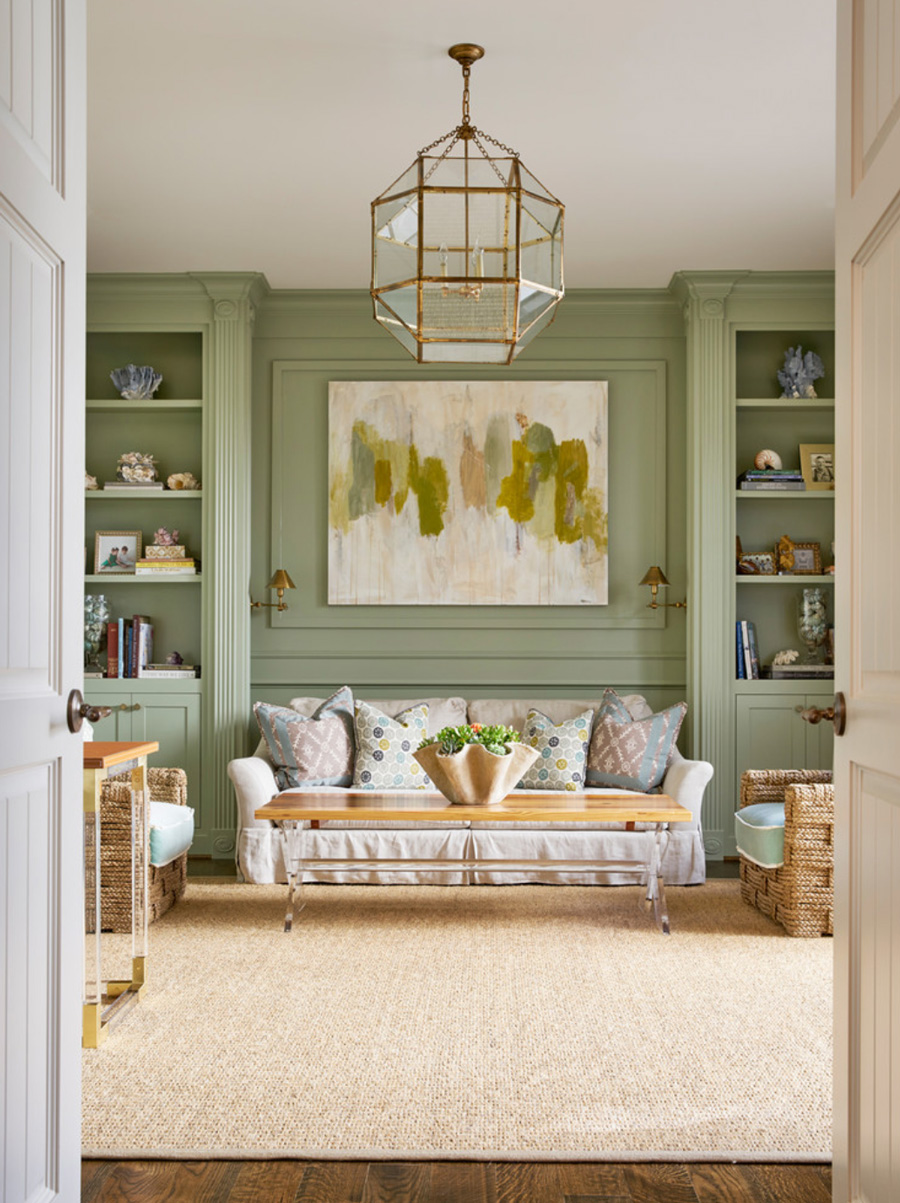 Styling greens with gold brings distinctive design. And the shade you choose really sets the tone for your space. Gold with a chic sage will have a much different effect than it will with a vivid emerald. This living room–with its mix of earthy green, gold, and brown–has a vintage feel. While it's a bit of a throwback to the seventies, it's also completely on-trend! Designs with a retro vibe are all the rage today.
With Purples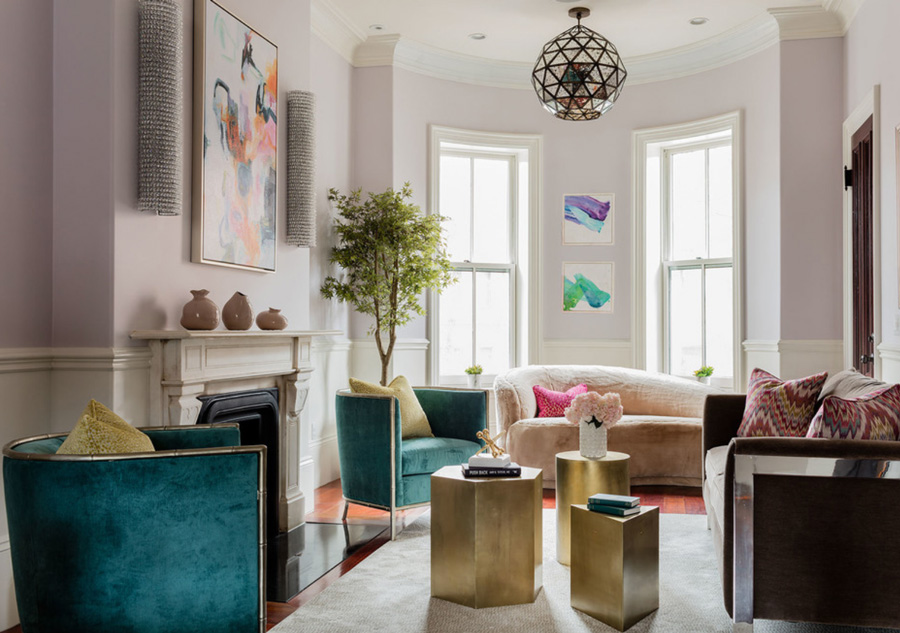 Purple is a royal companion to gold. Coming together majestically, these two are always exquisite. Here, whispery purple walls combine elegantly with gold accents, and the look is fresh and light. Going with bolder purples amplifies the color's mystery and carries a weightier appearance. It's also worth noting that mixing metals is totally in fashion. So another answer to "What goes with gold?" is actually other metals! This room showcases gold as its primary metal with beautiful accents of silver and wrought iron as well.
With Red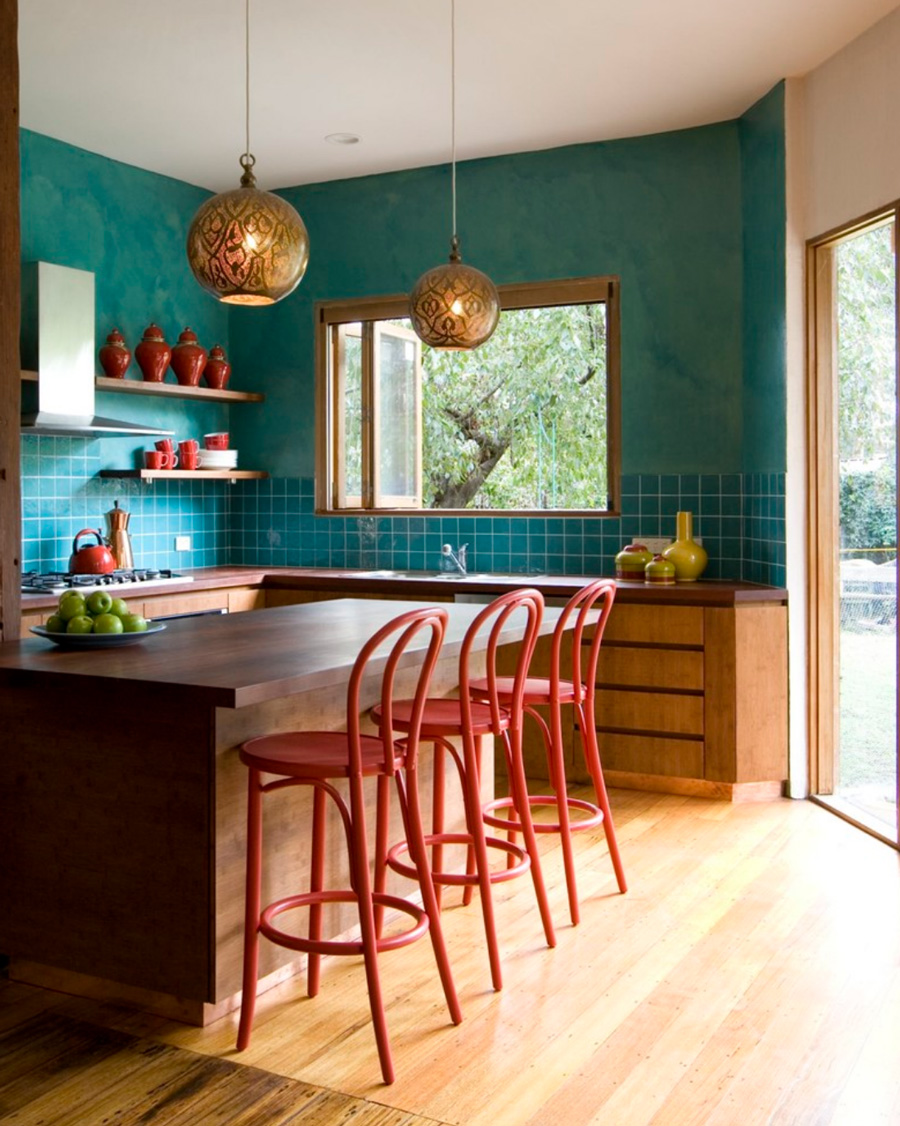 Paring gold and red often hints at worldly design. Although, the combo can actually serve a number of style preferences–all the way from vintage to modern. What makes the difference? The accents you choose. The red and gold elements in this space do bring a touch of global flair. And while turquoise forms the backdrop of this particular kitchen, the red and gold accents would coordinate just as well if the walls were white, black, or even brown.
What Goes with Gold? An Ideal Atmosphere!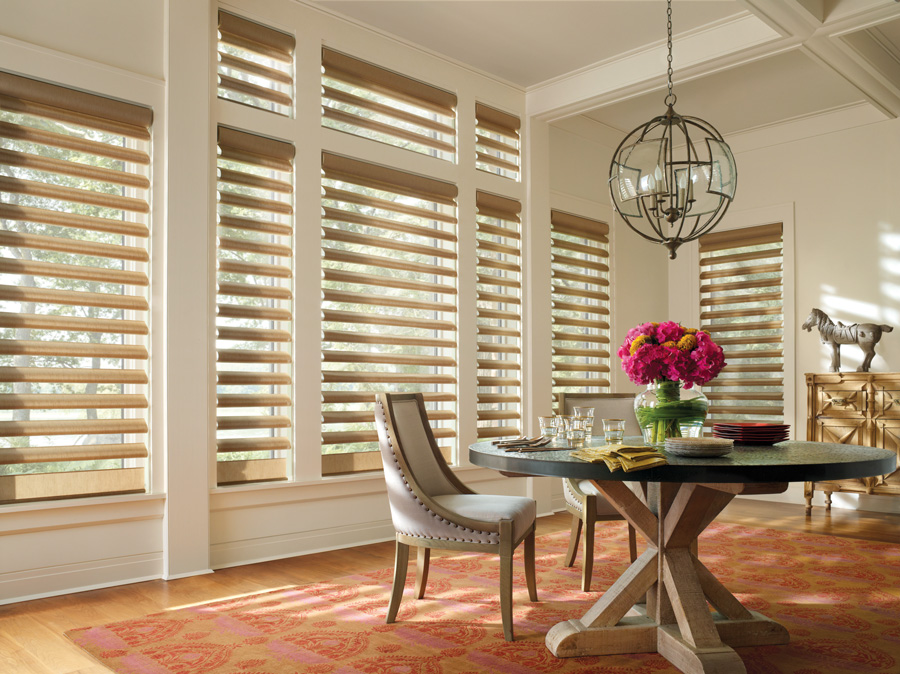 Your home is yours. It should reflect your personal style and welcome you with its complete comfort. What goes with gold in your home is all up to you! Have you thought about your windows? Custom window treatments in metallic gold fabrics or with lustrous metal hardware will not only make an incredible statement of design, but they'll also perfect the atmosphere. We'd love to help you make your home all you want it to be. Contact our team today, at California Window Fashions, to get started!