Chances are, you have at least one door in your home that has a window on it, or in the framing around it. If that's the case, you know how wonderful those doors are for outdoor views and natural light. But, at times, they also offer too much harsh light. And, lack of privacy can come along with bare windows, as well. With spring creeping up on us, we'll have more daylight hours to get outside. We've compiled our favorite solutions for covering doors, from your entryway to your back patio, and every french or sliding door in between. 
Maintaining a Sense of Privacy
The front door is often where people want the most privacy. It's nice to see your neighbors when you want to, but the view into your home should be blocked. Covering doors helps to maintain a comfortable level of privacy within your home. Do you have sidelights for your front door? We even offer narrow shades that cover those perfectly.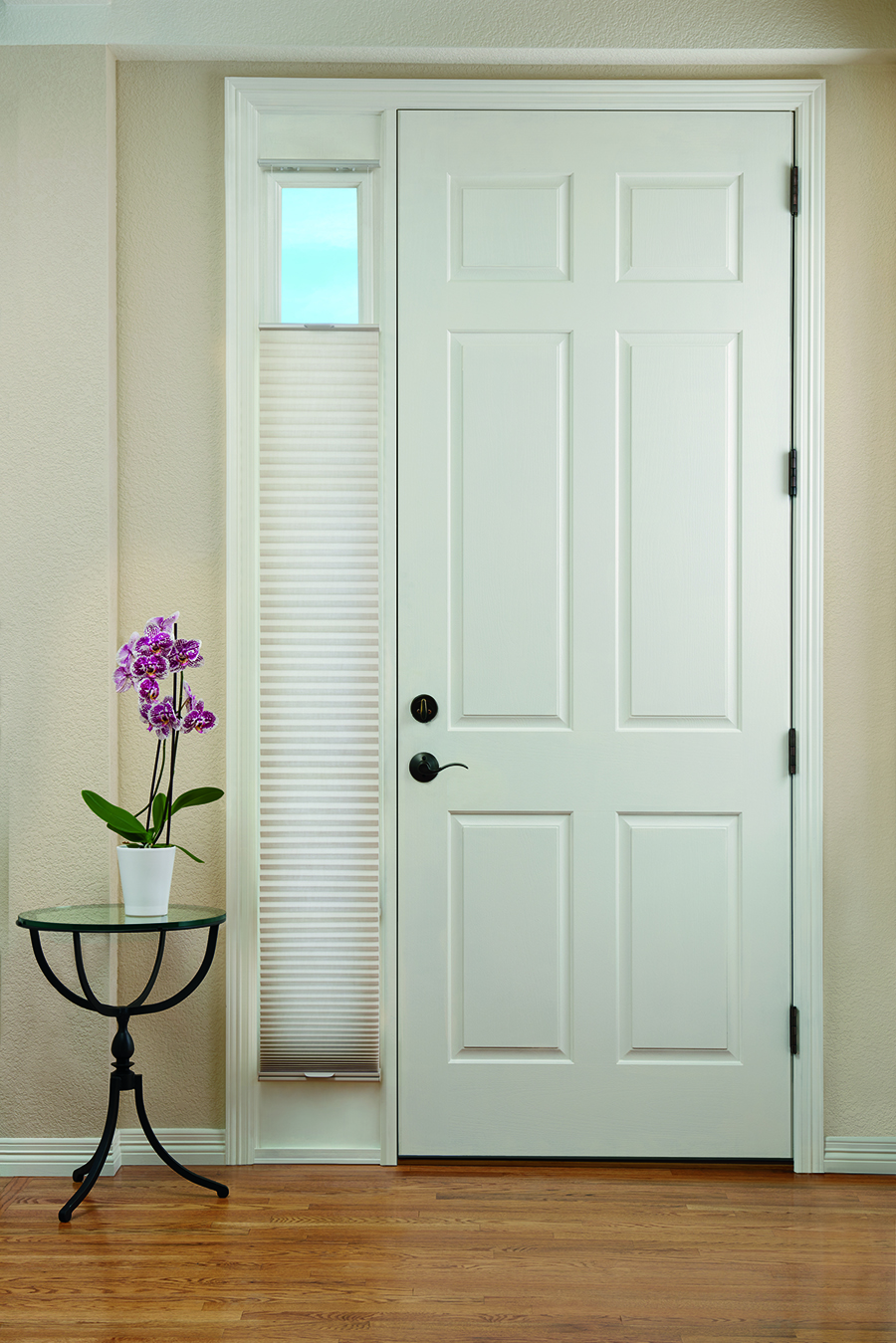 One of the crowd favorites for entryway doors and sidelights are honeycomb shades. Not only do they add that privacy, but they can also block harsh light and add energy efficiency. Even better, you can implement the top down feature here to let the sunshine pour in, while not feeling like your windows are wide open to the world.
Treatments for Patio Doors
If you're anything like us, you're probably eager for spring so you can enjoy more time in your backyard again. Finding the perfect window treatment for a patio door can be a bit tricky sometimes. It's important to make sure that the treatment you select allows the door to comfortably open and close.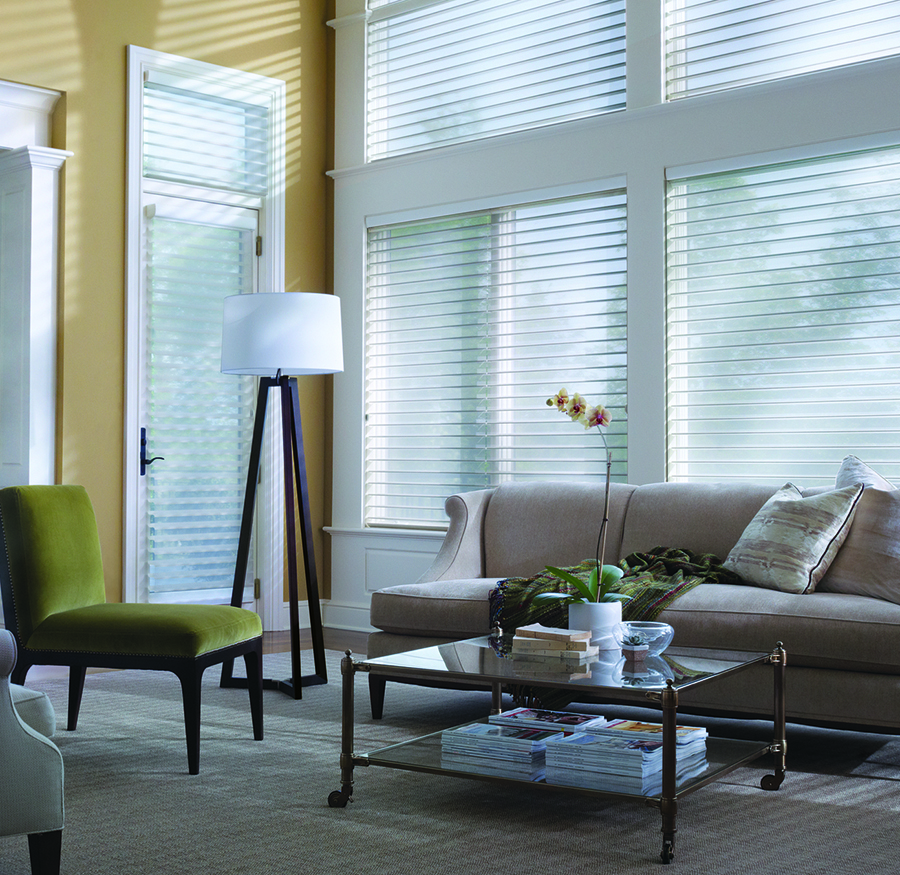 Sheer shades and roller shades are amongst our most popular for patios. They allow the natural light to be filtered while still reaping the privacy benefits. Their slim design also allows for doors to open and close without any hiccups.
Window Treatments for Sliding Doors
Sliding glass doors are the ultimate door for enjoying the view, completely unobstructed. Along with the perks that they bring, depending on the hour of day, a few downfalls can be harsh light, pesky glare, and damaging UV rays. The right window treatment will meet all of those challenges, leaving you to enjoy the benefits of the "large windows."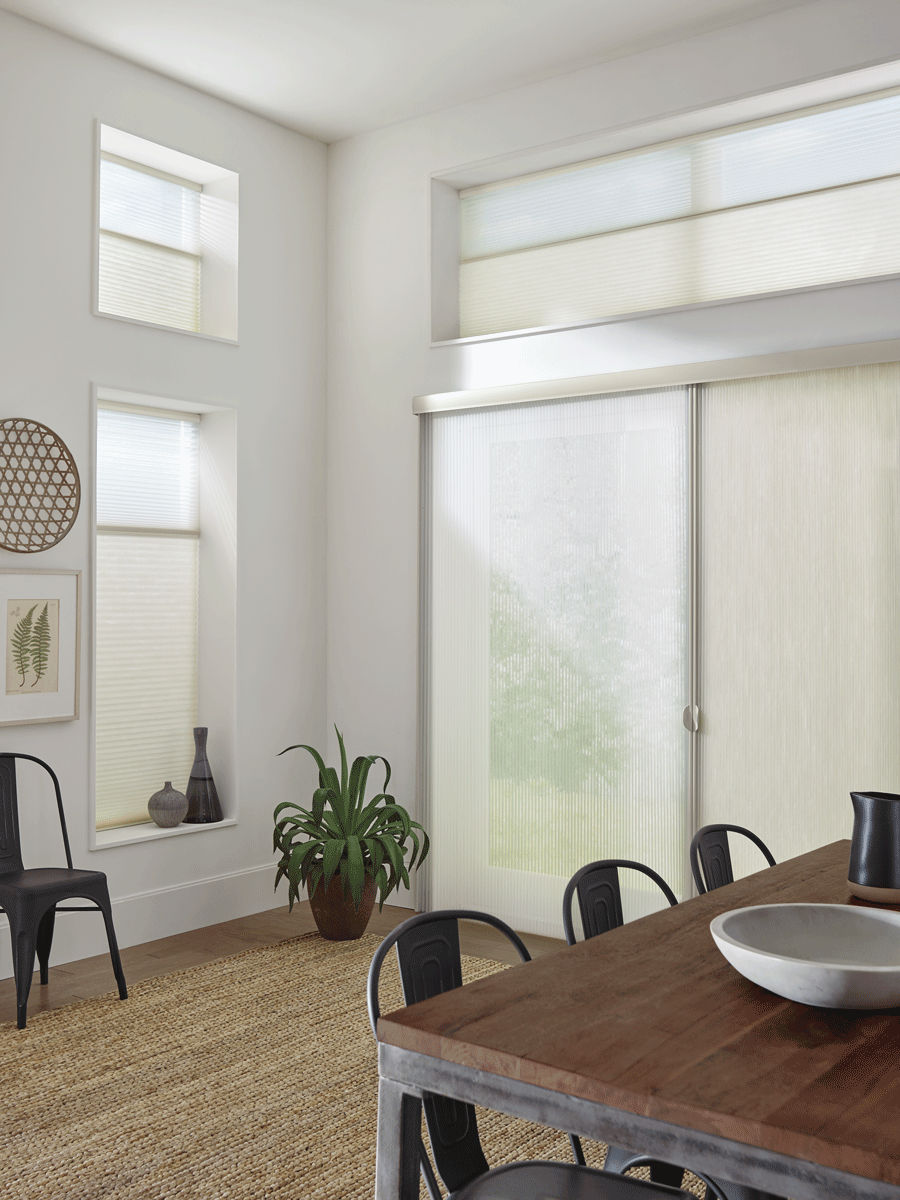 With these doors being frequently accessed by both children and adults, it's important to have window treatments that don't get in the way and are only convenient.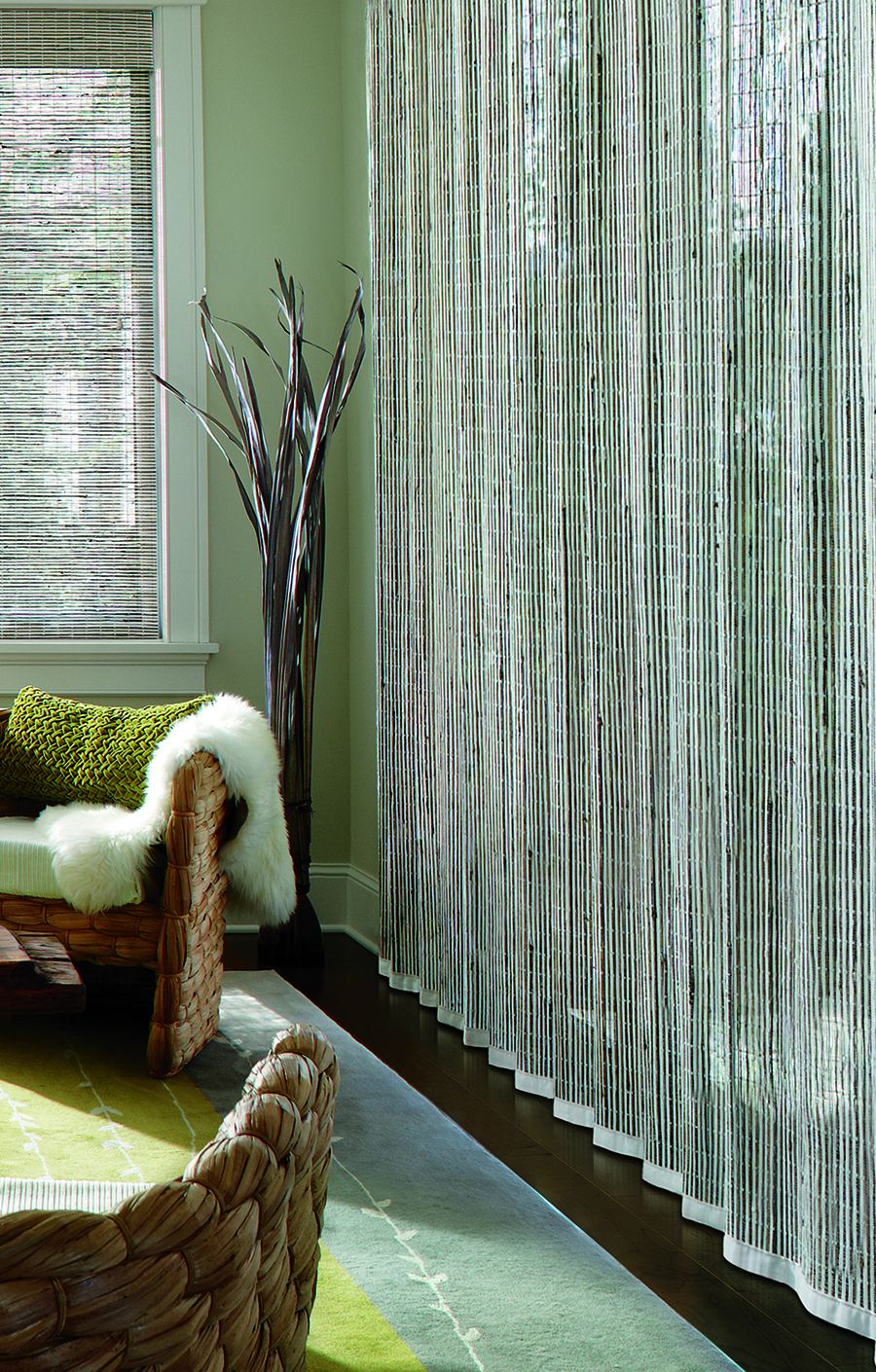 One of the features we recommend most for simplicity and convenience when it comes to window treatments is automation. With a simple voice command or touch of a button you can open your shades. Say goodbye to not having enough hands to open the shades while carrying out food for the backyard barbecue.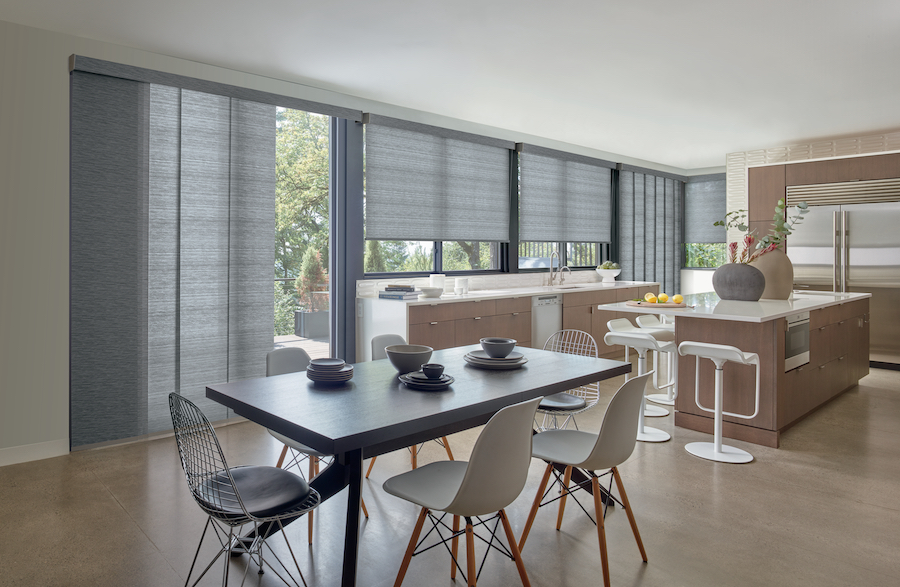 French Door Solutions
French doors are a stunning addition to any space, there's no doubt about that. They're also a door with a lot of glass so, similarly to some of the doors we just spoke of, they made need window treatments in order to keep you loving them all the time. Woven wood shades, seen here, offer light-filtering, letting you style your home beautifully, while blocking intense light.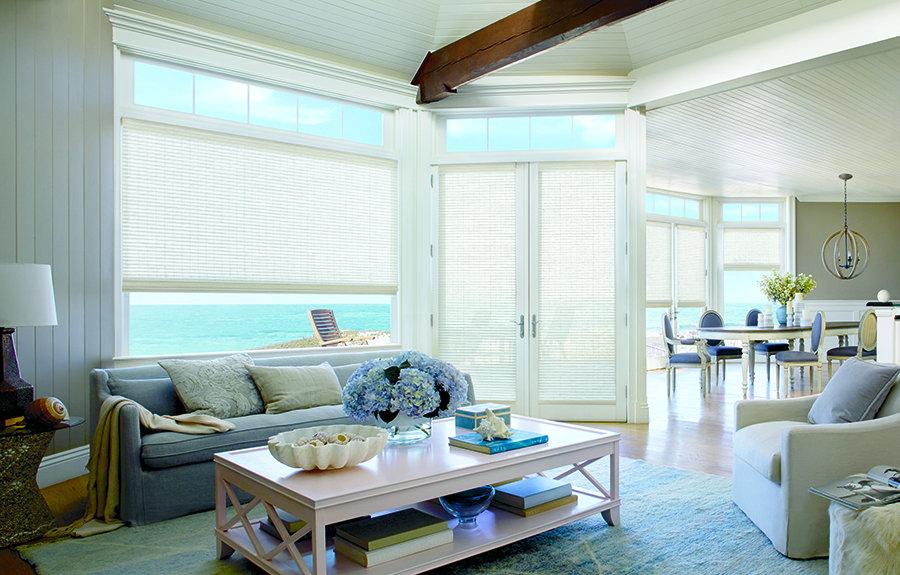 Interior shutters offer the sophisticated look that matches french doors, so they're one of our go-to's for this! Whether you prefer wood stain or white paint, we have the look to match your home. Not only do these offer tons of style, but the functionality is superb. For doors, we offer an option for handle cutouts so you'll never have to worry about bumping your hand or getting the handle caught while trying to head outside.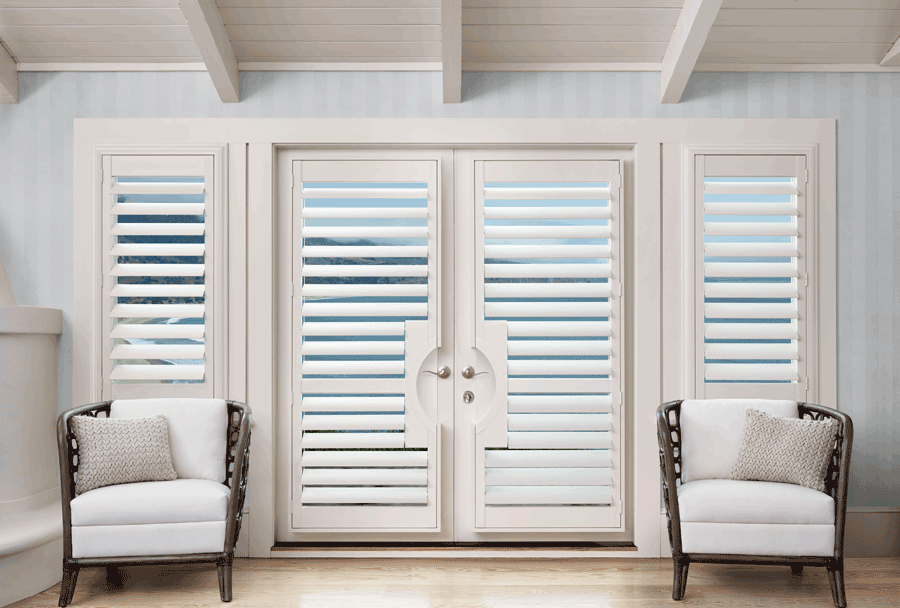 Drapes are another way to cover french doors when necessary. They are simple to open and close whenever you prefer. Draperies can also fit with any style due to the many different textures, colors, and patterns.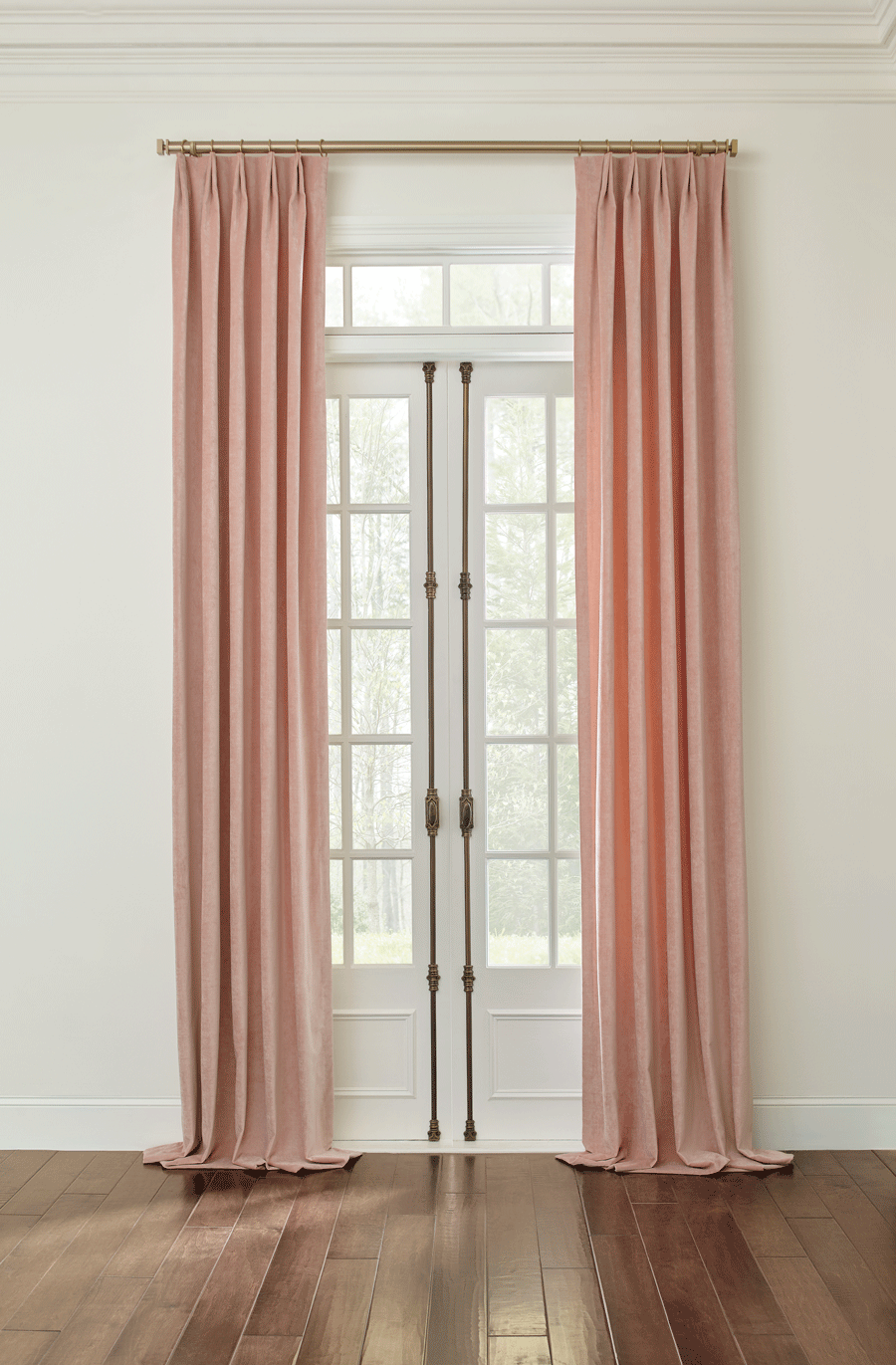 Ready to Start Covering Doors in Your Home? 
The beauty of all of these treatments for doors is that they are easy to open and close, allowing you to enjoy the light when you want but also adding privacy when you desire. Our team here at California Window Fashions is here to help you with covering doors for your sunny California home and with any other window solutions you may need. Contact us today for your FREE consultation.