Are you looking for ways to shine up your home design? Decorating with metals will do the trick. Edgy accents or glamorous sparkle, metals will add so much to your existing design. You don't have to change much, which is why we love decorating with metals. It's simple, shining, and so fun! See how you can revamp your space in no time with one of these gorgeous metals.
Antique Brass
You can make quite the statement when decorating with metals, but if you're looking for a subtle change to your home design, take a look antique brass. This metal brings in a charming, historical touch that complements just about any design style. Go big with a brass bed frame, or choose small details, like drawer pulls. The vintage metal creates warmth and adds character.
Rose Gold
The gorgeous pink undertones in rose gold makes decorating with metals fabulous and fun. Do you love the chic look of this rosy metallic? Make a bold statement with this metal by hanging a rose gold pendant light, bar stools, or decorative pieces for your wall. Want a subtle touch of pink? Go for a small rose gold vase or candle holder. You won't be disappointed with the gorgeous touch of pink.
Copper
If you want to warm up your space when decorating with metals, copper is the perfect choice. This metal, similar to rose gold, is chic, soft, and incredibly popular in the design world. Accent your cabinetry with copper pulls, or place Moscow Mules on your shelves. Change out your throw pillows for a shiny copper accent, or add a dazzling light to your nightstand. The subtle touch makes a gleaming difference.
Gold
Timeless glamour, incredible beauty…gold is a sparkling choice when decorating with metals. Whether you want a traditional look, or something a bit more modern, gold can amp up the style & show off your personality. Make your walls shine with gold wall decor. Hang up your favorite family photos in gold frames, or find a mirror for a fun accent. Golden wallpaper or a sparkly chandelier will add glitz and glam.
Let's Get Started Decorating with Metals!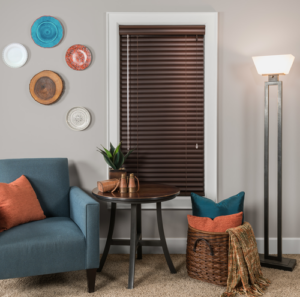 What's your design style? Vintage or modern? Subtle or bold? You can embrace your style by decorating with metals. From our collection of Modern Precious Metals custom blinds, to the glimmer of metallic threads woven throughout fabrics, window treatments will be the gorgeous backdrop you've been waiting for. Bring your personality into your design, and watch your home design transform. We'd love to help. Contact our team at California Window Fashions for design tips and inspiration!