Sunny days & gorgeous landscapes…California has some of the best views in the country. Don't you just want to soak up the beauty all the time? With Hunter Douglas Silhouette ClearView, you can enjoy the outside view from inside your home. This innovative design is a remarkable addition to our collection of Silhouettes. Want to see the magic of ClearView? Take a look…
Say "Hello" to ClearView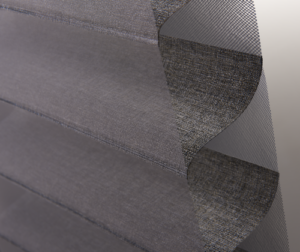 Are you familiar with our Silhouette shadings? If so, you know that the fabric vanes float between sheer fabrics in the front and back. Silhouettes are typically left in the open position, where the shade is lowered, but the vanes are parallel to the floor. This makes the vanes nearly invisible, which offers an amazing view outdoors. ClearView offers an even more clear, crisp view–like the HDR version of a photograph. The secret is in the transparent black sheer backing.
An Incredible, Dynamic View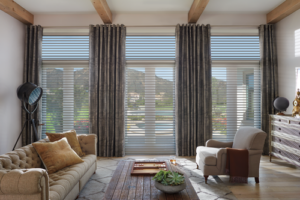 One thing we know you'll love about ClearView is the amazing view it gives you of your gorgeous landscape. But, there are many other benefits brought by this new product. Silhouette shadings are similar to shutters. You get maximum view-through, but Silhouettes offer more protection from the sunlight with the sheer fabrics, which diffuses the incoming light. The adjustable vanes give you complete control of privacy and light, making your space customized & comfortable.
Which is Better for My Home?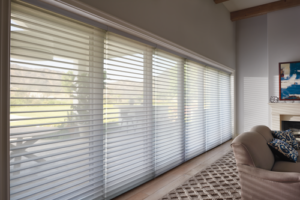 You're probably wondering if the traditional Silhouette shadings are being replaced with ClearView. The answer is no! We love both designs, and we understand you may want to keep the traditional Silhouettes in your home. The traditional design gives you more of a filtered view-through, while ClearView is more dynamic and clear. It's up to you and your preferences when it comes to choosing between the two. Either way, you will experience incredible daylighting.
See the Difference…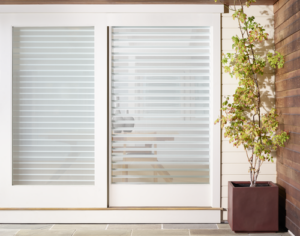 Here are the traditional Silhouette shades, on the left, compared to ClearView. From this outside view, it's obvious that the traditional design is more filtered, which would be ideal for spaces where you want more privacy. If you aren't worried about privacy in certain rooms, but want a great view outside, go with ClearView. Both options give privacy, light control, and great view-through. Which design speaks to you? Want to experience them yourself? Contact our team at California Window Fashions for a free, in-home consultation, or come visit our showroom!