Everybody could use a vacation once in awhile. Where is your favorite getaway? Whether it's exploring a lush green forest, soaking in the sun rays on a sandy beach, or adventuring through a new city, you can bring your favorite getaway into your home design. Discover how you can turn your home into your favorite vacation spot, and enjoy a "staycation" everyday.
Relax & Enjoy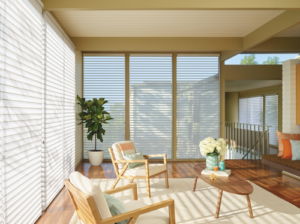 The best part about vacationing is taking a deep breath & relaxing. You're able to forget your worries and just enjoy those around you. Your home design can create the same environment. Consider your great room, for example. It's the perfect spot to unwind after a long day, or gather with friends and family for a nice conversation. The right elements will make your great room your favorite spot. So, how do you achieve a relaxing living area? Here are a few tips.
Seating is the most important part of this room. If you want your space to be calm and rejuvenating, find comfortable couches to lounge in. Are you looking to achieve a space of gathering and socializing? Conversational seating is key. Place your chairs around the room so that they encourage interaction. Customize it to your liking, and your environment will be beautiful and welcoming. Create a space of comfort with light control. Find window treatments that complement your decor and give you complete control over light & privacy. For even more convenience, consider motorized shades. Save your favorite settings, and adjust your environment at the touch of a button.
Get The Sleep You Deserve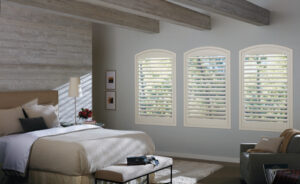 When you're not on vacation, it's difficult to sleep in! We know you're busy, but it's important to get a good night's sleep. It rejuvenates you, gives you more energy, and increases productivity. Center your bedroom home design around comfort. Look for gorgeous elements that speak to your style, calming colors to relax you after a long day, and a stress-free environment to begin your day. We've got a few ideas for achieving the perfect bedroom.
Think about how you use your bedroom. Most likely, you get ready there in the morning & go to sleep at night. Because of this, the two most important aspects are privacy & comfort. Window treatments can provide both. Top down shades can bring in glowing, natural light, while keeping your space private. Blackout and room darkening shades give you the peace and comfort you need for a good night's sleep. Sleep in late on your days off without bothersome sunlight, and get ready for your day in privacy.
Dine in Style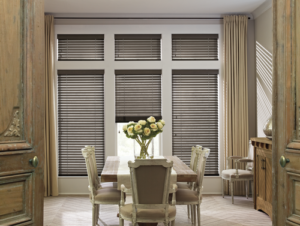 Vacations may be meant for relaxing and forgetting everyday responsibilities, but they're also meant for spending quality time with your loved ones, having great conversations, and just enjoying each others company. One great space to bring your family together is your dining room. Whether it's a simple meal with neighbors, a holiday dinner party, or just a cup of coffee in the morning, your dining room is meant to bring people together for food & enjoyment. Take a look at ways to make your dining room feel like a getaway.
Focus on lighting. You will gain control over the ambiance of your dining room. Imagine trying to enjoy a conversation over coffee or tea, and having the sun shine right in your eyes. Don't deal with issues of bare windows. Style your windows with window treatments, and get control of the incoming light. The ideal dining room lighting is a soft glow. Our shadings, like Silhouette and Pirouette shades, diffuse the incoming light, eliminating the glare. Plantation shutters also give you directional light control, and not to mention…the style is incredible! Illuminate your space comfortably so that you and your guests can enjoy a great meal & even better company.
The Perfect Elements for Your Home Design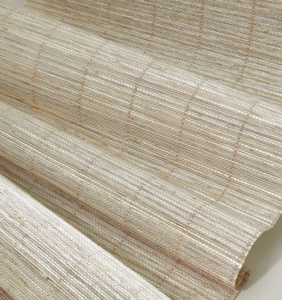 Where's your favorite getaway? Show it off in your home design, and create an everyday-vacation right in your house! Find elements of decor, perfect your environment, and get the right window treatments for your ambiance. Contact our team at California Window Fashions, or come visit our showroom. Your staycation awaits. We can't wait to get started.