For many people, working from home was once unavailable. But, with the recent shift in the working world, we're seeing more and more people needing a home office. There are a few things that contribute to making a productive office space. Are you looking to create a home office that's motivational and comfortable? Here are a few questions to ask yourself.
#1 How is the Lighting?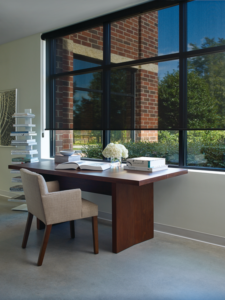 Take a look at your windows. Do they have window coverings? Uncovered windows might seem like a good idea–they offer a beautiful view outdoors and natural sunlight. But, they can actually be disastrous for your home office. The sun will cause a glare on your screen, making you strain your eyes to focus. The uncontrolled light will also tire you out, making it difficult to get your work done. And, on the opposite end, not enough light will take away all your energy and make you squint. It's hard to work with a headache!
We have a solution: top down shades. Lower them from the top to get the right balance of light, sending it across the ceiling for the ideal daylighting. You'll get all the benefits of natural lighting, which can be mood-boosting and help your productivity, without the issues! The glare and direct sun rays will be blocked, making your office area comfortable enough to focus.
#2 Is the Temperature Comfortable?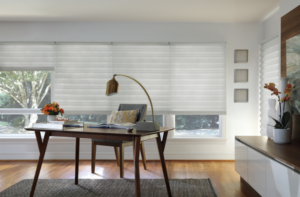 California sees a range of temperatures throughout the year (and sometimes throughout the day!). Maintaining a comfortable temperature can be difficult, but it's important for you to maintain focus and productivity throughout your work day. Don't let your space get overheated or drop to chilling temperatures. How, you ask?
Energy efficient shades will give you control over the temperature in your home office. With energy savings in mind, they block the light, helping you keep your space a consistent, comfortable temperature throughout the day. Add even more power to your home office with motorized blinds and shades. Create a schedule and let your blinds automatically adjust, or change your atmosphere at the touch of a button with your remote or app. This effortless solution will help you maintain a pleasant atmosphere year-round.
#3 Does Your Home Office Have it All?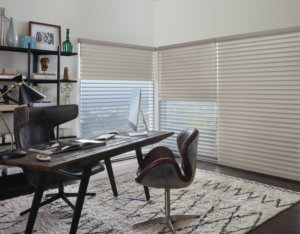 Working from home can seem like a dream come true, but we know there are a few drawbacks. You're never really away from work, and sometimes your personal life blends into your work day. What you need is a customized office design that fits all of your needs.
Comfort? Check. Style? Check. Convenience? Check. What is your home office missing? Window coverings can give you the solutions you're looking for. Do you need room darkening solutions at night, but light filtering with a view during the day? Our dual shade systems will provide both. The two shades, which operate independently, give you the best of both worlds. Or, transform your atmosphere with a simple shift of vanes. Go from light-filtering sheer to complete blackout. Are you ready to explore your options? Contact our team today at California Window Fashions to get started.