Ready to discover the latest innovations and inventions in the world of window coverings? Our brand new shades and fresh take on motorization will knock your socks off! Phenomenal styling meets revolutionary energy-efficiency, child-safety, and functionality for truly dramatic results. So, put your feet up, relax, and let us take you on a tour of this year's newest products from the ingenuity of Hunter Douglas.
Designer Banded Shades: Geometric & Genius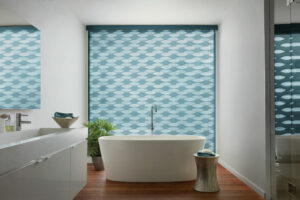 First up is the gorgeous styling and brilliant results of our Designer Banded Shades. Featuring rotating bands of sheer and opaque fabrics, these beauties are one of the newest products in our roller shade collection. They allow you to show off geometric styling with clean lines or patterned fabrics and incredible view-through while providing instant access to complete privacy and room-darkening. How? A simple adjustment rolls and rotates the two layers of fabric so the opaque backs the sheer. "Sheer" genius, don't you think?!
Sonnette Shades: A Winning Combination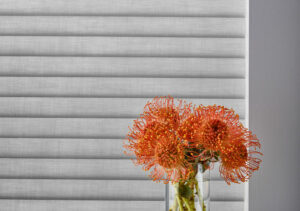 When considering window coverings for your home, have you ever wished you could just combine the best features of different types of shades? Hunter Douglas did too, and that's how Sonnette Shades were born. As one of our newest products, Sonnette Shades pair the dimensional fabrics and superior energy-efficiency of honeycomb shades with the simplistic operation and low-profile design of roller shades. Alluring style meets dynamic results for a winning combination at the window.
SoftTouch: There's Magic in This Wand
You need and deserve window covering operating systems that work for your home, for your lifestyle, and for the safety of everyone under your roof. That's why we're thrilled that one of this year's newest products introduces another option for child-safe operation. The SoftTouch operating system brings the ease and convenience of motorization to the wand control you've grown to love. It provides motorization for the windows you choose. What makes it so safe? Well, the wand stays up and out of the way, and it's magnetic. So, if little hands do find a way to give it a yank, it'll simply detach. No breaking, no dangling cords, and no danger…just completely convenient control.
Our Newest Products Are Waiting for You!
We love the lineup of today's newest products, and we know you will too. The style, function, and results you can achieve in your home are truly incredible. Why not come see for yourself at our showroom? Advice, inspiration, and the latest innovations are always waiting inside. If you're looking for an in-home consultation, our team at California Window Fashions would love to offer you a design experience right in your own home. Contact us to get your next project started today!