Attention all pet lovers–this article is for you! Owning a pet means making some small sacrifices to your home décor. That chic white sofa you've been eyeing may not be in the cards… But, by making a couple upgrades, your family and your pets can live harmoniously in a beautifully decorated home. Let's begin by exploring pet friendly window coverings that can add style and make things easier to maintain.
Let's Keep it Clean
The fur, the drool, the dirty paws…wait a minute, why do we have pets again? Even homes with multiple pets can stay nice and clean by taking certain preventative steps. First, isolate the problem areas like entryways, kitchens and living areas–the places your pets spend most of their day. This way, you can maintain the cleanliness of the rest of your home.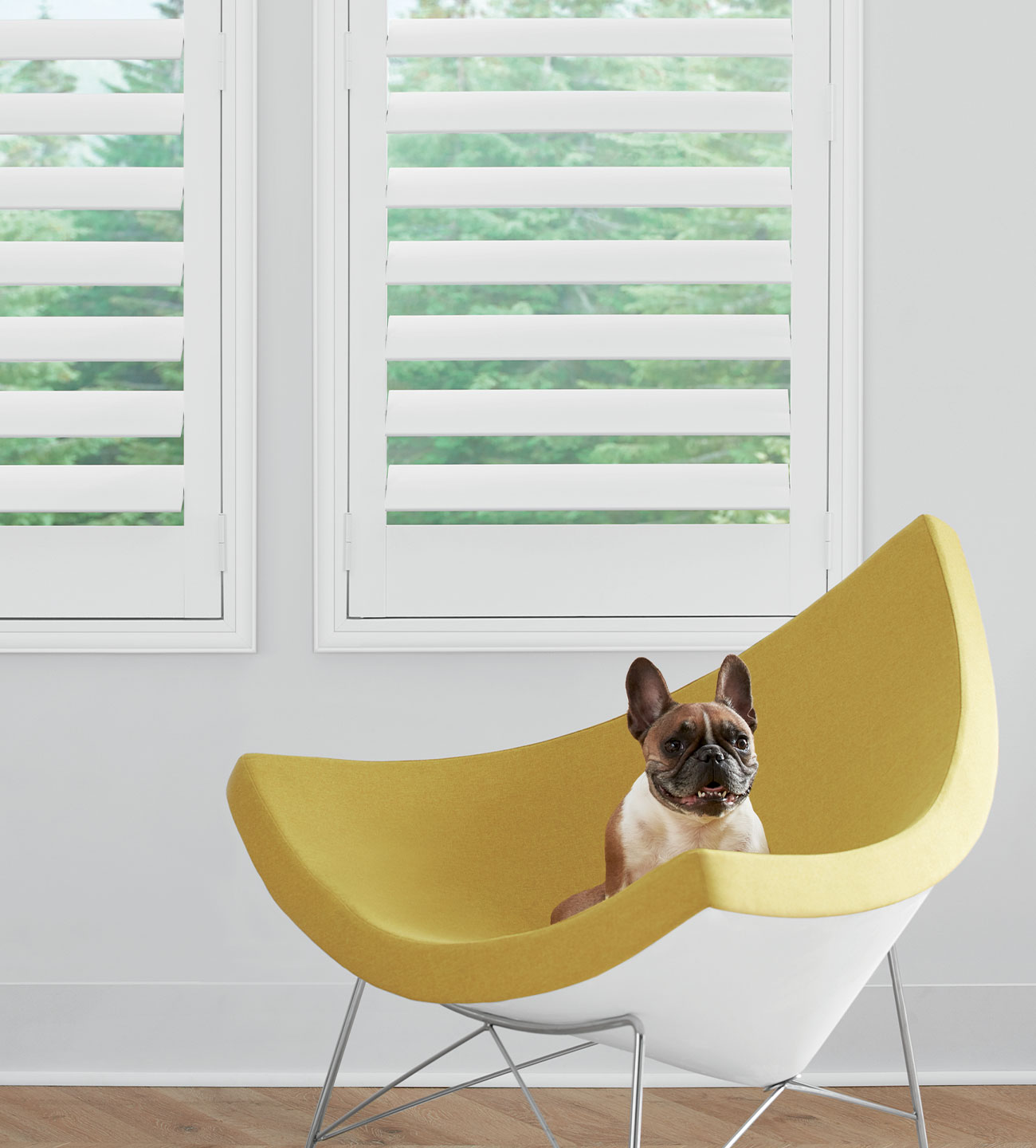 Next, add pet friendly window coverings that can hold up to fur family traffic. Our favorite is plantation shutters. Easy to operate, very durable and they can be wiped off and freshened up in an instant. No one would even know you share your home with ANIMALS!
The Sporting Group
Yes, they love to run, jump and climb. They've even been known to take down a Christmas tree or two! It's ok to have spirited pets–simply add pet friendly window treatments. You can achieve the coverage you need and remove any temptation your pets may have to play. Choose a shade that can be easily adjusted and raise them up and out of the way when animals are nearby, and lower them later for privacy. Look how stunning and pet friendly!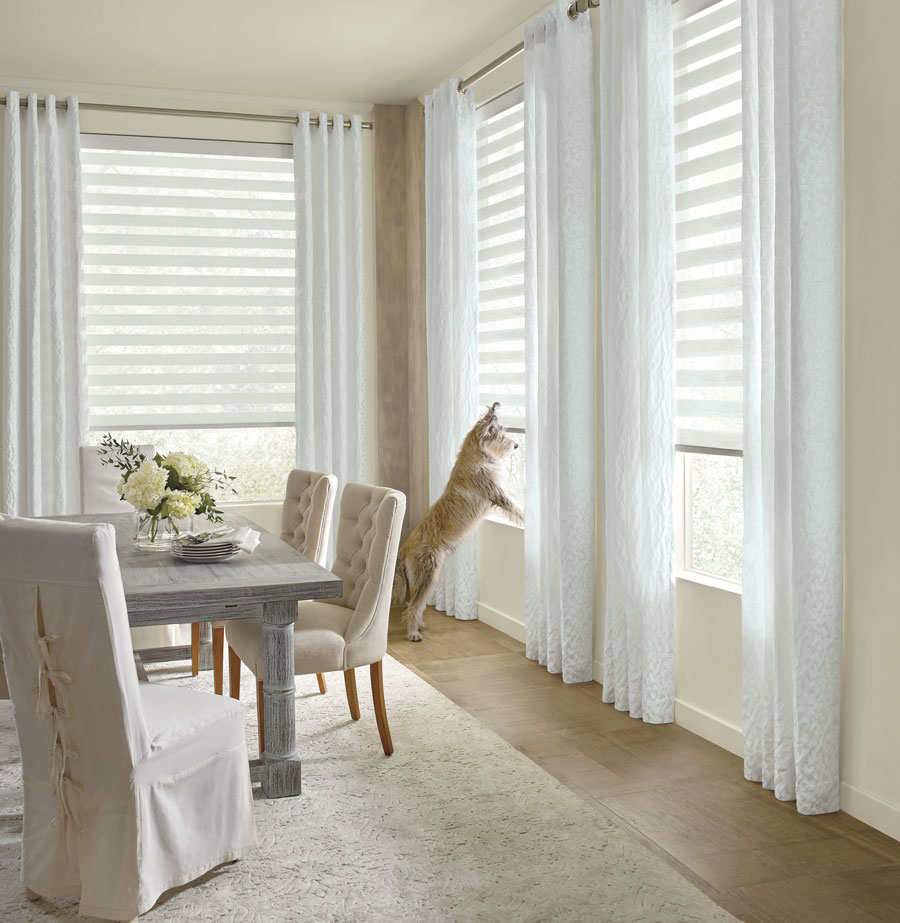 But, like children, pets can be full of mischief! For this reason, cordless window shades are highly recommended to insure a pet-safe home. Pet friendly window treatments such as these are adjustable with the touch of your hand and are also available as motorized shades. 
High Anxiety 
Nobody likes to be left home alone–especially a family pet. A pup with anxiety can be very difficult, they may act out by barking, pacing and sometimes chewing. Installing shades that allow your pet a view-through to the outdoors may alleviate some anxiety.  Not only will your family take comfort in knowing that your pet is calm, but the filtered sunlight will provide a more comfortable atmosphere for her. Put yourself and your pet at ease with these simple and stylish accommodations.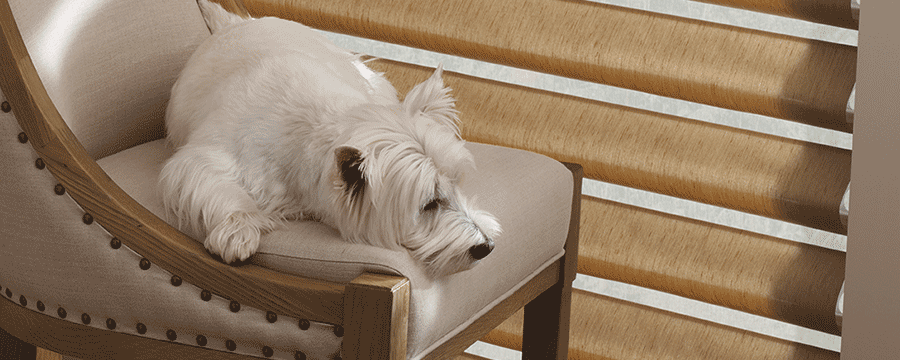 Here's another way pet friendly window coverings can help. If you are gone all day and can't interact with your pet, your window shades can do it for you. By scheduling your automated shades to open and close throughout the day, your pet may not feel as lonely. With automated shades, program them to rise up to provide a sunny spot for an afternoon nap or as a signal that you'll be pulling in the driveway soon.  Provide your pets some of the same comforts you do when you are at home with them.
Pets Have Needs, Too
The sun is hot in California, and the summer heat can increase temperatures inside the home very quickly. Have you seen your energy bills lately? Make sure your pets stay comfortable by adding energy efficient window treatments. Adjust your shades to open in the morning to provide a sunny atmosphere, at midday, lower them for insulation and keep your home at a cool temperature.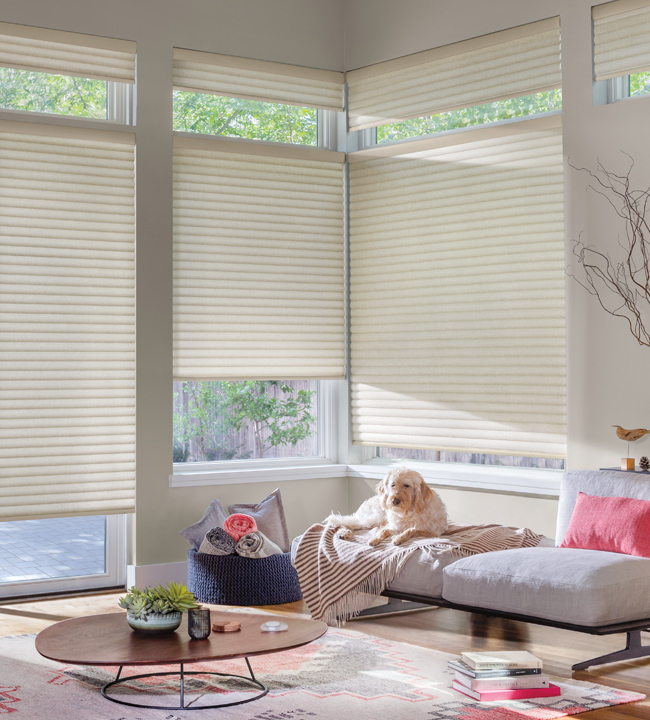 Choosing Pet Friendly Window Coverings
Thanks to your pets, you have a reason to finally update your window treatments! Our team can guide you in the process by evaluating your lifestyle and providing expert solutions. Your whole family-including pets-should be comfortable in your home. Contact us today for a FREE Consultation and explore our beautiful array of pet friendly window treatment options.