Doors are an essential part of any home. Not only do they provide function and structure, but they can also add to the style of your home. But finding the right way to cover them can be a bit tricky. Let's take a deeper look at how custom door coverings will be the best treatment for covering your doors.
Vertical Choices
Functionality is an important part of covering doors. But, using your doors shouldn't come at the cost of losing style. Traditionally, vertical blinds were a common option, offering easy operation and an element of style. But, over the years, the look has evolved. For contemporary style and simple function, consider the Skyline collection of vertical shades. With large sliding panels and custom fabrics with on-trend colors, your doors will be fully functional and fashionable.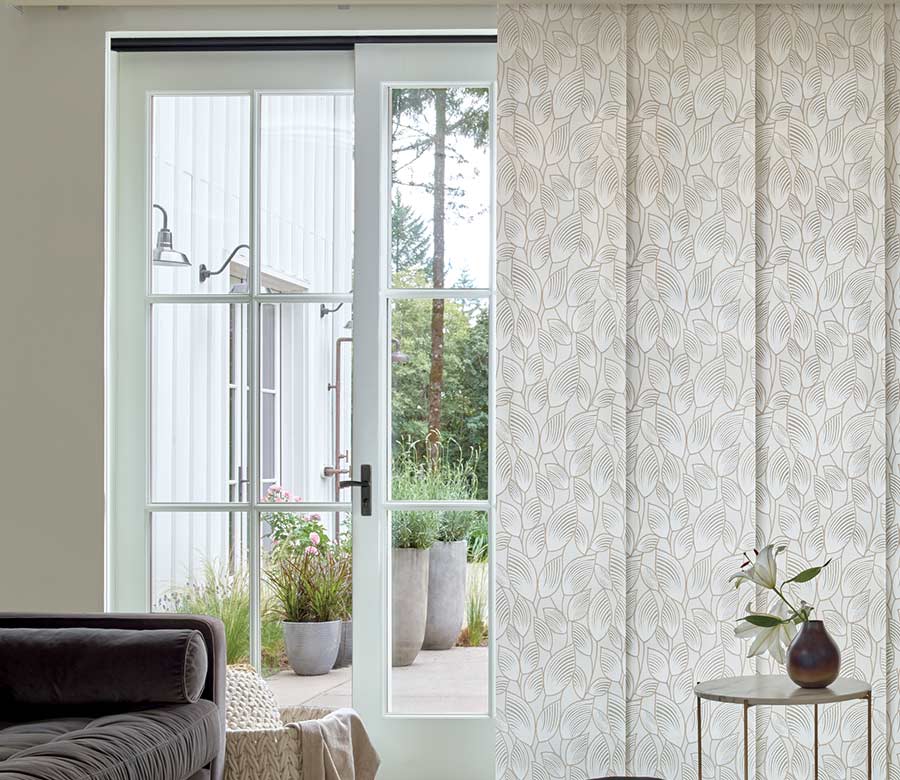 One of the most important things to keep in mind when covering your doors is light control. Too much natural light can cause issues like glare. But, no natural light at all can make your place feel closed in. With the Luminette® Privacy Sheers collection, you can easily control the amount of light that enters your home. These shades are a combination of vertical shades and draperies, giving you the perfect range of light control. Simply rotate the built-in vanes to flawlessly transition from view-through functioning to room darkening. 
Custom Shutters
Covering doors can seem like a tricky and frustrating task. Custom-fit plantation shutters are the perfect solution. Shutters offer a wide range of solutions for issues like lack of privacy, ease of operation, and light control. And with customizable door handle cut-outs, you can get shutters for any door without losing out on use.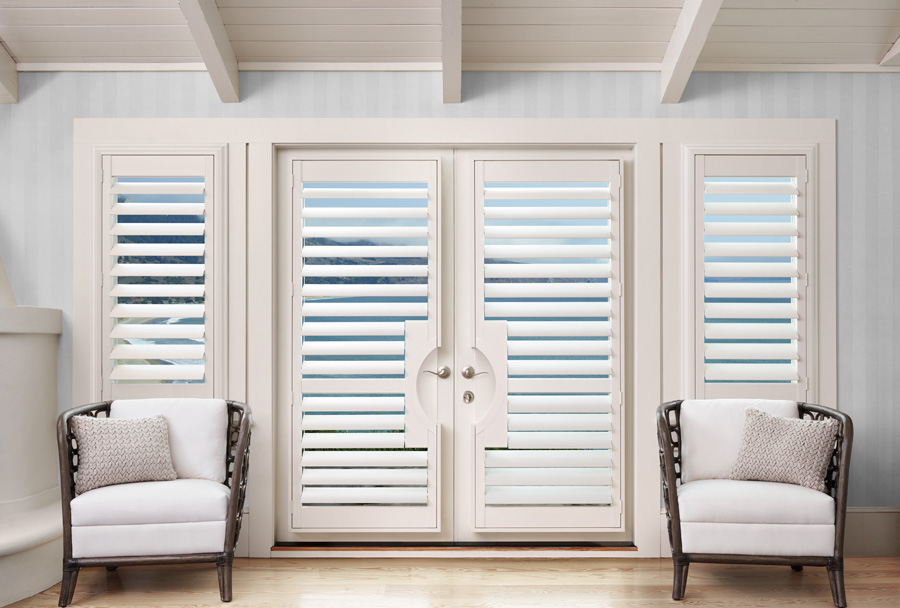 Drapery Panels
Your doors are often the first and last thing you see when entering and leaving your home. So, why not make a design statement with them? Custom draperies add an element of style to your home for coordinating design. Picture stunning draperies framing french doors and creating a picture-perfect view of your yard. Choose from an endless variety of custom designer fabrics to cover your doors.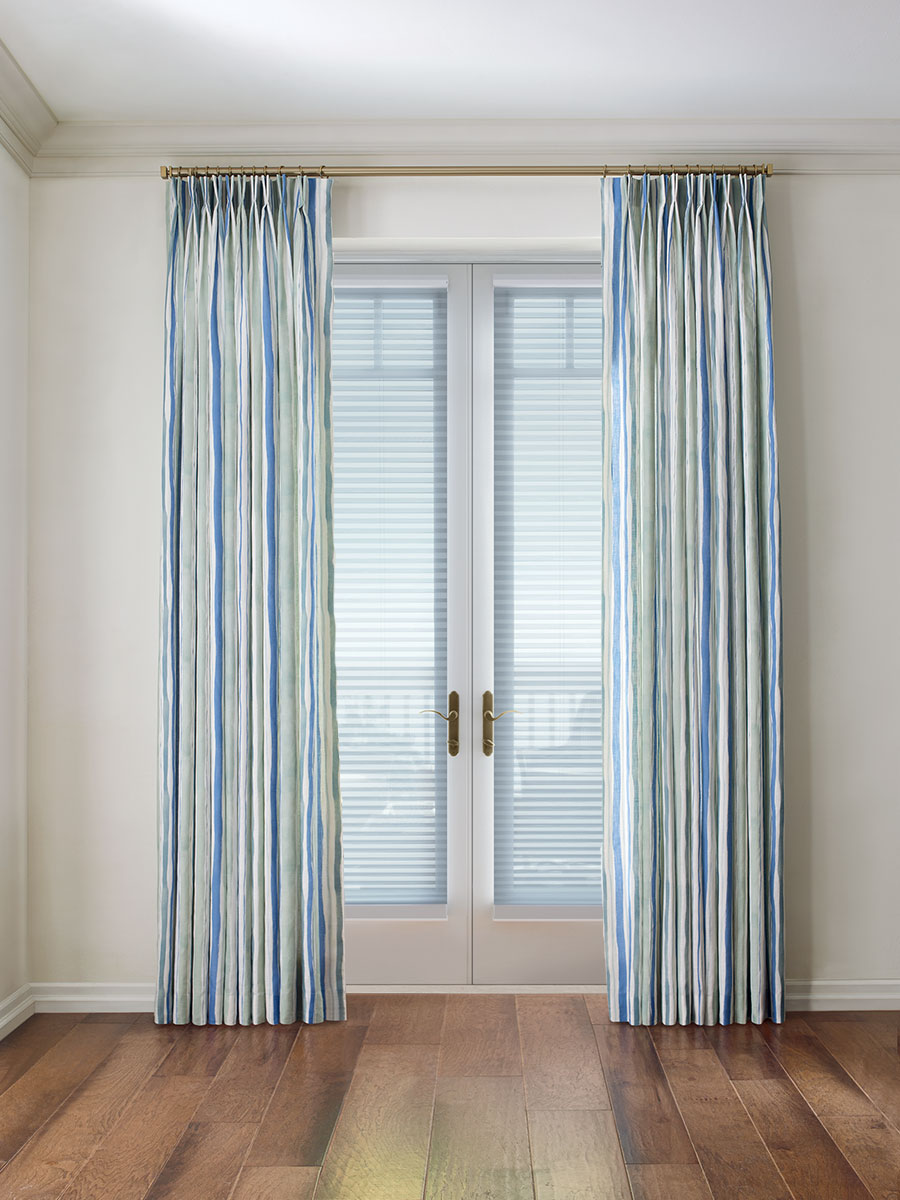 While style is an important thing to keep in mind when covering your doors, so is functionality. With draperies, you get both! Cover an entire area and get lighting and privacy solutions with full draperies. Custom door coverings offer solutions for all your needs, no matter what they are. Solutions like shades first then drapery panels, or the layering of treatments, can often provide an added level of function and style to your home. Ask an expert for ideas on how to best cover your doors.
Specialty Glass
The TrackGlide™ system has revolutionized custom door coverings. Get seamless coverage for your patio and french doors with this unique and custom shade system. The best part? You avoid drilling into the door, and simply attach the shade system to the very edge of the window frame. The track helps the shades move without getting in the way of the function of your door.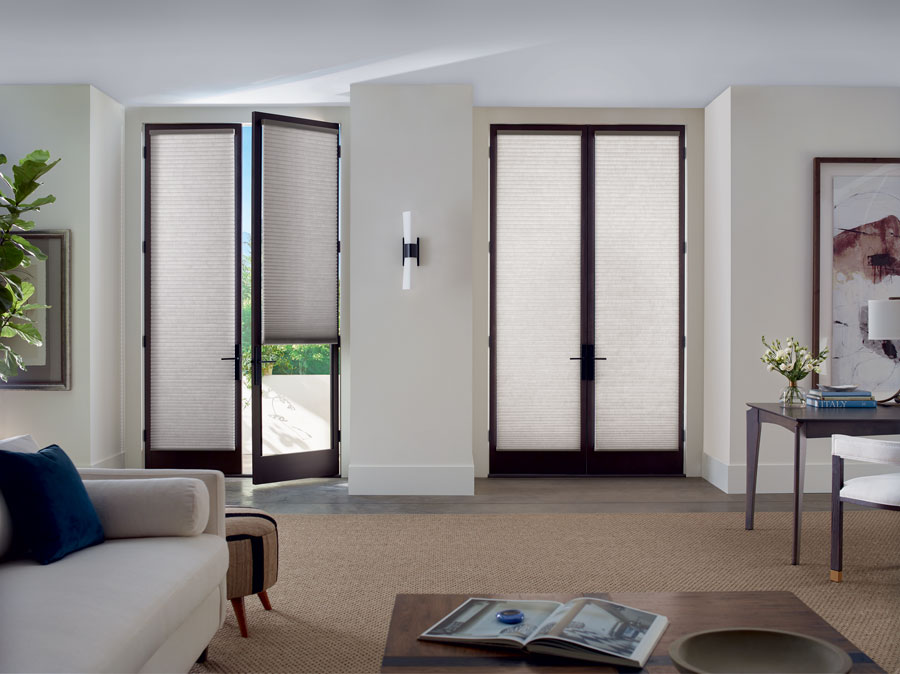 Get Started on Choosing Custom Door Coverings…
Finding the perfect treatment to cover your doors can be tricky. From function to style, you want to make sure your solutions cover it all. Let's get started planning your custom door coverings today! Our team here at California Window Fashions is here to help you through every step of the process. Contact us for your FREE consultations.