It's not often you get to sit down with a design pro to hear the latest trends and upcoming features! We're chatting with the experts of California Window Fashions to find out what's new, discover favorites and hear the question they get asked most often! Let's see what this year's top design choices and innovative features could do for your home…
Which Comes First: Design Choices or Functional Solutions?
That's a great question. Most people get excited about design choices, like colors and fabrics. But, they feel overwhelmed–they know the lifestyle solutions need to be a focus, but they can be tough to tackle. Really, the best way to "have it all" is to work with a professional. That's really what we notice most–our clients enjoy the process so much more. They can have fun shopping for the elements they love, and we take care of creating the right atmosphere.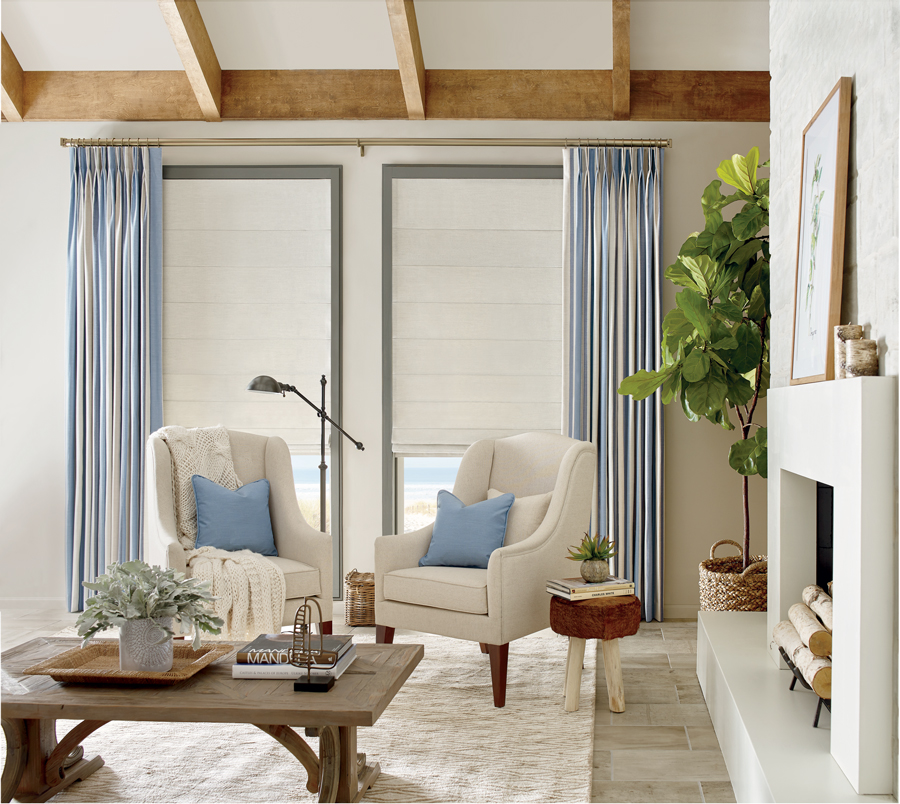 Are There Major Design Changes Coming?
Design evolves continually–it never really stops. That means, you'll always find pieces of the design world coming and going, with a selection of choices that are timeless. In the window covering industry, the biggest shift has shown how much clients want versatility. So, instead of choosing between soft light and room darkening, they want it all, and they can easily have it. We love presenting products that can transition the light in a room, from a sheer view-through, to darkness–and anywhere in between. Our dual shades product availability has grown and continues to do so. Plus, we have a number of shade collections, like Pirouettes, Silhouettes and Designer Banded Shades, that offer that sought-after range.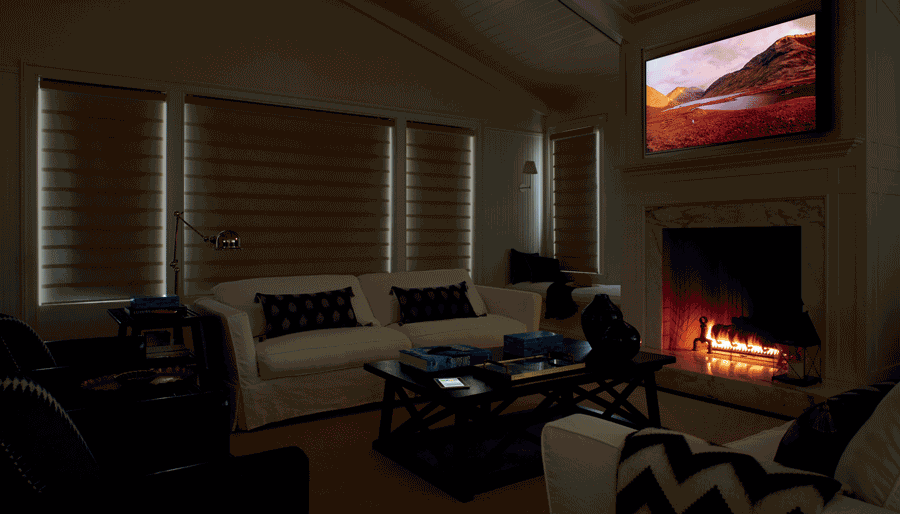 What Did the Last Year Teach You?
Oh, gosh. California really went through a lot–as everyone did–with the pandemic. But, it's been an interesting ride. One thing that we noticed is how much people began to shape their "at home" lives. Homes went from a place to rest your head and have dinner together a few nights a week, to the one and only place you were hanging out–ALL the time. Suddenly, there was a need to create "spaces" and "scenes." Our clients have had to completely change their lives, and with that, their homes. Window coverings have the ability to do a lot of what our clients need: spaces to relax, areas for focus, even flexible rooms for multiple activities.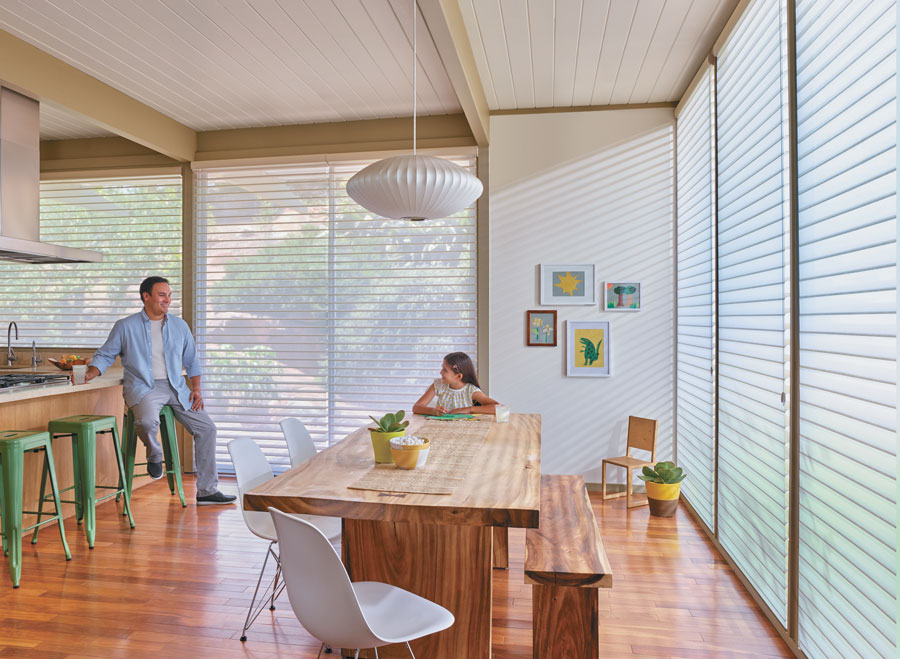 Is There a Collection of Fabrics Everyone Is Loving?
We always say that fabrics can really set the tone of the space–fabric selection can be very personal. With that said, we do have some very popular ones. It's often the texture that draws attention. Clients love to see the dimension. Woven fabrics tend to incorporate an organic, natural feel, so our Provenance collection is a favorite. Another is the Alustra collection. Because it's curated for only a chosen number of products, it has a very luxurious feel. There are a number of swoon-worthy fabrics, just absolutely stunning.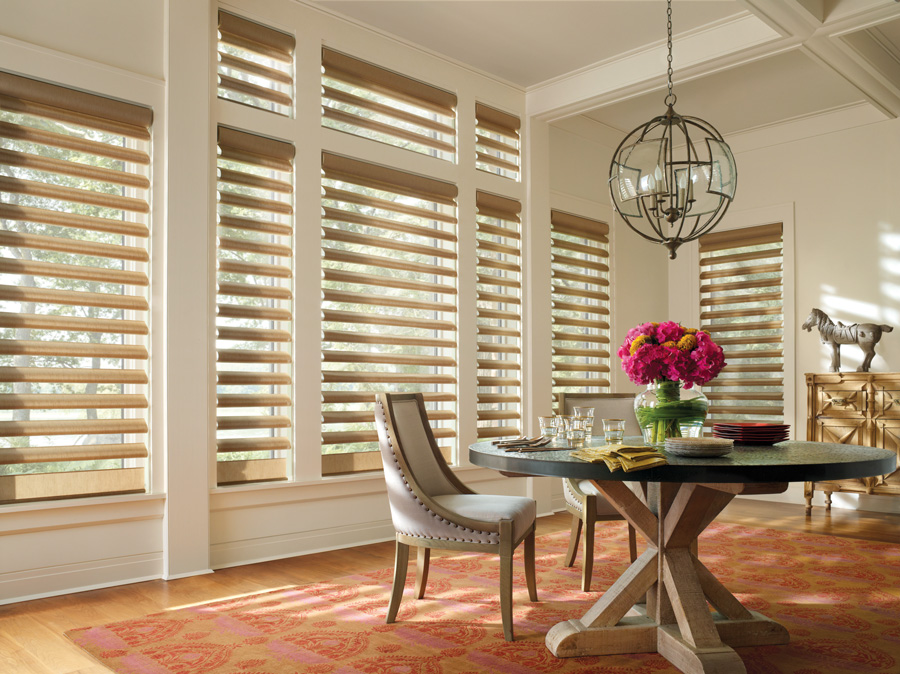 Which Question Do You Get Asked Most Often?
It's always smart shades–but we love it! Automation can absolutely change your life, so bring on the questions! Many people are curious about the possibilities, how it works and what is needed to get it going in their own homes. My advice is: Don't hesitate to ask. Most clients are thrilled to know that it can work instantly–there's no additional technology needed for motorization. With automation, you can integrate our smart shades into almost any home systems on the market, which means you don't have to learn new tech. And, adding automation to your shades is more affordable than you might think.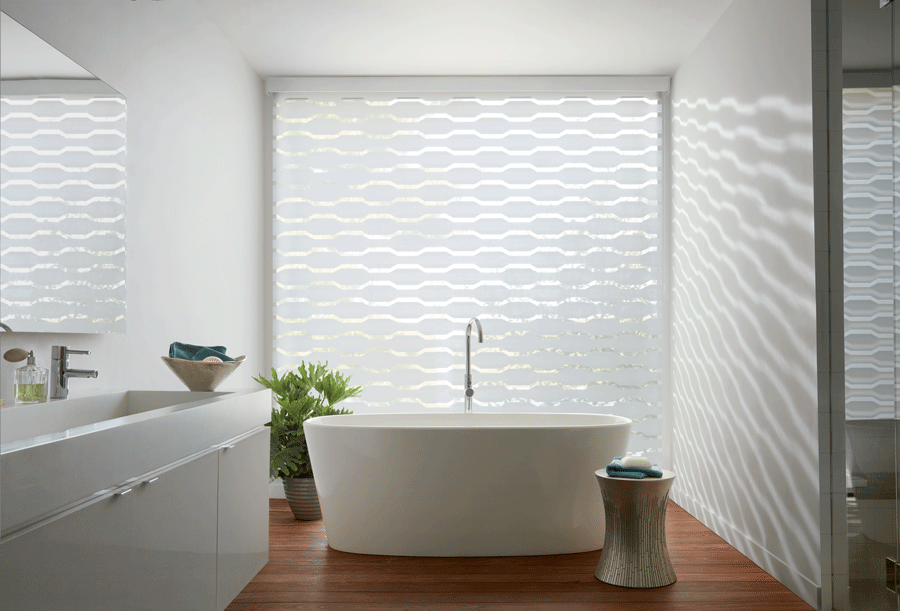 What's Your Favorite Window Treatment to Show Clients?
It would have to be the Pirouette. The collection is just beautiful, and in some cases, it's new to clients. Because it's an exclusive product for Hunter Douglas, many haven't seen it before. Going from sheer view-through, with the fabric vanes, it has an incredibly dynamic look. But, it also has this almost classic appeal, when closed completely, it resembles a roman shade. ClearView is the option to use a different sheer fabric, creating a crisp view, sharper than the original. This was just added as an option, and it's fun to see upgrades on favorites.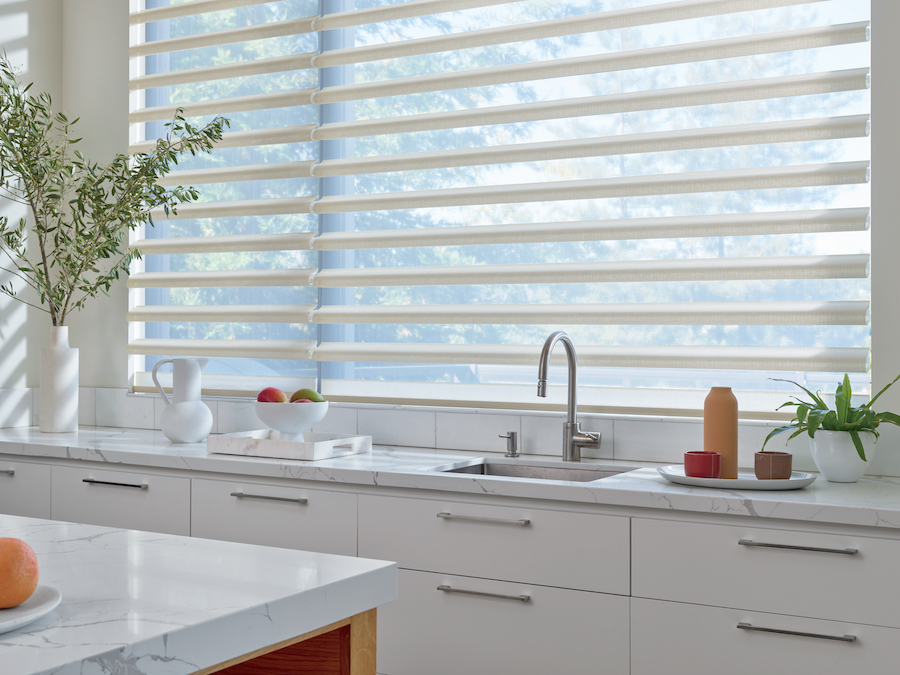 How Do Clients Get Started?
We love starting off with a conversation, learning more about you and your home. We want to listen to both your style ideas and what you need from your window coverings. You are welcome to visit us at our window treatment showroom and try out all the products and features. We are also happy to come to your for an in-home consultation. We'll bring samples and inspiration, take measurements and talk through the possibilities. All it takes is for you to reach out to us for your free consultation.