As an important member of your family, you know that keeping your pet safe can be a full time job! Your home is their home. But, their home could also be considered their playground! Among the other ways to pet proof your home, have you considered pet safe blinds, shades or shutters? Cords can be a danger to pets and children, resulting in tangled messes and even fatal injuries. Let's take a look at what pet safe blinds can do to improve their lives.
Remove the danger. Save the fun.

Pets are naturally curious and full of wonder. They can make everyday objects a favorite toy–for hours at a time. That's relieving when you have to be away from them during the day. But, this is also one of our worries as pet owners. They can find themselves tangled up and in trouble from playing with cords. Pet safe blinds, shades and shutters allow you to remove the dangers while creating a playful environment. What do they really want? Easy access to the outdoors, a safe view of the landscape and the right amount of sunshine in their favorite spot.
Let them roam.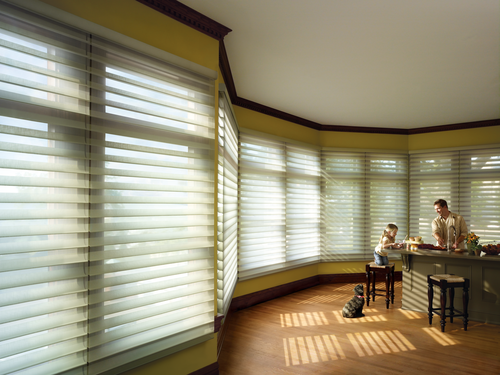 This is the perfect time of year for pets to explore outside. Pet safe operating systems allow them to go in and out of your home (as frequently as they want!) with ease and convenience. And, if you're worried about dusty paw prints or tumbleweeds of fur ruining the look of your window treatments? The finishes and fabrics you select are designed to protect against dirt and dander. Pet safe blinds, shades and shutters don't just bring safety to your pets–they improve your home and lifestyle, as well!
Give them a view.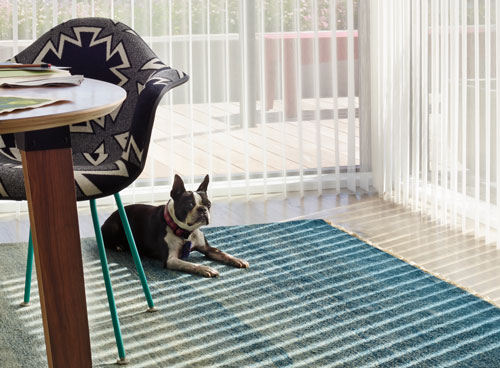 The next best thing to spending time in the great outdoors is taking in a view of the landscape.  It's a great way for them to spend the day. But, you can't expose your home all day long to intense sunshine. And for some pets, blocking their view during certain times of day is even more important. How do you create the perfect environment for both you and your furry friend? Choose the right operating system. From the ease and convenience of motorized shades to the simple adjustments of LiteRise, cordless is available for pet safe blinds and shades. They get entertaining views, and you get the coverage you need–with peace of mind you deserve.
Deliver comfort.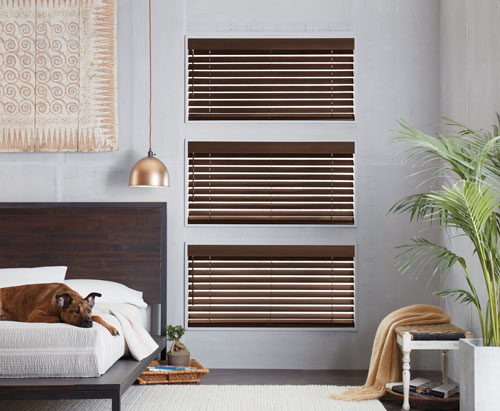 Speaking of their favorite spot…does your pet love basking in the early morning sunshine? Or, do they soak up the sun of the afternoon? No matter the time of day, create a special space that's perfect for them–while protecting your home from unwanted heat and direct light. The right pet safe blinds will adjust for the benefits you both need. What about the pets that need the windows blocked to keep their anxiety in check? Make sure they don't feel locked up in a cave. Top down shades are a great way to add natural lighting to your home, while keeping their nerves under control.
Control their environment with pet safe blinds.
Your pet's safety is important to you. Controlling aspects of their space can help keep them safe. And their behaviors? Let's just say they might need help making good choices. Pet safe blinds, shades or shutters can play an important role in that safety–while maintaining the benefits you need for a happy home. Let our team at California Window Fashions help you find the right solutions for your whole family. Our team can guide you to the right features and fabrics to improve the look and function of your home. Contact us today to get started!