Your coffee pot, your garage door, your DVR…three examples of how automated technology has improved your daily life. Three things, as in most cases of automation, you didn't know you needed until you experienced them. Now you don't want to think about living without them. We have one more to add to the list. PowerView Technology for your window treatments. PowerView technology is 'touch of a button' activation for effortless operation of your window treatments. Combined with the advancement of the Hunter Douglas app, which allows you to use your favorite device, you will experience unlimited control options for your window treatments to do exactly what you want, whether you are home or not.
Get It Scheduled.
Scheduling your window treatments to automatically operate means that you no longer have to think about whether you remembered to close your shades. PowerView technology allows you to enjoy the natural light when you are home, and peace of mind when you are not at home, knowing your home is protected with high levels of privacy and UV protection.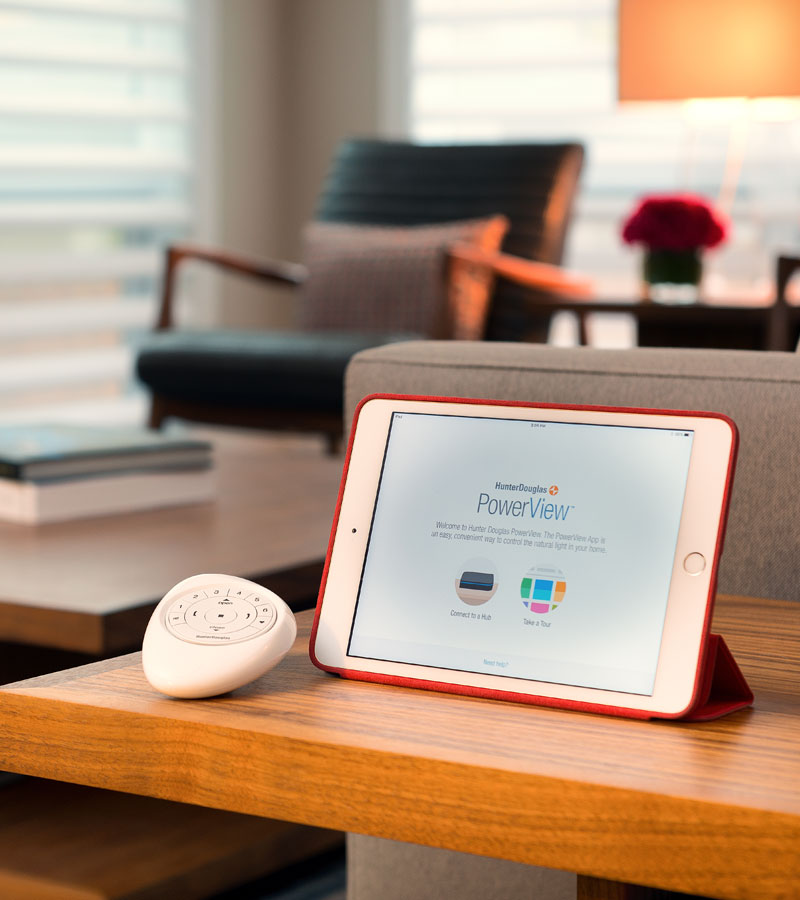 Scheduling your PowerView technology means that you can experience a sunrise wake-up each morning to start your day, but it also means blissful, late wake-up calls on Saturday and Sunday, as your room-darkening shades automatically stay drawn much longer. Setting a schedule on the app is as easy as a few swipes on your iPhone, so if you want to alter it once you set it up, you can.
How Convenient Is PowerView Technology?
Life changing. But don't take our word for it. Read on to see if you identify with any of the following scenarios…
You finally have time to relax after a busy day. Collapsing into your couch for a much needed DVR session, you turn on the TV. Five minutes into your favorite show, the sun begins to set. It occurs at exactly the right angle that the glare keeps you from being able to see half the screen. Touch a button on your iPhone to perfectly adjust your window treatments, and you won't miss a beat.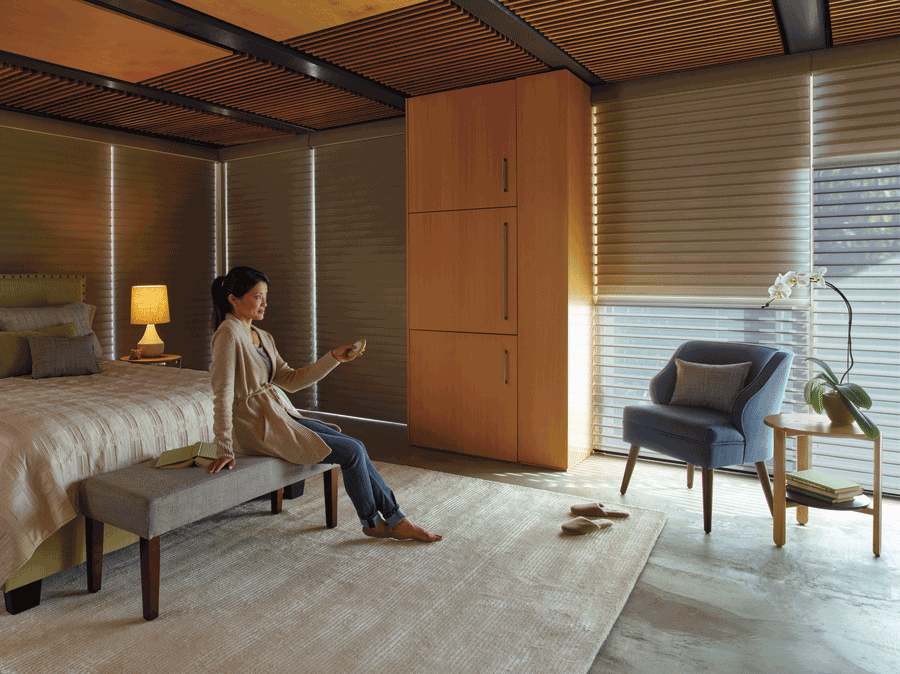 You come home from work, early one day, suffering from a dreadful headache. All you want is the peace and quiet of your dark bedroom. You can have the perfect sanctuary with the touch of a button, allowing you to fall asleep and heal, even with the brightest of days on the outside.
You spend the day working from home, and you need just the right amount of light filtering into your home office. Depending on the time of day, you adjust the shades to provide the ideal environment…with just the touch of a button.
Your living room shades are positioned behind your furniture, making them difficult to operate. With the effortless activation of PowerView technology, you no longer have to worry. You have the ability to open, close, tilt and adjust with the touch of a button, not to mention the high levels of child safety that automated window treatments will bring to your life.
Take Control.
PowerView technology gives you the ultimate control for effortless operation of your window treatments. Maximum control with minimal effort, in addition to the peace of mind you receive with high levels of child and pet safety. Does that sound good to you? Contact the professionals at California Window Fashions to learn how PowerView can change your life for the better.