You deserve a home that makes you happy. What you might not know is that one thing can make or break how you feel about your home: your window coverings. If you're living without them, or with the wrong ones, "happy" is nowhere in sight. Instead, you're rubbing elbows with "frustrated" and "uncomfortable." When you find the correct window coverings, though, happiness comes home and stays! Creating the perfect atmosphere in your home is easy with the versatility of sheer shades. They can turn even the most disastrous environments into ones that are sure to make you smile. Take a look…
From One Disaster to Another…
Your first impression of this room might be, "Wow, great space." But if you spend more than a few minutes in here, you'll quickly be thinking otherwise! After moving from spot to spot in search of some semblance of comfort, you'll end up leaving irritated and annoyed. Sound familiar? If your windows are bare or outfitted with improper window coverings, you've probably played this bouncing game before…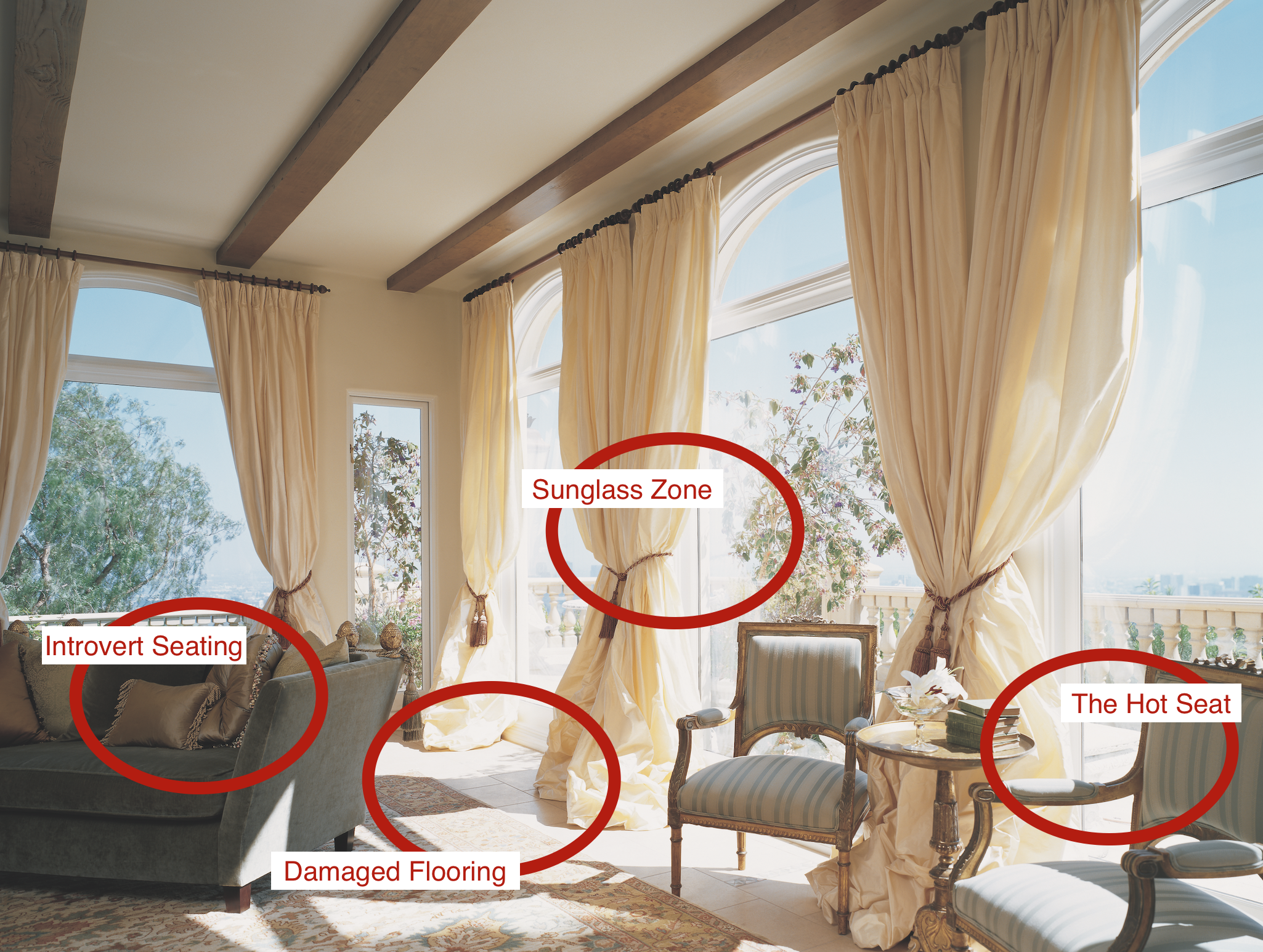 You walk over to the windows to savor the view. Instantly, you regret not bringing your sunglasses and sunscreen. Realizing that looking out the windows is not an option, you head over to a chair.
Sitting down, your first thought is, "Well that's better." You pull out your phone, but you can't see anything because of the glare. You try a book. Same issue. And by now,  you're starting to sweat. Ugh…time to move.
Seeing that the couch is out of the flooding light, you make a beeline for it. On the way, you notice how faded and damaged the flooring is from all the UV rays pouring in. Yikes!
Sinking into softness, you imagine that you've found the perfect spot here on the couch. Wrong. All the blinding light near the windows makes it feel incredibly dark. You wish there was a lamp–even though it's the middle of the day and you couldn't stop squinting a minute ago! And, if you have guests, forget about chatting with them. It's just too painful to look anywhere but into the dark abyss across the room.
Now, you're out of options, so you leave–making a mental note that this room should just be avoided from now on. Did you know that it doesn't have to be this way?
Sheer Shades to the Rescue!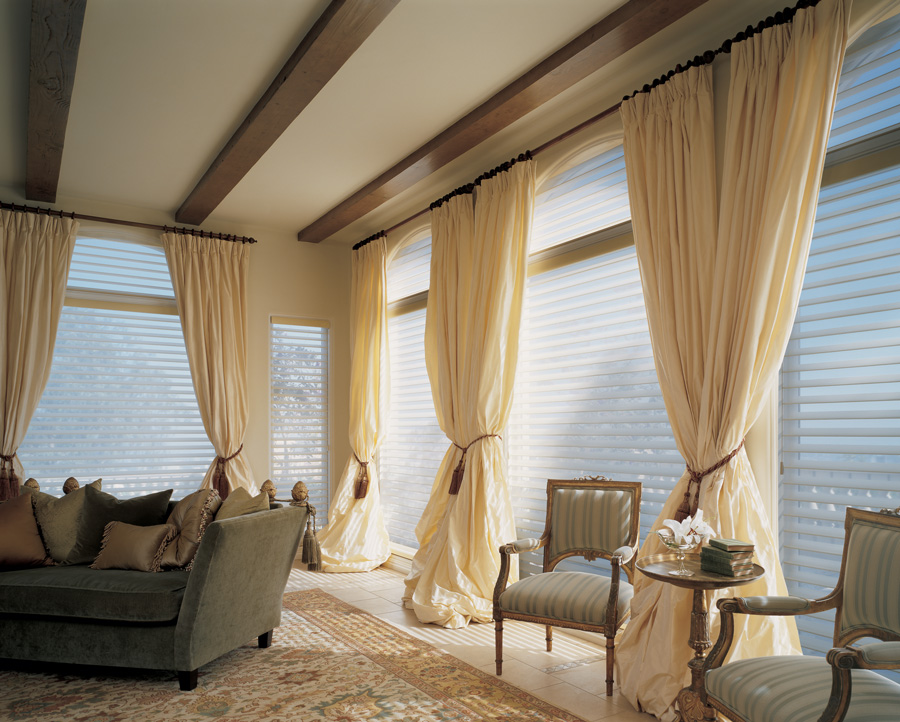 Now, this is perfection! The setting is ideal for everything you'd want to do in this space. Take in the view. Relax and scroll on your phone. Cozy up with a book. Talk with friends or enjoy some quiet time alone. What made the difference? The right window coverings. These sheer shades soften the lighting and reduce glare while still allowing for landscape views. They add privacy, temperature control, and energy savings all while blocking harmful UV rays. These homeowners were looking for happiness, and they sure found it! And so can you!
Open Concept Solutions
Whether you built your home with an open floor plan or bought it that way, you probably thought you hit the home-happiness jackpot. That is, until you've lived there for some time. When different people are trying to do different things in the same shared space, it poses some big challenges–especially when it comes to lighting and privacy.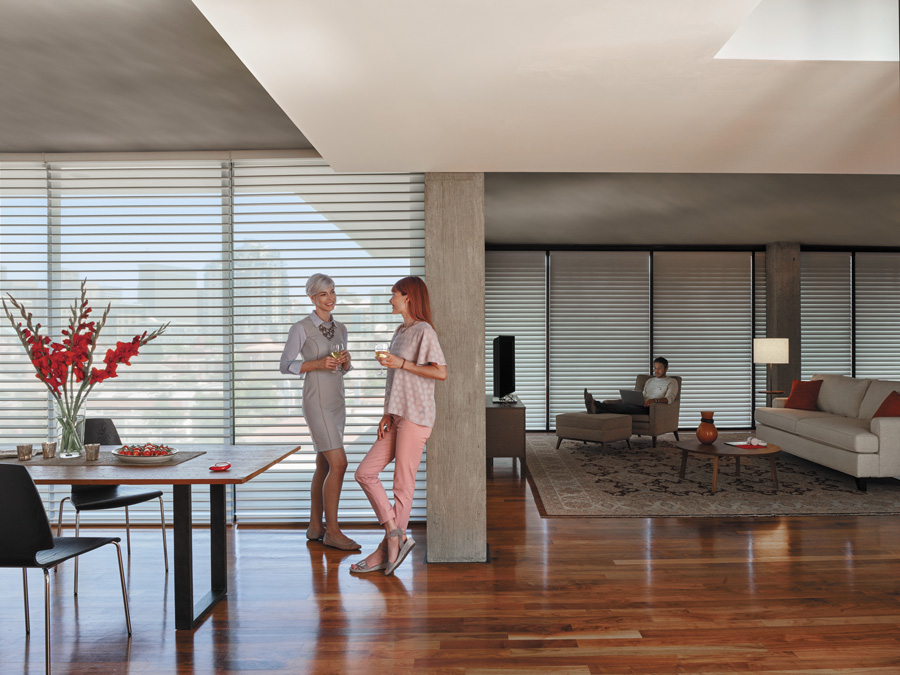 Sheer shades offer incredible versatility in light- and privacy-control adjustments. They easily create the right conditions for whatever everyone has planned. You can adjust the floating vanes open for view-through and glowing daylighting while you entertain in one area. All while the vanes in another area stay closed for quiet relaxation and media use. Think you'll be running around making adjustments every time someone in the family makes plans? Think again. With smart shades, your favorite settings happen in an instant.
Sheer Darkness
It's easy to think that sheer shades can't possibly bring happiness throughout your home. What about the darkness you need for a good night's sleep? With today's innovations, sheers can now offer beautiful daylighting and sleep-inducing darkness. Luminette Privacy Sheers feature rotating vanes that bring in soft, filtered light in one position and block it out in another. Dual shade systems slide a blackout shade in place behind the sheer shade. When you wake up fully rested and restored, you can bet you'll be feeling happy…and you'll be loving your home and life more than ever!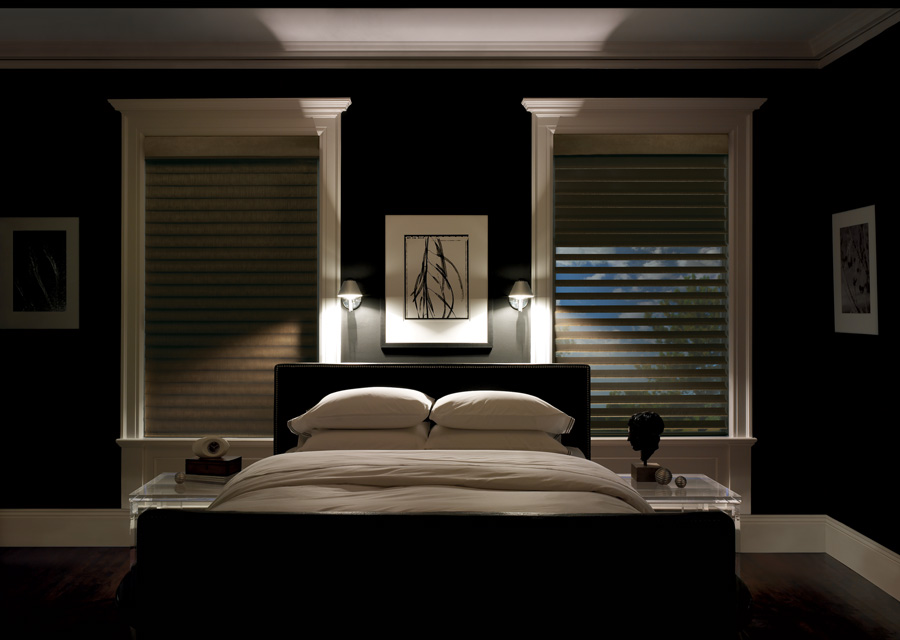 Your Happiness Starts Today
You don't have to suffer with bare windows, the wrong window coverings, or even ugly ones! Sheer shades can bring happiness, style, and solutions into your home and life. Come see your California Window Fashions' design team at one of our showroom locations. Or contact us to schedule a FREE, in-home consultation.