Does springtime have you feeling a bit out of sorts? The way light changes this time of year can really impact your mood, sleep, and energy levels. On top of "springing forward" with daylight savings time, we're also grappling with the seasonal lengthening of daylight hours. It can be hard to adjust to more sunshine in our homes, and finding the right balance of natural light and shade can seem impossible. But it's not! Blackout solutions will help you live in harmony with the sun on YOUR terms and YOUR schedule. Visit our Houzz page to see our blackout solutions. And our favorite features for balancing light? Take a look…
Mornings
As the sun wakes up earlier and earlier each day, you might find that you are too. Quality sleep is essential for health and happiness, and quality sleep happens in total darkness. Blackout solutions in your home's bedrooms work to ensure that your whole family gets a good night of sleep, every night, regardless of what the sun's doing outside.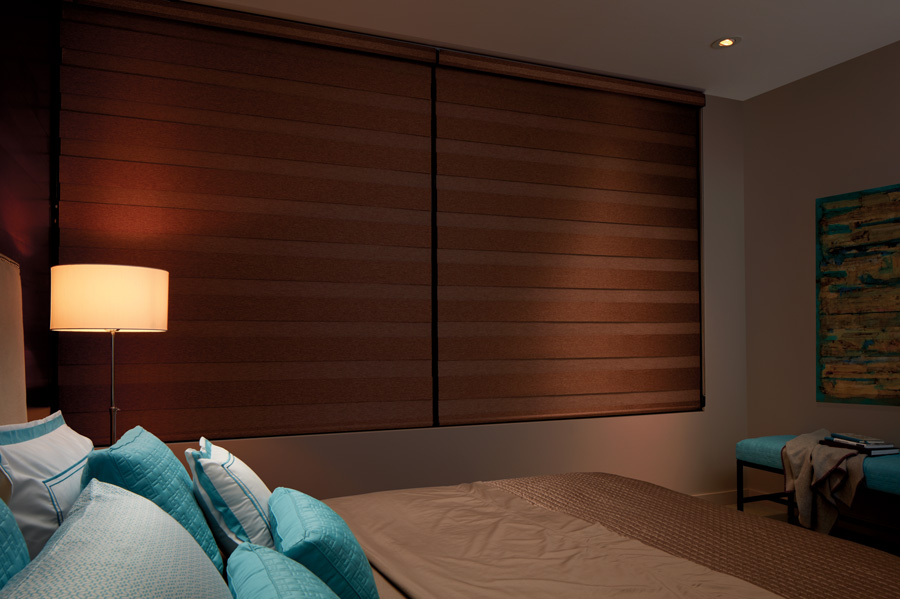 We love the way Designer Banded Shades can completely block light one minute and let it in the next. One swift rotation transforms your space from sleep-sustaining darkness to energy-enhancing light. Perfect for day and night, these blackout solutions also add privacy and incredible style.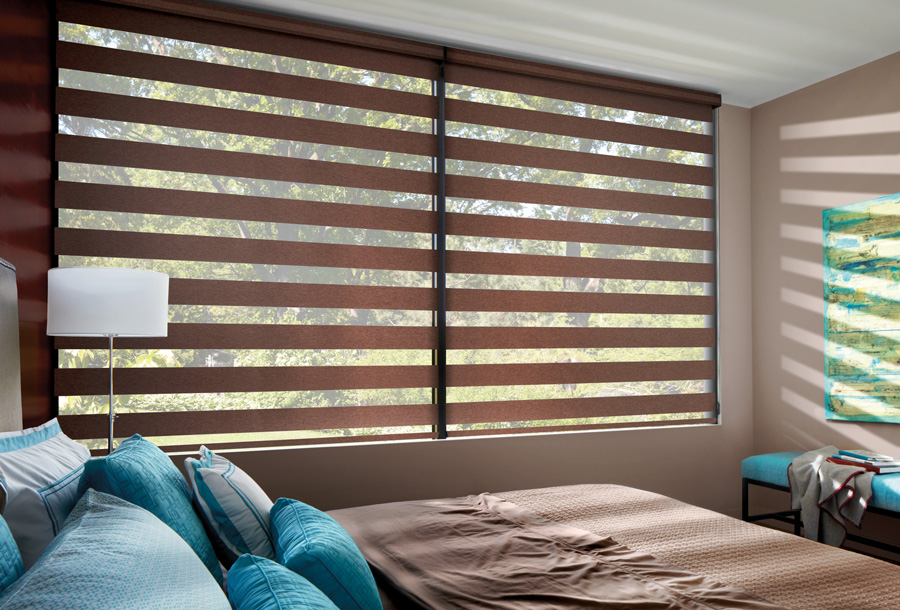 Daytimes
Blackout solutions in the bedroom might seem like a no-brainer. But in the rest of the house? You'd be surprised at the difference they can make–especially on east- and west-facing windows that blast your home with direct sunlight during the day. If you find that there are certain rooms you start to avoid this time of year, and all summer long, you're going to love the beauty of today's blackout solutions. Offering light-blocking and light-filtering, you have complete control of your home's atmosphere over the course of the day.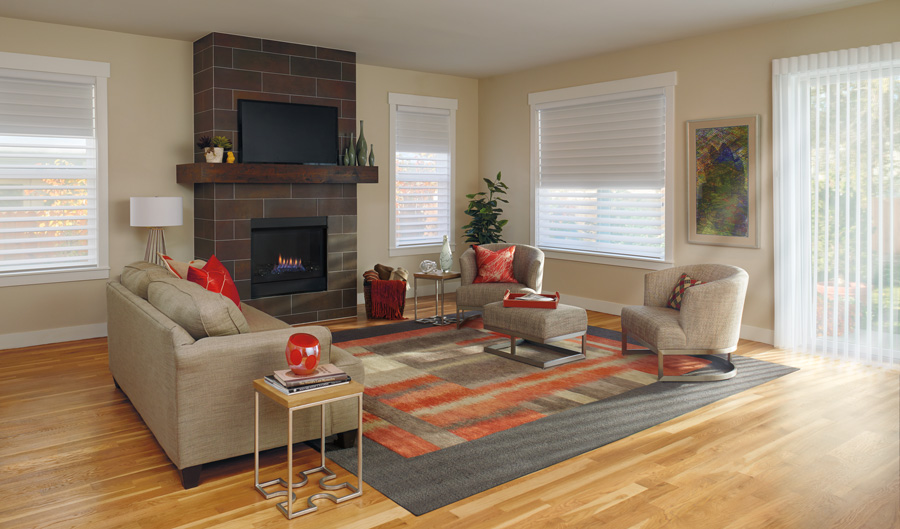 A number of our blackout solutions feature dual systems–like these Silhouette shades. A blackout roller shade is always at-the-ready for when you need to block light. The rest of the time, you can enjoy filtered light and views of your landscape. Because the blackout shade operates independently of the primary shading, these dual systems truly let you customize the way light enters and interacts with your home. Want to know the best part? As smart shades, you don't have to adjust them at all! Moving in time with the rhythm of your life, these blackout solutions adjust themselves. Throughout the day, they're always right where you need them to be–constantly working to fashion the ideal environment for you.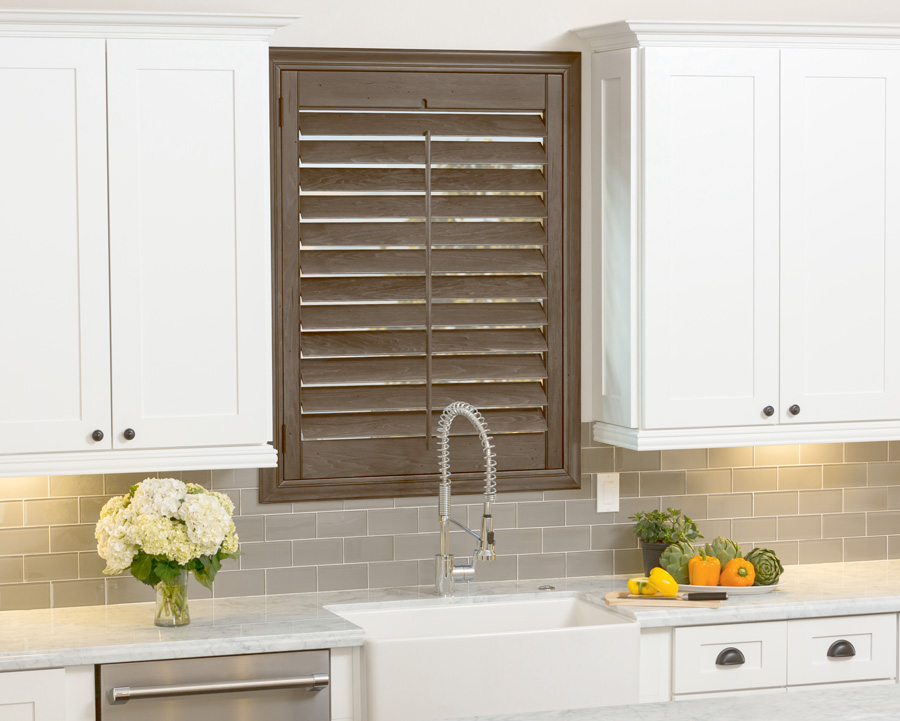 Do you have spots in your home where you deal with unbearable light for just a small period of time? You'll find that the best blackout solutions allow for light-blocking AND a gorgeous view to the outdoors. Plantation shutters, like these, enable you to keep blinding light out when it's at its worst. When you do want light to enter, their louvers easily adjust open and tilt for directional control. The vanes and slats on window shades and blinds work very similarly. All of these options provide simple adjustments for incredible benefits.
Evenings
After a long day, it feels so good to come home and relax. Gathering around the table with your family, putting your feet up to watch your favorite show, popping some popcorn and snuggling in for movie night…amazing, right? Sure, until the evening or setting sun starts glaring through your windows. Blackout solutions to the rescue! Having the option to close off your windows is a major advantage in your main living areas. You can secure privacy, make it movie-theater dark, and wind down in total comfort whenever you want. Simply rotate the fabric vanes of your sheers closed–like they did here with their Pirouette Shades. And, when you want to enjoy the light, open they go! It's all up to you.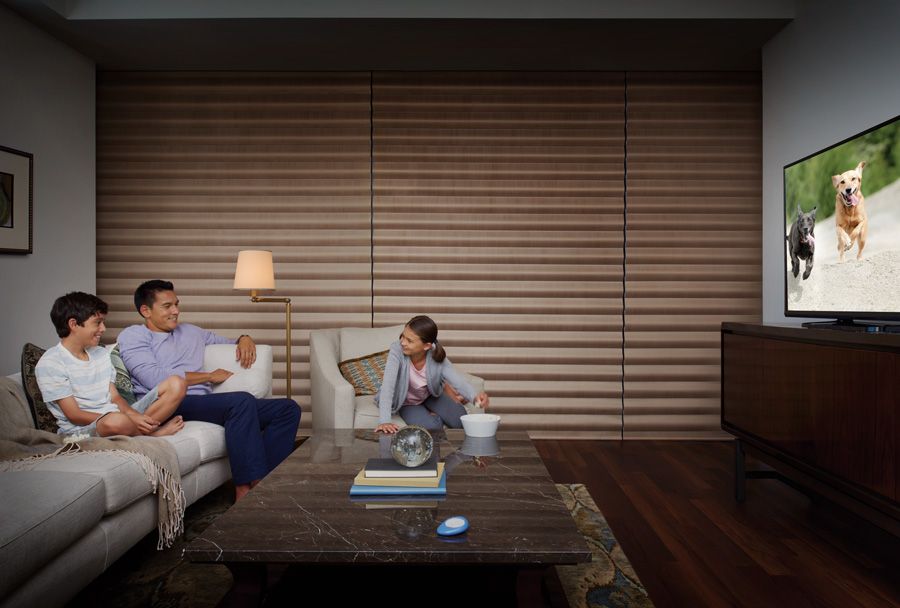 Get the Blackout Solutions You Deserve
Did you know so much was possible with blackout solutions like these? There are many, many ways to have light and block it too! Come visit us at one of our showroom locations to see all the possibilities. Or, invite us to your home for a FREE in-home design consultation. We can guide you toward the best blackout solutions for your unique windows, home, and life. Contact our team at California Window Fashions today!