As Father's Day approaches, you are under pressure to find a great gift for the man who has everything. What better way to find him something unique than technology. The smart world we live in now moves so fast that there is bound to be something he is interested in, but hasn't bought for himself yet. We have put together a list of tech savvy gifts for Dad that will ensure a smile on his face come Sunday morning.
He loves to organize.
For the Dad in your life that likes things neat and tidy, find devices and software that will do the job for him. Uploading receipts, scanning important paperwork…these are gifts for Dad that will be fun to operate and valuable to have on hand. The Neat Company is one option when trying to find the program that will fit your favorite guy's preferences.
He stays in shape.
Or maybe it's one of his life goals. Look no further than technology to increase the chances that your guy will stay in shape. Both the Apple Watch and the FitBit have received a great deal of attention recently, and there's a reason. The chances of staying in good physical health increase when you continually check in. With challenges and friend connections, the Dad in your life will feel his competitive nature come out!
He's a gourmet at the grill.
Grilling has long-since had the stereotype of a man's favorite way to cook, and no one is arguing! The main course is normally meat, very few dishes to clean up and fire is involved. Want to add more excitement to this pastime? Technology. Great gifts for Dad surround technology + the grill. With GasWatch, the empty propane tank will never surprise him again. And his grilling skills will experience an improvement when he adds the latest bluetooth thermometer to his essentials.
He has a green thumb.
Living in California, there are rules for garden care. Water is not always in high supply, and we must be mindful to follow restrictions. The folks at greenIQ have a device that would allow you to precisely care for you greenery on a budgeted schedule with irrigation zones, sprinkler schedules and the energy efficiency of light control. If gardening is his thing, he will maintain it with effortless control.
He's got the whole world in his hands.
Lifestyle control. Whole house integration systems. These are phrases that any dad would get excited about. Like little boys, they love the latest and the greatest, something to figure out, experiment on and tinker with. Introducing PowerView from Hunter Douglas, a revolutionary new automation system that connects with third party integration systems to bring all the automation of your home together.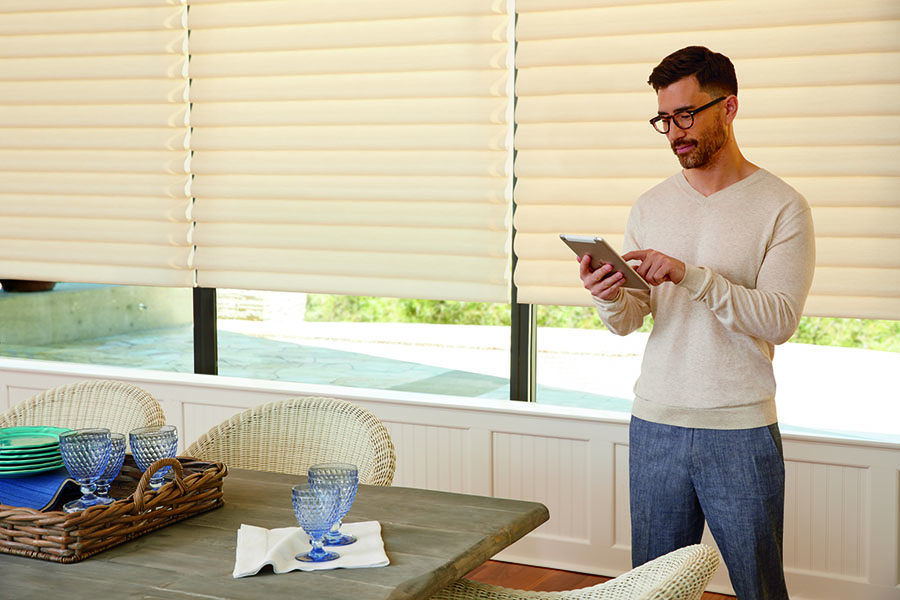 Perfect to add to your list of great gifts for Dad, PowerView offers the ultimate light control experience, as the window shades operate on schedule. Set scenes within the App so he can provide instant atmosphere at a moment's notice. What's the saying? Never leave home without it? That's no longer a concern. The window coverings will adjust themselves at the scheduled time. From the comfiest chair in the house, or from a lounge chair at the beach hours away, he will still be in control.
Technology is the way to go this Father's Day. Whether you choose something from this list, or a unique idea of your own, we hope your gifts for Dad are a success! If you've been thinking about adding or replacing window shades in your Roseville area home, or you want to hear more about the newest innovation from Hunter Douglas – PowerView – we'd love to chat! Contact our team, at California Window Fashions, for a free, in-home consultation.