Could your home use a little refreshment? Updating the style of your outdoor space is perfect for adding some new life into your home this summer. Before you jump in and start changing things, though, you'll want to think through the design. Of course you want it to look fabulous, but you also want to make sure you get the most function out of it too. From making sure you have ample seating to figuring out how to keep the bugs away, there's a lot to consider. Here are five tips for getting your outdoor space ready for entertaining company and enjoying on your own.
1. Have Plenty of Seating
It's no secret that, here in our area, the middle of the day is better spent inside in the summer. The heat is often just too much. But, our mornings, evenings, and nights are what dreams are made of–which makes them amazing for entertaining! Whether you and your friends want to ease into the day with coffee and quiche, or relax later on with desserts and drinks, enjoying the outdoors is the best way to do it! Sometimes you'll have just a few people over, and other times you'll play host to many. Whatever the number, make sure you have enough seating. Creating at least two different areas of seating is a great way to make your outdoor space more versatile and ensure there's enough room for everyone. Being able to cozy up around a coffee table or fireplace is nice, and so is having chairs around a place to eat.
2. Set Up Some Storage
Life is so much easier when you're organized! Having storage right in your entertaining space is really handy. Storage benches and cabinets let you can stash cushions, pillows, tablecloths, and more for easy access in your outdoor space. It makes setup a breeze, and, while your guests are there, you won't have to keep leaving to get things you find that you need. Creative storage options include coffee tables and farm tables with space underneath, benches and ottomans that open with space inside, and serving carts that have drawers, cabinets, and a workstation on top. Fun and functional, it really doesn't get any better!
3. Savor Sun and Shade
It pretty much goes without saying that you want your guests to be comfortable. But, that can be tricky when you're entertaining outdoors. Your visitors will have varying preferences when it comes to being in the sun or shade. Remember how we suggested having more than one seating area? Try making one area shaded with an umbrella or pergola and another more out in the sun. This way, your guests can decide where they'd feel most comfortable. Then, your outdoor space–and party–will be a success!
4. Plant Herbs to Banish Bugs
When creating an outdoor space, you probably didn't imagine you'd be moving in with bugs. However, when you come in itching from all the mosquito bites you got after an evening out on your patio, it's an all too painful reality. Good news, though. We have a beautiful and natural way to kick out your unwanted roommates: herbs. You're probably familiar with bug-repelling citronella candles, but did you know citronella is actually a perennial grass? Its beauty will attract you, and its scent will make mosquitoes turn the other way. If you're not a fan of the lemony citronella aroma–which can be stronger than the candles–lemon balm, mint, and lavender are other plants that'll do the trick. And, a great bonus is that you can use many of them in the kitchen too!
5. Enjoy Your Outdoor Space from Inside
Like we said, there are times when the sun is simply too hot to enjoy being outside. In these cases, it's nice to relax inside while still savoring your view of the outdoors. Window shades let you do just that. You can take in the beautiful landscapes around your outdoor space comfortably from inside, and enjoy all the benefits that window treatments have to offer–like light control, privacy, energy efficiency, and UV protection.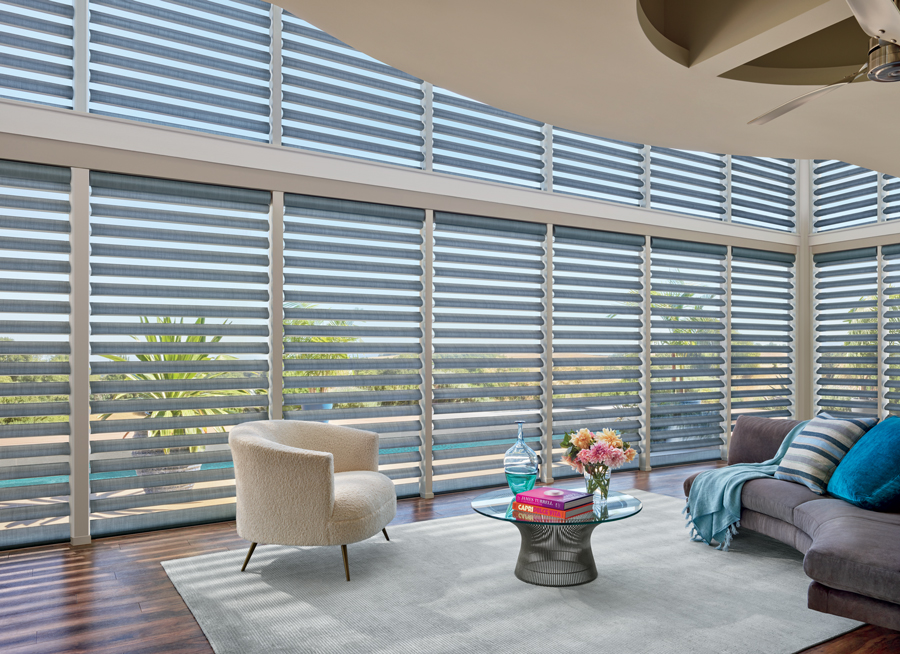 At California Window Fashions, we want your summer and your home to be phenomenal. If you're ready to refresh your outdoor space, we're ready to help. Stop into one of our showrooms to see fabrics and products up close, try out different operating systems, and get advice from one of our experienced design consultants. Is your summer schedule pretty booked up? No problem. We'll come to you! We'll bring samples and our expertise right to the outdoor space you're looking to redesign. Contact us for a free, shop-at-home experience today!