The fashion and design industries are constantly evolving. Have you seen some of the newest design trends coming in 2017? Captivating colors, curved designs and a whole lot of relaxation come into play. The styles have been named–and while they offer two distinctly different sets of decor–they have a lot in common. We're excited to show you how to make your home stand out. Old Havana comes into the newest design trends, focusing on the rich colors and alluring textures of Cuban life. Cove, the decorating style inspired by the seaside, presents the influence of nature and minimalistic sophistication. While the newest design trends can be enticing to think about, it's much harder to change things up every time something new arrives. If you want to capture new looks for your home, but you aren't ready to redecorate–and you shouldn't have to–we've got a list of ways to help! Take a look at how you can add aspects of the newest design trends to your decor. It'll add instant refresh and character without life interruption.
#1 Know the Trends.
Even if you don't love a particular decorating style, it's important to notice what's happening in the big picture. Often times, you'll start to see recurring ideas, no matter what's coming. Old Havana and Cove are clearly very different when it comes to style. But when you look at the overall themes and what's driving the inspiration of the newest design trends, you'll see they have more in common than you expected. And that can make all the difference in how you incorporate style into your home.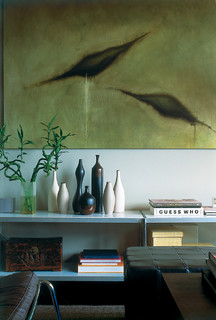 Old Havana
Accents of Old Havana are all about storytelling. It's about personal experience and the richness of life, culture and heritage. Old Havana brings a decorative palette and unique designs into the home. These newest design trends showcase the lush greenery and florals of the country. With the influence of Cuban tradition, antique pieces, detailed carvings and rustic decor add unique style to any space.
Cove
The soothing inspiration of Cove reminds us of the relaxation of life by the sea. The influence of curves, natural forms and raw textures adds a fluid look to design. Minimalism is important to this look, as it adds flowing movement to the space. The accent pieces in the newest trends of Cove feature the unique shape of natural materials, like marble and wood. Sweeping patterns in abstract form can bring individual style to your space.
#2 Don't Be Afraid of Color.
An overriding theme in the newest design trends is color. The key to adding color to your home is choosing a palette that makes you feel a spark. Whether you love the vibrant tones of Cuban decor or the the soothing hues of the Seaside palette, it's time to bring some color into your home. After you've chosen one or two of your favorite colors, find accents. Blankets, knick knacks or area rugs are perfect to start with. Stand back to see if you love the results, and then decide if you need more!
#3 Go Ahead and Mix Patterns.
You have our permission! Mixing new patterns into the design of your home is a great way to add accent without going overboard. The newest design trends are bringing in globally chic influences, so choose medallions and damasks as a way to incorporate curves. Accent pillows in handcrafted textiles and unique wall art, like iron artwork, easily add design and dimension.
#4 Let Your Personality Shine.
High contrast is one of the newest design trends, like pairing woods and metals, so it's time to embrace textures and styles that, at first, seem opposite each other. Unlike the minimalism of Mid-century Modern, Cove is about outfitting your home with intentional decor in the 'less is more' mindset. It doesn't all have to match, but it does have to incorporate aspects you love. A glass chandelier can showcase sophisticated style, while rustic decor–in the same room–tells the story of the beautiful imperfection of life. It's high-end design coupled with vintage textures, and it couldn't be more of a personal experience.
#5 Let Nature In with the Newest Design Trends.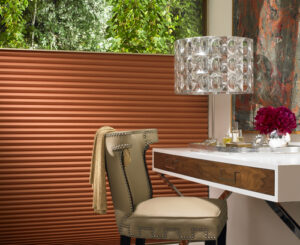 An easy way to add color, texture and unique design choices into your home is by letting nature in. The inspiration of nature's beauty is a huge part of the newest design trends, whether that makes you think about the tranquility of the sea, or the rich colors of the Cuban countryside. Bring in greenery to your home design with a vase of fresh flowers or a centerpiece of classic topiary. There's also a whole world just outside of your windows for you to sit back and enjoy. Make sure your windows are beautifully dressed with window treatments that let you relax and take in the scenery. That's where we come in! We'd love to help you choose window coverings for your home that enrich the style and function of your space. Contact our team for a free, in-home consultation today!