With the beautiful glow of autumn, how can it not be your favorite season of the year? Chilly overnights create crisp mornings, while the sunshine of the day warms the air. It's a vast range of temperatures we see here–are you struggling to find control and balance? Window solutions can seem impossible when you want to enjoy the season of fall, yet receive all the benefits of a comfortable home. Do you know what you can achieve? You can have it all–and you deserve to have it all–with the innovations of some of our best window solutions. Take a look at all the function and beauty you can discover to help you transform your home now, and reap the benefits throughout the year.
The Perfect Balance: Privacy & Light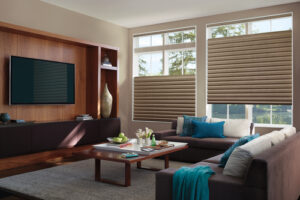 "Ambient lighting and comfortable privacy in one…"
The glow of autumn light–there's nothing quite like it. It's lovely to think about harvesting that light, letting it flow into your home. Mood-enhancing, productivity-boosting, ambient lighting? I don't think so. There are two problems with this dream scenario. One is that it might be nice to think about letting light flow into your home, but too much sunshine can be a real struggle. It's overwhelming. The other problem is privacy–or lack thereof. This time of year means that neighbors are out and about enjoying fall air, and the last thing you want is a view straight into your living room. Need window solutions? Enjoy controlled light, daylighting your home, while still maintaining comfortable privacy with top down shades. Top down bottom up shades let you decide how much light you want entering, how much privacy you need, and the parts of your windows that need to be covered up the most. Doesn't that sound like the perfect balance?
The Ultimate Control: Motorization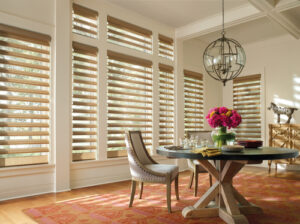 "A symphony of dynamic light control…"
With autumn, you hustle from activity to activity. Then, the holiday season comes rushing in. There's just no time! Within your busy life, who has time to perfectly adjust the shades to meet the changing needs across the day? Thankfully, we have window solutions to solve this. Top down shades allow you to let light in while still maintaining the benefits of shades, but we have another innovation that will transform your home. Motorized blinds and shades are the answer to your busy life. PowerView Motorization is the automated way of life. With just the touch of a button, or simply by having your favorite settings saved and scheduled, your home will be a symphony of dynamic light control. Set your motorized blinds and shades to reveal the beautiful early morning while you have your coffee. By the time you make your way out the door for the day? Your motorized blinds and shades are moving into their daytime position–without another thought from you. And with the PowerView App, these window solutions make it easy to adjust your shades from across the room, or across the world.
Quality Sleep: Blackout Solutions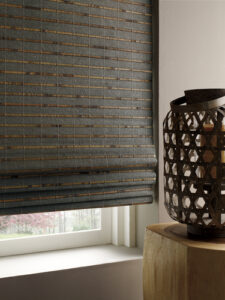 "High quality sleep for you and your family…"
Even with the dwindling daily length of sunshine, are you struggling with sleep? The slightest glimmer outside of your window at night, and you'll toss and turn. Passing traffic, a poorly placed street light, the change in daylight savings–all of these things can wreak havoc on a blissful night of sleep. And what about year round? Do you find yourself trying to discover window solutions that will deliver high quality sleep for you and your family? Blackout solutions will change your life. Whether you need the on/off function of blackout blinds and shades that provide instant darkness, or if you want the dual function needed for levels of light control–from light filtering to blackout–we can help.
Comfort & Savings: Energy Efficient Solutions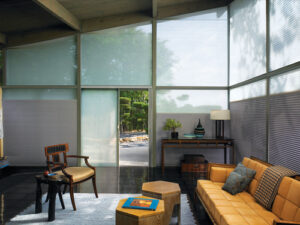 "Maintain comfort while saving money…"
The refreshing temperatures we see in autumn are some of the best of the year. Crisp, cool mornings and sunshine-filled days help us make the most of our gorgeous views. The range of temperatures we see make it so important to have energy efficient window solutions over the course of the day and night. While it's nice to cozy up with a hot cup of coffee on a chilly morning, or wrap in a cozy blanket to watch a movie at night, you'll want to ward off energy loss. Not only will energy efficiency allow a comfortable atmosphere right now, but the protection continues around the year. During the hottest times of year, the blazing sunlight can stay outside of your windows, maintaining comfort and saving you money.
Find Your Window Solutions…
I might be biased, but I think that we have some of the most gorgeous landscape views around. And they are simply stunning this time of year. But if you're facing issues that call for home transformation, we've got the window solutions for you! Come check out the latest innovations for your home at our Hunter Douglas gallery showroom, and see what's possible. Or, contact our team at California Window Fashions for a free, in-home consultation.