Having large windows in your home may bring a beautiful view, but what about your atmosphere? Do you find yourself wishing you had large window solutions? You're not alone. Are you living with harsh, overwhelming light? Do you find yourself avoiding certain rooms during the brightest times of day? The scenery may be great, but you're not there to enjoy it. And while the idea of floor to ceiling windows is amazing, from a design standpoint, the room may appear unfinished. Not to mention your furnishings are suffering from exposure to UV rays. Having bare windows can ruin the entire atmosphere. Check out this before and after to see what large window solutions, like these Nantucket shades, can do for your home. And then, head over to our solutions pages to see how you can create the perfect look in your space.
Before: No Privacy, No Comfort.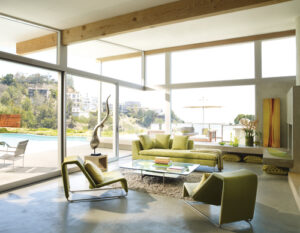 Are you dealing with privacy and comfort issues without large window solutions? Does this sound familiar?
How often do you come home from a long day at work and want to relax? Your living room is probably the perfect space for this: a comfy couch, cozy pillows and blankets, and your favorite show on the DVR. But how are you going to relax if your large windows are exposing your entire room? There is no privacy with bare windows, which can leave you feeling uncomfortable. The frustration of non-stop glare on your TV can send you over the edge. And, what about the temperature? We get some serious sunshine here during the day. The last thing you want is to come home, hoping to relax, but your home has been baking all day.
After: Stylish. Comfortable. Private.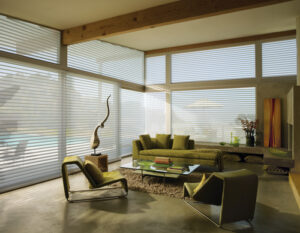 Like this room, your home can be completely transformed with large window solutions. There's a new sense of style, a gorgeous backdrop of scenery. You can enjoy it any time of day. Simple large window solutions also protect your furnishings from being damaged by the harsh UV rays. Nantucket shadings are a great option for large windows because they offer sheer backing, which diffuses the glare, but offers natural light. You can adjust the invisible vanes of sheer shadings depending on your desire of light and privacy level. No more worrying about feeling uncomfortable while you relax! It's comfort, privacy, protection and style all-in-one!
The Large Window Solutions You Need
Are your floor to ceiling windows causing you to feel a lack of privacy and comfort? Are they ruining your furniture by allowing too much UV light in? Are you ready for a change in your environment? Do you want upscale design in your home? If you answered yes to any of these questions, we can help! Nantucket shadings are a great option for bare windows of any size. We're ready to help you transform your home and offer large window solutions for your bare windows. Contact us today at California Window Fashions for a free, in-home consultation.