Is your home in a love-hate relationship with the sun? Does this sound familiar: The sun stops in for an early morning visit, and it's wonderful. Its presence lightens everything up–the mood, the room, the whole atmosphere. It even brings in a little warmth to take the chill off after a crisp autumn night. But then it stays…and stays, and stays. Every minute brings more light and more heat. Pretty soon blinding glare and skyrocketing temperatures overwhelm everything. Your home can't stand it any longer, and, more than anything else, it just wants the sun to take a hike. You know, it doesn't have to be this way. The sun and your home can be best friends; they just need a little help to get along. Natural light can comfortably illuminate your spaces. It's called daylighting, and it's amazing! Here are four ways to maximize the light and minimize all the problems in your home with daylighting.
#1 Bring the Top Down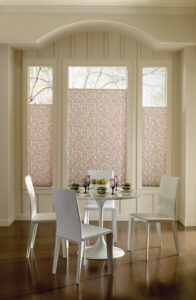 It used to be that window coverings were an all or nothing deal. Closed, they blocked out all the light and made things feel a little cave-ish, and when open, the sun had free reign to annoy and destroy with glare, heat, and harmful UV rays. Maybe that's where you're at right now, or maybe you're living with completely bare windows. Either way, your home isn't happy–and you definitely aren't either. Enter top down shades. By adjusting the top of your shades down, you can let gorgeous natural light stream across your ceiling and illuminate your home while keeping the rest of your windows covered. You get the beauty and benefits of daylighting along with the comfort you deserve. Top down shades restore the relationship between the sun and your home, and that's a win for your lifestyle too!
#2 Style Your Windows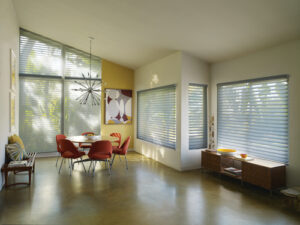 Leaving your windows bare is a big no-no if you want your home to get along with the sun so you can enjoy natural light and a comfortable atmosphere. While the view might be fabulous, you can't appreciate it because overwhelming glare and heat come in with all that sunshine. Not to mention that bare windows mean you have absolutely no privacy, and UV rays can go about fading your furnishings, flooring, and artwork totally unchecked. Styling your windows with fashionable and functional window coverings is key to getting the beautiful daylighting you want. Shadings that let you see through a sheer backing and have vanes that close are an exceptional choice, as are honeycomb shades with light filtering opacity. Add custom drapery panels for an eye-catching layered look, and you also get more options for light and privacy control. With styled windows, daylighting and chic sophistication are all yours!
#3 Set a Schedule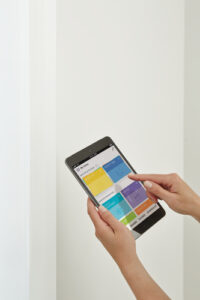 So, you and your home love the warming, mood-boosting sun in the morning, but when 11:00 rolls around, it's simply unbearable. What are you doing at 11? Are you at the office? Folding laundry? On your way to preschool pickup? At the grocery store? Whatever you're up to, it probably doesn't involve thinking about your window coverings. You're busy, and the last thing you need to be doing is running around closing blinds and shades all over your house. Then again, you might not even be home to do it, so, when you do make it back, you're stuck dealing with the aftermath of letting the sun run rampant all day. PowerView motorization can change all that. Set and save your favorite scenes, and schedule them to occur automatically throughout the day. Then, while you're typing at your desk or in the cereal aisle, your shades adjust to protect your home from the effects of too much light. When you step inside, all you see is gorgeous daylighting and all you feel is complete comfort. Plus, you can change anything in an instant. If the cloudy day forecast turns to full sun, you're covered. One tap on your smartphone, from anywhere in the world, and your shades are closed. It's that easy.
#4 Rework the Design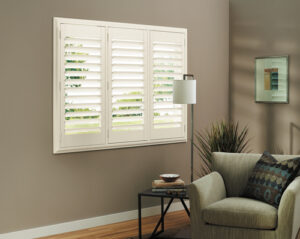 Once you've tamed the light that enters through your windows, the sun and your home will be getting along just swimmingly. Then, it's time to boost that newfound friendship, and enhance daylighting, with a little rework of your home's design. Take a look around your spaces. Does the arrangement of your furniture lend itself to enjoying the light, or does it face you away from it? Do the colors help brighten the space, or are they making it feel dark and heavy? Little tweaks to the way your rooms are put together can make a world of difference when it comes to enjoying natural light and life inside your home.
Home, Meet Daylighting.
It's time to end the love-hate relationship of the sun and your home. You and your home deserve to bask in beautiful natural light. So why not say goodbye to overwhelming glare, heat, and UV rays and hello to daylighting? Whether you love the idea of top down shades, stylish window covering options, PowerView motorization, or changing up the design of your home, we want to help. Our consultants can visit your home to lend a listening ear, look at your window locations, and share product samples along with expert advice to help you achieve the magazine- and Houzz-worthy daylighting both you and your home are longing for. Contact our team at California Window Fashions for your free, in-home consultation today.