In an average lifespan, each person spends a year and a half in the bathroom. A year and a half. That's roughly 347 days…give or take a leap year. That's a lot of time. Are you happy? Or do you need real life solutions? Bathroom window treatments are one of the most important factors in creating the right atmosphere in your bathroom. Even if all the elements are just the way you want them, without the right window coveringws, you'll feel frustrated, exposed and uncomfortable. That's no way to start your day. The real life solutions you need come down to these 6 factors.
#1 Levels of Privacy.
It's your bathroom. The last thing you want to worry about is privacy. With the right bathroom window treatments, you won't have to. You've got your choice of custom shutters, shades or blinds to help you find the perfect fit to give you the benefits you want with the comfortable privacy you need.  What 'amazing benefits' can you expect? Take a look…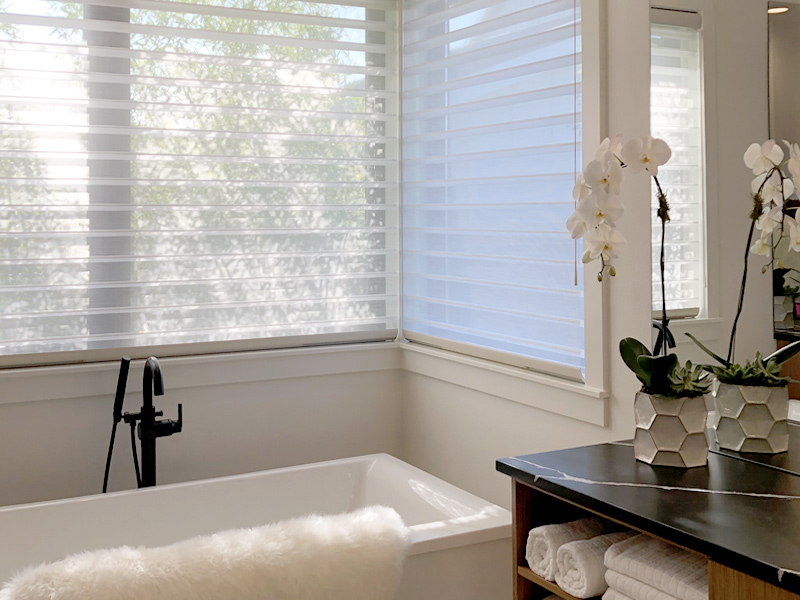 #2 Control Light
Shaving, putting on makeup, matching socks–these are the finishing touches, right? Light plays a very important role in helping you start your day off right. Wait. That's not completely true. It's actually light control that's incredibly important. Not enough light can lead to frustration when you're getting ready in the morning.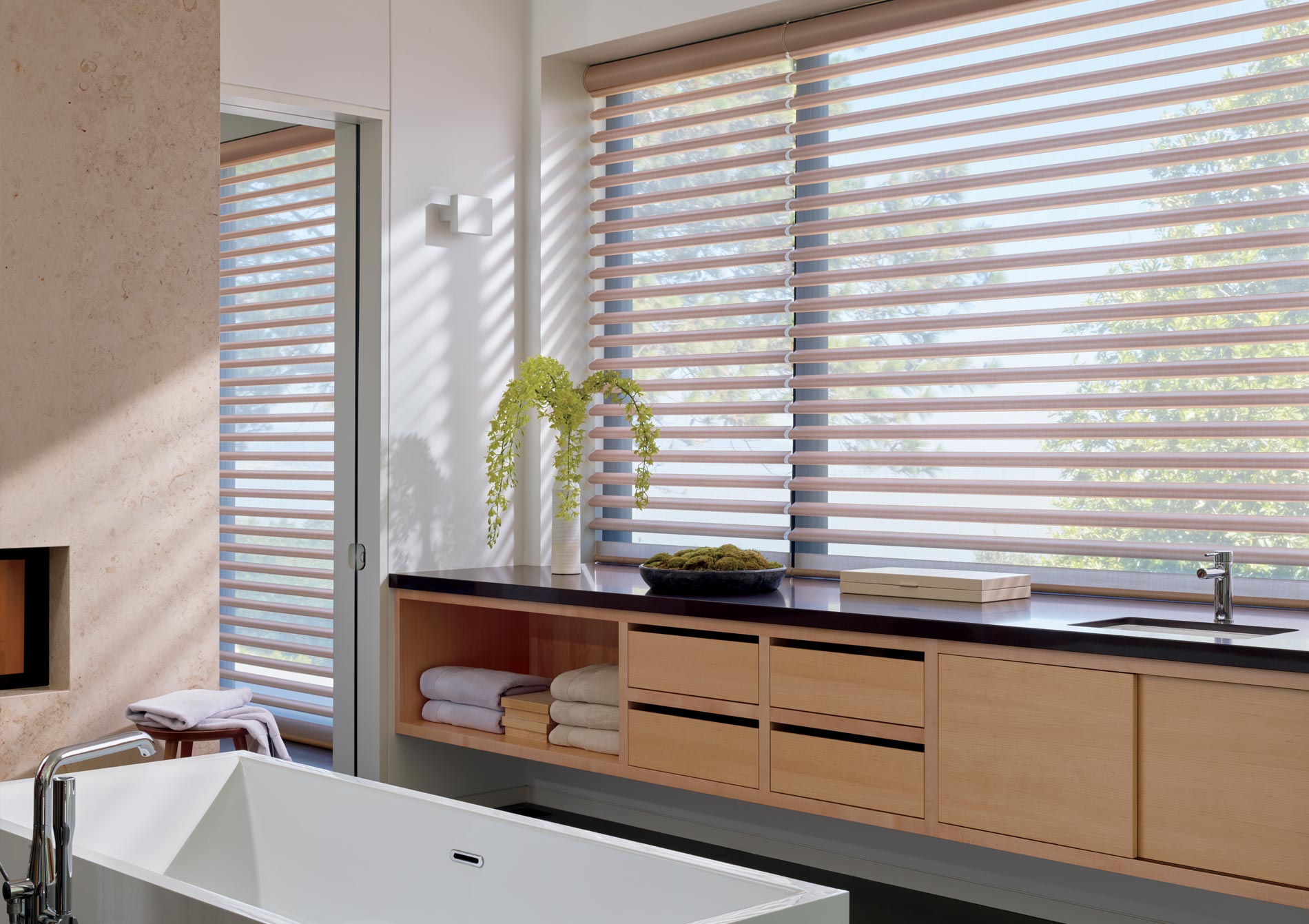 You need a glowing atmosphere of light, not intense sunshine pouring in. The right window treatments can give you just the right amount of light. Speaking of flooding sunshine, how does your bathroom feel when you arrive home at night? Is it the hottest room in the house? You want your bathroom to stay at a comfortable temperature, but you don't want a cave. Create the perfect environment in your bathroom without sacrificing natural light.
#3 Withstand the Elements
Living in this part of the country, we always have to consider the elements, don't we? Have you chosen window coverings in the past that just didn't last? With intense sunshine, you want your investment to endure the elements while staying beautiful. You'll want to choose bathroom window treatments with a great warranty and a reputation for long-lasting durability. Hunter Douglas offers the best lifetime warranty in the industry because they can. The products will stand the test of time, created to endure the elements your bathroom is exposed to.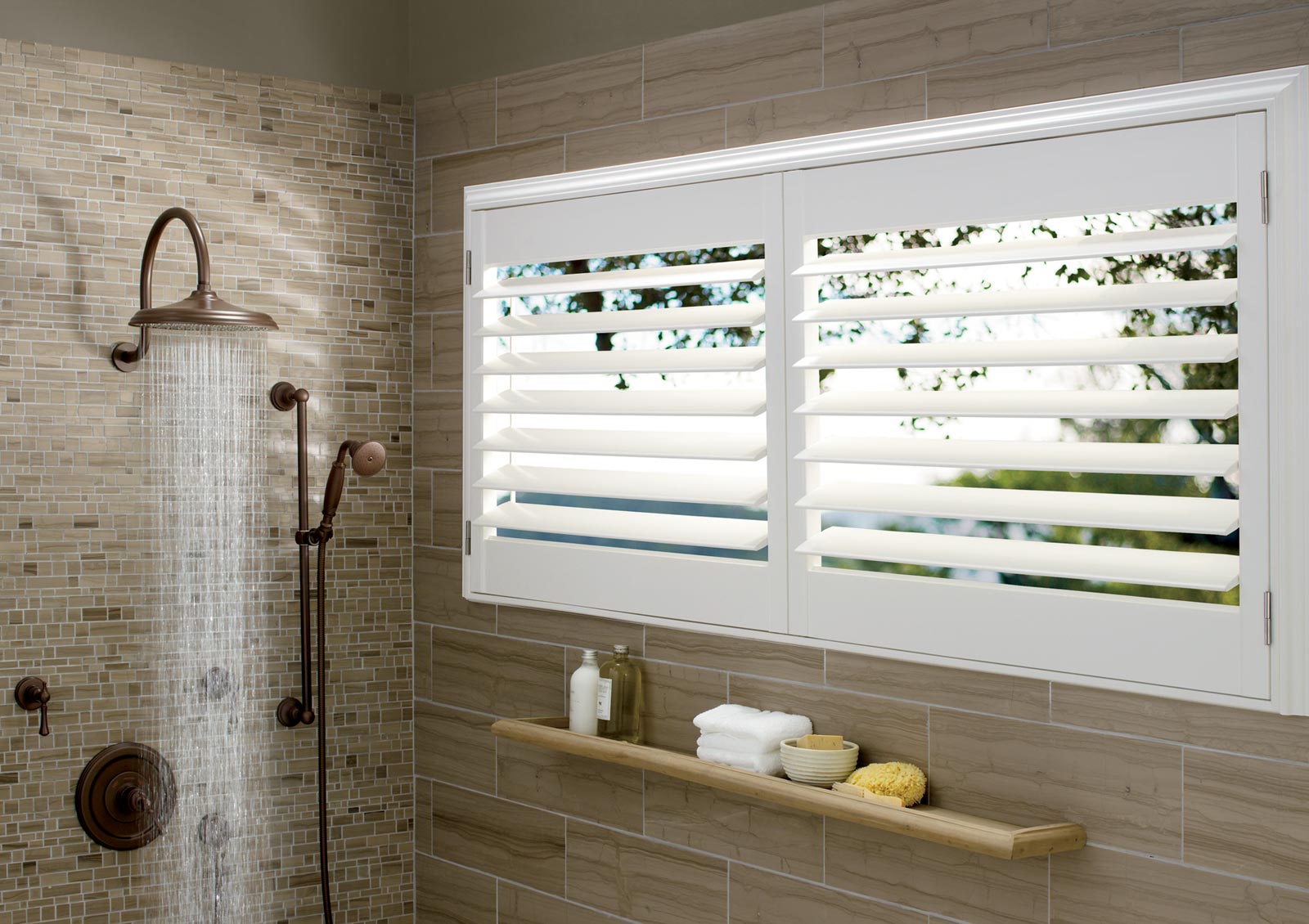 #4 Convenient Function
Where are the windows in your bathroom? If you're like me, you have windows you can reach and windows you can't. It just so happens that the window that's out of my reach–meaning I have to climb in my bathtub to reach it–is a large picture window. Talk about needing real life solutions for bathroom window treatments! Because it's my master bath, I needed something that would be functional throughout the day.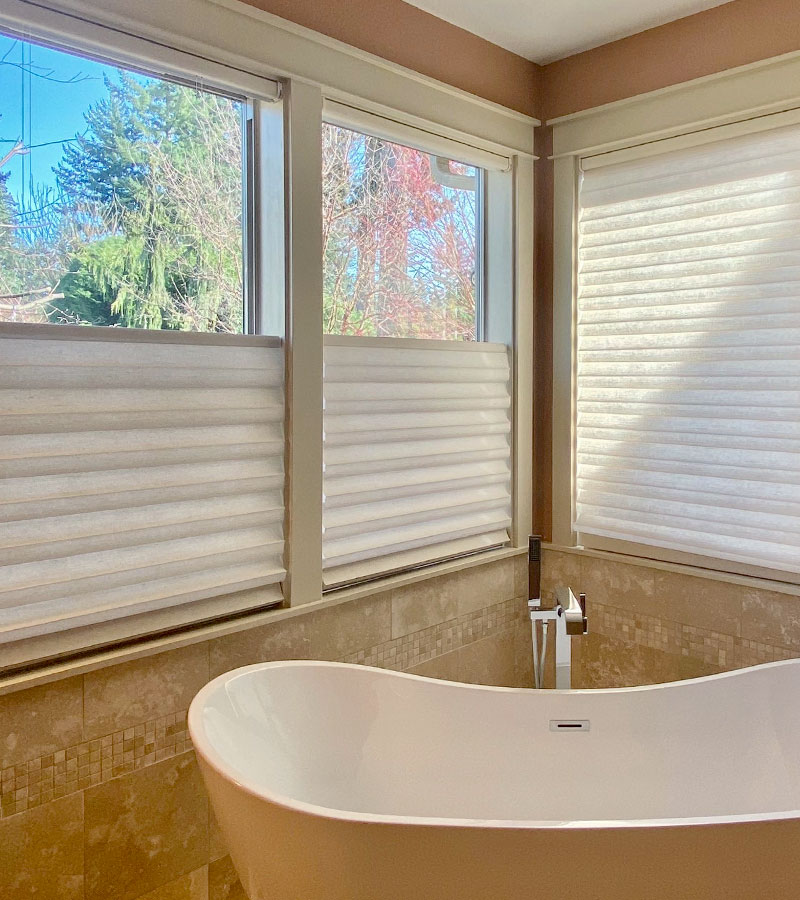 You know what's perfect for this? Top down shades. You can lower them down just enough to get the right amount of light, but there's no view in. One of the most popular products for the bathroom? Top down bottom up. Why? Because like my master bath, the window is large, lets in a lot of light–which also needs to be controlled.
#5 Bathroom Window Treatments to Maintain the View.
Up until now, you may have covered your bathroom windows to limit the view in. Privacy is important. But the end result is probably no view out and no natural light. Wouldn't you like to enjoy some light and landscape? The view out of the bathroom adds a peaceful, refreshing feel to the space. It's a shame to cover it up. With the right bathroom window treatments, you can have it all.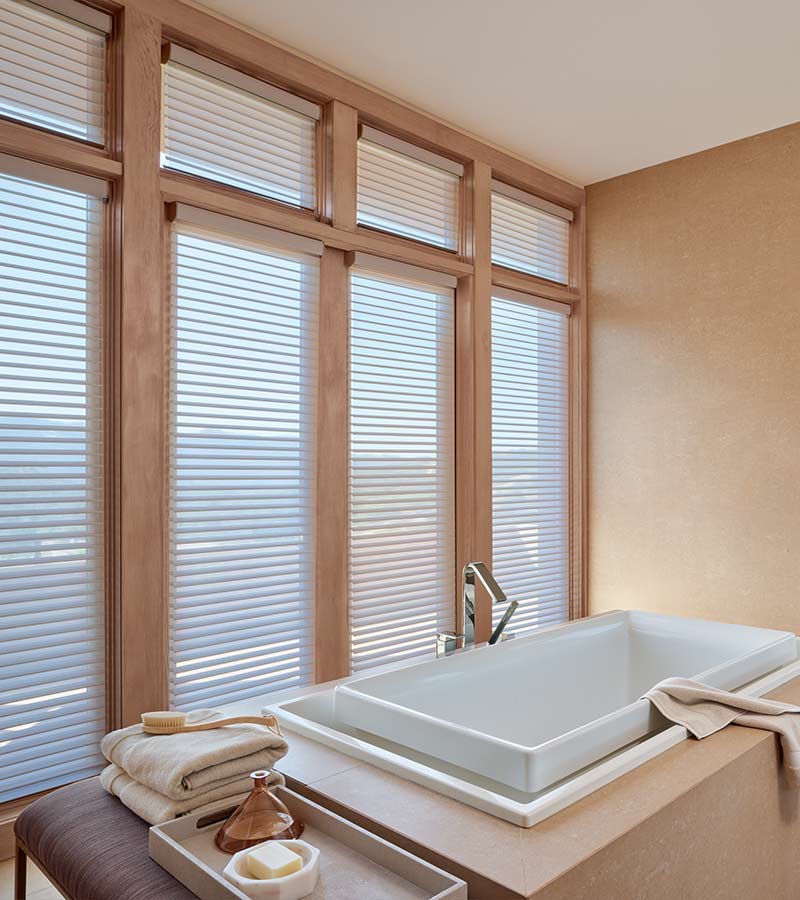 You can enjoy the breathtaking landscape and the right amount of natural light with easy adjustments that also provide privacy and energy efficiency. It's all about discovering bathroom window treatments that work for your home and your lifestyle.
#6 Bathroom Window Treatments with Beautiful Design.
With all the time you spend in your bathroom over the course of your lifetime, you deserve to start your day and end your day surrounded in gorgeous design. With stylish fabrics and finishes in today's most beautiful designs, the bathroom window treatments you choose will have a huge effect on your home. That means, when you start your day off right, with amazing benefits in a sanctuary-like space, you can transform your life. Don't spend one more day wishing you could enjoy a beautiful bathroom. Now is the time.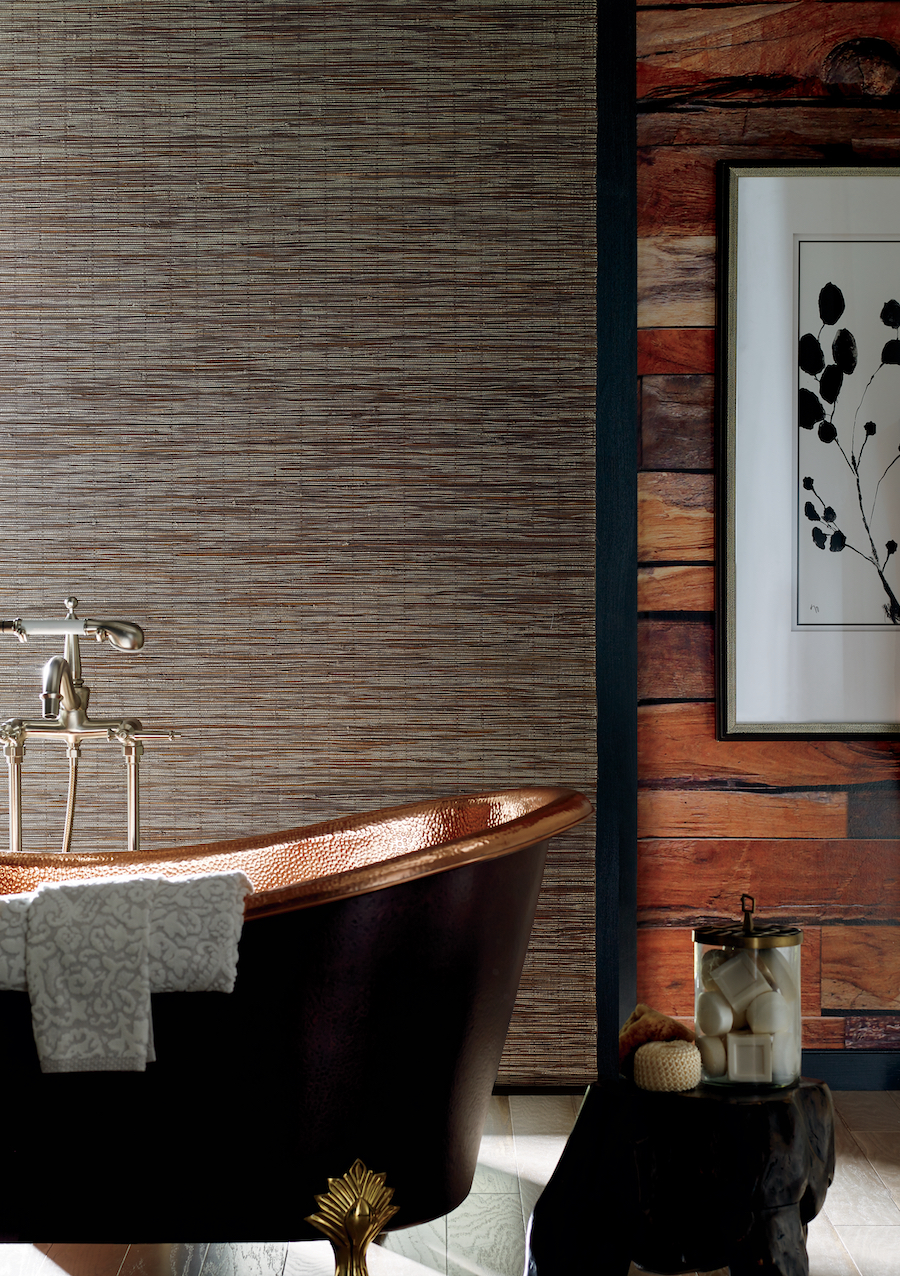 Ready to get started? The right bathroom window treatments are waiting for you. Transform your space with light control, privacy, energy efficiency and a gorgeous look. With all the time we spend in the bathroom in our lifetimes, shouldn't it be the focus of your next project? Contact our team, at California Window Fashions, for a free, in-home consultation today!