Once upon a time, there was brilliant sunshine, extraordinary views…if you have floor to ceiling windows, you probably recognize this story, right? You've got it all. But when we say all, we really mean that on top of the gorgeous benefits that oversized windows can bring, the reality can be harsh. Having it all with floor to ceiling windows can mean too much light, relentless glare, damaging UV rays and a whole lot of discomfort. Is it too hot? Can your neighbors see in? The 'idea' of floor to ceiling windows can take your breath away. But living with them? That's a different story. Let us help you rewrite a happy ending. If you need solutions to help you love your large windows again, we've got them!
Chapter One: There's Too Much Light.
In story land, the idea of beautiful sunshine flowing through your windows is like a dream, filling your home with happiness. Blah. You know the reality. Sometimes, yes. Sunshine adds a gorgeous glow to your home. But constant, unending, intense sunshine? I don't think so. With floor to ceiling windows, you need a barrier to create the atmosphere you want. That doesn't mean you have to block the light out, or shut out the view. Controlling the light means that it's YOUR decision. You decide how much light. You choose the time of day to receive it. It's all up to you which direction the light enters. All of these benefits, while you still maintain a beautiful view–that's the storybook ending you want.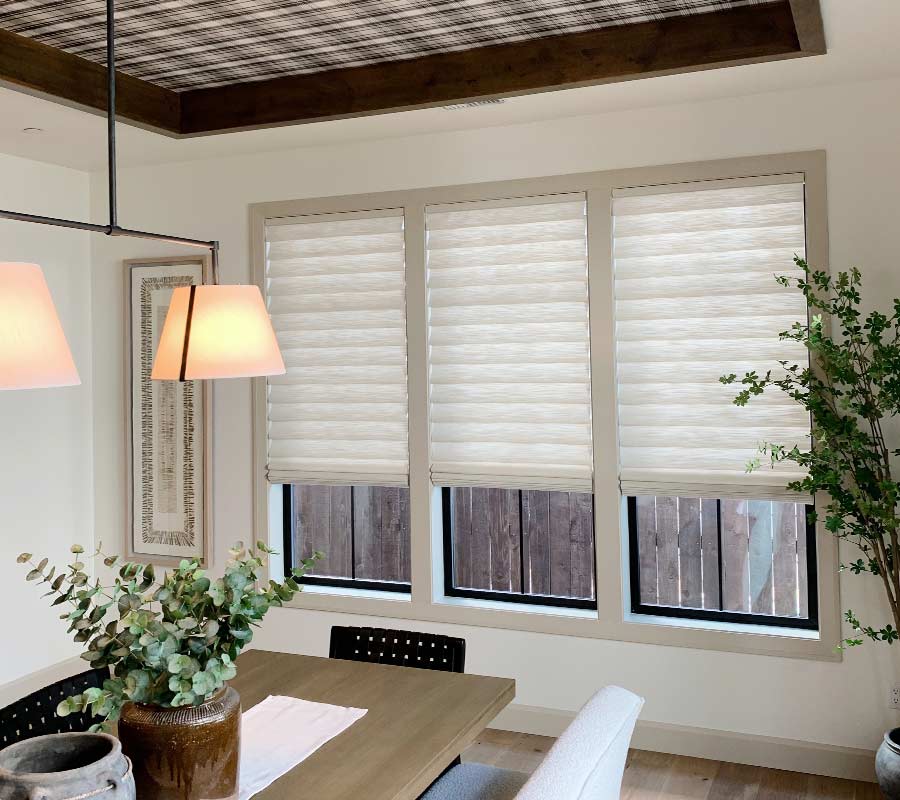 Solutions You'll Love: Many of our shades invite soft, filtered light into your home. You'll still see out, but the glare is gone. With a wide selection of fabrics to choose from, you decide on the opacity that will create the right atmosphere in your home. And with dual function, you can also enjoy the many benefits of shades that offer a range of solutions, from room darkening to light filtering, all in one.
Chapter Two: It's Too Hot.
Of course, the temperatures soar with the intensity of the sun. Especially with floor to ceiling windows. There's no escape from all that direct light heating up your home. Depending on the direction your windows face, with east and west getting the worst of it, you need smart solutions to bring comfort and energy efficiency to your home. Some features, like top down bottom up, let you put the shades right where you need them. Many of our shades offer solutions to help you maintain the chosen temperature in your home. Not only will you be more comfortable, but you'll find yourself saving money on your energy bills.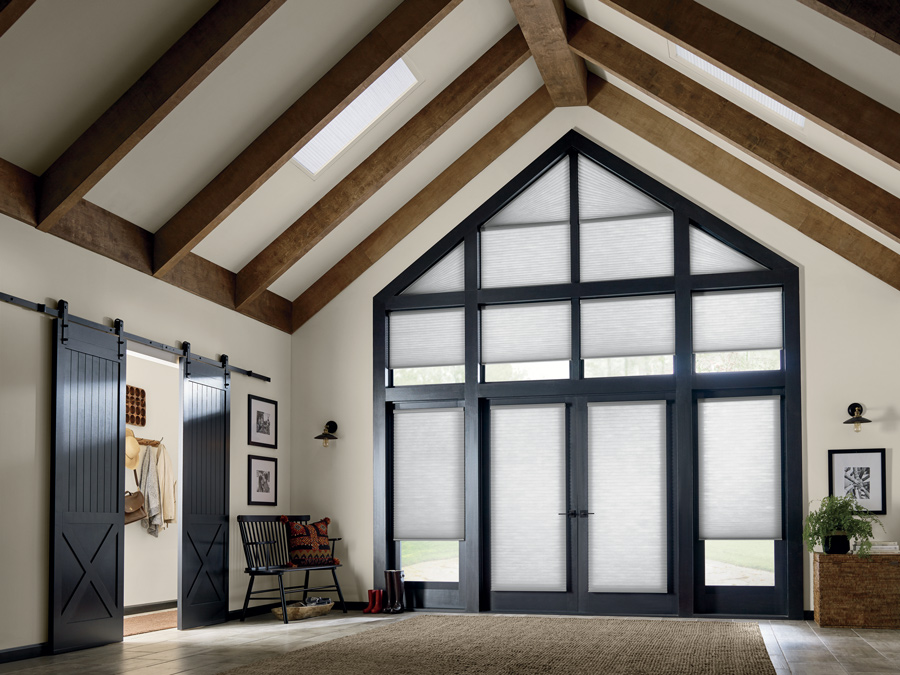 Solutions You'll Love: With insulating properties, like the cellular design of honeycomb shades, you'll have more control over the environment of your home. We also have roman shades with fabrics that protect you from the effects of that direct light and heat. And then there's PowerView automation. You know your home the best. Schedule your shades to move with the sun–and your lifestyle. The hottest parts of the day? Motorized blinds and shades will take care of your energy efficient needs.
Chapter Three: The View is Too Beautiful to Cover.
Like the perfect fairytale, you fell in love with your home. The floor to ceiling windows and spectacular views probably had a great deal to do with that. Do you remember when we told you that you could have it all? It's true. That fairytale ending doesn't have to be just a dream. You don't have to sacrifice your view for your comfort. Even in the lowered position–giving you filtered sunshine, diffused glare and UV protection–your view will be spectacular! Not only will floor to ceiling shades bring you tons of benefits, but they will enhance the design of your home.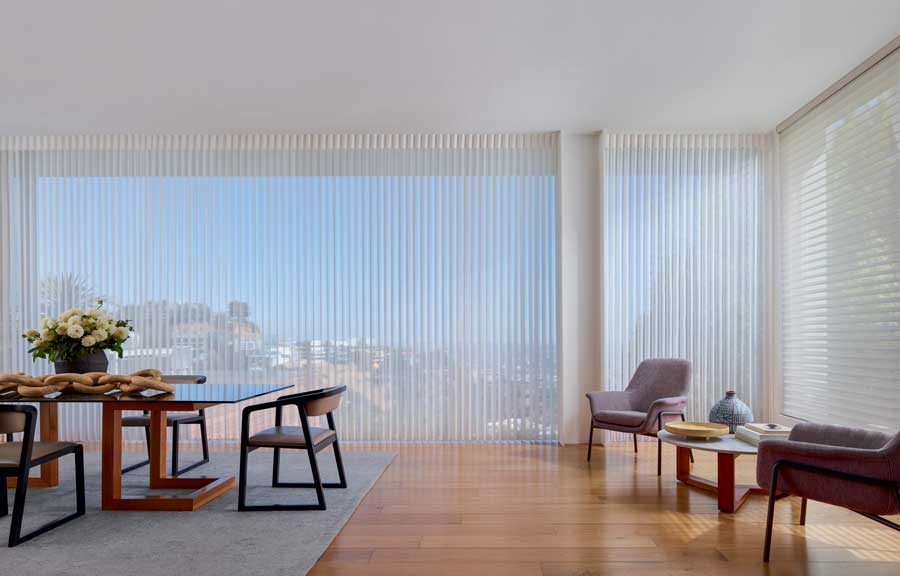 Solutions You'll Love: Our collection of sheer shadings let you have it all. The sheers reflect the intense sunshine while inviting in the glowing light you want. It's instant atmosphere with designer styling. From the floating vanes of Silhouettes and Nantuckets, to the striking flow of Pirouette fabrics, the sheer backing is simply genius. Create a stunning backdrop for your home while enjoying the amazing benefits.
Your Floor to Ceiling Windows: A Storybook Ending
You fell in love with your floor to ceiling windows. That's how it should be. Now you need solutions to create the perfect ending to your story. Let us help you rewrite your real life fairytale with all the benefits you want. Our team, at California Window Fashions, would love to come visit you for a free, in-home consultation. We'll bring ideas, inspiration and advice to help you decide on the best choices for your floor to ceiling windows. Let's get started today!