Have you discovered the Apple HomeKit app on your iPhone yet? It's already there…just waiting to transform your life. You could be creating the perfect atmosphere in your home with simple taps and quick voice requests to Siri. Sounds amazing, right? It truly is! Read on to learn more about integrating all your smart home devices for simplified control.
The Apple HomeKit App
Knowing the value and prominence of smart home technology–and how nice it would be to control it all effortlessly–Apple pre-installed the Apple HomeKit app on your phone. What exactly does it do? It works as a personal command center for all of your connected devices. From doorbells and thermostats to lighting and automatic shades, the list of "accessories" you can integrate into the app is extensive. Even better, it all happens with a simple scan (scroll down for step-by-step instructions).
Motorized Shades at a Glance
Before we jump into getting started with the app, though, let's pause for a moment to talk about motorized shades. Also known as automatic shades, automated window coverings, remote control blinds, and a whole bunch of other names, motorized shades make life easier and happier. How? Well, aspects of your home environment that used to be difficult and frustrating disappear. So, all you're left with is comfort and convenience.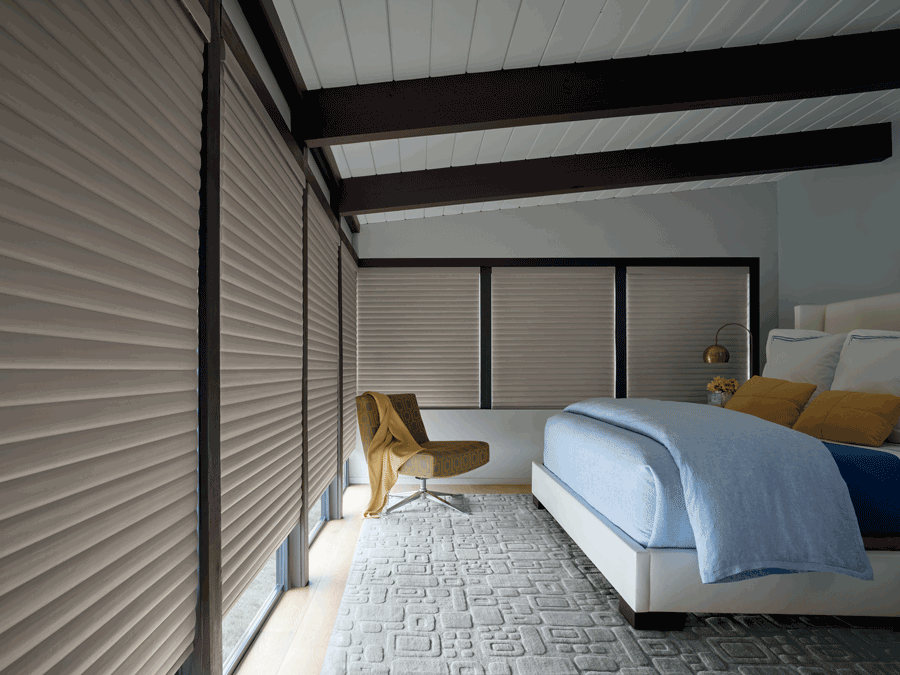 With shades that integrate into a smart home system, you can enjoy all these benefits (and more):
Instant room-darkening with a tap
Comfortable lighting, always
Shades that close when your thermostat's reading rises
Blinds that know you want extra sleep on the weekends
Voice control for all those times your hands are full
Plus, being able to access your automated shades from your iPhone or Apple Watch means you've got control of your home atmosphere, even when you're away.
Let's Get Started
It takes just three easy steps to get started with the Apple HomeKit app. First, find the app on. Next, click on it to view the "Welcome Home" screen. Then tap the "Get Started" button, and you're all set to begin building your personal smart home!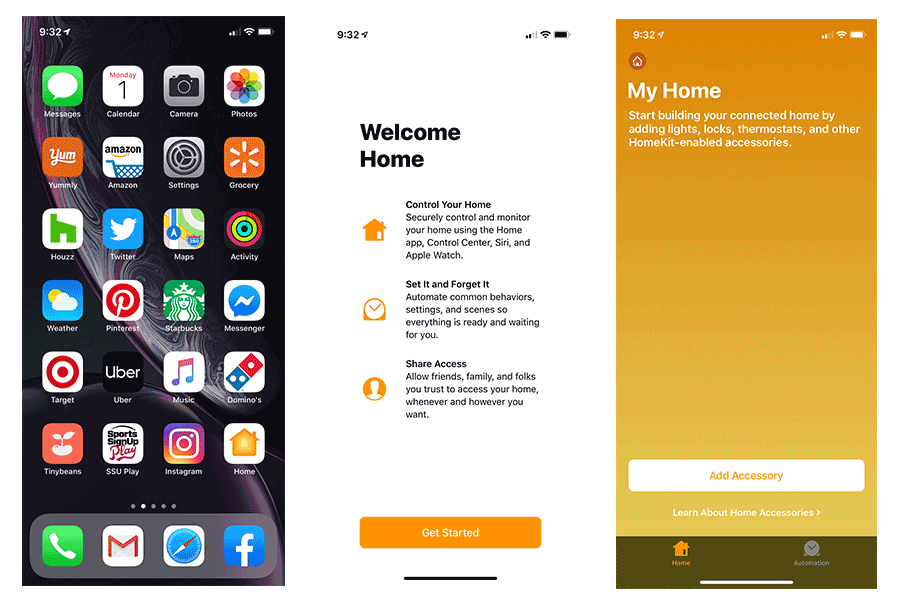 Where exactly do your automatic shades fit in? Hunter Douglas motorized shades easily integrate with Apple HomeKit. They are on Apple's list of approved accessories! You can visit Apple Home to view a comprehensive list of other compatible devices as well.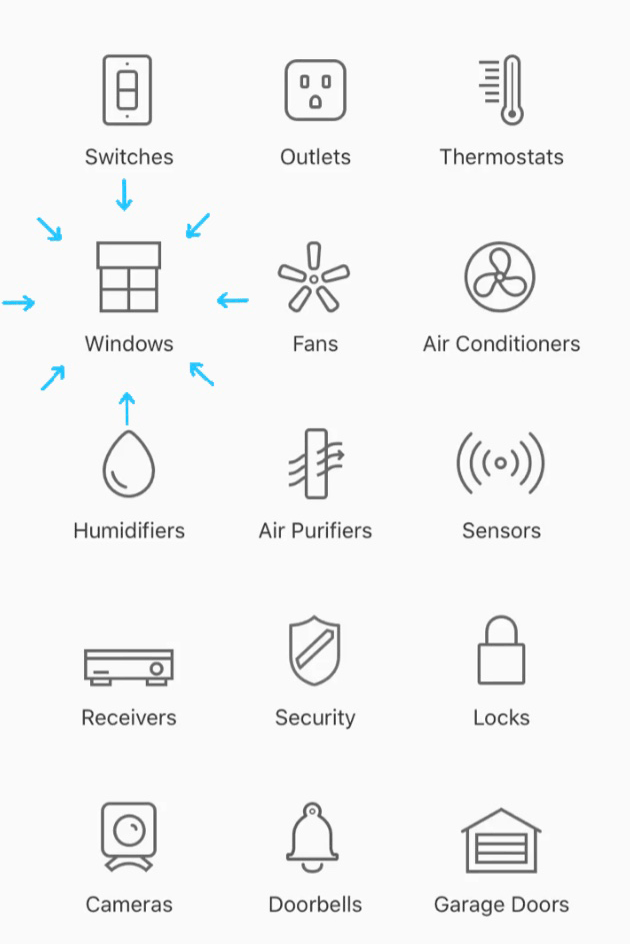 If you want more information about setup and control of your automated shades directly from Hunter Douglas, click the "Windows" category on this screen of icons. And don't worry…on the day your shades are installed in your home, your window covering specialist will happily guide you through the process of adding your automated window coverings to your Apple Home–or any other smart home system you want to use.
Want a Home that Works Smarter for You?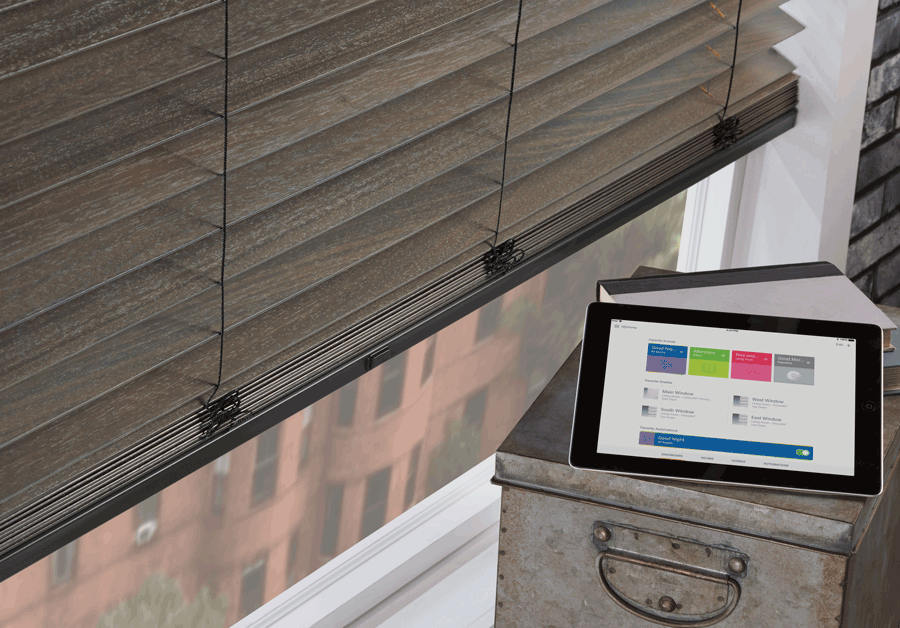 It's time to embrace convenient and simplistic control of your home. Motorized shades and blinds are powerful pieces in the symphony of a connected smart home. Here at California Window Fashions, we absolutely love the ease of Apple HomeKit, but we're happy to help you set up control with a wide variety of other smart home integration systems. It's nice to know that our products are compatible with most systems on the market. Contact our team to get started today!