Bathrooms are often last on our list when it comes to upgrading design. Because there are so many choices in bathroom features, it can be simply overwhelming to get started. But, bathrooms require our attention just like any other room–and maybe even more so due to their complexity. Let's consider getting started by adding style, privacy, and balanced light to this sometimes forgotten space.
A Perfect Combo
Our first priority when discussing bathroom features is achieving the perfect combination of privacy + light. On the one hand, our bathroom should be a private, intimate space that makes us feel secure. But without light, the space can feel small and closed off.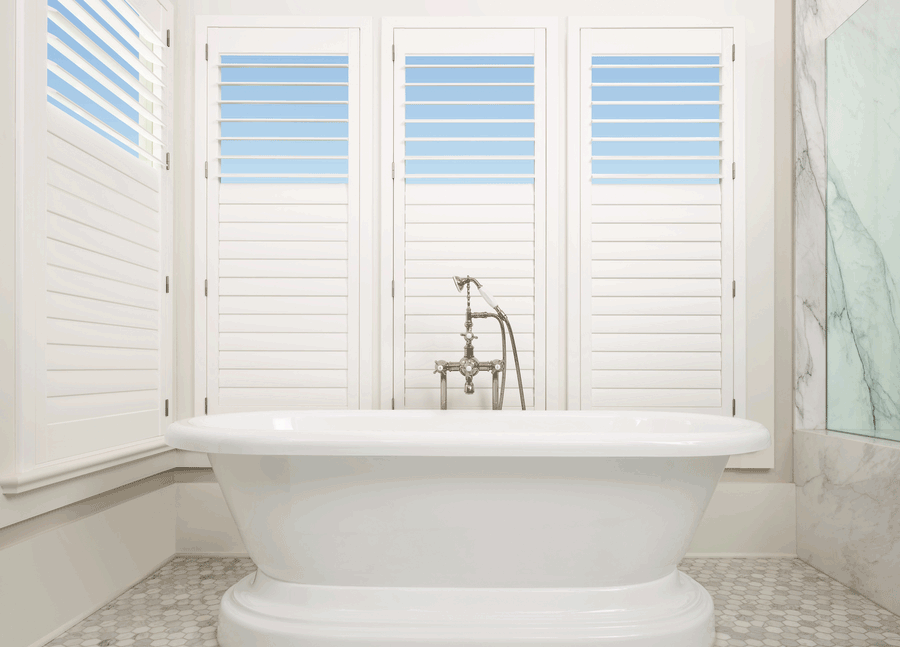 By adding window solutions that allow light in from the top, but keep privacy intact at the bottom, you will feel comfortable in your intimate space. The plantation shutters above, with split tilt, are just one of the solutions we offer. There are other options for bathrooms too, try top down bottom up.
Importance of Window Direction
Let's revisit the important topic of window direction. The direction in which a window is faced can add to the benefits of your space–or take away from it. Managing the light throughout your home can be a job in and of itself. Many clients wait to choose window coverings because there are so many things to consider. When it comes to bathroom features, privacy + light are not the only things to be considered.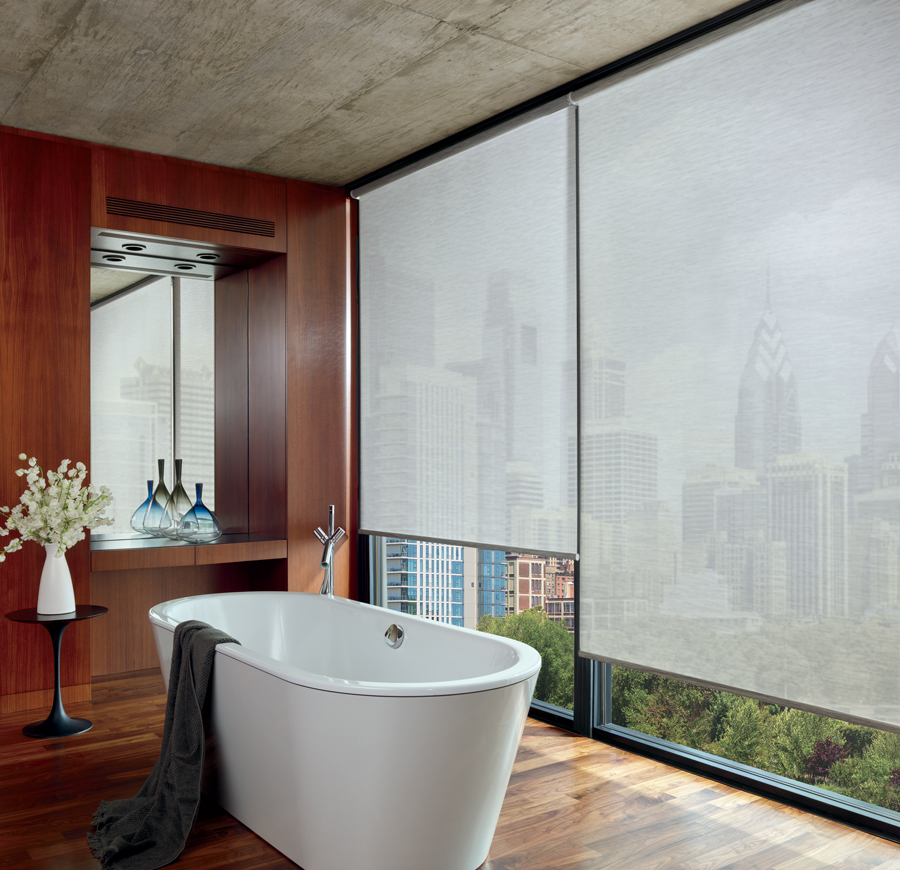 For example, protecting your space from UV rays that may damage your newly renovated space is important as well. Bathroom remodels are pricey! Not to mention, sunshine can be so bright that you can't appreciate the oasis you have created. Window shades that reduce glare and offer UV protection will add to your overall experience.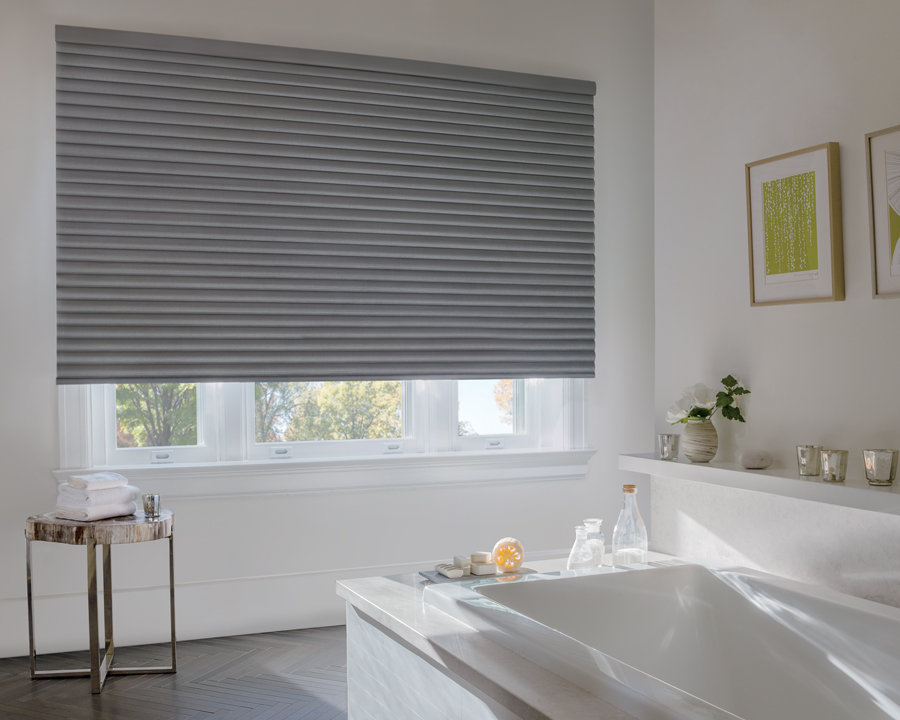 And, heat is always a consideration out west. Remember to add energy efficiency to your bathroom features checklist. Adding the appropriate shade will reduce heat and keep your AC from working overtime. These insulating shades can also help you stay warm during the months where we wake up to chilly mornings. Keep in mind that fabric shades can be a charming way to dress a window. With their energy saving properties, they keep temperatures moderate and comfortable any time of year.
Dressing Large Windows
Stunning floor to ceiling windows do create a "WOW" factor. But, when large windows are in an intimate space such as a master bathroom, you need a privacy solution–quickly. How can you keep the elegance and feel protected?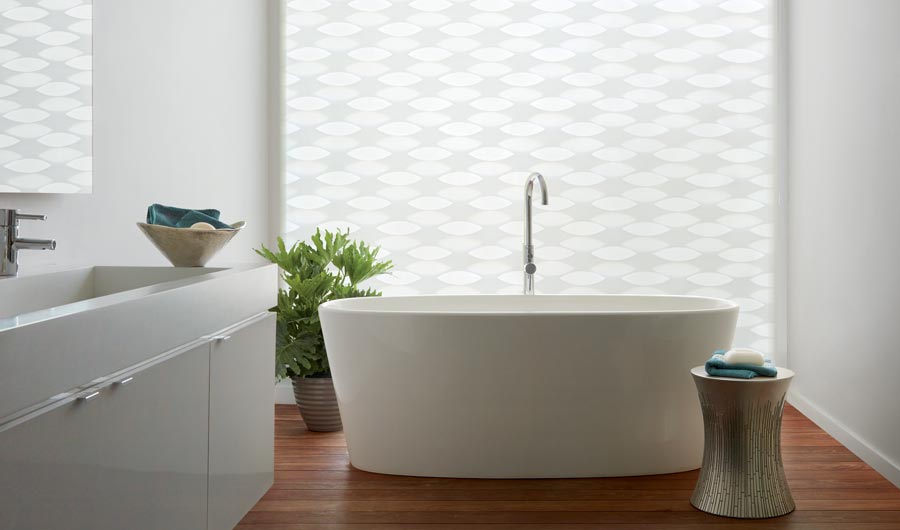 It's simple. With the many options in window coverings, you can create a sophisticated feature wall like the one above. When it comes to adding bathroom features, make sure you choose a treatment that allows you to appreciate your view completely with the option of privacy when needed. Large windows in your bathroom shouldn't be intimidating. Consider adding smart shades to complete the look and add function.
Styling Small Spaces
What if I have small windows in my bathroom? Deciding how to dress small windows can cause confusion too. Our tip is to choose a neutral treatment; it'll make your space feel larger.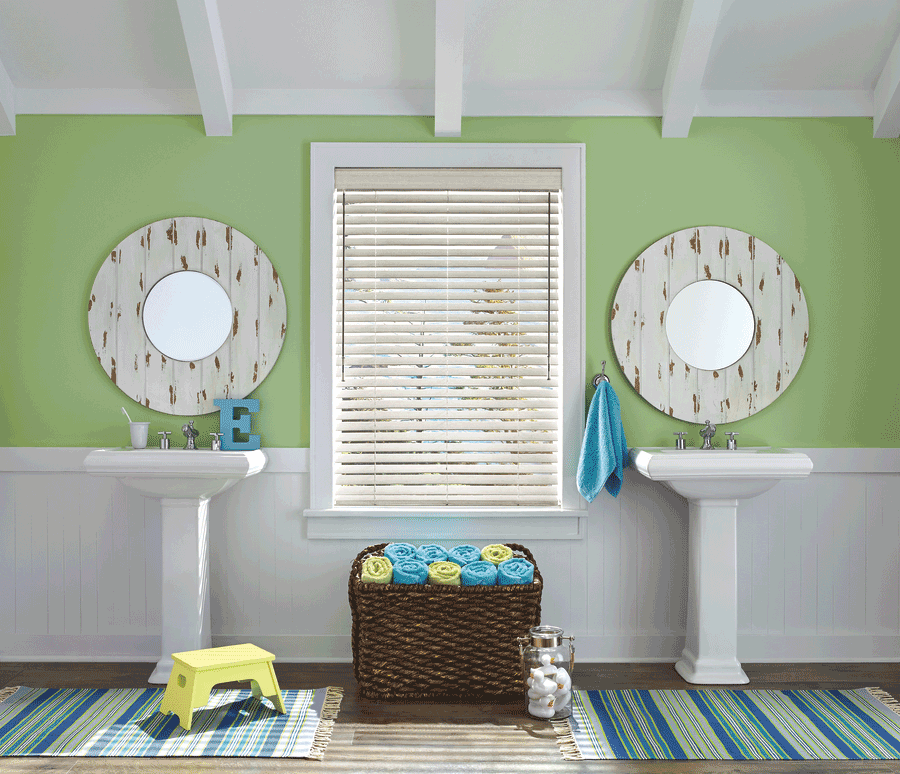 Let's not forget to add control to your small windows as well. Having flexibility is important in a powder room or children's bathroom. You'll need to adjust for privacy and light control often. So make it simple.
Bathroom Features You Deserve
Have you decided which bathroom features you need? Do you have the confidence now to move forward? Our team at California Window Fashions can walk you through the process and help you choose what window solutions would benefit your home most. Schedule a FREE Consultation with one of our experts and begin the process of creating the perfect atmosphere in your bathroom today!