Even though summer is barely over, you're waking up to chilly mornings and falling asleep with an extra blanket. It's inevitable. The holidays will be here before you know it. If you want a beautifully decorated home for the holidays, now is the time to begin. Getting started is sometimes the hardest part. Join us as we explore an already beautifully decorated home for tips and ideas that you might want to implement in your own home.
The Entry Way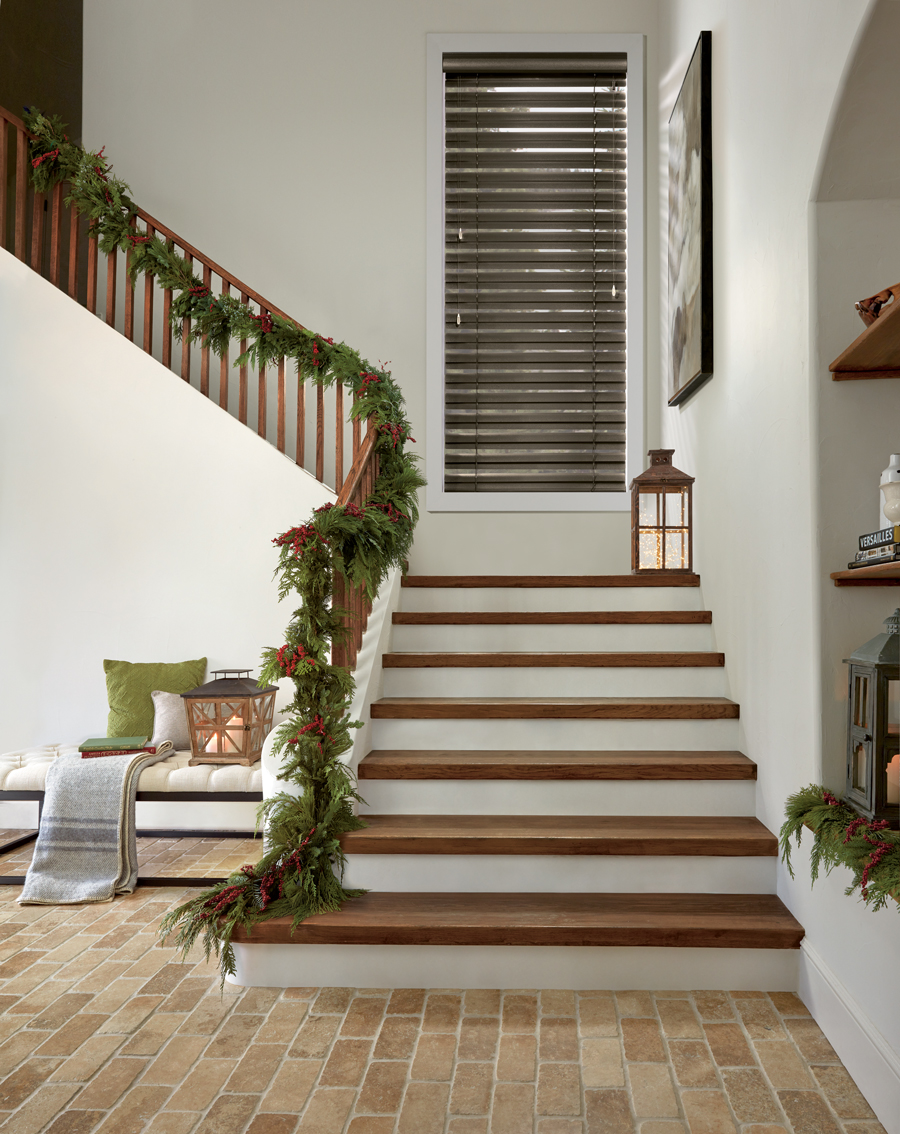 This area is sometimes overlooked since guests spend so little time in it. But this space sets the tone for your home. In this home, you can see they presented intentional decor that accentuates the characteristics of the space. The staircase looks dynamic with evergreen garland. From the moment you walk in the door, a statement is made. Custom window treatments in your entryway will allow you to adjust the lighting, the privacy and the decor of your home. The entryway is definitely a spot for a good amount of light, but you don't want glare and direct rays blinding your guests.
The Dining Room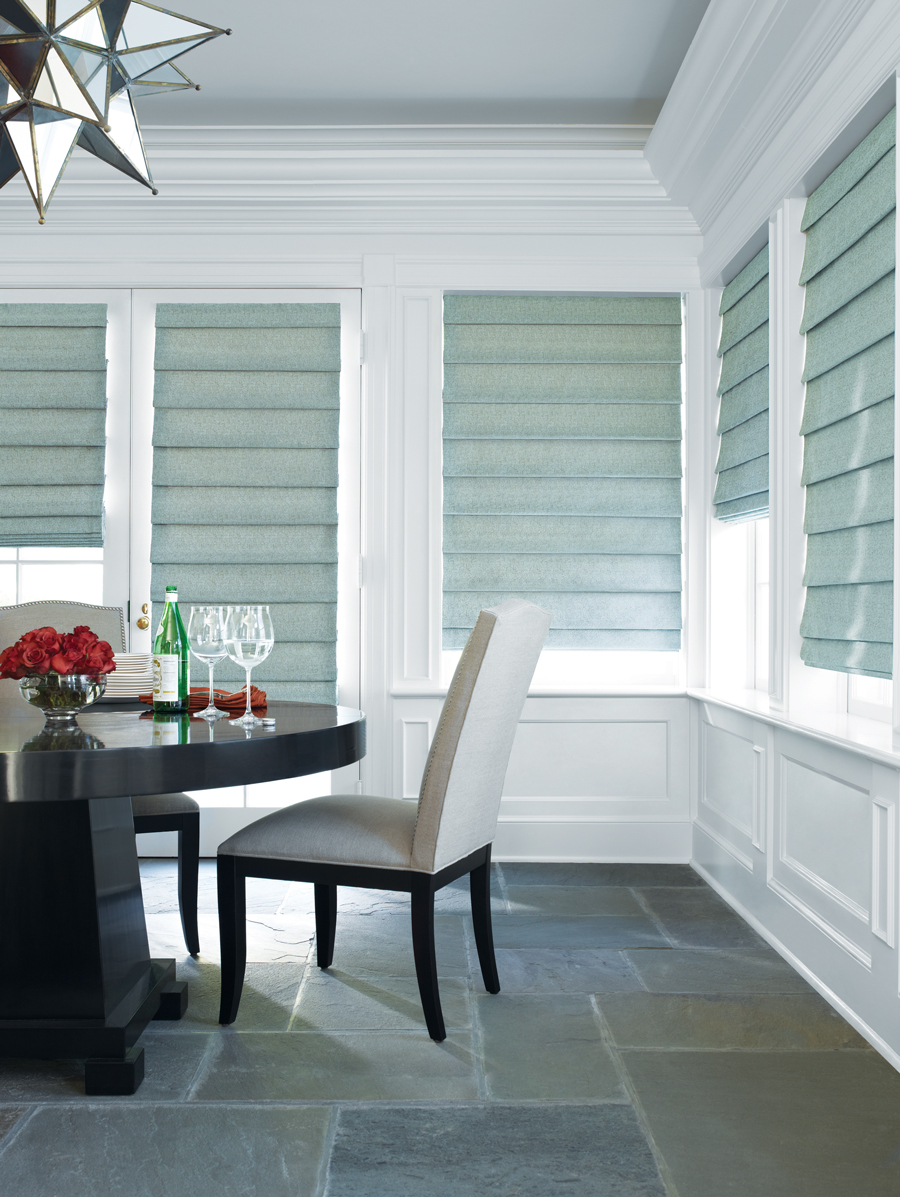 Does your dining room boast breathtaking views and abundant natural light from a large amount of windows? While picturesque at first glance, having numerous windows can pose challenges. This dining room is the perfect example. Over the holidays, as you entertain, you'll want a beautifully decorated space that will also keep your guests comfortable over the course of the day. The solution here was to incorporate the window treatments into the decor of the room, adding color and dimension while also adjusting for light control. Features like top down bottom up allow light to disperse across the ceiling while staying out of everyone's eyes. Smart shades can be a saving grace during holiday dining, as you easily make adjustments without getting up from your seat. It's all taken care of at the touch of a button on your smartphone.
The Living Room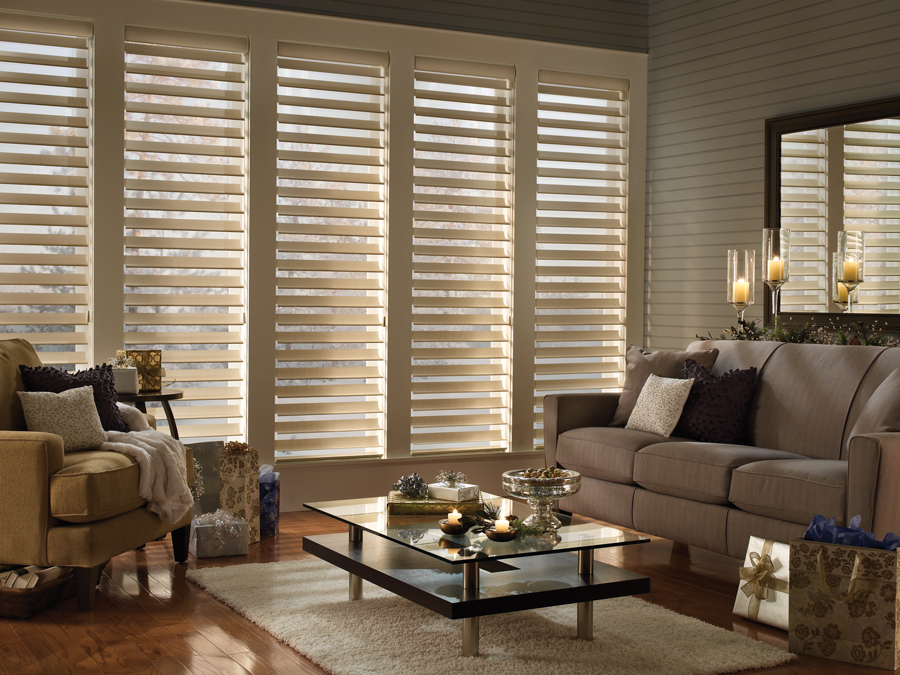 Doesn't this room make you feel cozy just looking at it? It's beautifully decorated with on-trend, yet comfortable furniture, textured accent pillows and cozy throw blankets. One of the best ways to create the ideal atmosphere for relaxing with family and friends over the holidays is your selection of window treatments. Gorgeous fabrics, with incredible function, offer versatility throughout your day. These Silhouette shades can be opened to reveal a beautiful view–filtered through glare-reducing sheer fabrics. They also can be closed for privacy and dimmed lighting, making it just dark enough for a post-dinner nap.
The Guest Room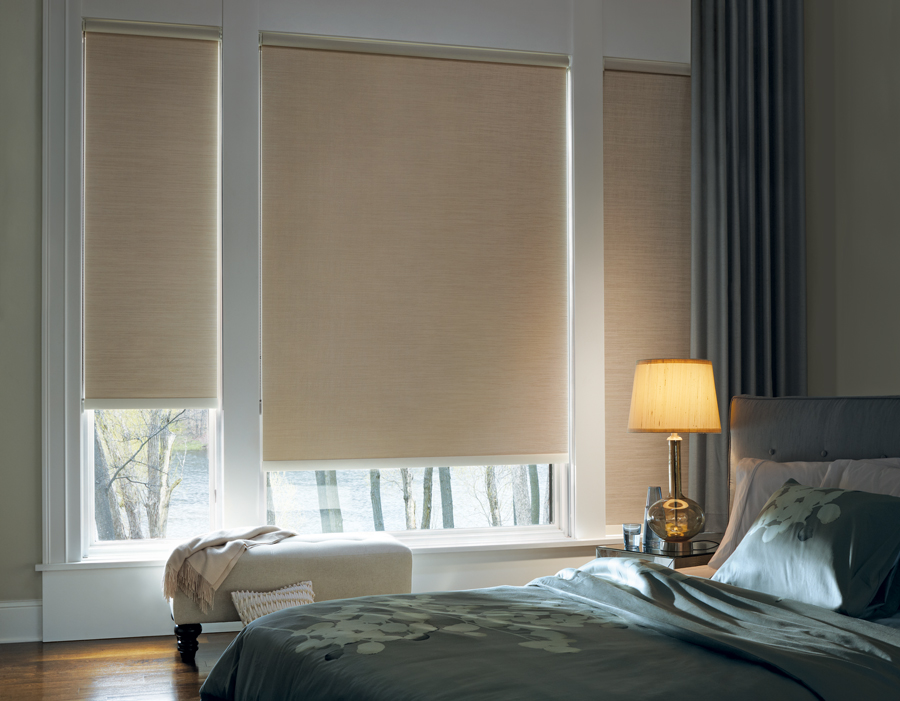 If you're hosting guests this holiday season, don't forget about their space! It's a breath of fresh air to stay in a beautifully decorated space. But what's even more important when you're traveling? Room-darkening shades that allow guests to sleep in–and privacy to feel comfortable while away from home. This room features plush bedding and a cozy setting, but what steals the show are the room darkening window treatments. Guests will be nothing short of comfortable and well-rested in this gorgeous room.
The Time is Now for a Beautifully Decorated Home!
It's time to get started on creating a beautifully decorated home for the holidays. If you want the perfect window treatments to set the ideal atmosphere in your Roseville area home, our experts at California Window Fashions would love to help! Contact our team today at California Window Fashions for your free in-home consultation.