Do you miss the light? The sun sets around 6pm these days, and, with Daylight Savings Time ending, that's going to bump to 5pm! It's a bit ironic that after months of doing everything to block out the sun and heat, fall time makes us long for the lengthy light of summer. What if we told you it's possible to welcome natural light this season and still have the solutions you need when the summer heat is on. With year-round light control, you can live in comfort every single day.
You Control the Direction
While you want natural light in your home, you definitely don't want direct rays wreaking havoc everywhere. Full-on sun not only sends inside temperatures through the roof, it often causes a seemingly inescapable glare. Rooms facing the sun for a significant part of the day need year-round light control for every circumstance.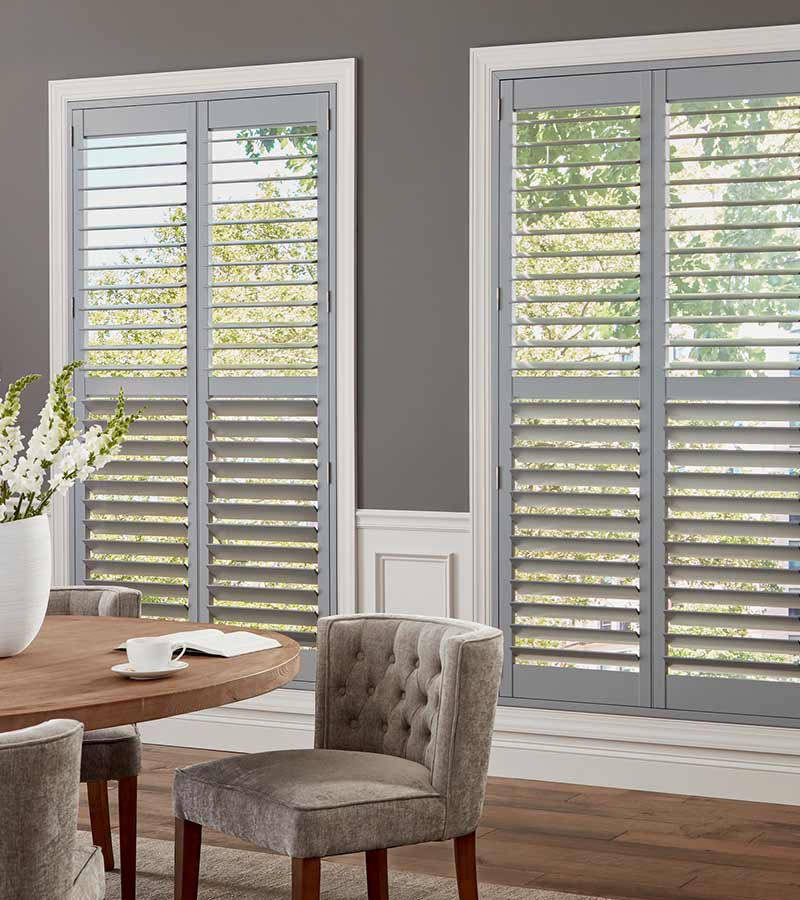 Being able to control the direction of light entering your home maximizes your comfort. Plantation shutters are perfect for this. Having a friend over for lunch? Simply tilt the louvers to direct light up and across your ceiling. Kids working on homework? Allow light to enter downward toward the table so they can see better. And for those afternoons when a movie sounds like the best idea you've had all day? Close out the sun completely for the ideal atmosphere.
You Control the Amount
Living here, you know how much the amount of entering sunlight affects your home environment. Chances are you've experienced too much in the sweltering summer or not enough in the depths of winter. But it doesn't have to be that way. Year-round light control solutions allow you to decide how much light and heat come into your space.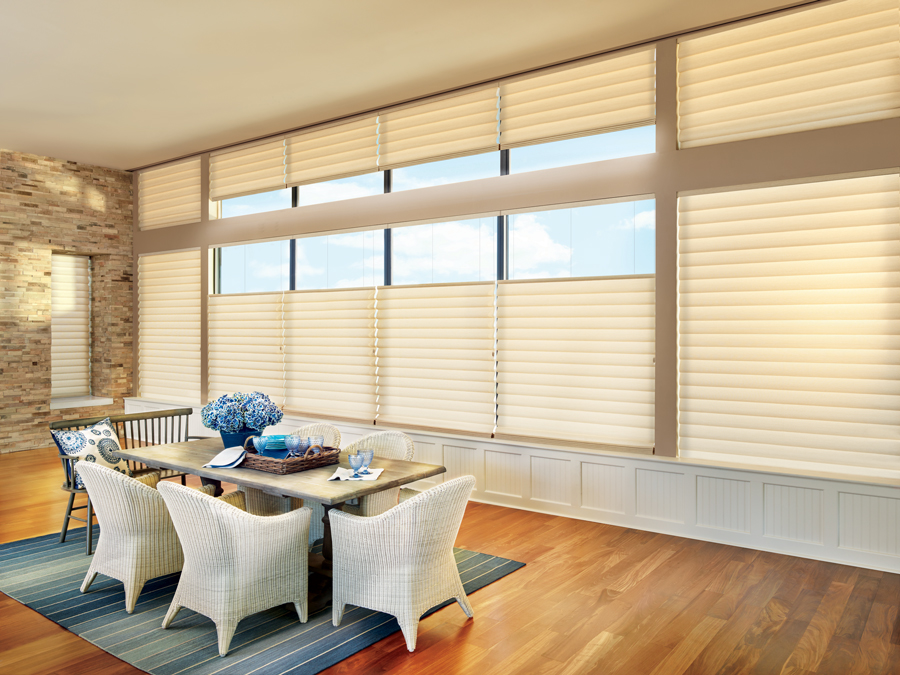 The versatility that comes with top down bottom up shades is incredible for enhancing your comfort. In the morning, you can enjoy sky views and daylighting across your ceiling along with privacy and protection from overwhelming sun. All afternoon, you can position each shade exactly where you need it to savor the perfect balance of light and landscape. And, after the sun goes down, top down shades secure your privacy while gifting you with a peek at the starry night sky.
You Control the Intensity
Do you have windows that face west? If so, you already know that you need a solution that blocks light for a large portion of the day. What you might not know is that the right window coverings can also allow you to harness light at a lower intensity! As the seasons change, your needs do too. And, a year-round light control solution gives you the power to customize your comfort.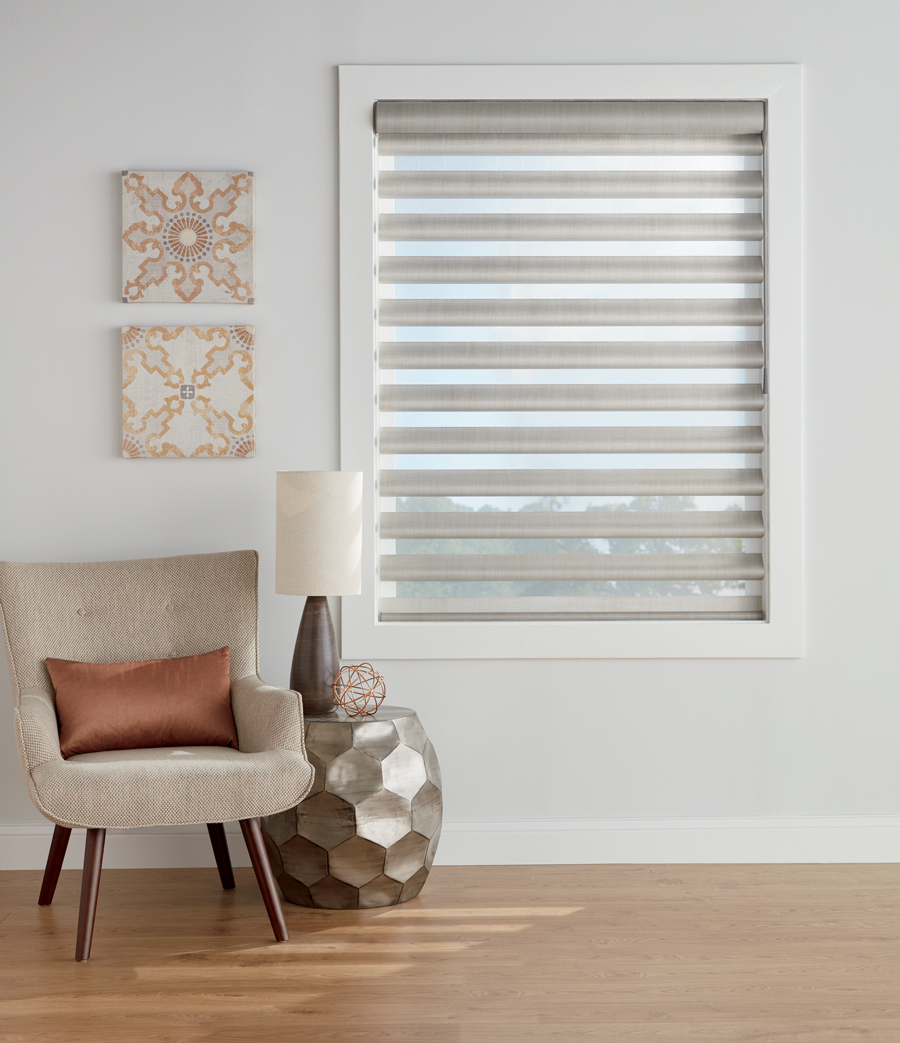 Whatever is going on outside your windows, sheer shadings offer versatility to keep you cozy. Need to block sunlight? Close the vanes or roll the dual shade into place. Want to take in the view amid glowing natural light? Open the vanes and enjoy the scene through light-filtering sheer fabrics. Looking for something in between? Simply adjust the shadings along their vast range of positions for an atmosphere that's just right! And, when you find a perfect position, save it as a favorite. With our smart shade system, customized comfort is always at your fingertips!
We'll Help with Year-Round Light Control
Don't leave yourself and your home at the mercy of the sun. Year-round light control solutions enable you to enjoy sunshine when you want, block it when you need to, and make a range of adjustments for perfectly customized comfort. Here at California Window Fashions, we can help you find the best window coverings for your unique home and lifestyle. Our team is here to help with a FREE shop-at-home consultation. Contact us today!