Large-scaled windows, a gorgeous view…who could ask for anything more? Do you need window shades? If you've been living in a home without anything between yourself and the intensity of our California sunshine, except for windows, you need a transformation. Let's face it. When that sunlight meets your windows – doesn't it turn them into one massive magnifying glass? Do you feel like you should be wearing sunglasses as you get ready in the morning? And what are all of those UV rays really doing to your belongings? In today's look at before and after window coverings, you will see the life-changing results that can occur with the right window shades for your home and your lifestyle.
Is this your home?
At first glance, the floor to ceiling windows offer a spectacular view, with natural light filling the home. But pay attention. What can you actually see out of those windows? Not much. The glare of sunlight interacting with the glass causes blinding light, not only blocking the view, but ruining the atmosphere. Look at the way that glaring light drains the color from the room.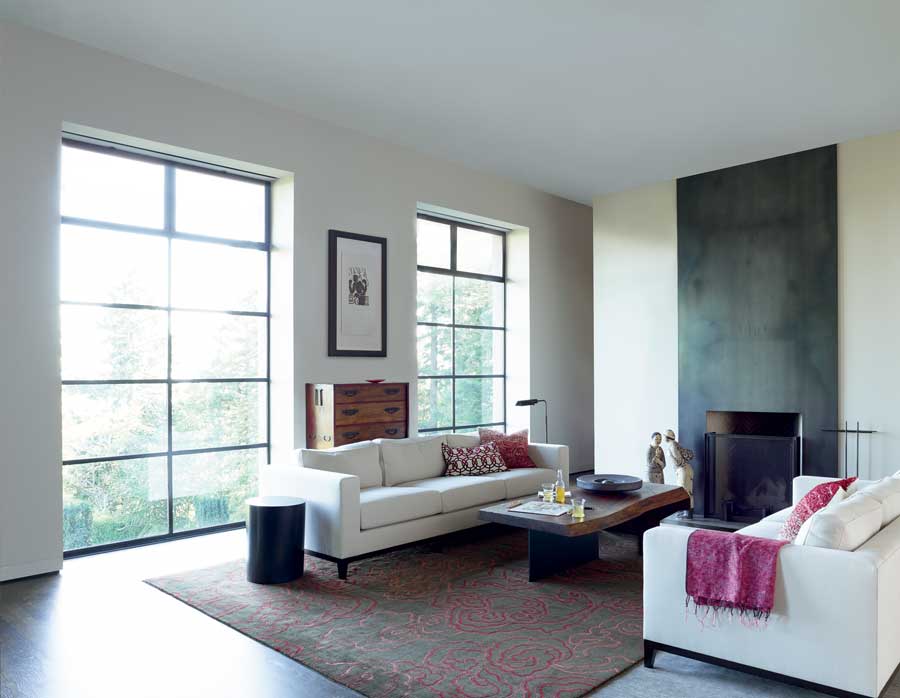 Decor that features design elements, patterns and textures – all of a sudden displays a hazy, dull appearance. Years of this sunlight will surely ruin the furnishings, artwork and flooring you've chosen. And then there's the temperature. What we can't see is the heat that fills the home. Uncomfortable conditions that make it hard to relax, be productive, or get a good night of sleep. In order to spend time in this room, one would have to wear sunglasses, or only be there when the sun is down. This 'before' scene of our before and after window coverings needs a transformation.
Wait 'til you see the results!
Everything about this scene has changed. The atmosphere, the lighting, the design, the temperature. Pleasant, beautiful and inviting, this home now has the light control it needs with the transformation of before and after window coverings. Notice the design elements – unique and intentional, with colors that stand out. The harmful UV rays that once entered are blocked, protecting your valuable furnishings, art and flooring for years to come.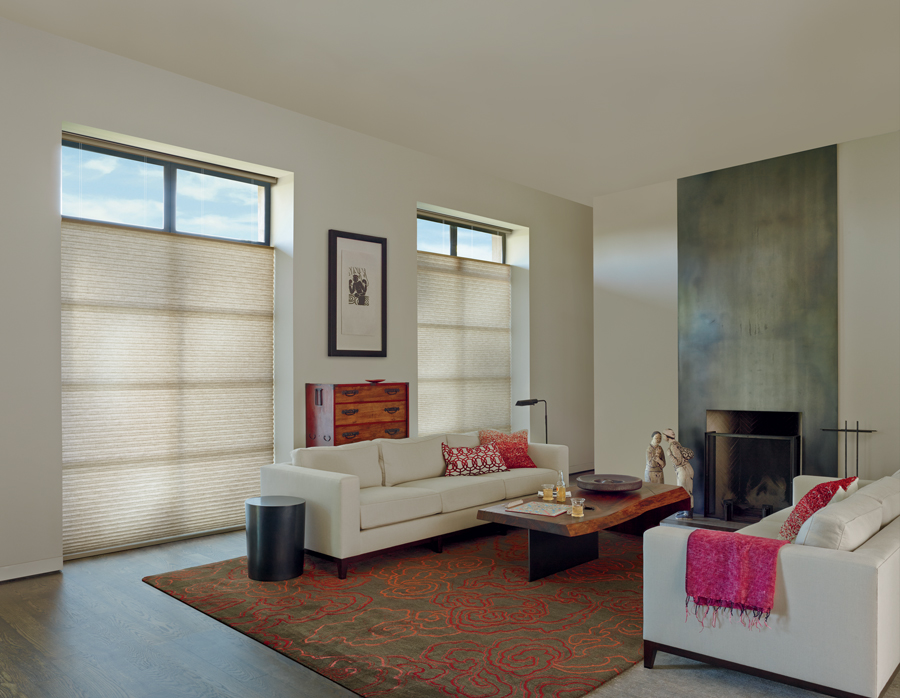 The natural light enters easily through the top of the top down bottom up window shades, providing the room with daylighting while blocking the glaring light. And how about that view? Because this time of day provides so much glaring light, the Duette shades are best left closed. But with the effortless automation of PowerView Automation, one touch of a button reveals a beautiful landscape – with just the right timing for your home and lifestyle. And…the temperature. Duette shades come with the highest standards of energy efficiency in the industry. There are no better window shades for an exterior wall that faces this intensity of sunlight.
Do you need a dramatic transformation?
We can help. Your home can achieve amazing results of before and after window coverings. With just the right window shades for your California home, you will receive light control, privacy and energy efficiency for an atmosphere of beauty, comfort and consistency no matter the time of day or time of year. Contact our team, at California Window Fashions, for a free, in-home consultation.