Room darkening, privacy, comfort…aren't these the words we'd love to use when talking about the bedrooms of our homes? It's important to choose the best bedroom window treatments when investing in you and your family's sleep and happiness. Let's explore…
You Need Darkness
Darkness in the bedroom is a no-brainer. It's one of the most needed features when it comes to choosing window coverings. But, room darkening doesn't just help you sleep in.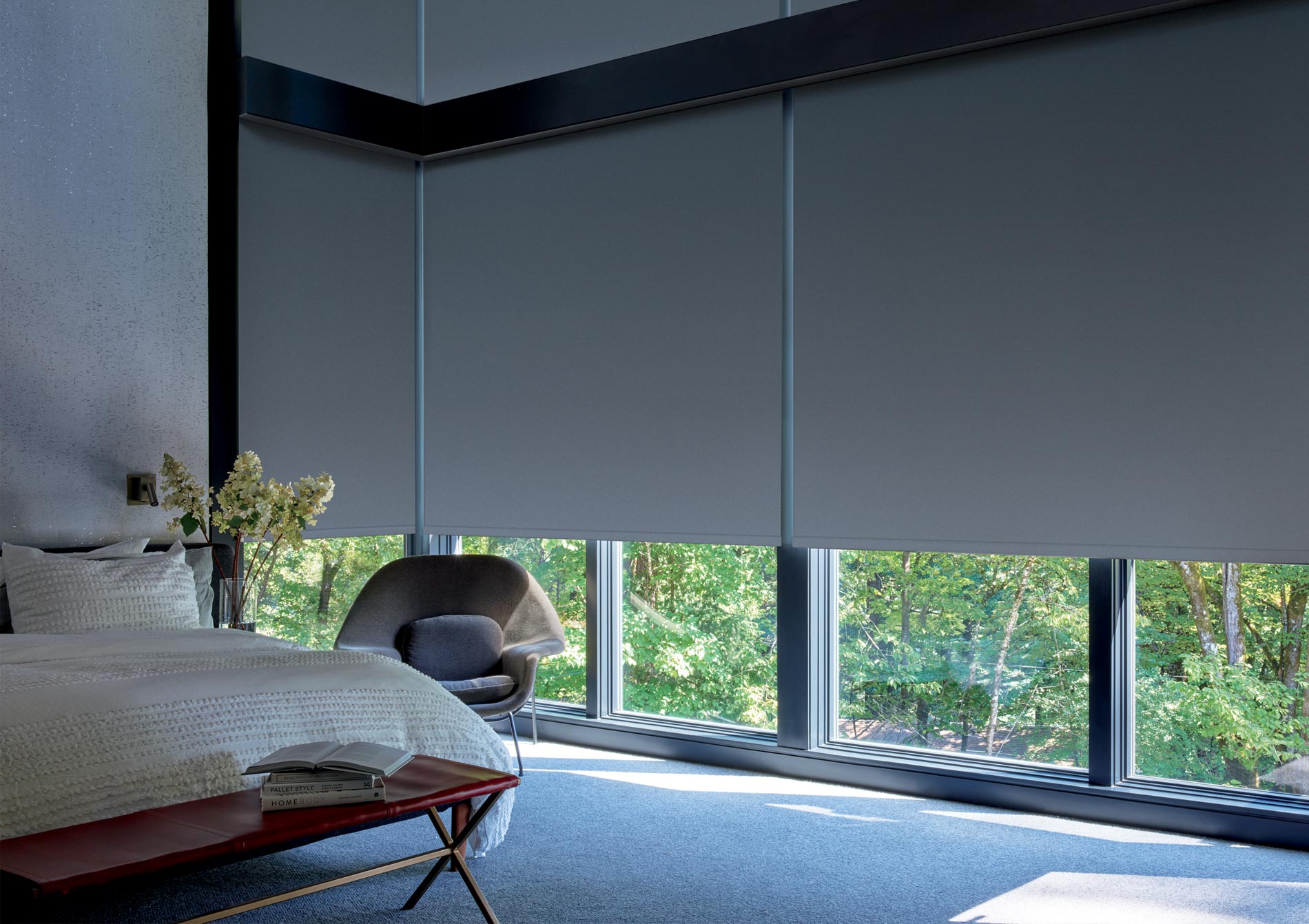 The best bedroom window treatments help you fall sleep faster and STAY asleep. Block the late-setting summer sun. Keep light from passing cars, streetlights and the full moon from disturbing you at night.
Room Darkening VS Blackout
You've heard the terms "room darkening blinds" and "blackout shades" tossed around. But, what's the difference? Room darkening describes fabrics that can keep most of the light from entering.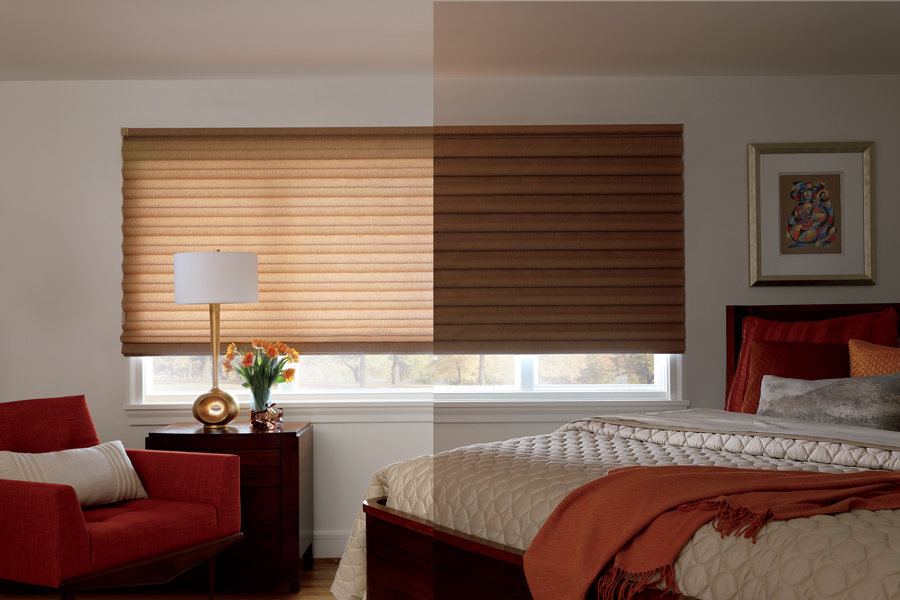 Another consideration with room darkening is that in some cases, light enters at the very edges of the window, creating a sliver of light down each side. This can vary between types of window coverings. In most cases, room darkening will deliver the darkness you need.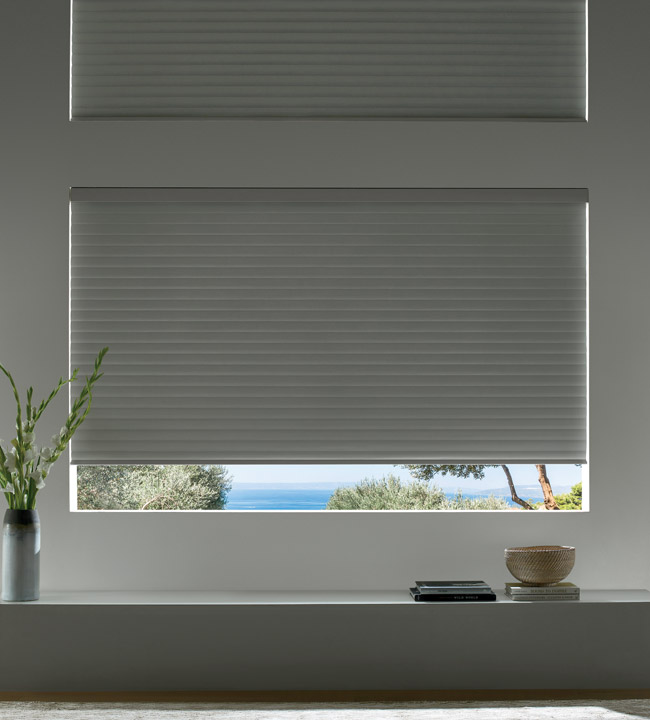 What about blackout shades? We like to save that phrase to describe a feature like LightLock, a system that seals the light out as the shades close. This system is often needed in rooms where intense light has to be blocked–not just in bedrooms, but media spaces as well.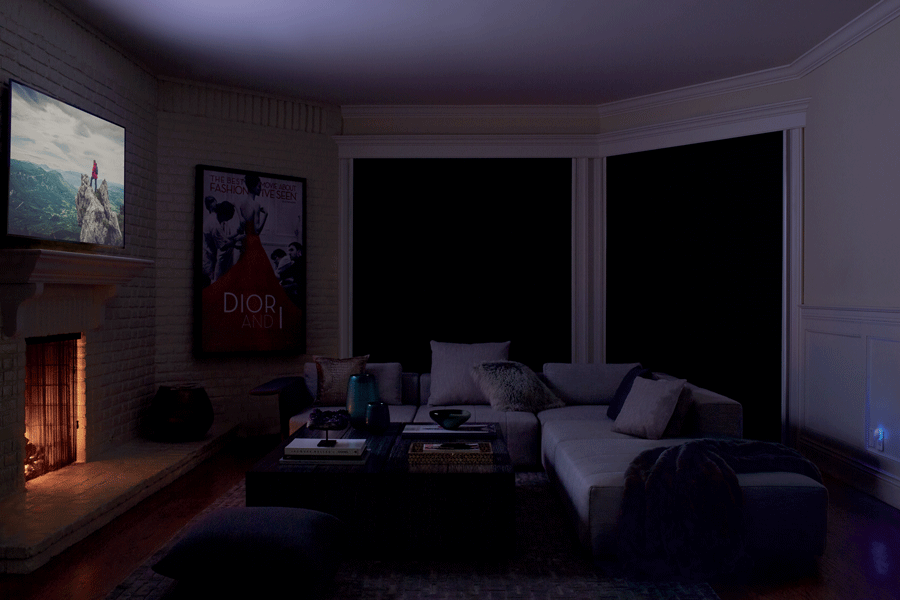 Make Adjustments Easy
We've established that darkening the bedrooms of your home is important for a good sleep environment. But, having the best bedroom window treatments can go farther than that. In today's world, the key to getting the most from your home is by creating spaces that are multi-purpose. Bedrooms are no longer just for sleeping. During the day, they can be remote learning spaces or home offices, a getaway for peace and quiet, or the perfect spot for morning yoga.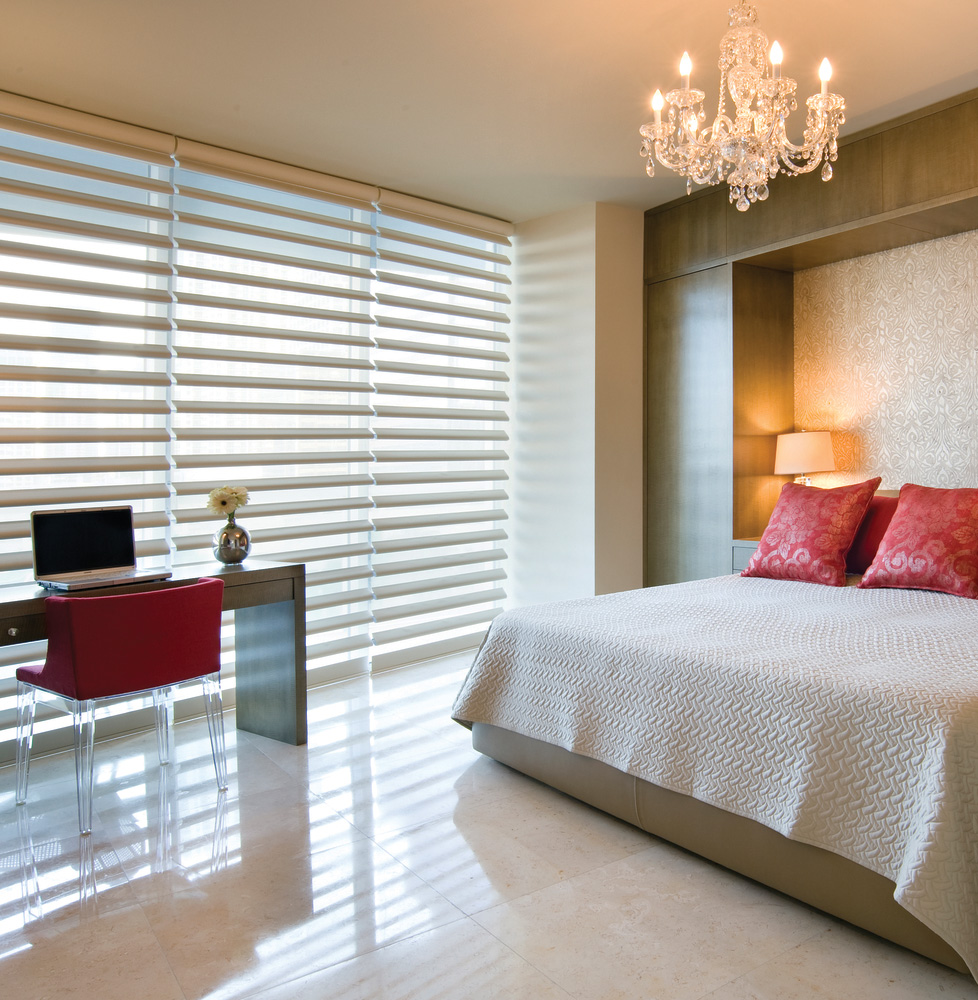 Automated window treatments a great feature to have in the bedrooms of your home. They are available in a range of operating options:
Use your remote upon in the room for on-the-spot adjustments.
One tap on your phone's app adjusts your shades from anywhere.
Voice commands are as simple as setting a timer with your smart home device.
Adjustments can be scheduled and set up with home integration.
Dark & Light
Quickly becoming one of the most popular features in the window covering industry, dual shades make any room as versatile as can be. Two shades, one window. That means, there's no more deciding whether you want just light or dark. You can have levels of lighting and view-through.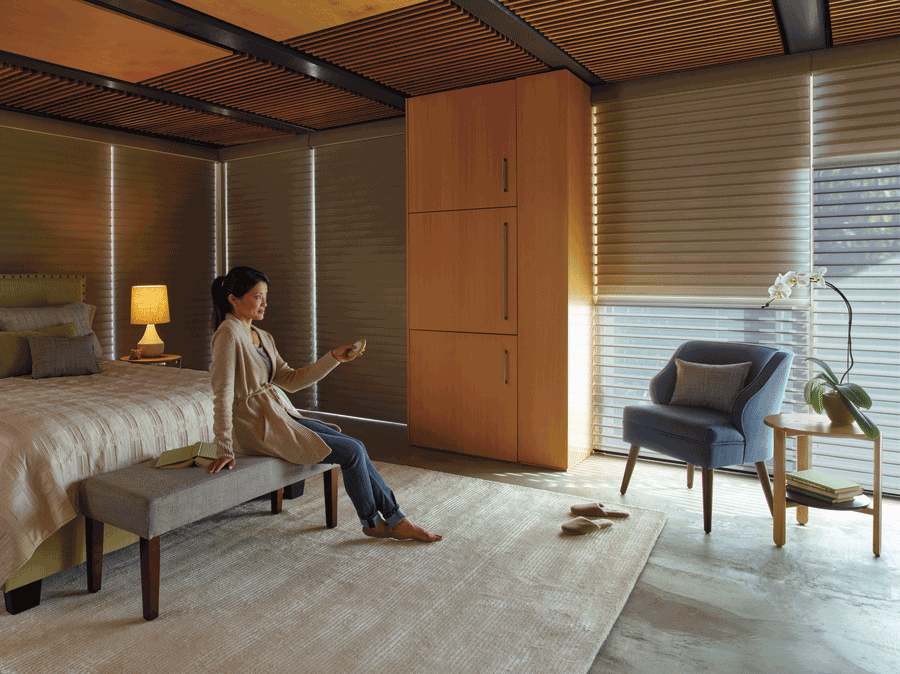 Privacy with Natural Light
When it comes to the bedrooms of your home, privacy is important. But, so it light. Top down bottom up delivers the chance to have both. Go about your morning without another thought–working out, getting dressed–and do it with the light pouring in. The bottom of your window is protected, while the sunlight illuminates the ceiling for a glowing atmosphere.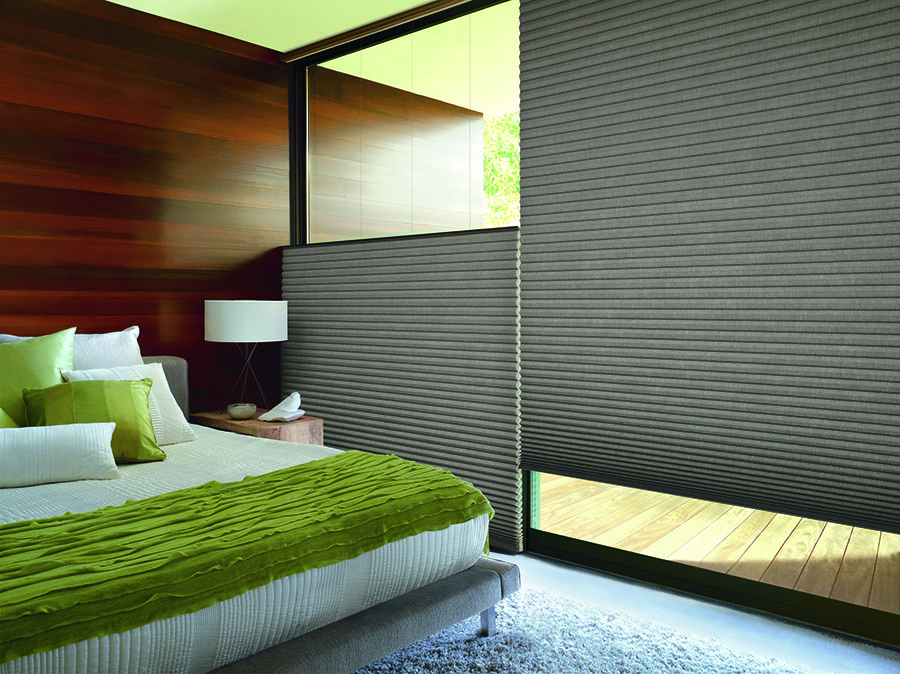 Maintain Comfort
In Northern California, we are lucky to enjoy an incredible amount of sunshine. But, the intensity can often become too much to bear during the summer heat. If you're trying to choose the best bedroom window treatments, adding insulation to those windows is an important consideration. And, that might mean specific rooms need more energy efficiency than other rooms.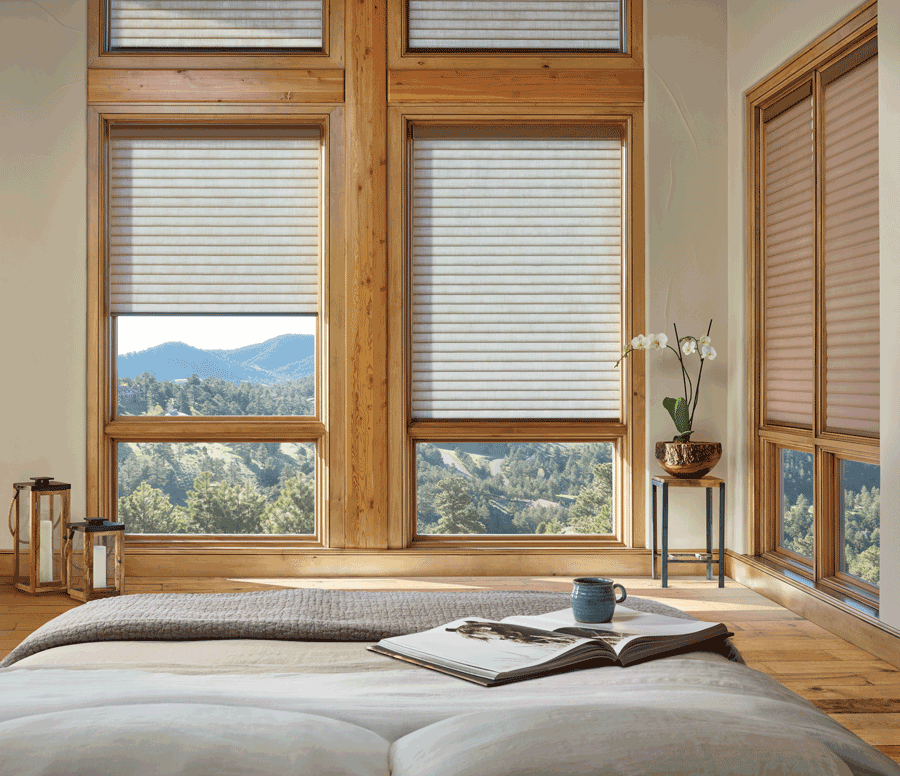 Don't let the hot sun bake the South or West-facing bedrooms of your home. Those sweltering temperatures can make it tough to fall asleep and stay asleep. The right window coverings will help you maintain comfort.
Prioritize Safety
If you have little ones in your home, you're already familiar with childproofing. But, did you know that it's not the baby stage you have to worry about when it comes to blind cords? Children who are old enough to climb, explore and escape your view for mere moments are the ones we need to be concerned with. When they can reach a cord–or stand on something else to reach it, they can be a danger to themselves and others.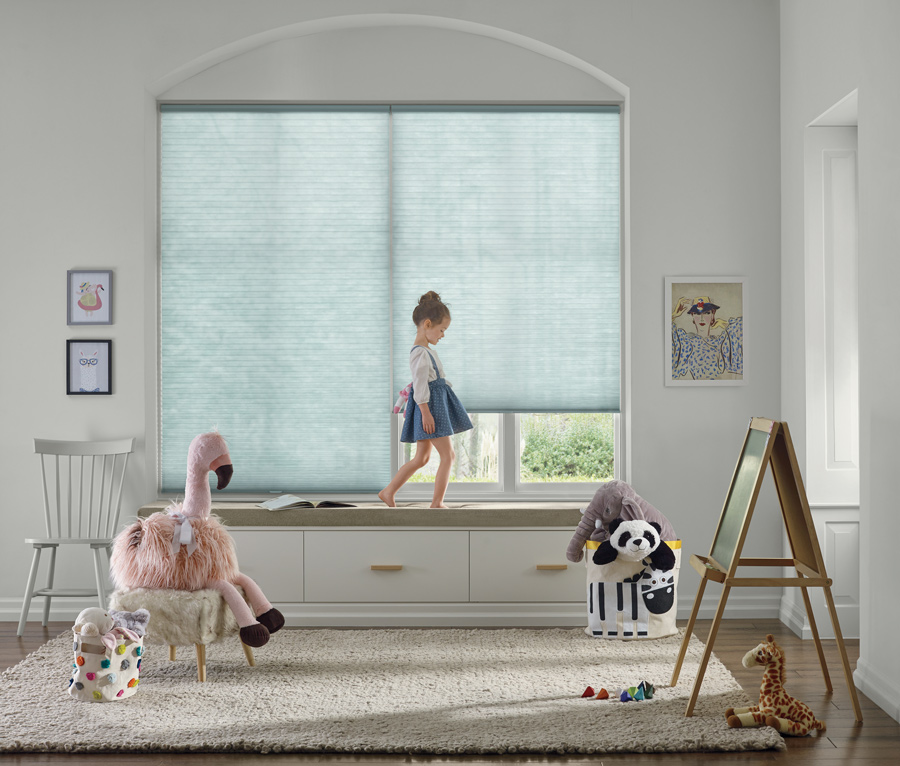 Cords often look like "just one more thing" to play with, and small children can be seriously injured. We have a variety of systems to keep in mind–and your child's bedroom is an important space where child safety should be a priority.
The Best Bedroom Window Treatments: Which Features Are for You?
Many of these considerations for the bedrooms of your home will be based on your home (and family's) specific needs. That's what we love about custom window treatments. You'll enjoy your own personal atmosphere to enhance your home. Which of these features are you loving? Let's sit down to chat about the vision you have for your home during a FREE consultation. Get in touch with us today!