Need style tips? What to know what's hot? Let's sit down to chat with one of our design experts–our own window covering specialist, Courtney. She's dishing out the details on the top trends in window treatments for Northern California…
#1 What's the most popular choice for homeowners?
Clients love the timeless look of roller shades and roman shades. When we talk trends in window treatments, those two styles are timeless. What changes tends to have more to do with updating personal design choices and the innovative feature that have come so far in this industry.
#2 Which feature is the hottest right now?
Definitely smart shades. Home automation–in general–has seen a huge boost. Homeowners have embraced smart home features in all facets of their lives, and the more they can add to the system, the better. While the idea of touch of a button adjustments is enticing, what really draws people to the technology is far beyond that.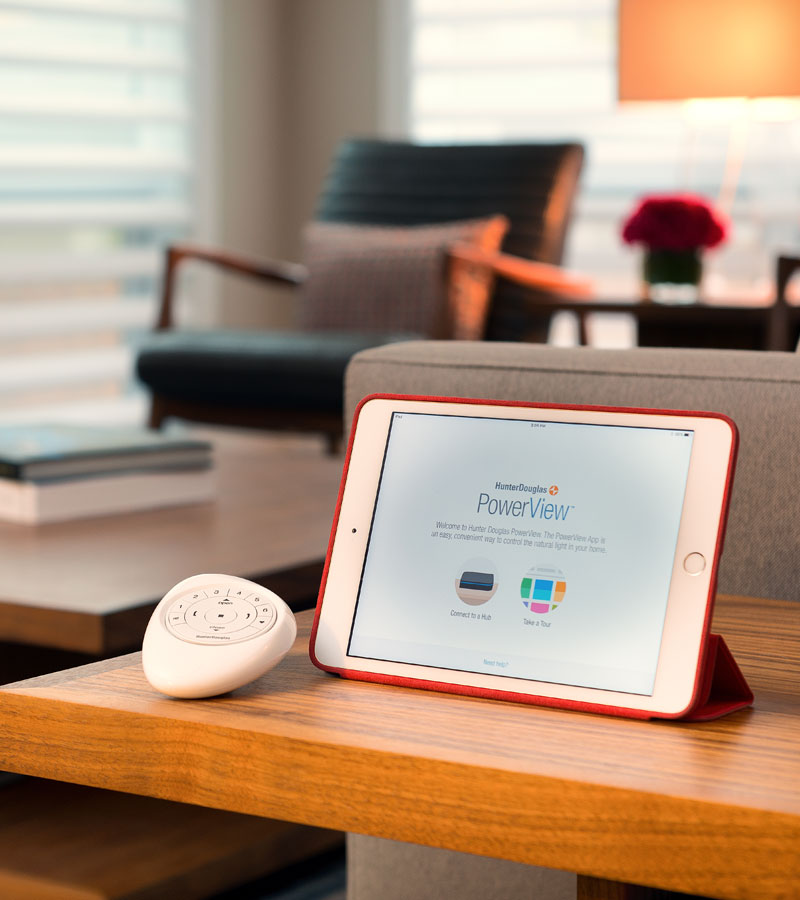 Because the integration is meant to work with the personal smart home system of your choice, there's no learning curve to be afraid of. You can set it and forget it. It's simple. And, it adds levels of privacy, energy efficiency and comfort that we all love having at our fingertips.
#3 Is there one style statement that's topping the trends in window treatments?
The layered look is incredibly popular. Starting with a roman or roller shade, then pairing it with side drapery panels, is such a timeless statement.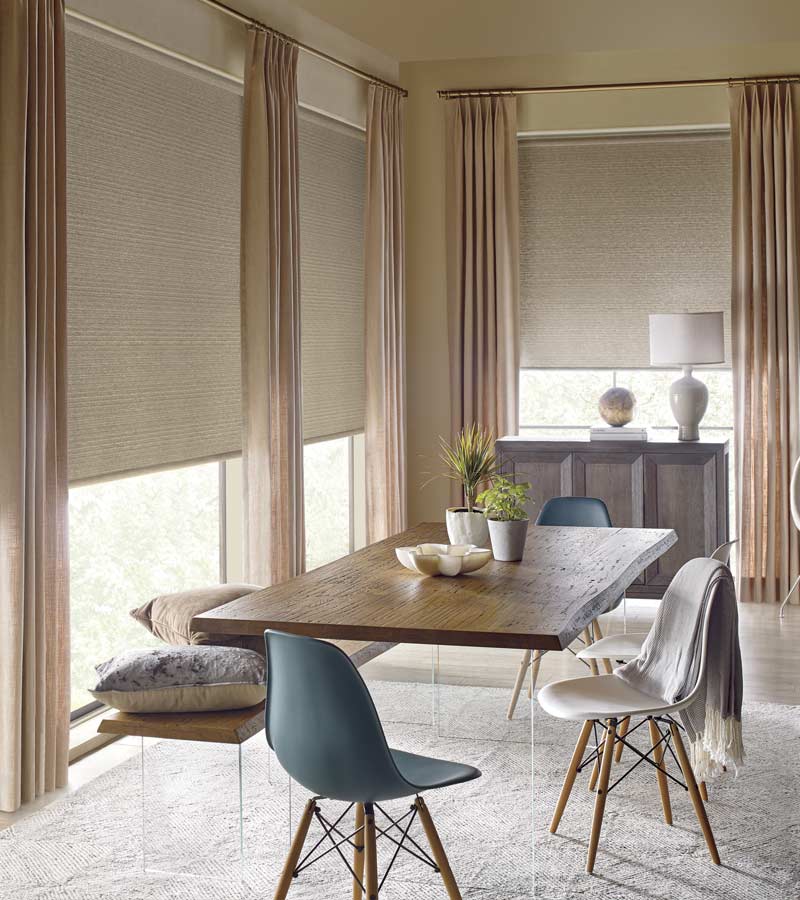 Because it's rooted in classic design, I'm not sure it can be labeled a trend–but, what's trending are the colors and fabrics that change over time. Simplicity is one direction clients like to go–soft whites or neutrals.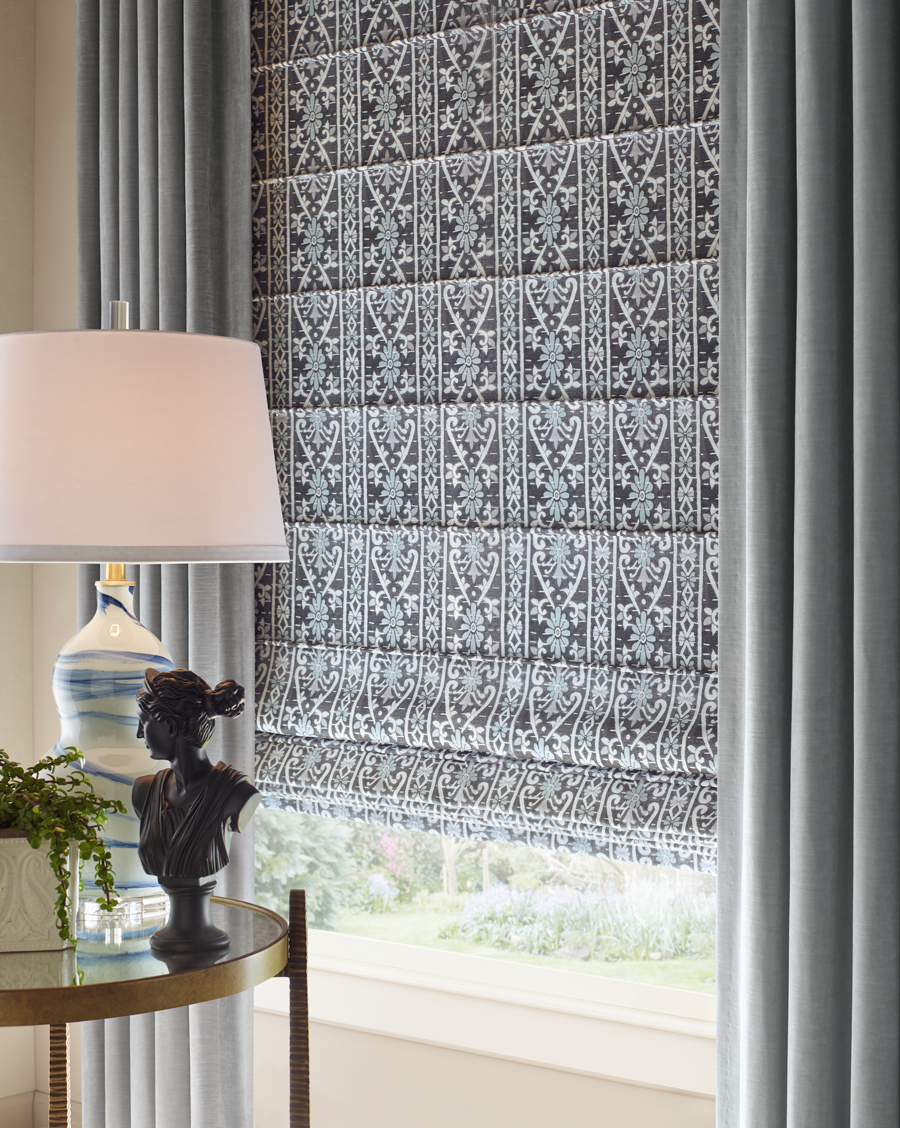 On the other hand, we are seeing a lot of interest in moody colors, homeowners that want to customize the look with a deeper, darker palette.
#4 When decorating an entire home, what's your go-to for window coverings?
I like to help clients choose window coverings like they would choose furniture–the style, colors and textures that they love, with a focus on specific room function. It's not about making the home "match," it's more important to put together a cohesive look. We spend time discussing the lifestyle of each space, considering the operation of the windows and doors, and then browse fabrics and collections to coordinate everything.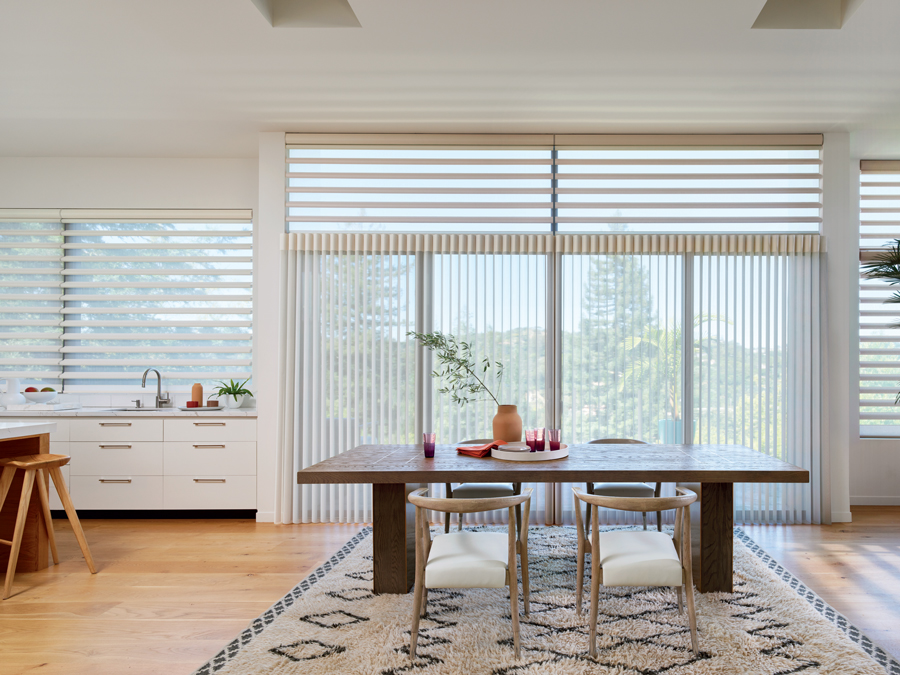 In this area, pairing Luminettes with Silhouettes is a great option. You get to enjoy the view and the light, but you don't have to sacrifice the "workings" of the space. It all comes together so nicely. We have a good amount of clients that love a mix of shutters with roller shades for a simple, clean finish. And, then, like we talked about–layering is a great style option for pairing shades and draperies.
#5 What question do you get asked most often?
"What do you have in your own home?"
Our clients love to hear about our own personal experiences when it comes to living with window coverings. Which makes sense–it's an important investment in the home. It's a great feeling to know that there's a level of trust with my clients, that they understand that I firmly believe in our mission here. Window treatments are vital to the atmosphere, look and comfort of a home.
Let's Chat about Your Project!
The best way to achieve the right look and feel in your home is to just get started with a conversation! Let's sit down to chat about what you love, what looks beautiful to you, and which solutions you need to make your home comfortable and convenient. Reach out to our team at California Window Fashions for your FREE consultation.