In California, the spring weather will bring the heat and the gorgeous views of lush palms and clear blue skies. More than anything we are ready to get outside! That also means we get a lot of questions about covering doors. We have all the solutions for sliding doors, French doors, easy to use options and everything in between!
Is there a way to make my front door private?
Your front door is the first place where privacy is crucial. Most homeowners need help deciding on how to tackle glass at the entryway door. You may have slim sidelights or glass on the door itself. Whatever you have, choosing window treatments that give you privacy is priority.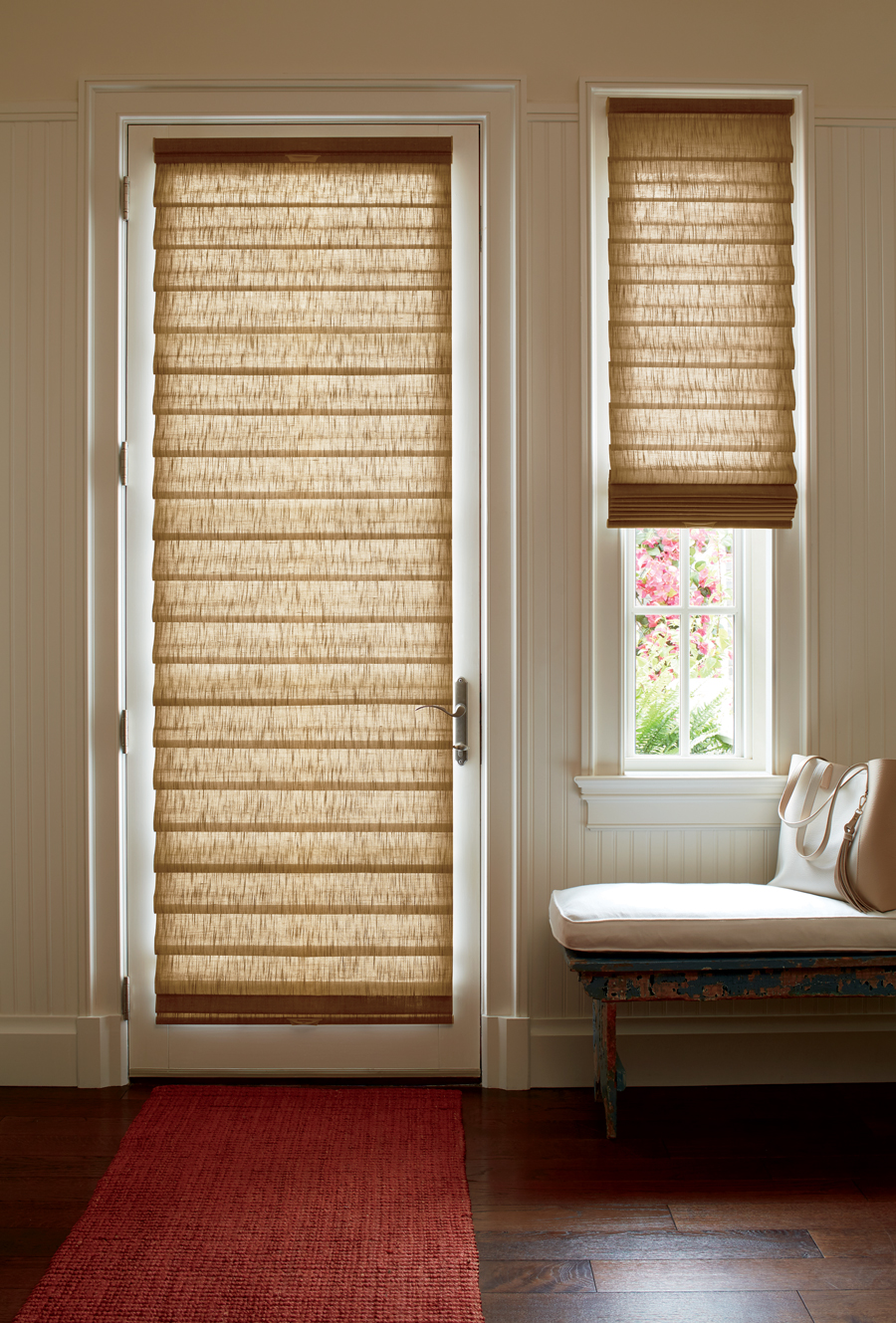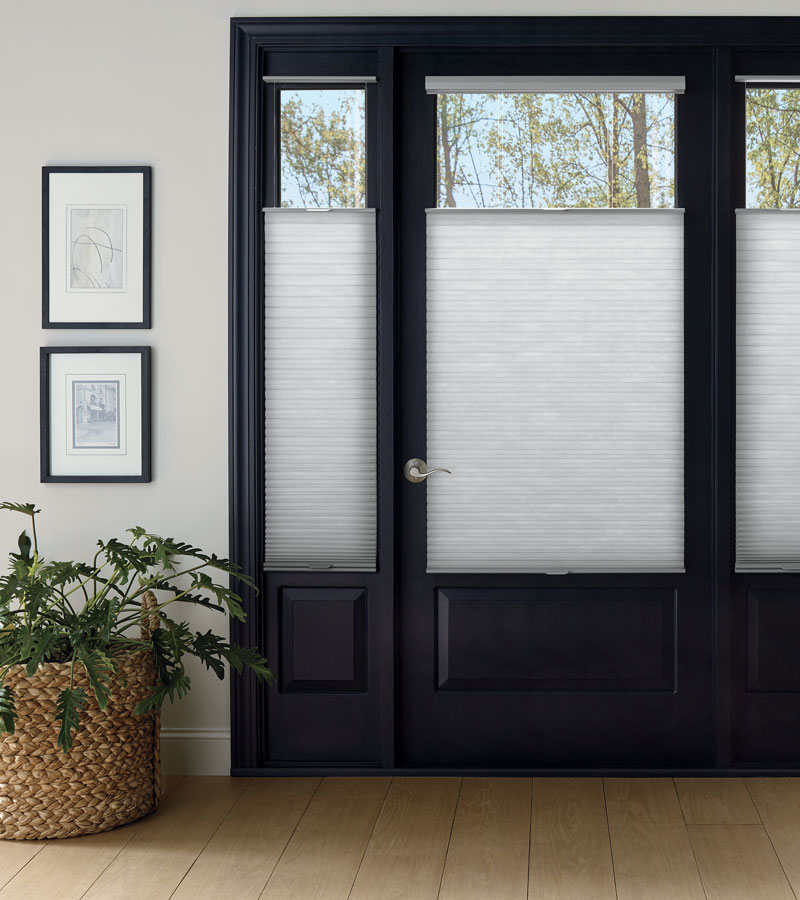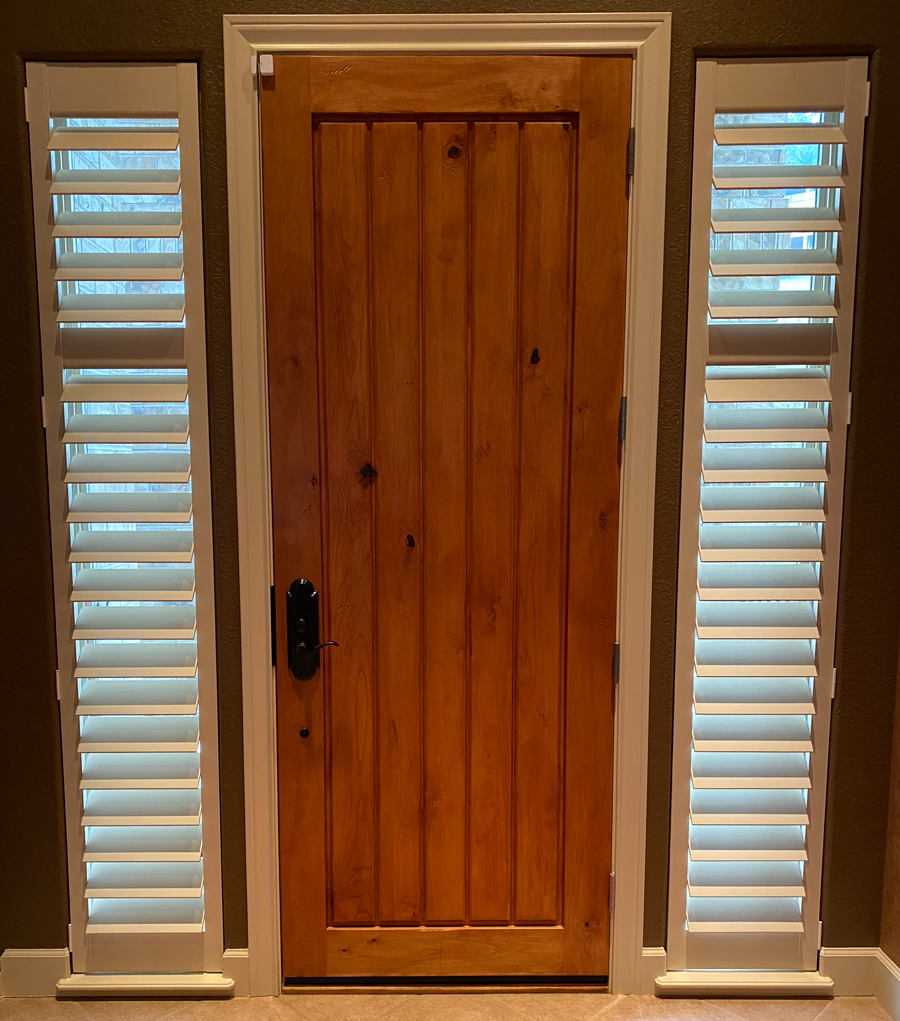 Can I cover a glass door?
How do you cover a glass door? This is one of our top questions about covering doors, since it seems like there might not be much for the window covering to attach to. TrackGlide is a great solution for modern, sleek finishing with plenty of light control and privacy. The structure of the shade implements a narrow track that adheres to the very edge of the frame, not on the glass.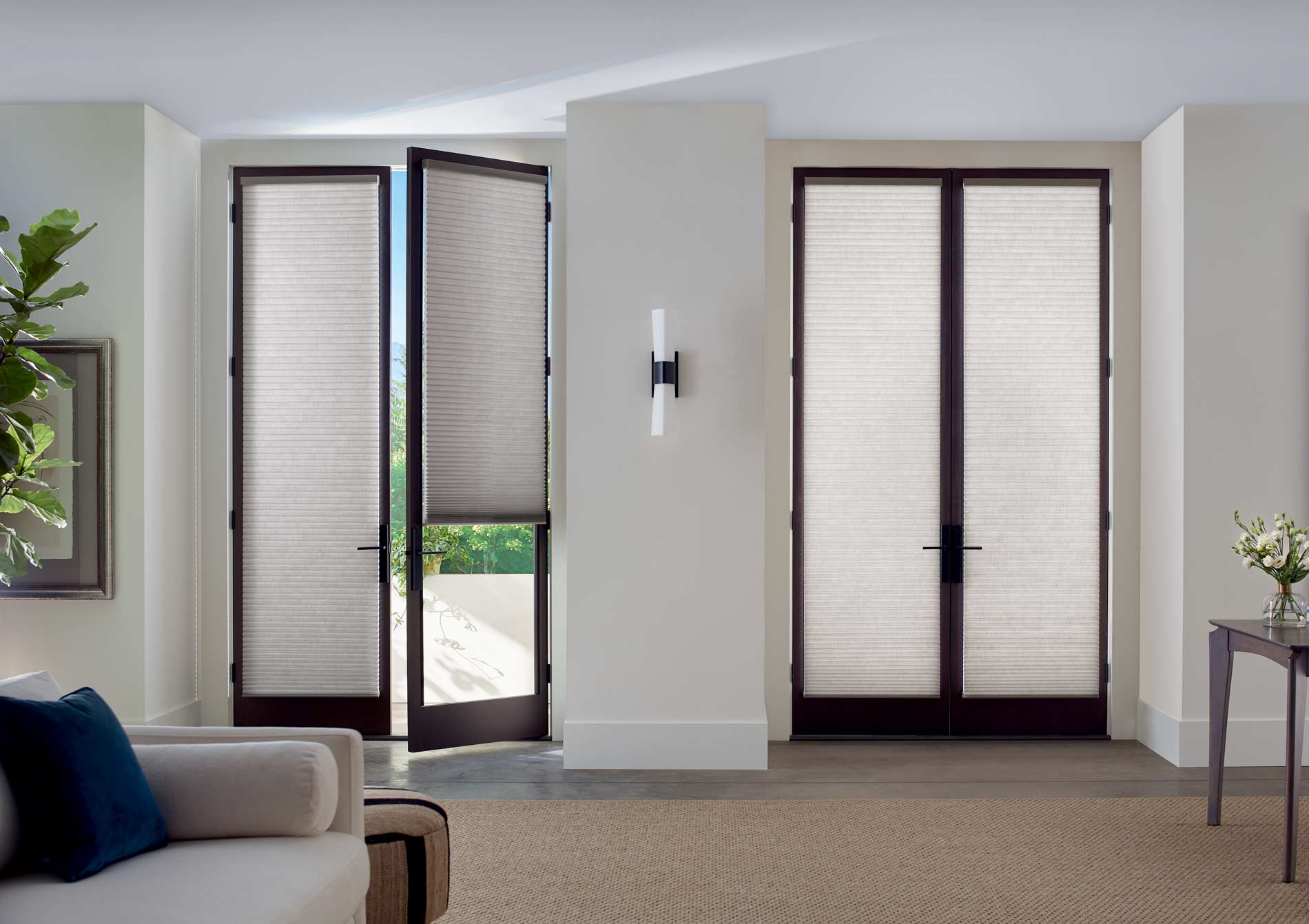 You get full coverage and beautiful glide functionality without having to drill holes. With TrackGlide, you even get energy efficiency–keeping the heat outside.
What should I use to cover my sliding glass doors?
Covering sliding doors depends on how you intend to use them. You can do horizontal or vertical shades. How you use your home will give you the best insight into which option is best. Vertical shades give the functionality of easy movement as it glides with the door.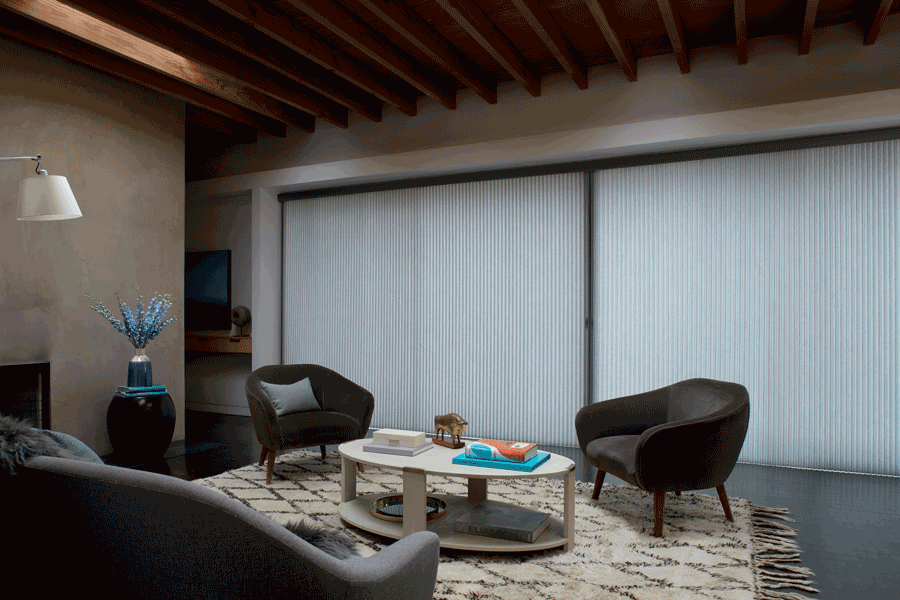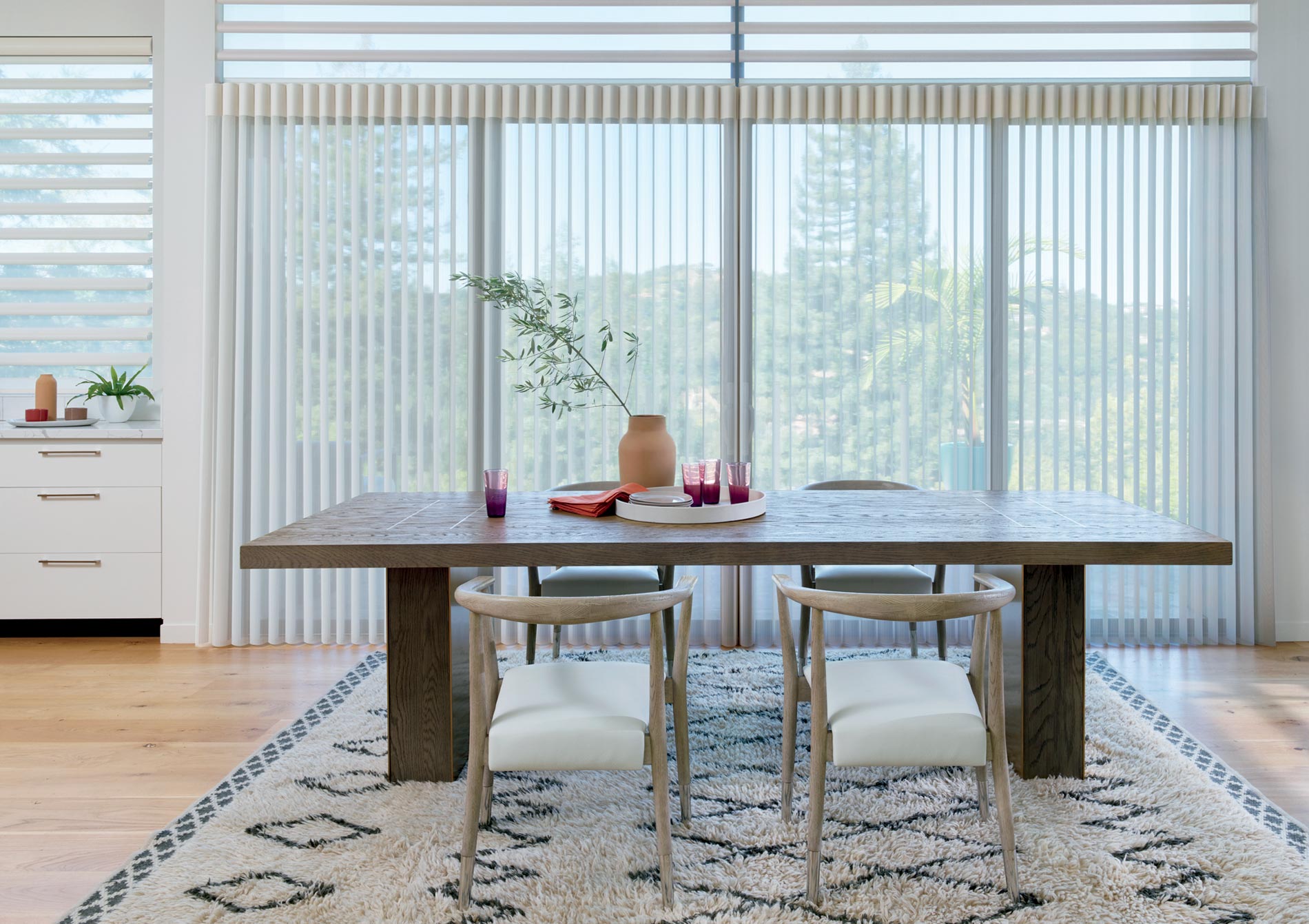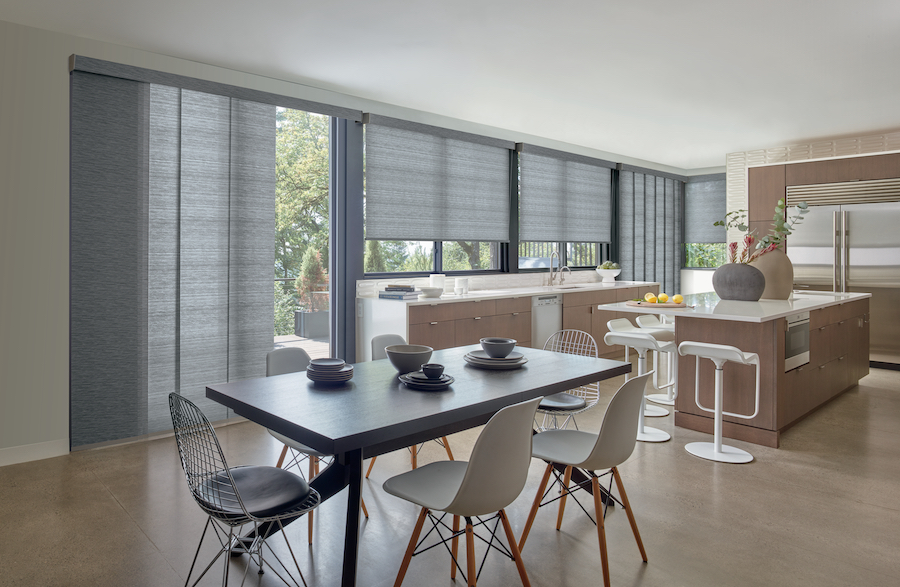 When considering horizontal shades, remember to think about which portion of the slider you use to open and close. While one side opens for easy access, the other often stays in position for privacy and added light control. However, you can always adjust it to bring in more light whenever you want it.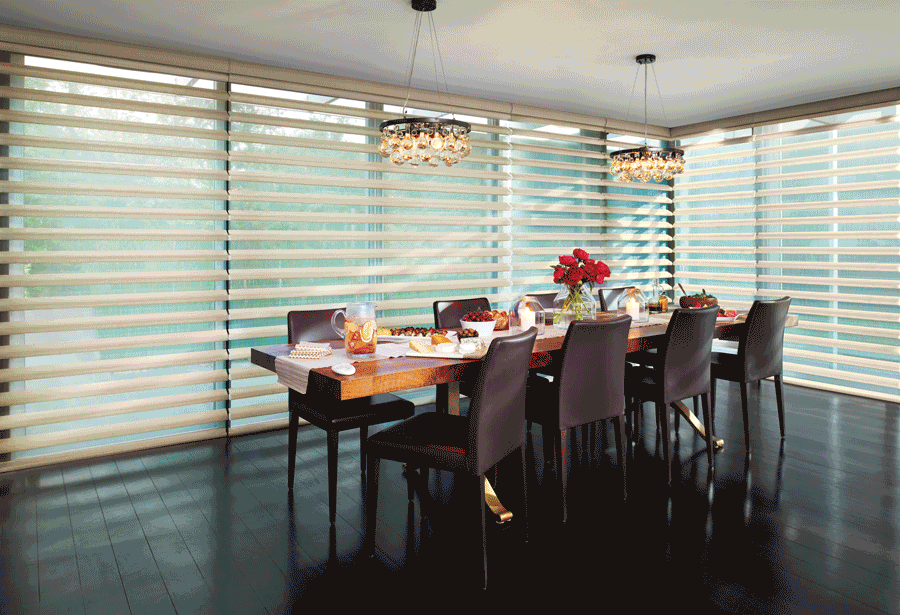 We have worked with plenty of families who opt for a single shade over the slider. In these cases, motorization is a big part of making it incredibly easy to access ad use. Hands-free, voice activated commands make getting outside a breeze.
What about covering my interior french doors?
Having french doors inside your home is a real treat. They add a level of elegance–and in today's world, dynamic function. French doors allow for privacy and a "closed off" feeling when working from home, or getting a workout in at the beginning of the day.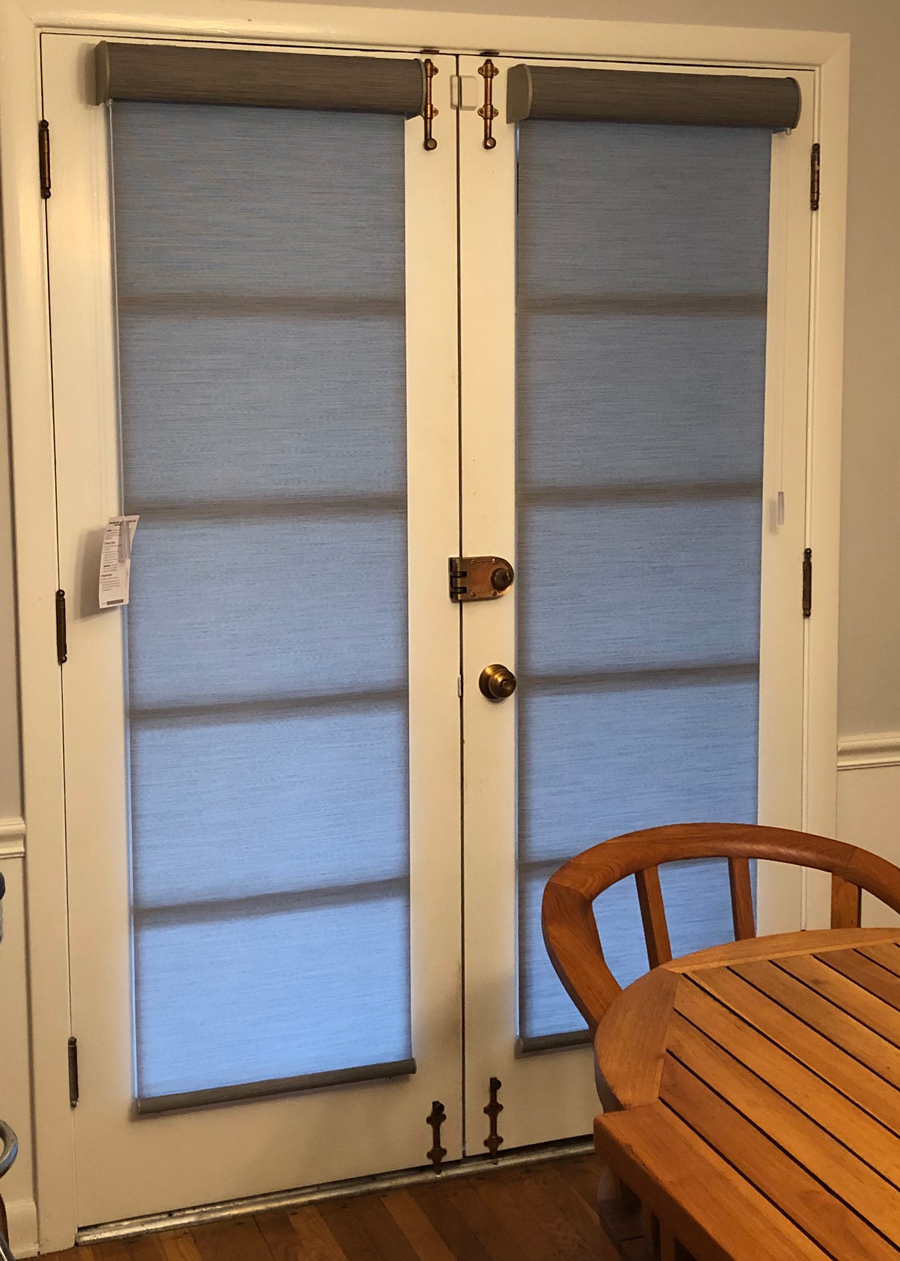 So, what's the best way to cover them? Turns out, most of the same coverings you would use on exterior french doors are also great options when covering interior doors. Roman shades, roller shades and plantation shutters tend to be the most popular.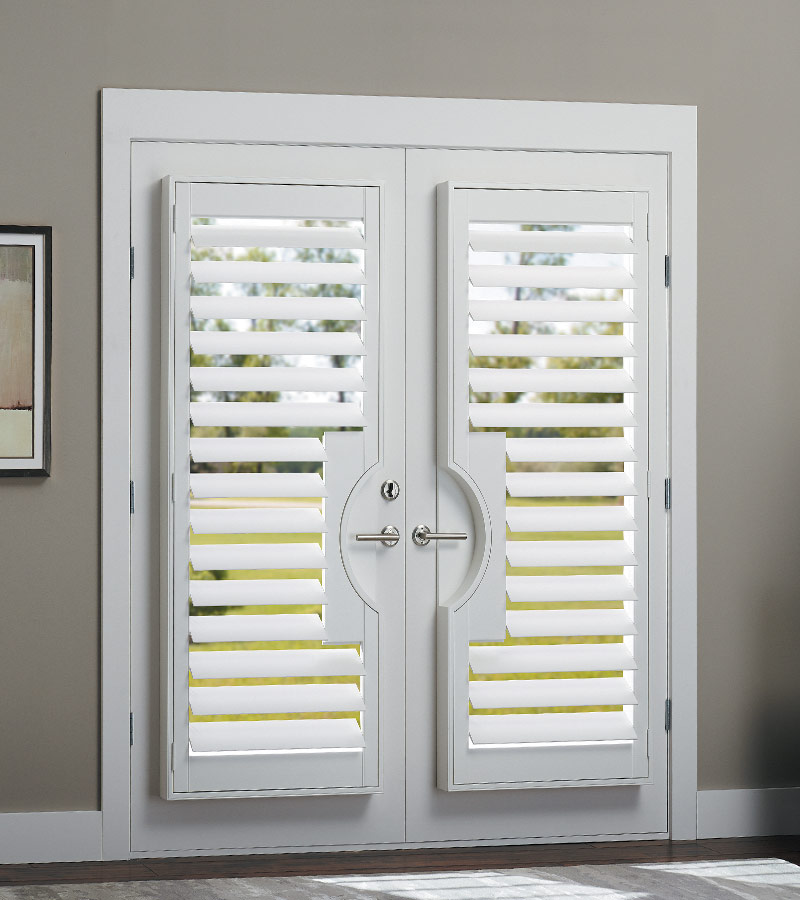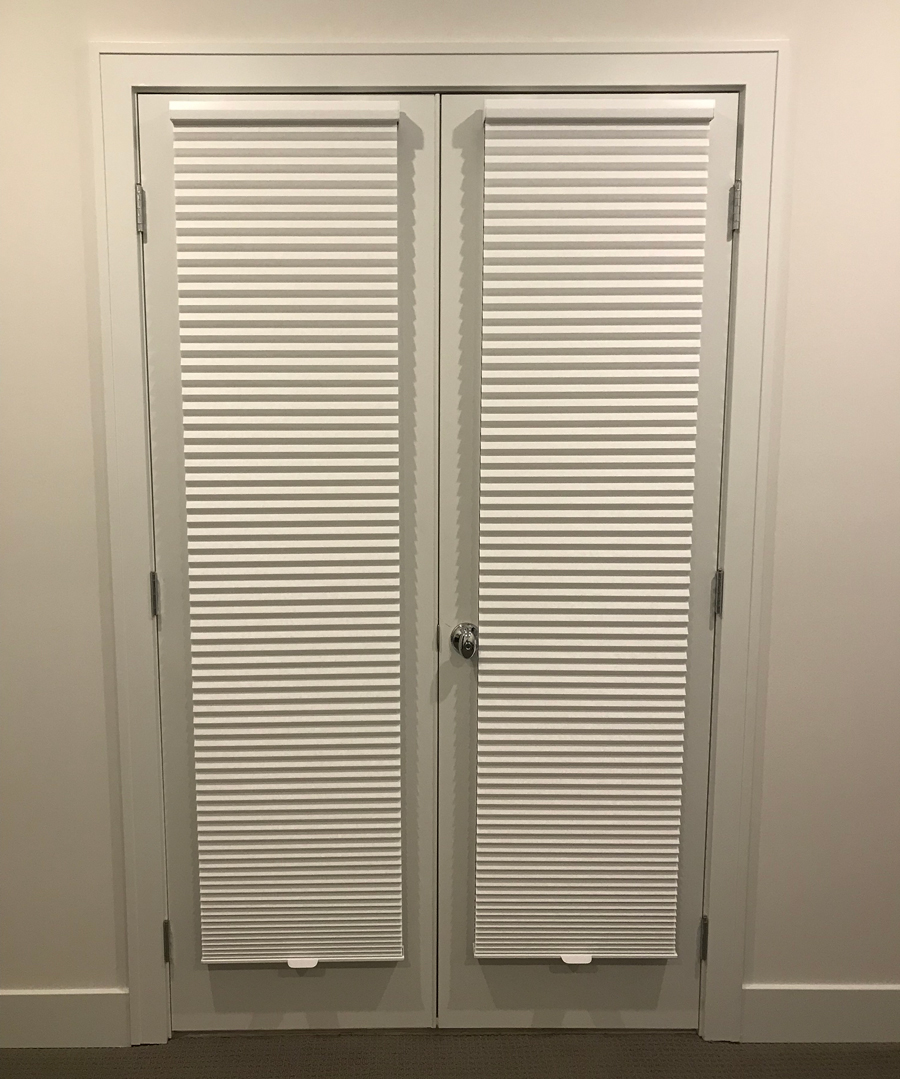 And, of course, draperies can be a beautiful style option. They stay to the sides to enhance the elegance, closing easily when privacy or light control is needed.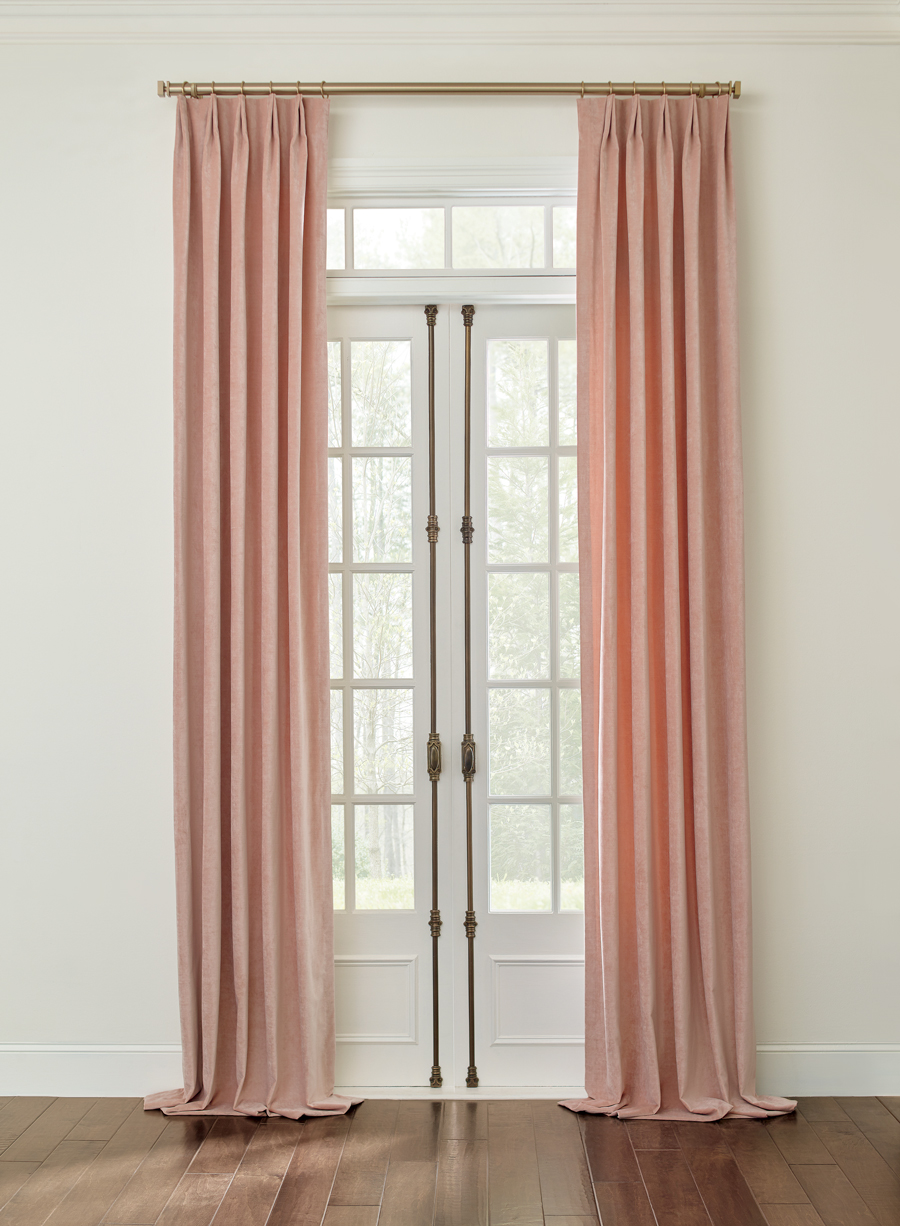 What are the best shades to put on doors?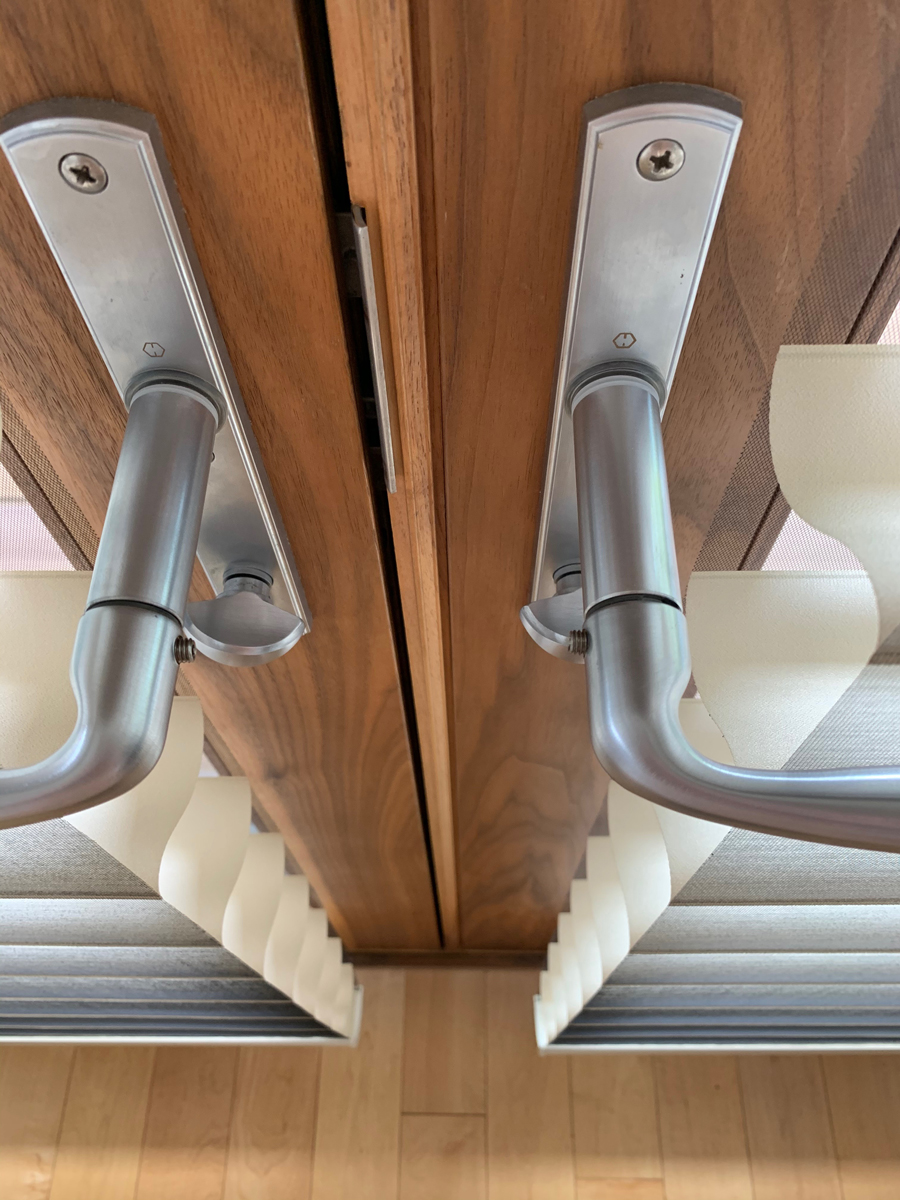 Having an extensive list of options for covering your doors is a great place to start. We have plenty of choices and solutions for homeowners. A common theme we have found is that figuring out what you want can be the most challenging thing. That's why working with a window covering specialist can be a great experience. Before you make your final decision here are some things to consider:
How will I coordinate with the other window treatments in the space?
Will I still be able to use the door knob or handle?
Can I open the door all of the way?
How will the shade attach to the door or frame?
Still Have Questions about Covering Doors? We Are Here for You!
At California window fashions our team knows how important functionality and style are. Choosing the best window coverings shouldn't be a hassle. Our designers will help you pick the best solutions that fit your needs and home. From privacy to light control we have options that feel fresh not fussy. Start enjoying your space this spring! Get in touch with us for your FREE consultation.