Did you hear the Color of the Year 2017 announcement? Full of life, a renewed sense of nature and the bright, cheery mood the world desperately needs, Greenery was chosen. The Pantone Color Institute–the authority on color–has spoken. And not with a whisper. Greenery comes shining into the world with vigor and surprise. While the message they've given balances both societal and political nuances, it's left many of us perplexed. This happy-go-lucky shade isn't really a color you can dislike…it's full of the refreshment of airy springtime. It would be like disliking a child's laughter, or the morning sunshine peeking out from behind the hills. But decor? How exactly can we bring it in? And what works in one home and one family's style certainly won't work in another. We've put together some ways you can infuse this vibrant message to accent your home's sense of style.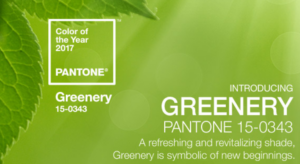 "Greenery bursts forth in 2017 to provide us with the reassurance we yearn for amid a tumultuous social and political environment. Satisfying our growing desire to rejuvenate and revitalize, Greenery symbolizes the reconnection we seek with nature, one another and a larger purpose."
~ Leatrice Eiseman, Executive Director of the Pantone Color Institute
Start With Greenery.
If you're having a difficult time embracing Greenery, Pantone's color of the year 2017, you're not alone. The easiest place to start is with actual greenery. You won't have to change much, but it may change everything. Decorating your home with nature's palette is a great way to embrace the whole meaning behind this year's decision. Rejuvenate, revitalize…there's no better way to do that than with the first signs of springtime. Whether you choose the flowing whimsy of ferns, the artistic look of boxwood spirals, or pruned topiary designs, you'll bring a piece of nature into your decor with surprising charm.
Choose Your Patterns.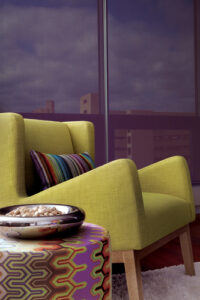 Part of decorating your home is considering the patterns that draw you in. You want to see a photo, or walk through a store–and stop dead in your tracks. That "gotta have it" craving you experience when you find the exact pattern, print or design that speaks to you…that's what embracing your personal style is all about. Geometric patterns, botanical prints, damask designs…the list can go on, but which one do you love? Our prediction is that Greenery, as the color of the year 2017, will be laced into each and every fabric, texture and material. Look for your favorite patterns to make a statement in your home. Area rugs, duvet covers, accent pillows and wallpaper all provide the blank canvas needed to express these upcoming prints. The best part about infusing accents of this hue into your home is that you aren't changing much, just making small additions to see what works. This might be a great time to experiment with mixing patterns for playful design.
Identify Your Favorite Finishes.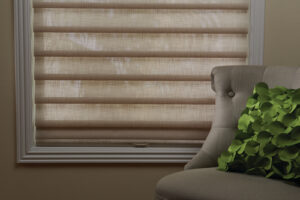 A person's sense of style can definitely be defined by the finishes within their home. The minimalist look of mid-century modern is all about polished decor. Farmhouse style? It's vintage metals and rustic woods. The industrial movement brought forth a mixture of raw materials in both metals and woods, completely unrefined. Metallic decor adds a sense of shine and sparkle to the home. Which finishes do you love?  How do you define what you bring into your home? Once you select your favorite look, it's time to shop. And, there's nothing wrong with mixing finishes…high contrast between accents is very popular. Just make sure it's balanced and simplified. Choose two finishes to use throughout the space, not five.
Have Fun with the Color of the Year 2017…
This color is all about renewing your sense of enjoyment. So, when you decorate, smile. Have fun. Get involved and select what's going to bring you happiness. This has been an intense year for all of us. It's time to embrace life and surround ourselves with what's important. Still not sure Greenery has a place in your home? Take a look at the color inspiration that went into selecting the color of the year 2017. You might see another color that speaks to your heart, brings you joy and revitalizes the spark in your life. At California Window Fashions, we would love to help you discover designs you love. We'll come to you for a fun-filled, no stress, shop-at-home consultation. We'll bring ideas, inspiration and advice to help you create the perfect atmosphere in your home. Contact our team today!