It's no secret. If you want to refresh a space in your home, there's no better way to do it than by inviting in natural light. But, how do you know which are the best shades to manage that incoming light? Do you know your options? The best shades must help you create the right environment based on your lifestyle and needs. Specifically? Much of decision lies in the circumstances that surround the function of each individual room. And, from there, you'll consider how the light interacts with the space, privacy needs and year-round weather concerns. Thinking about home automation? One touch delivers the perfect ambiance and functional environment with motorized blinds and shades. Visit our solutions pages for these and other life-changing innovations. Ready to refresh and rejuvenate your home? We've got inspiration to help you get started…
Make It a Sanctuary: The Bedroom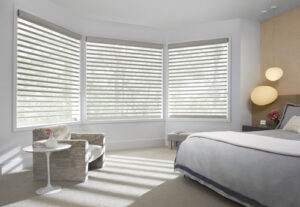 Quality sleep. Comfortable temperatures. High levels of privacy. These are three of the most important aspects you'll want for the bedrooms in your home. The best shades to refresh your bedroom can deliver these features. And, you know what else? The results you'll see are restful sleep, an energy boost, and mood enhancement–everyone will sleep better. No more distracting light from passing cars or motion lights. The adjustable privacy means that you and your family can experience customized comfort. You can rest easy, knowing your child's room has the safety innovations of cordless shades. And, with the temperatures we see, you can relax in a serene environment. The style? Well, that's the icing on the cake. Surround yourself with beauty and elegance, while receiving the incredible function you need.
Light Control + Privacy: The Bathroom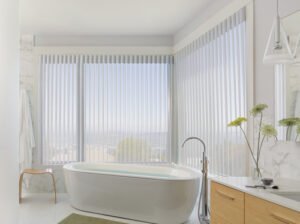 Speaking of privacy, there's no room that needs this feature of custom comfort quite like the bathrooms in your home. The next most important aspects to consider? Natural lighting and easy adjustment. Think about starting your day. You'll want to maximize daylighting, to let light come into your space. But, maintaining the seclusion of your bathroom is vital. That's also where the other bathrooms in your home come into play. You don't want them to feel cave-like. Simplistic adjustment will let you harness natural light and offer 'one adjustment away' ideal privacy. The best shades for the bathrooms in your home will provide the perfect balance of both.
Design Your Success: The Office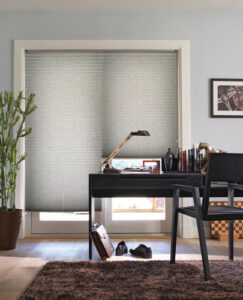 Productivity is a huge factor in considering the best shades for your home office. There's no better way to accomplish high levels of productivity than bringing in ample natural lighting. But, be careful. The glare from entering light can cause unnecessary squinting and frustration as it bounces off screens. However, after spending time in your office, it's nice to look up to see your view. It's refreshing to bask in the morning sunshine. You can have it all. It's all about management of light. The best shades for your home office will cut the glare, welcome in custom lighting and let you breathe a sigh of relief as you ramp up the style and function of your successful space.
Gather Together: The Living Room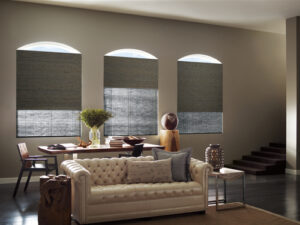 If there's any room that deserves 'across the day' functional design, it's the living room. Sometimes referred to as the family room, or the great room, this is typically the open space in your home where the circumstances are continually changing, depending on time of day and day of week. The best shades for this gathering space should offer you the innovation and control you need for ever-changing circumstances. You'll want to bring in natural light, while reducing glare. Because this space can showcase some of the most beautiful views of the landscape, you'll want to maintain that view, while simultaneously protecting the inside of your home from heightened temperatures and UV rays. Not to mention, the best shades for your gathering space need to provide gorgeous styling. They'll create a style statement for your home, whether you're enjoying your favorite book on a Saturday afternoon or hosting friends for game night. Custom shades can set an awe-inspiring scene.
Ready to Find the Best Shades for Your Home?
Each individual space in your home is used in different ways. Create the perfect home environment by catering to those unique needs. Find the best shades for every room, while adding incredible style. Our design experts can help. We'll come to you for a free, in-home consultation. Bringing samples, ideas, advice and inspiration, it'll be the fun, hassle-free shopping experience you've been searching for! Let us help you get started today!