Do you have windows high up in your foyer or back behind furniture? The light they bring in is amazing, but when they're hard to reach, they can leave you feeling powerless. How are you supposed to tame that annoying glare or block those damaging UV rays? What do you do when the intense sunlight streaming in heats up your spaces? Well, we have the answers you're looking for. Hard to reach windows come with a host of common problems, but we're here to help solve them and show you just how wonderful your hard to reach windows can be.

First Things First…
Determine the good and the bad. Take some time to really study your hard to reach windows. What do you love about them? Maybe you enjoy the gorgeous natural light they bring in, or how their daylighting provides you with energy savings. Maybe it's that they're specialty shaped–which really adds to the beauty and style of your home. Whatever you love, write it down. Then, take stock of the things that need to be improved. Do you have issues with glare during certain parts of the day? Have you noticed fading on your flooring or furnishings from constant exposure to UV rays? Does the temperature become unbearable on hot, sunny days? Identifying problems with your hard to reach windows will put you well on your way to finding solutions that'll have you loving them again in no time!

High Windows = Low Maintenance
One of the biggest benefits of hard to reach windows is that they require very little from you. If they're high up and out of the way, they add light and character to your home without needing your constant attention. You don't have to worry about privacy or glare; you can just let beautiful daylighting stream in across your ceiling. But, you don't want that light to damage your decor or send temperatures skyrocketing. In this case, light filtering window coverings will bring out the best in your hard to reach windows. Providing soft, filtered light and UV protection, the sheer fabrics and materials enhance the atmosphere of your home and add a designer look. Perfect!
Light, Light, Light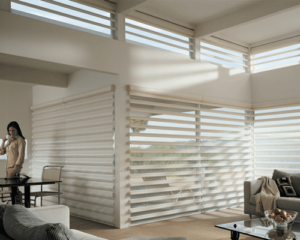 Whether your hard to reach windows are high up or placed behind furniture, they probably provide incredible light. And, you've probably come to realize that you need some control over that light. But how? Motorization is one of the best ways to gain the control you deserve. By setting a schedule of automatic adjustments, based on your home's unique needs, you can ensure a comfortable atmosphere and the perfect balance of light in your home all day long. Plus, if you do need to make a change, you don't have to pull out a ladder or clamber over furniture. A simple tap on your favorite device or the sleek Pebble remote moves your motorized blinds and shades right where you want them. The convenience that PowerView motorization brings to your lifestyle is unbeatable, and it'll forever change the way you live in your home.
The View Out–And In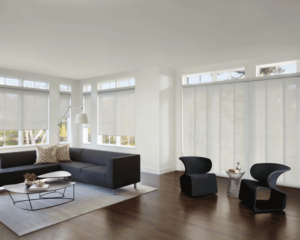 Are your hard to reach windows the largest ones in your home? Floor to ceiling windows offer a stunning view out, but that also means there's a view in during certain parts of the day. You don't want to cover up those breathtaking scenic landscapes, but your privacy is important, and it's likely that your big windows are causing other problems–like intense brightness and uncomfortable temperatures. So, what can you do? Start by looking at your layout. So many people put off getting the right blinds and shades because they're not sure how they'll have access for adjustments. Is that where you're at right now? Well, rearranging the layout of rooms that have large windows can give you the access you need. In fact, the latest home design inspiration for open floor plans calls for "conversation spots." Consider grouping furniture together and using rugs to create multiple conversation areas away from the windows. This way you'll have access to them and be completely on-trend with your design. Win-win!
All Kinds of Character
Are your hard to reach windows specialized shapes? Do they add charming style and one-of-a-kind character to your home? When you're dealing with problems, it's easy to forget what drew you to your unique windows when you were designing or buying your home in the first place. The right window coverings will highlight the beautiful custom shape of your windows and enhance the character and style they add to your home–all while providing the solutions you need.
It's Time to Love Your Hard to Reach Windows
Facing common issues? Harsh light, UV damage, lack of privacy–it might be a bit difficult to love your hard to reach windows. But, the right window coverings will change everything. They'll help you see what an asset those unique windows really are in your home. Our team is ready to come to you with advice, ideas, and inspiration that'll help you create the perfect atmosphere in all of your spaces. Contact us at California Window Fashions for a free, in-home consultation today.