The winter months are here, and we're starting to miss the warm, summer days. But, no matter what season it is, energy efficiency is important for making your home comfortable. The latest innovations are allowing us to have complete control over our home's environment. Whether you want the natural sun to illuminate your room, or you want to have as much privacy as possible, there are ways to create the perfect space while staying energy efficient. Take a look at our ideas.
The Latest Technology

Everyday, we see advancement in technology. We love having the newest phone or the coolest gadget. Technology truly enhances our lives by adding convenience. Energy efficiency is no different. With the newest home integration systems, we are now able to have complete control over our home in the most convenient way possible…all while saving money. Hunter Douglas has teamed up with popular home integration systems, giving us the ability to control our shades and blinds at the touch of a button. PowerView Motorization lets users create and save schedules, making your experience completely personalized. Do you open your blinds first thing in the morning, but close them as soon as you get home from work? Now, you can have them automatically adjust right on time. Not only do motorized blinds add convenience, they set up your environment exactly how you like.
Illuminate with Daylighting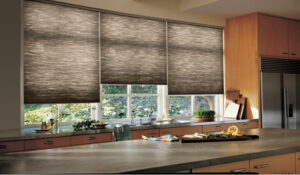 Today's innovations in lighting are great–we even have light bulbs that use up to 80% less energy. But, there's an even better (and cheaper!) way to add energy efficiency to your home: Daylighting. By learning how to properly light your home using natural light, you can create a beautiful atmosphere and save money. Too much light is damaging, and bare windows can make a room hot and uncomfortable. Instead, find window coverings that fit your needs and home's personality.
Daylighting becomes a piece of cake when you have the right window treatments. Top down shades are a great option for those who want to keep their room private but bring in a natural glow. The light spreads across your ceiling, illuminating the room without letting in too much light or giving up your privacy. Sheer shadings bring in soft, filtered light, making your room comfortable and glare-free. The right window treatments are key to creating a well-lit, private environment.
Get Expert Help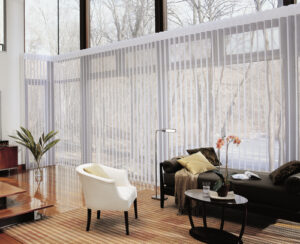 Energy efficiency may not be at the top of your to-do list, but we think it's a priority. Your home should be comfortable and relaxing, and it's our job to help you create that perfect environment. If you're confused about energy efficiency, our team is ready to help. Our expert designers know what it takes to create a personalized environment that's energy efficient. Looking for ways to insulate your windows so that you have better temperature control? There's no need to replace every window…instead, find the right window treatments. Do you have a baby on the way and need room darkening for the nursery? Are you an avid interior design fan and want to create a designer look? Whatever it may be, we have ideas and solutions for every home. Your home will not only be energy efficient, you'll also add style, save money, and get the atmosphere you deserve.
Energy Efficiency: Are You Ready?
Your perfect atmosphere awaits. By updating your home with the latest innovations in energy efficiency, your space will be stylish and relaxing. Our experts are ready to help you find the best ways to make your home energy efficient. Need ideas? Have questions? Contact our team at California Window Fashions. We offer a free, in-home consultation. Let's get started today!