October is here! Cooler weather is beginning to roll in, and National Window Covering Safety Month has just begun. With the goal of preventing injuries, accidents, and fatalities caused by corded window coverings, the campaign urges parents and caregivers to remove the dangers from their homes. Here at California Window Fashions, we're dedicated to helping you create a home that's safe for all your loved ones–tiny tots and furry friends alike. Cordless options are truly best for homes with children and pets. Not only do they ensure safety, but they provide clean, beautiful styling, and a host of benefits. Take a look at the possibilities for all of the spaces throughout your home.
Bedrooms of Safety & Style
After bedtime books and goodnight kisses, you should leave your children's rooms with the assurance that they're safe and snuggly. Outfitting bedrooms with cordless options can give you that peace of mind. One of the most popular choices is our LiteRise lifting system. You simply use your fingers to raise and lower your blinds or shades. They stay right where you put them. No cord needed. Even little fingers and little doggy noses will have no problems nudging them up to see outside in the morning. And you can rest easy knowing they won't get hurt. Plus, LiteRise is available for a large number of products, so you can choose your favorite styles and features that will grow with your children from the crib to college.
Playrooms of Protection & Imagination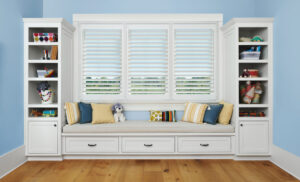 Children are born to play and explore. Their innate curiosity and creativity is a big part of how they learn and grow. While you want to give them lots of space and opportunities to play, you also want to make sure they're safe. It's easy for kids and pets to get tangled in the cords that dangle down from window coverings. And tangles can lead to injuries and deaths. That's why cordless options for the windows in their playrooms are absolutely essential. Shutters are a big favorite because they're durable, easy to clean, and cordless by design. The perfect amount of light and privacy for play is always at your fingertips. Not only that, but shutters are full of gorgeous style that will last well beyond childhood. When your little ones outgrow their playspace, your shutters will bring classic appeal to whatever you have in store for the room.
A Whole Home of Security & Convenience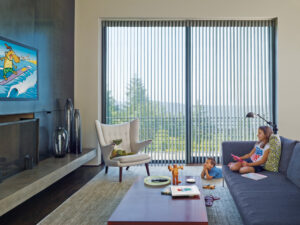 Safety at the window isn't just for bedrooms and playrooms. It should extend throughout all of your living spaces. Your kids and pets deserve a home that's designed for their safety, and you deserve a lifestyle of convenience. Amid all the different cordless options available to you, PowerView Motorization is by far the most incredible and life-changing. The latest technology allows you to control your window coverings from anywhere in the world with a single tap. You can set favorite scenes and create a schedule of automatic adjustments that flow right in line with your day-to-day activities. Also, no cords mean no danger. It's never been more possible to live every moment surrounded by the perfect atmosphere of light, privacy, and stunning style.
Cordless Options: Let's Get Started
Safety is serious business for our team at California Window Fashions. We know it's a top priority for you, and that's why we make it one of ours too. Whether you love the idea of LiteRise, shutters, or motorization, or whether you want to explore other cordless options and child-safe alternatives, we can help. Our team is here to guide you toward the best solutions for your home and lifestyle. Stop into one of our showrooms. Or, contact us to schedule a free, in-home consultation today, and let's get started!