When it comes to styling your home, patterns are one element that hold a lot of power. They shape the attitude of a space and set the design style for the whole room. Patterns create focal points and add visual interest. They can even reshape an area–seemingly raising ceilings or shortening them, and squaring-up long, narrow rooms. As the saying goes, "With great power comes great responsibility," and the responsibility of decorating with patterns in your home falls squarely on YOUR shoulders. This can leave you feeling a bit weak in the knees and your mind swimming with questions. But don't worry! We have the answers you need. Our expert designers shared their responses to the three most common questions they're asked about decorating with patterns. Take a look…
If I want to mix patterns, how do I ensure the best results?
Mixing patterns is all the rage in the design world these days…and for good reason. When done right, layering patterns brings life, personality, and a welcoming vibe to a room. But the potential for doing it wrong is always lurking–which is why so many people just steer clear of decorating with patterns all together. The fear of creating an eyesore is real, but there are a number of ways to ensure that the patterns you combine will come together for a gorgeous effect. Here are some hard-to-go-wrong formulas that'll have you mixing patterns like a pro in no time!
Use Stripes: You can pretty much guarantee a great result when you combine stripes with almost any other design. Stripes are basically neutrals in the pattern world. Their sharp lines balance out the gentle curves of polka dots and florals, yet they also look amazing when paired with complex geometries or more organic prints. So, mix a few different size stripes with another design you love, and relish the beauty!
Restrict Colors: Another foolproof method of mixing prints is to work within a limited color palette. You can coordinate a variety of patterns by selecting them in the same two colors. Or, pair patterns with the same background color–a neutral is usually best. This relates them even if their other colors don't share a strict color scheme.
Vary Sizes: Pattern designs come in three different sizes: small, medium, and large. For an optimal look, you should try to choose one pattern from each size to feature in a room. Too many of the same will have the patterns fighting each other and your eyes darting all over the place. As a general rule, large patterns are best-suited to large items and small patterns to accents and accessories.
Pair Pillows: Pillows are an awesome way to incorporate patterns into a space. A fun approach is to create a collection where no two are alike. Just be sure to strike a balance with both curves and angular designs while also including at least one solid to help settle the eye.
Can I use just one print in a room?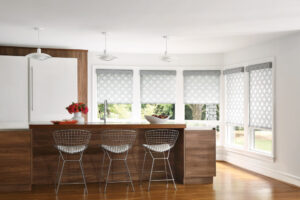 Absolutely! There's no hard and fast rule that says you HAVE to mix patterns. In fact, using a single print can make an incredible style statement. Walls, rugs, and window treatments are fun places to experiment with using just one design. When decorating with patterns this way, one of the keys to a beautiful end result is to choose a print that ties in with other design elements while also balancing them out in the room. This kitchen is a perfect example. Since there is a lot of warmth from the wood, the gray and white of the patterned kitchen shades strikes a cooler tone that brings a sense of composure. And, the diamond print on the shades stands in contrast to the organic flow of the wood grain while playing perfectly off the squares on the backs of the metal stools.
What patterns are trending right now?
You don't have to look much further than your garden to find the inspiration for today's hottest prints. Trellis patterns and florals are huge in the design world right now. The interlocking designs of trellis patterns are incredibly versatile–especially with all the modern variations. For maximum effect, try crisp white lines with a strong background color. Or, take a subtler approach by using softer hues or featuring just a touch of the design. As for florals, today's favorites are a far cry from the ones on your grandmother's wallpaper. Large-scale, vibrant blooms and leafy botanicals in bold colors are the new trends in decorating with patterns.
Ready to Start Decorating with Patterns?
Decorating with patterns will transform your home into a place that speaks to you and boasts incredible style. So, whether you know exactly what you want or still have questions, we're here to help. Our design team at California Window Fashions is dedicated to providing you with a custom experience. Personalized expert advice and high-quality products are waiting for you at both of our showroom locations. If you're calendar is filling up this fall, we can even bring them right to your door! Contact us to schedule a free, in-home consultation today.