When it comes to motorization, there's no right answer to which rooms need motorized control the most. There are definite benefits to upgrading your home with smart features, no matter the space. We've taken some of our favorite features and solutions and brought them together. Let us take your on a tour of what motorization and automated control could do to the rooms in your home–along with your life!
Welcome to Motorization
Step foot in the entryway. You're welcomed by balanced natural light without glare. Look back at the doorway and realize that privacy is a priority with top down shades on the sidelights. Peek in at the office. Soft light adds productivity–scheduled settings add energy to the space while protecting screens from glare.
Relax in the Perfect Atmosphere
Make yourself at home as you relax into an armchair in the living room–the large windows offer protection from blinding glare and uncomfortable temperatures so you can sit back and enjoy. Later on, this room will create the ideal space for family movie night with the motorization of shadings that take the room from one of gentle light to room darkening, theater-like style.
Comfort + Privacy
The bathrooms have incoming natural light–perfect for comfort. But, with one quick tap, the shades move into place for increased privacy. Bedrooms are darkened for quiet slumber at the touch of a button–or simply scheduled to fit your life. Top down shades welcome natural light so you can get ready in refreshing sunlight, but the view in isn't a worry.
Make Your Everyday Easier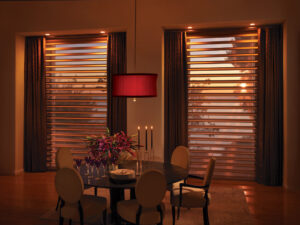 The shades move into just the right position, based on where the sun is shining for easy dinner prep. Nothing's worse than trying to get dinner ready with the sun at eye level. Enjoying dinner as a family in the kitchen has never been easier, controlling the light as the sun sets. Experience instant atmosphere to dim the light from the windows with touch of a button control for entertaining guests in the dining room. Great lighting, gorgeous views.
Which room needs motorization the most? It depends on your preference. You may say "all of them!" And, we couldn't agree more! This innovative technology now integrates with your smart home system, making the automation of light control, privacy, and temperature management a seamless process. Your automated shades fit right into the rhythm of your life. Contact our team at California Window Fashions today. We'd love to get you set up with motorization!