Shades of white are clean, classic, and everywhere in the design world. White has an allure that's always in fashion. No matter what decorating style you lean toward, shades of white will fit right in. How? It really depends on your personal preferences and the specific spaces you're designing. Taking time to consider your answers to these three questions will help you create a look you'll love when decorating with shades of white in your home.
#1 What atmosphere does this space need?
From formal and bright to comfy and charming, shades of white can be used to fashion a wide range of atmospheres. As you plan your design, it's essential to identify your space and think about how you use it. Then, you can bring in shades of white to create the perfect look and feel.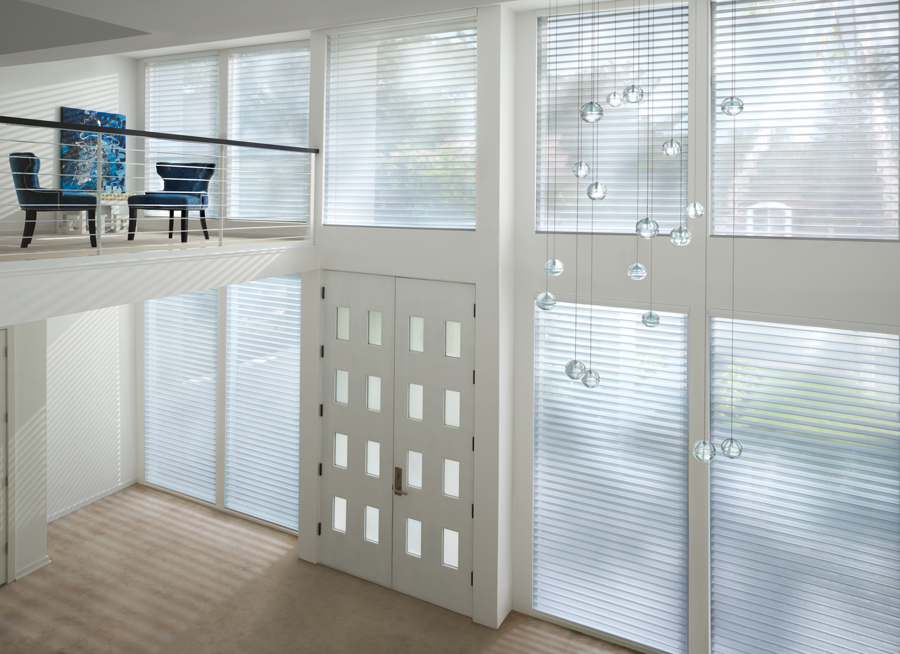 This entryway is absolutely stunning. The atmosphere is open and welcoming thanks to minimalist design and the beauty of white. A modern chandelier and pops of blue from the formal loft space are all the adornment this foyer needs. In fact, much of its splendor actually comes from the window shades. Inviting gentle light and soft views, they shape the ideal environment and pull the look together.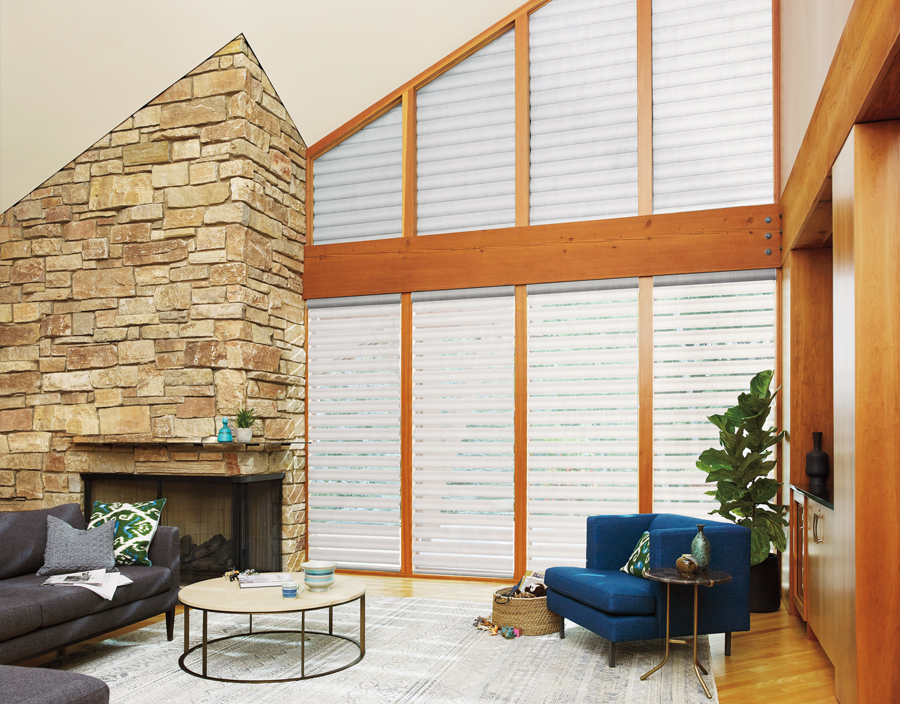 In this living room, shades of white mix with warm natural elements to shape an atmosphere of stylish comfort. Here, again, the window coverings are a gorgeous backdrop. Providing optimal control of the light and environment in the space, they filter and diffuse sunlight but can also close off the windows for privacy. And, natural stone, wood, and greenery keep the space cozy while playing beautifully off the shades of white throughout the room.
#2 What level of contrast feels right?
When you're working with shades of white, you have to consider contrast. Over the past few years, the design world has been in love with high contrast. Maybe you have been too…or maybe not. The right level of contrast is truly a matter of personal choice.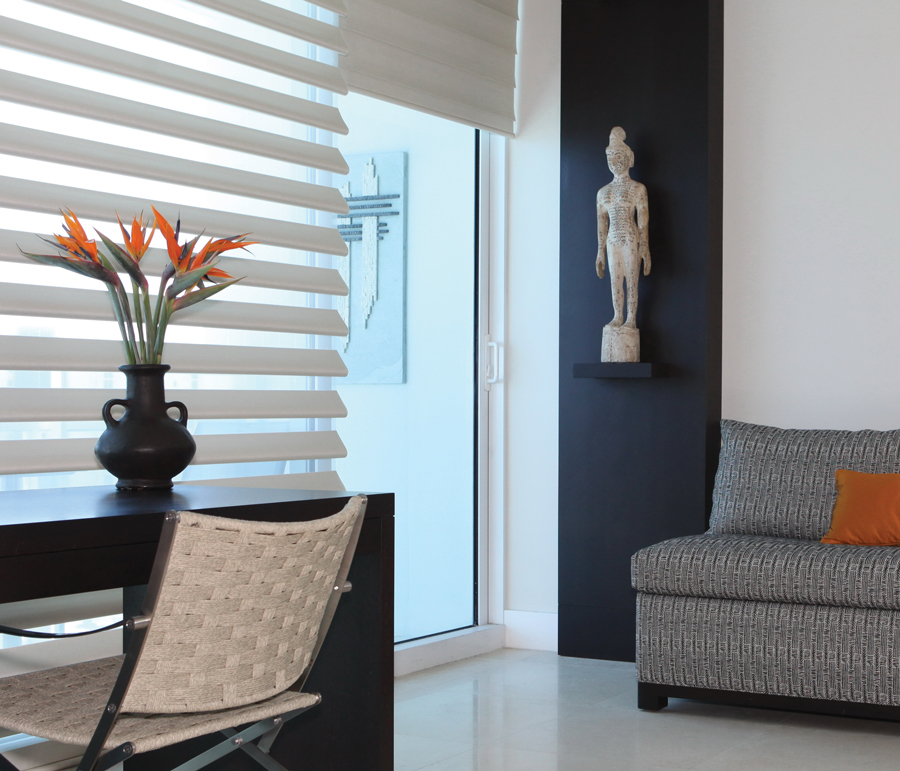 A high-contrast look is a dramatic and bold style statement. If this feels right for you and your space, design with this in mind: opposites attract. Here, dark gray and black furnishings stand out against white walls, flooring, and Pirouette shades. And, small doses of orange bring energy and vibrancy to the neutrals.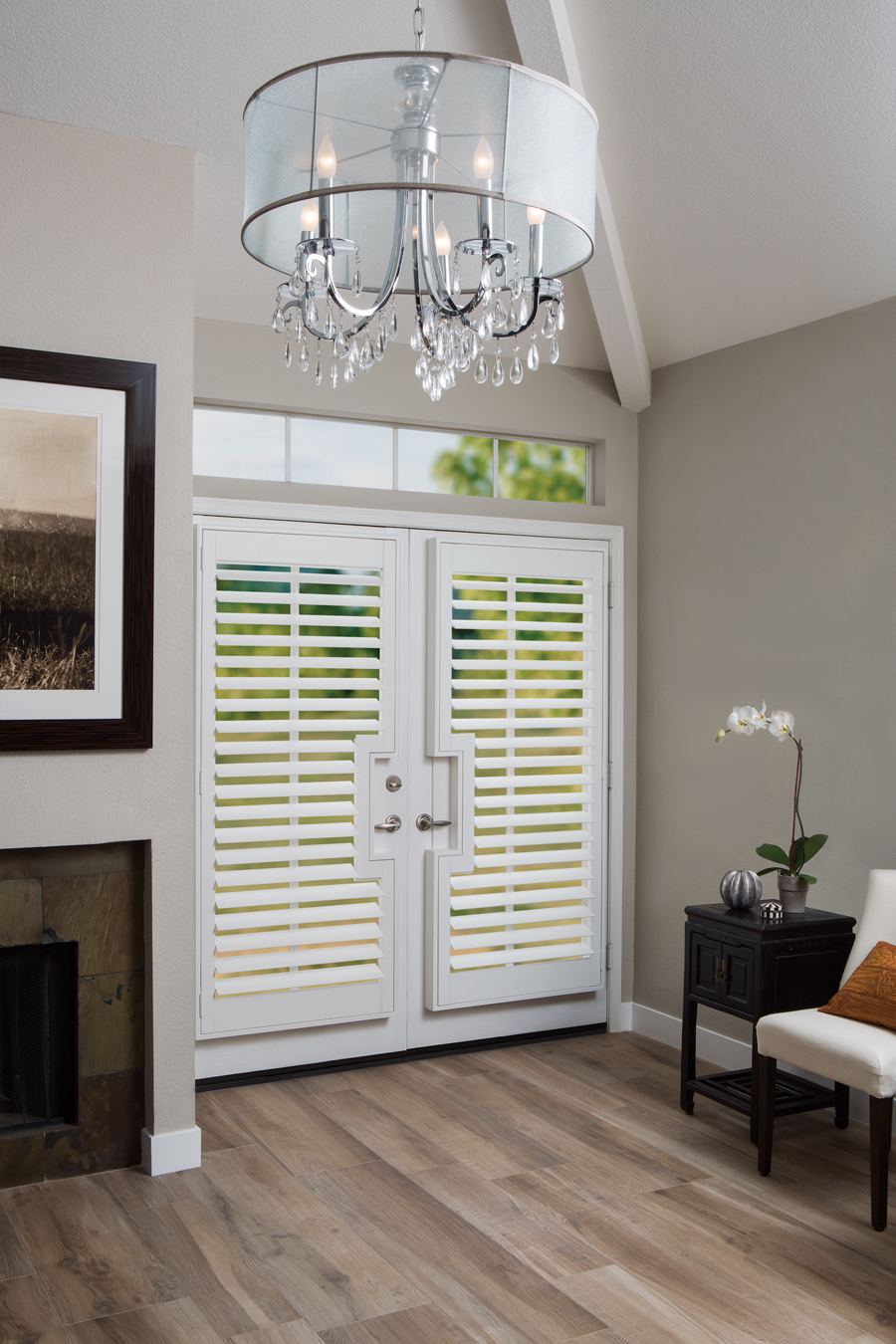 A look with subtle contrast can often feel more comfortable. If this appeals to you, soften your color scheme. Here, greige walls and the varied browns of the wood flooring quietly contrast with the crisp white plantation shutters. The darker wood tones of the chair legs, side table, and frame add another layer of contrast that feels warm and natural.
#3 How much white do I want?
The amount of white you choose to use in your design will impact your decisions about all of the elements in your space. So, it's important to figure out whether you'll use a lot of white or just touches.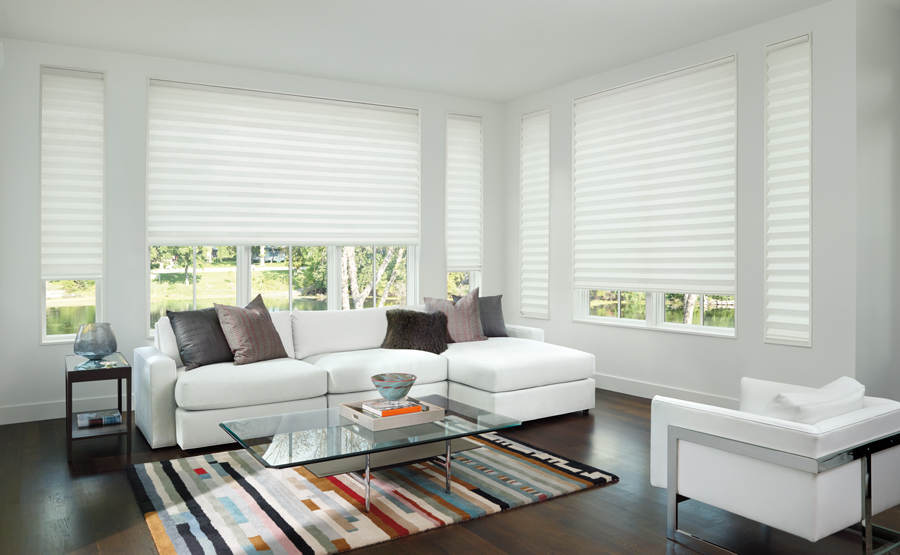 Think you're leaning toward using more white? Then you'll want to pay special attention to texture. A room with lots of white and flat textures is bound to feel a bit institutional. So, varying the textures of your white elements is key. This family room is a great example. The sculpted texture of the roman shades dresses the windows with dimension and interest. What else helps? Incorporating warm accent colors–like the warm browns, yellows, reds, and oranges in this space.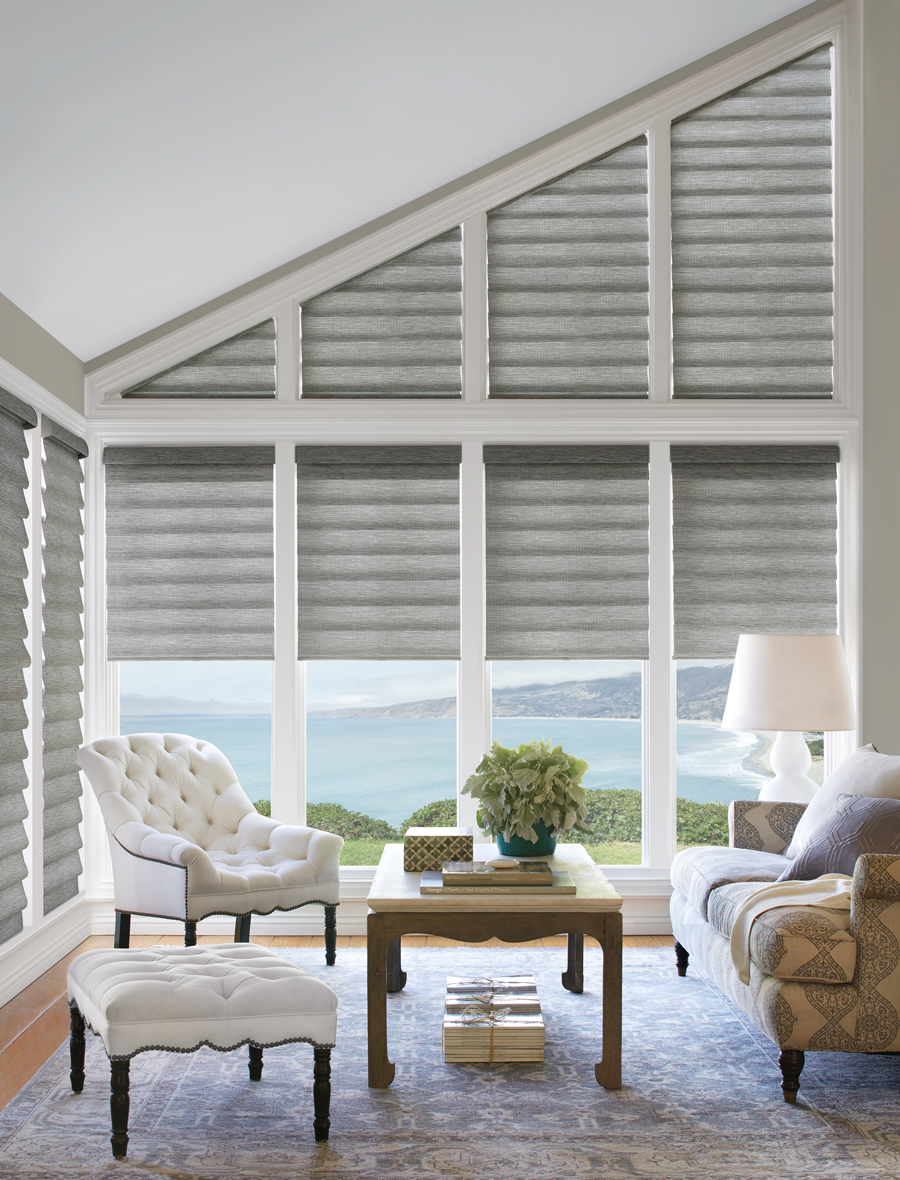 Planning to use just hints of white? Look for ways to use shades of white to highlight beautiful features of your design. In this formal sitting area, white trim frames both the incredible view and the stunning gray shades. The result is both charming and designer. The other white accents all feature curves–which unites them and helps the space feel soft and welcoming.
Want More Help Designing with Shades of White?
The design experts at California Window Fashions are here for you! We know that starting a design project can feel really overwhelming. It's our pleasure to guide you through your choices and provide lots of inspiration and advice. If you want to bring shades of white into your home, get in touch with us today! Contact our team for your free, in-home consultation.