Are you facing challenges with your bathroom design? Well, you're not alone. Most of our clients come to us with the same frustrations–likely the very ones you're struggling with in your space. So, we thought it'd be helpful to share solutions. Instead of feeling annoyed and at a loss for what to do, our design experts are here to arm you with the answers you deserve. Let's dive in!
First and Foremost…
You need privacy. That's a given. We know that when someone comes to us looking for window treatments for their bathroom, it's because they're seeking privacy.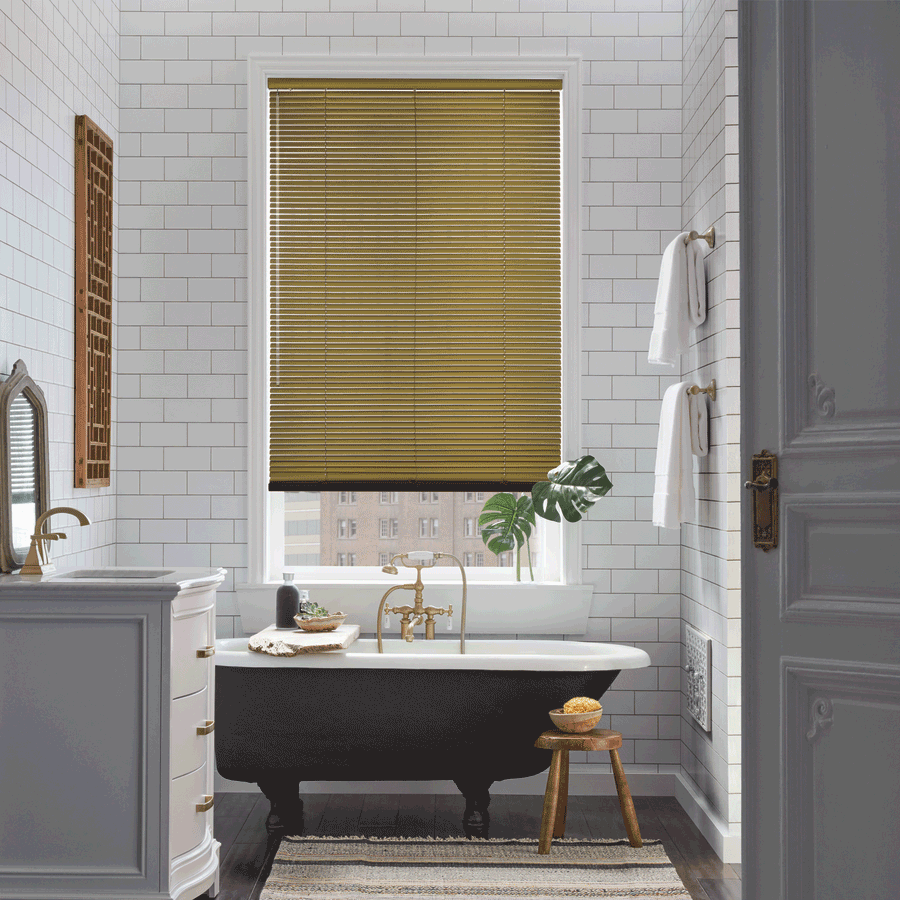 Just getting privacy is easy, though. It's a cinch to cover your windows. And, doing so can even add breathtaking style to your bathroom design. But, merely having privacy doesn't always cut it. You can have privacy and still feel frustrated. Why?
Issues with Light
Often, frustrations really stem from the fact that there's not a balance of privacy and natural light. Without the right window coverings, a bathroom that boasts privacy can leave you in the dark. And one that's brimming with sunshine can leave you feeling exposed. We love to help our clients achieve the perfect balance. It's fun to explore the fabrics, fit, and features that'll create the atmosphere you're longing for in your bathroom design.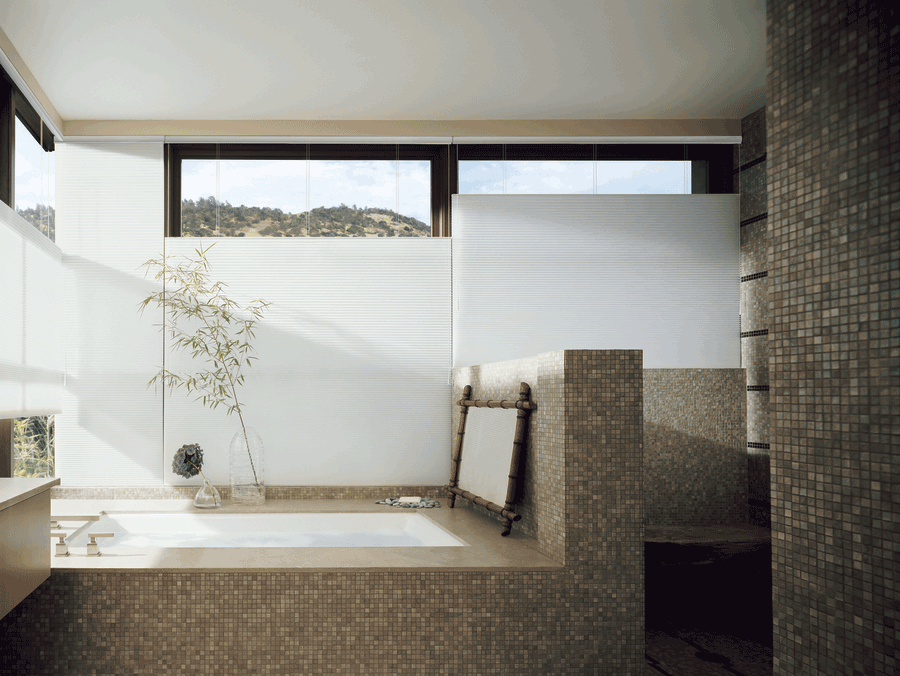 One of the most popular choices for delivering a balanced atmosphere is top down shades. Being able to open your shades from the top allows natural light to stream in across the ceiling while maintaining your privacy below–right where you need it. Plus, top down shades don't require lots of adjustments. Most of the time, you can simply leave your shades in their ideal position. This is a huge benefit for bathroom layouts that feature a window behind the tub–where adjustments can be a real hassle.
More on Adjustments
Another option that you can generally leave in place is our plantation shutters with split tilt. Like top down shades, they offer daylighting on top and privacy down low. For window positions or a bathroom design layout that requires you to do more regular adjustments, more and more of our clients are choosing motorization.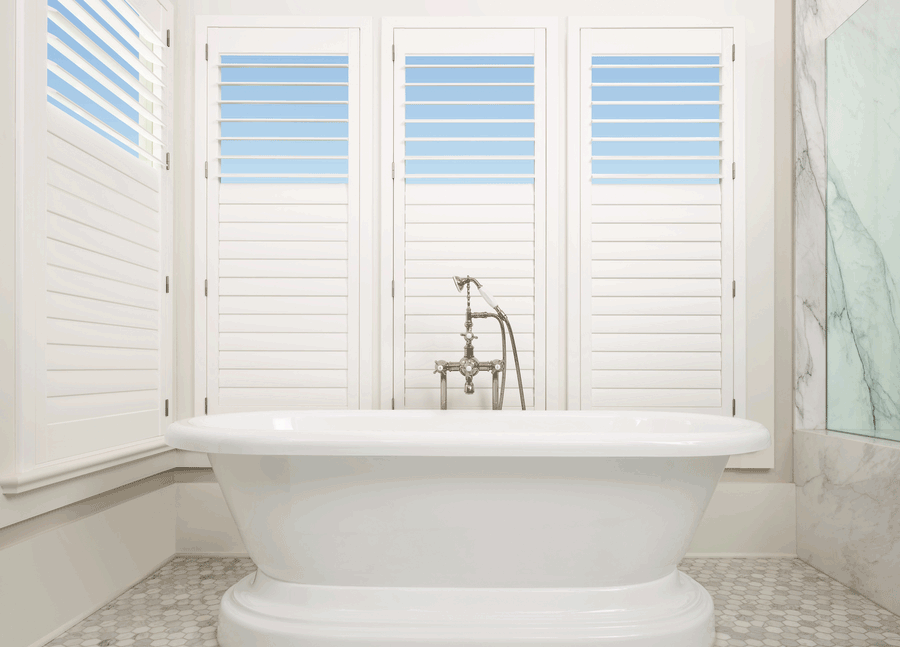 Adding motorization to your blinds, shades, or shutters lets you change the atmosphere in an instant with your remote or phone. And, integrating them with other smarthome elements, like Google Home or Alexa, enables you to use your voice for control. It's the ultimate convenience–which is exactly what you want in the bathroom!
Dealing with Small Spaces
If you have a smaller bathroom design, it's likely that access to the window is easier…maybe too easy. For homes with children and pets, cordless options are always best. A dangling cord can be a tantalizing, but dangerous, toy. Plus, you want adjustments to be simple. Operating many old-fashioned blinds and shades can be more difficult than you'd think.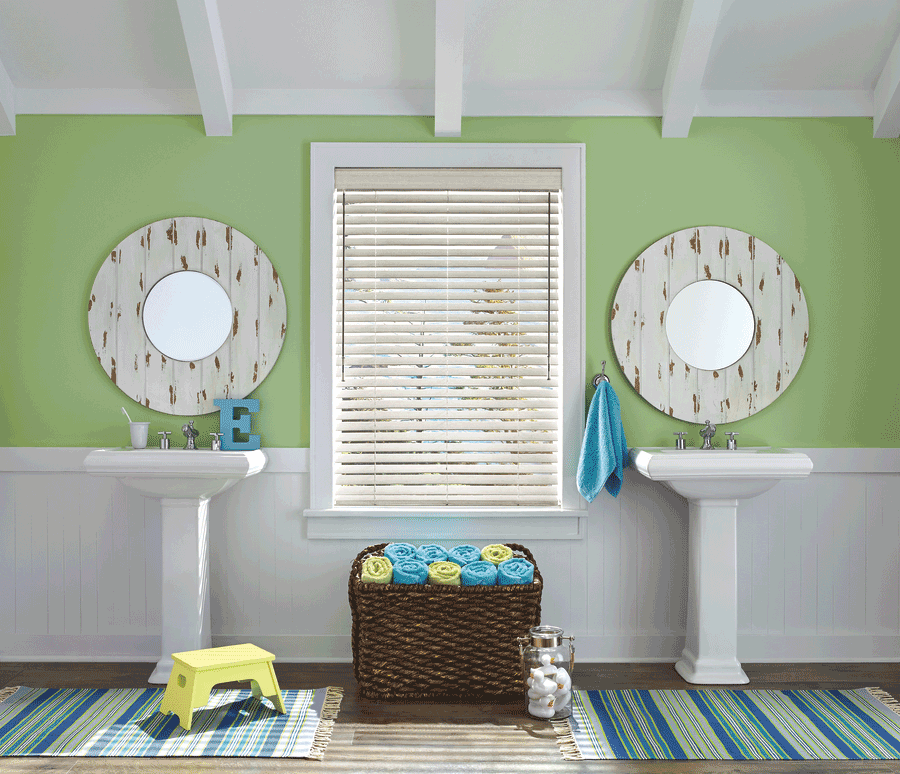 Modern innovations let you use your hand to position your window treatments. And, of course, motorization fits the bill too. Safety, convenience, and control…a trifecta you deserve in your home!
Bathroom Design Help
It's easy to get overwhelmed with bathroom design choices. But the good news is you don't have to go it alone. We're here to help. Together, we can solve your challenges and create the space of your dreams…starting today!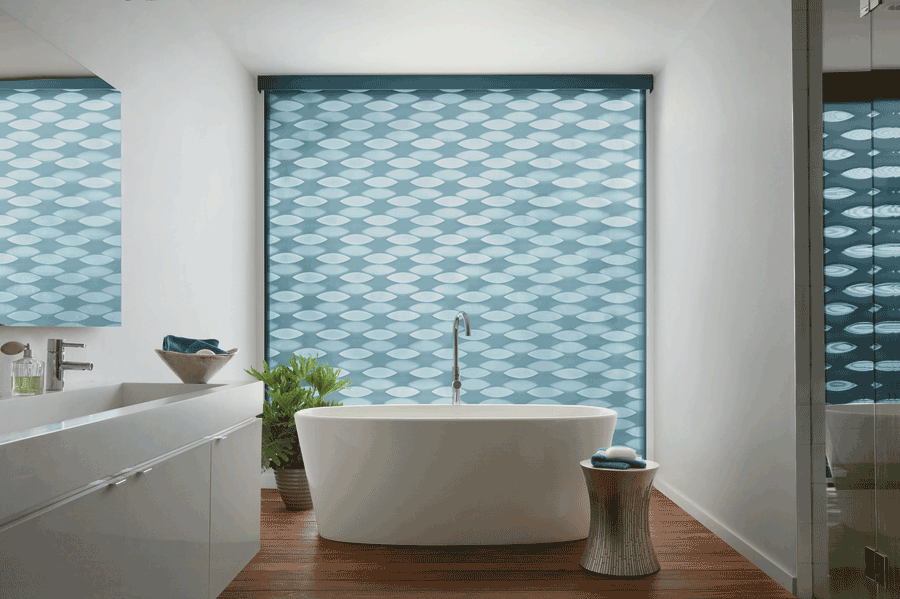 At California Window Fashions, we'd love to listen to all that you want–every feature and function–and then show you how it's possible. Our goal is to help you gain the perfect balance of privacy, natural light, beauty, and convenience in your bathroom design or anywhere else in your home. Contact our team for your FREE, in-home consultation!