Crisp mornings, changing leaves…autumn is at your doorstep. We know you're excited to invite fall into your home this year. Open a window or two, and enjoy the beauty of nature's scenes outside in your beautiful landscape. Love the glow of its amber light, and finally find some relief from the intense heat of summer. Autumn is a favored time in the Roseville area, and rustic decor is a sought-after design trend this season. Its shabby chic fabrics, distressed finishes, and accents from the natural world offer a vintage look with a contemporary twist that's perfect for fall. Shutters are ideal for enjoying the splendor of the season and creating this unique look in your home. Check out how custom Hunter Douglas plantation shutters can add rugged refinement to rustic decor and usher autumn into your home this year.
Natural Beauty Inside and Out
The beauty of nature should surround you–especially in fall. Rustic decor blends the charm outside your windows with your home's interior. Here, the hard, organic textures of stone and wood are paired with soft fabrics, accessories, and detailing for a stunning contrast and striking look. Warm colors and hints of nature accent the space and establish a put-together appearance.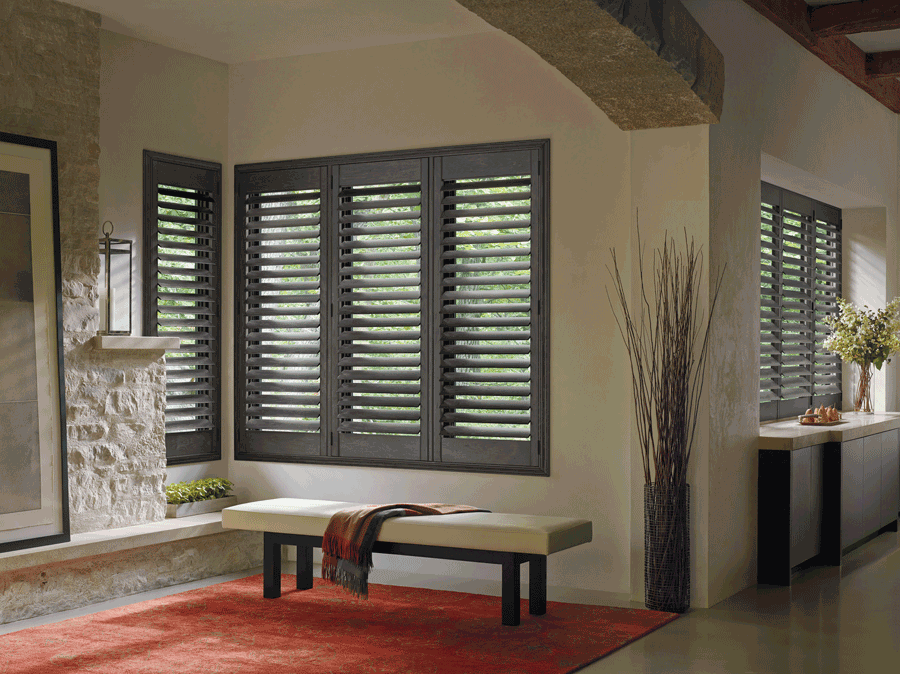 The pure seasoned hardwood of Hunter Douglas plantation shutters complete the look by adding raw yet sophisticated character. They are a centerpiece of the style and the room. You can achieve this effect by customizing shutters to fit your specific home. Choose from a variety of stains, paint colors, and artisanal techniques to enhance the inherent beauty of the wood and complement your rustic design elements. Select TruView rear tilt operation–where the system is integrated into the back of the shutter–and allow the magnificence of genuine hardwood and the view out to shine without obstructing bars or cords. With rustic decor and coordinating shutters, natural beauty will abound both inside and outside of your home this autumn.
Fresh Air and Light
There's nothing like turning off the air conditioner and opening a window in the fall. As fresh breezes and beautiful sunlight flow through your home, they create a pleasant and comfortable atmosphere. Rustic decor magnifies this refreshing and relaxed feel. In this space, the contrast of dark wooden finishes with white paint and large expanses of glass generates both vibrancy and tranquility. Fresh fall produce and foliage add natural charm, while shutters bring the look together.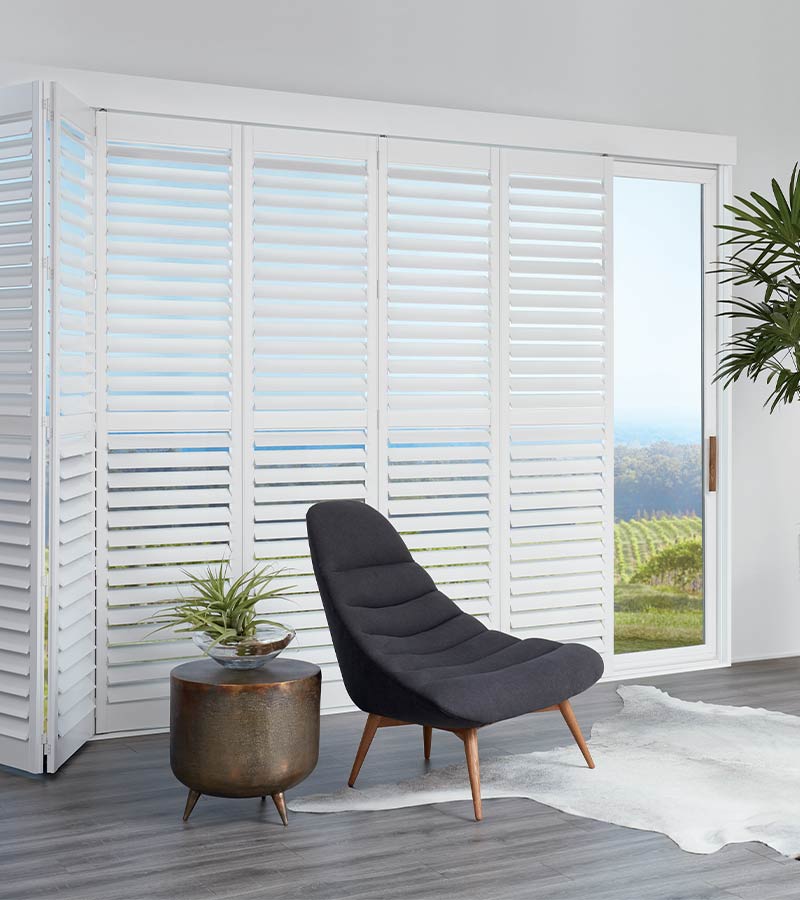 With charismatic appeal, these Hunter Douglas plantation shutters set the perfect scene and add sophistication to this rustic room. Customize them for your home, and love their style and function. Adjustable louvers make it easy to direct natural light, so you'll have gorgeous daylighting without harsh glare. They also allow you to open your windows and let in fresh air while still giving you the light and privacy control you want. Plus, when the breeze picks up, you'll only hear its soft whisper and the sounds of nature that surround your home. So, let shutters enhance your enjoyment of autumn and become a polished focal point of your rustic decor.
Tradition with a Contemporary Twist
Fall is a season of tradition, and rustic decor is a time-honored style. While you might envision hefty beams, crackling fireplaces, and weathered furnishings, new interpretations of it refine the classic look while keeping its relaxed charm. There's an air of informal elegance in this rustic-inspired contemporary dining space. Neutrals abound and reflect natural beauty throughout the room. The vintage look of the antique chandelier adds traditional character, and the checked accent on the back of the chairs suggests a homey feel. Then there's the windows. They bring the whole room into harmony with nature. The outdoors comes in with perfect lighting and perfect views thanks to Hunter Douglas Pirouette Window Shadings.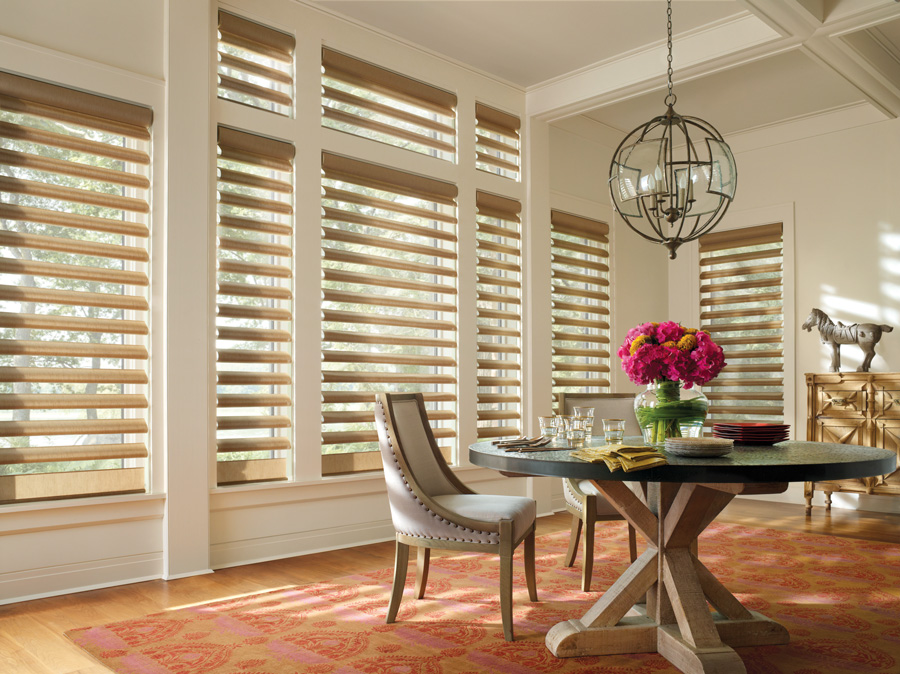 Offering the traditional look of plantation shutters with all the contemporary benefits of shadings, they are a trendy choice for today's rustic decor. Their sheer backing and soft, shutter-like, fabric vanes are a dramatic combination that gives you a beautiful view-through and filters natural light. Harsh brightness, glare, and UV rays disappear, while gorgeous daylight spreads evenly throughout your room. Classic meets contemporary with the soft-shutter appearance of Pirouette Window Shadings. 
Now's the time to welcome autumn into your Northern California home with rustic decor and custom Hunter Douglas plantation shutters or shades. Our design consultants at California Window Fashions would love to help you choose the right finishes, colors, features, and operating systems to fit your unique spaces and make rustic decor come to life in your home this fall. Stop in, or let us visit you with ideas, inspiration, and expert advice. Contact us for a free, in-home consultation today to get started!