Windows come in all shapes and sizes. They could be wide, floor-to-ceiling, or tall just to name a few. You may be finding yourself in need of some large window covering ideas. While we adore huge windows because they highlight the view and allow natural light to flood in, they can also cause a bit of a headache. You find yourself asking questions like, "Which window blinds or shades would work best to reduce this harsh glare or intense sunlight?" and "How can I enhance the atmosphere of my home with added benefits and features?" We are here to help answer these questions so you can see which window coverings are options for the largest windows you have!
It is important to keep in mind that sizing information may vary. It depends on the specifics of your windows, features and fabrics. 
Endless Sunlight and Heat 
When windows are exposed to direct sunlight, it can make the interior feel akin to being enclosed in an oven. This sensation intensifies when the windows stretch from the floor to the ceiling. There is no refuge from the overwhelming brightness and warmth. If you're searching for large window covering ideas, it is vital to recognize these challenges and address them with suitable products.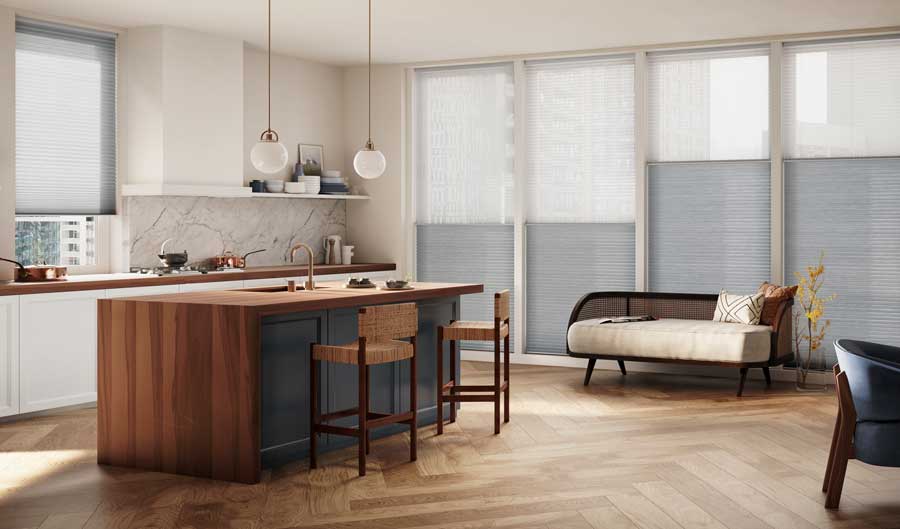 Now, you may have heard of honeycomb shades before. They are an excellent choice for covering large window spaces within your home. They effectively insulate against heat, ensuring that your home stays at a comfortable temperature even as light filters through. Cellular shades provide a comprehensive list of features to address a variety of issues you may face. These versatile coverings are offered in both horizontal and vertical orientations, which makes them perfect for windows as well as doors.
For horizontal windows, the maximum measurements are up to 14 feet wide, and 12 feet tall.
For vertical windows, the maximum measurements are up to 28 feet wide, and 10 feet tall.
Life on Display
One of the many reasons why you buy a home is the amazing views you have right outside of your window every day. However, when your privacy suffers because you have large windows, is it worth it? Sheer shades are a great way to help you enjoy the view out but reduce the view in. Take a look at the large window covering ideas that showcase the view when you want it but give you privacy when you need it.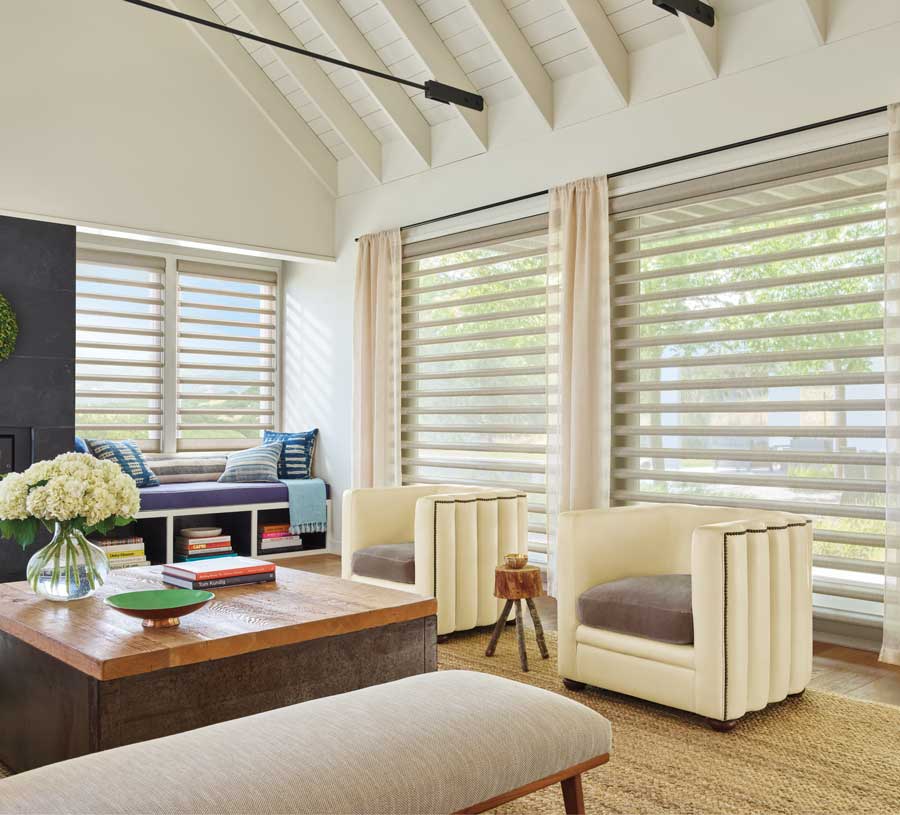 Pirouette shades are one of the many options that we love for a situation like this. They offer dual shade features that can easily highlight the view, close it off, or roll out of the way completely! The sheer backing fabric allows filtered light to come through but shields the view inside from the street. The vanes close in place to cover the window, which allows for room darkening. 
For horizontal windows, the maximum measurements are up to 12 feet wide, and 12 feet tall.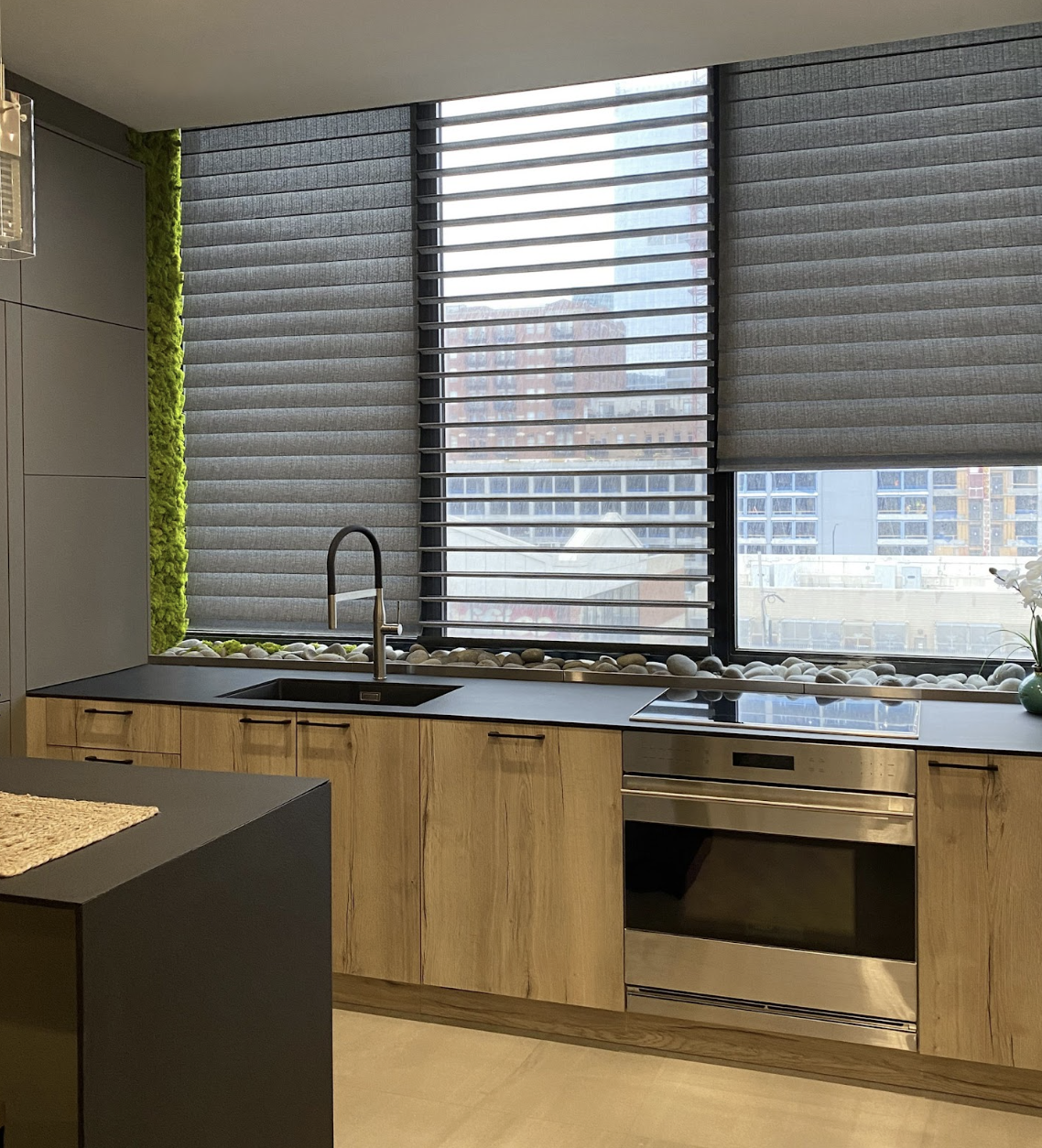 If you are interested in finding something similar to pirouette shades, look no further than silhouette shades. They do not fold in place, but the fabric vanes tilt. Thus, floating between sheer fabrics allows a wide open view complemented by soft light. Did you know that a dual shade feature is a possibility as well? It allows a wide range of light control so you can have light filtering or room darkening. Perfect! 
For horizontal windows, the maximum measurements are up to 12 feet wide, and 11+ feet tall.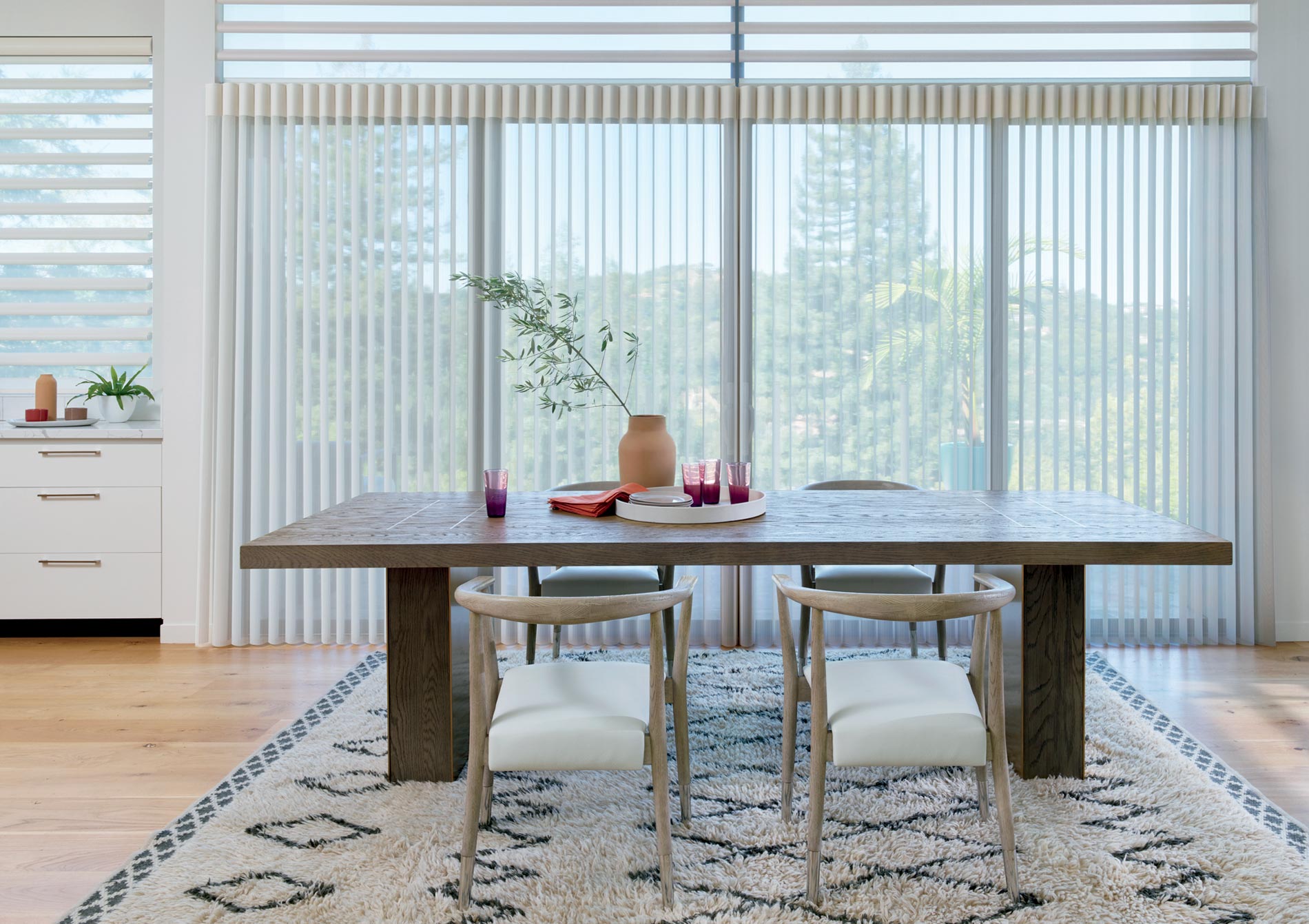 Now, similar to silhouette shades are luminette privacy sheers. However, they have a vertical option. These solid vanes rotate for a sheer view or they can be closed off for light control. By rotating the vanes, you can have room darkening and complete privacy. What more could you ask for?
For windows and doors, the vertical maximum measurements are up to 16 feet wide, and 10 feet tall.
Styling Your Home
The largest windows in your home significantly contribute to the overall aesthetic of the space. Roman shades present flowing fabrics that are visually appealing. They complement the color palette of the room while also bringing some texture to the space. Two of our roman collections can provide creative inspiration for those large window covering ideas at home.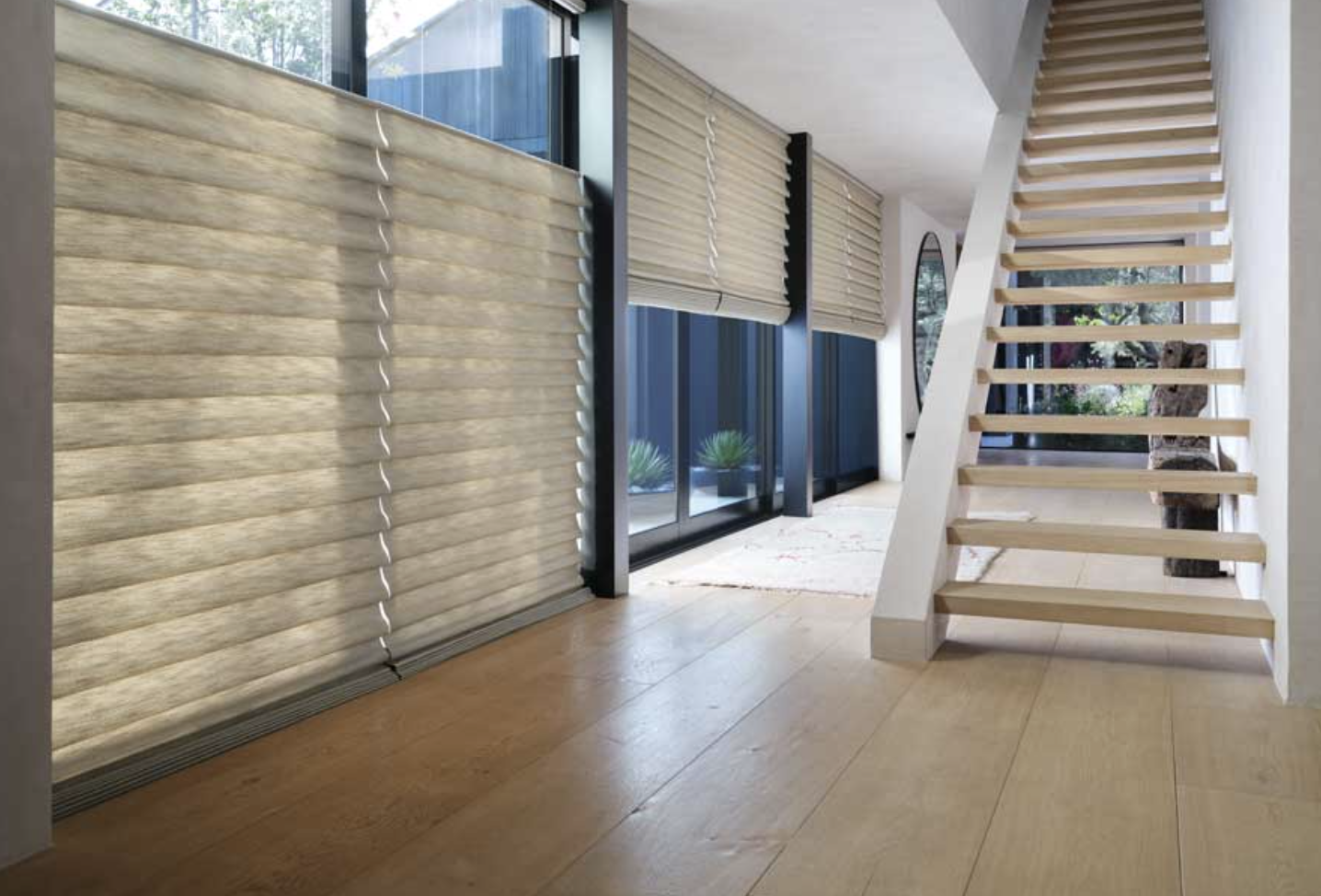 If you are looking for a gorgeous way to bring light control, style and privacy to your floor-to-ceiling windows, vignette modern roman shades are ideal for you. There are smart shades that can simultaneously help you control the light, preserve your interiors from the sun, enjoy the views and have privacy!
For horizontal windows, the maximum measurements are up to 11+ feet wide, and 12 feet tall.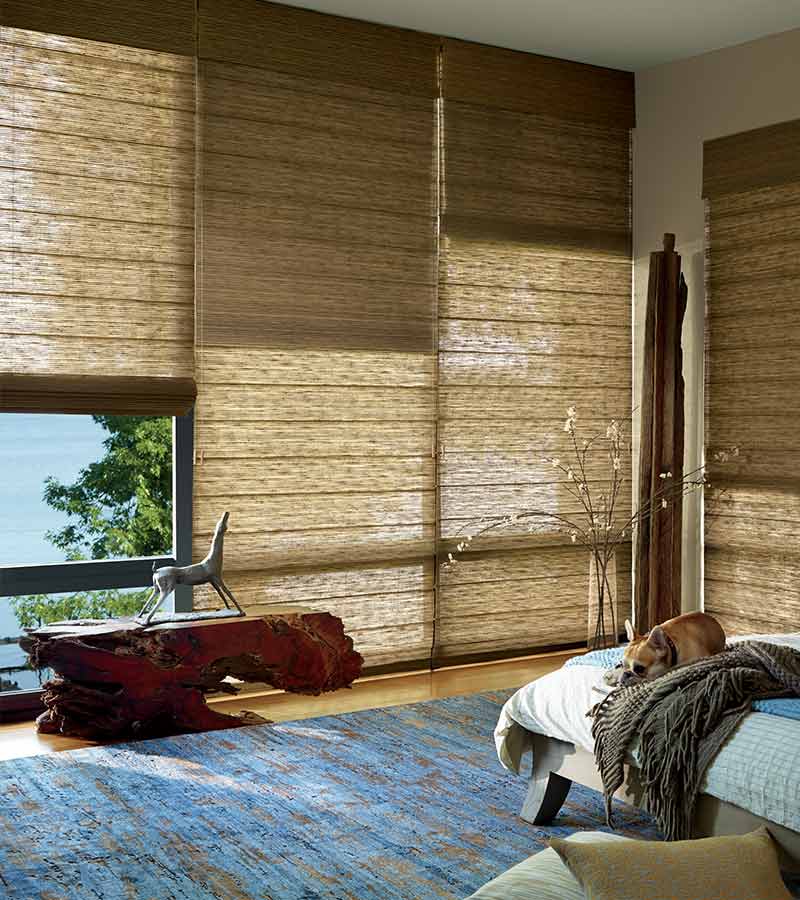 Provenance Woven Woods are the best option to bring texture to any size windows in your home. The woven material is great at allowing light to filter while maintaining privacy. The colors easily complement the items already in the space. Furthermore, there is a top-down and dual shade feature that allows you to fully customize your home's atmosphere. 
For horizontal windows, the maximum measurements are up to 12 feet in width and 16 feet in height. For vertical doors & windows, the maximum measurements are up to 9 feet in width and more than 9 feet in height.
Low-Profile 
As you look into the large window covering ideas, you'll be able to see a difference between feeling overcome in fabrics and being surrounded by a modern design. There is no right or wrong choice. The choice is all yours. Roller shades serve the purpose of covering your largest windows. An added benefit is the way they stay close to your window adds to their appeal.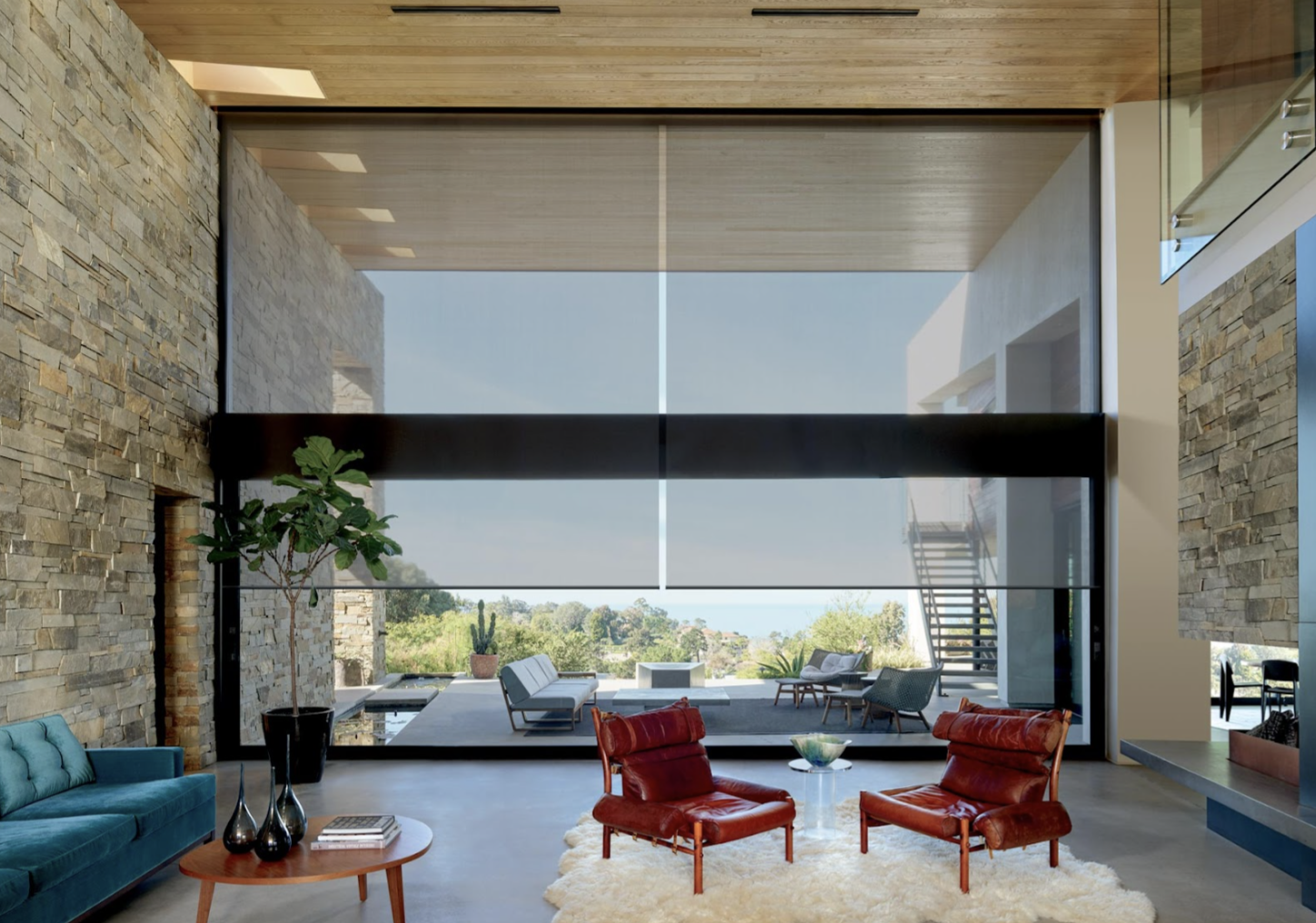 Solar Shades offer protection against the elements. This is a common concern when it comes to dealing with large windows. They diminish both excessive light and glare while delivering UV protection. Thus, creating a comfortable indoor environment. These shades come with additional choices such as smart features and dual shades, which enhance light management and overall user experience.
For horizontal windows, the maximum measurements are up to 16 feet wide, and 12 feet tall.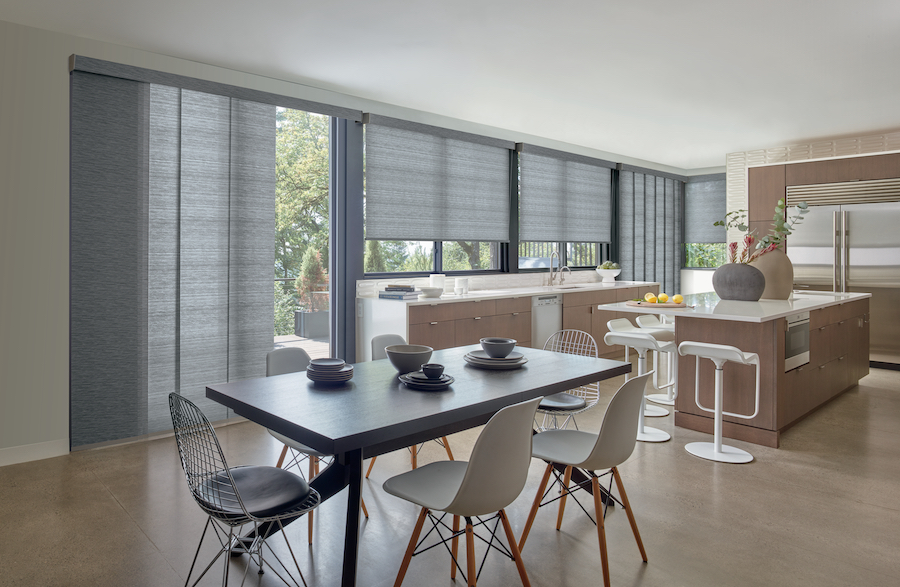 Skyline Gliding Window Panels are an excellent vertical option. They can provide vertical coverage for all of your doors and windows. There is a good portion of homeowners who love to coordinate fabrics with roller shades and these panels to create a cohesive look in their homes. 
For vertical doors & windows, the maximum measurements are up to 32 feet wide, 14 feet tall.
Want More Large Window Covering Ideas? 
We have got you covered! At California Window Fashions, our team of experts is ready to help you find the perfect coverings for those large windows in your home. Contact us today to schedule a FREE in-home consultation.