Following closely behind New York Fashion Week, we draw a creative spark from the Pantone Color Institute's top ten color palette for 2024. The eight vibrant colors, alongside the five classic hues, are definitely inspiring. If you're interested in learning how you can incorporate these latest color trends into interior design, we have ideas!
The Upcoming 2024 Colors 
There is a particular vibe associated with each year's palette. Oftentimes, a cultural movement is represented. As the 2024 palette is described as exuding positivity and honing in on self-expression, the latest color trends also promote a new sense of freedom and exploration.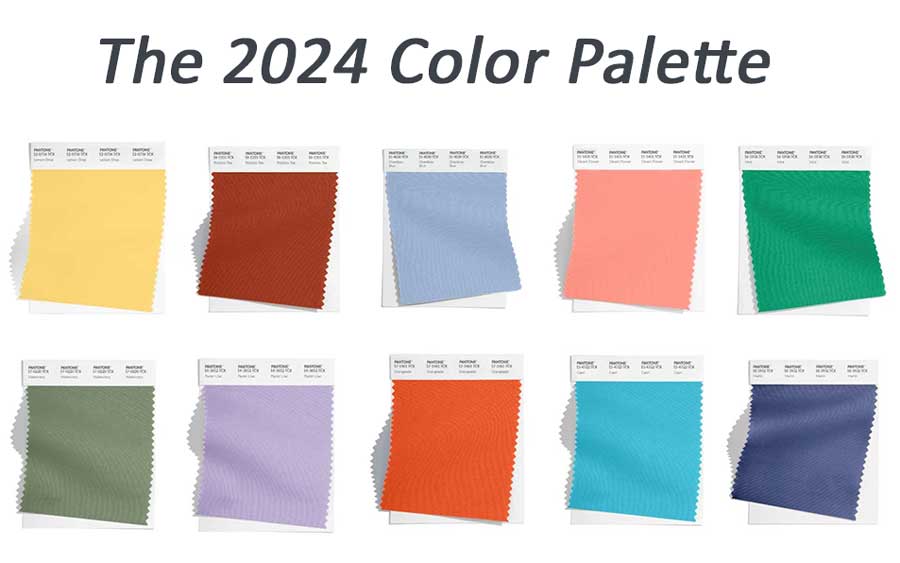 Self-expression is a powerful thing. When you think of colors, you think bright, vibrant, and bold. As for interior design, it may be a little daunting to think of placing all of these colors in your home. You may seek more classic, neutral tones. The classic palette perfectly represents design. However, there is a certain challenge with classic colors that homeowners encounter. 

The coolness of gray and the warmth of brown may leave individuals feeling torn when it comes to interior design. They may wonder which one to pick, afraid that the choice they selected will impact their home's atmosphere. Did you know that gray and brown don't have to be mutually exclusive? You can easily utilize both! Incorporate browns to warm up the space and add grays to cool it down. 
Welcoming Color into Your Home
Many of us find comfort in neutrals. In a room, it may leave us with a sense of incompleteness. Could the introduction of colors and patterns give our living spaces a more cozy, personal ambiance? The only way to uncover the answer is by experimenting. If you're new to adding color and patterns to your home, we recommend starting with subtle changes like vases, artwork, pillows, and blankets. This will help you infuse small amounts of color throughout the space. By taking this approach, you are able to see if you feel comfortable incorporating larger elements like window treatments, furniture, or accent walls.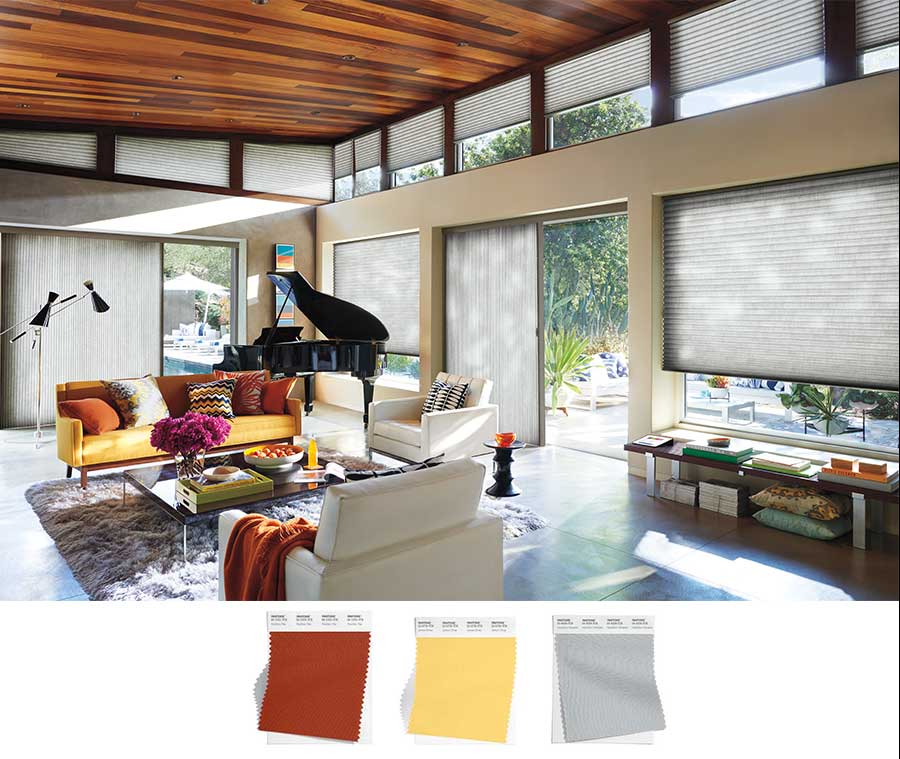 Let's discuss how window treatments best fit into the world of interior design. This home has a neutral canvas with intentional accents of color. The large windows call for window treatments to help create a cozy atmosphere. By incorporating duette honeycomb shades that complement the colors of the walls and floors, they blend in effortlessly.  
Pair Bold Colors 
In the world of color pairing within design, you must consider your own personal preferences. Find colors that resonate best with you and your style. Take, for instance, the captivating dynamic between blue and orange found in this living area. They are hailed as polar opposites, yet beautifully create visual interest in the space. When diving into color pairing, one color invariably takes center stage, while the other plays the role of a charming and intriguing accent.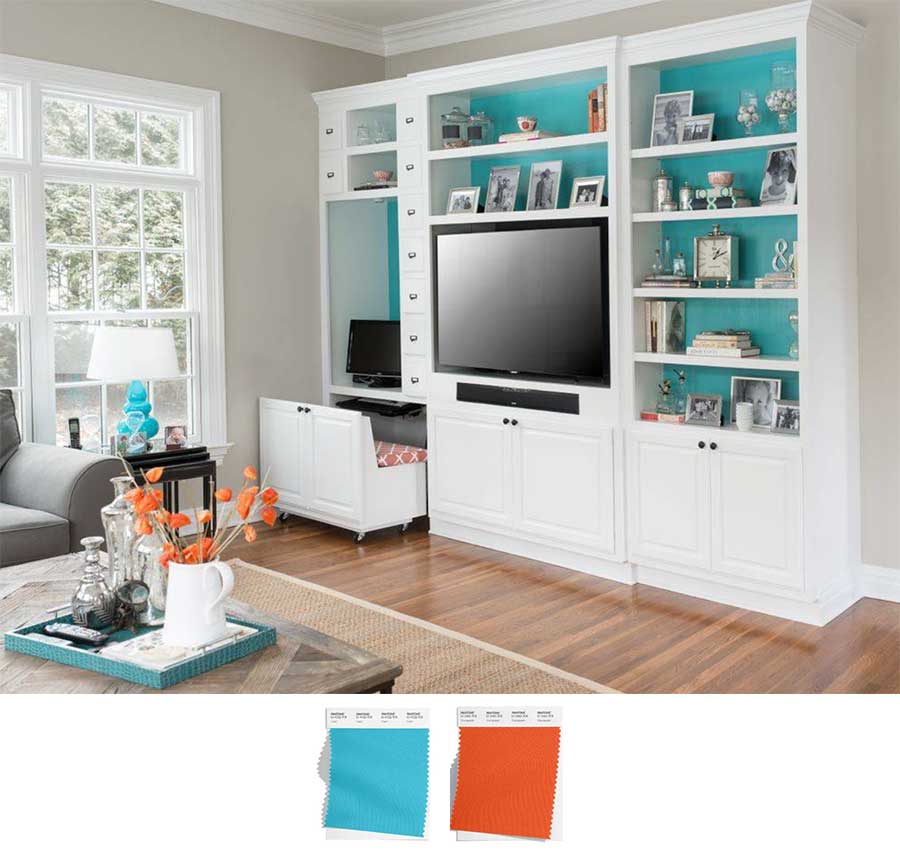 Creating Calmness
Busy days are inevitable. They can easily result in heightened stress levels. That is why it is crucial to develop a space in your home that is steeped in serenity. The "rules" of color encourage us to select colors that are in close proximity to each other on the color wheel. This dining room, for instance, excellently pairs blue and green. Mixing these two colors together is visually appealing and creates calmness in the space. There are cool accents with the gray tones from the ceiling, area rug, and wallpaper and the warmth of brown tones on the floors and furnishings. All of these colors come together to develop a respite from the busyness of life.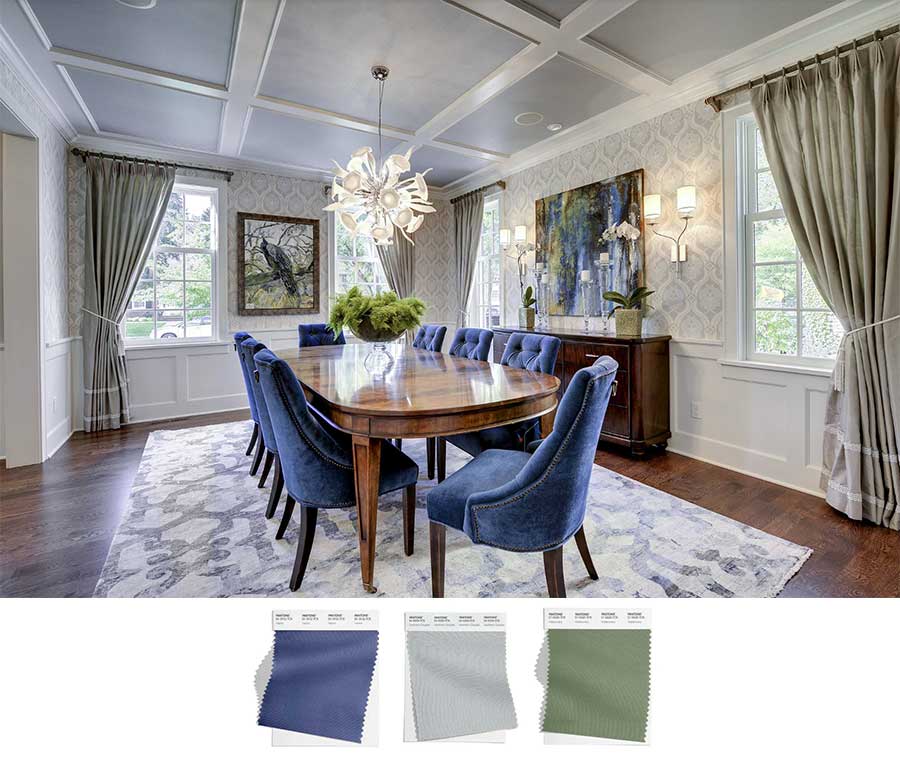 Make Them Say, "Wow!"
Each color family has something for everyone. The latest color trends champion self-expression. So why not take that step and express yourself and your style in your home? There are many ways that you can do this. Maybe you consider an accent wall. This bedroom's accent wall not only creates beautiful visual interest but expertly brings together three colors that one may not think to add together. The softness of the wall color paired with the cool and warm colors of the bed, curtains, headboard, and accent wall establish a look that will make your guests say, "Wow!"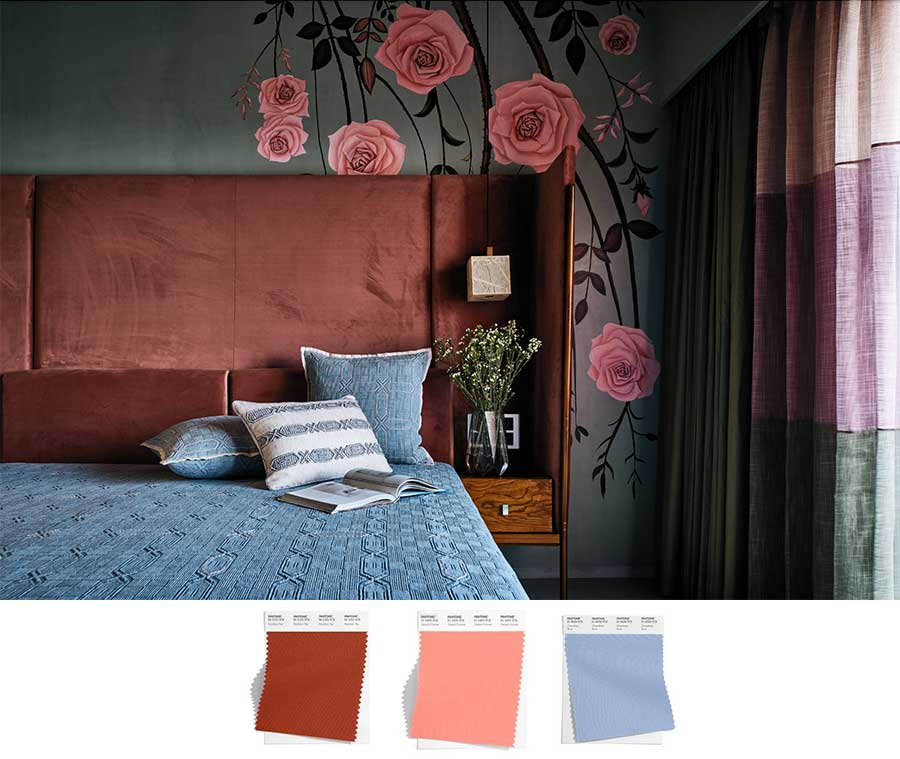 Make it Your Own 
After long days, it is a great feeling to come home to a space that feels like a sanctuary. Your home should bring you happiness and comfort. Think about what colors appeal to you. Did you find a chair that is the perfect shade? Maybe you have endlessly searched for draperies that match your accent pillows. Needless to say, the sky is the limit. Find what you like and add your own flair to it!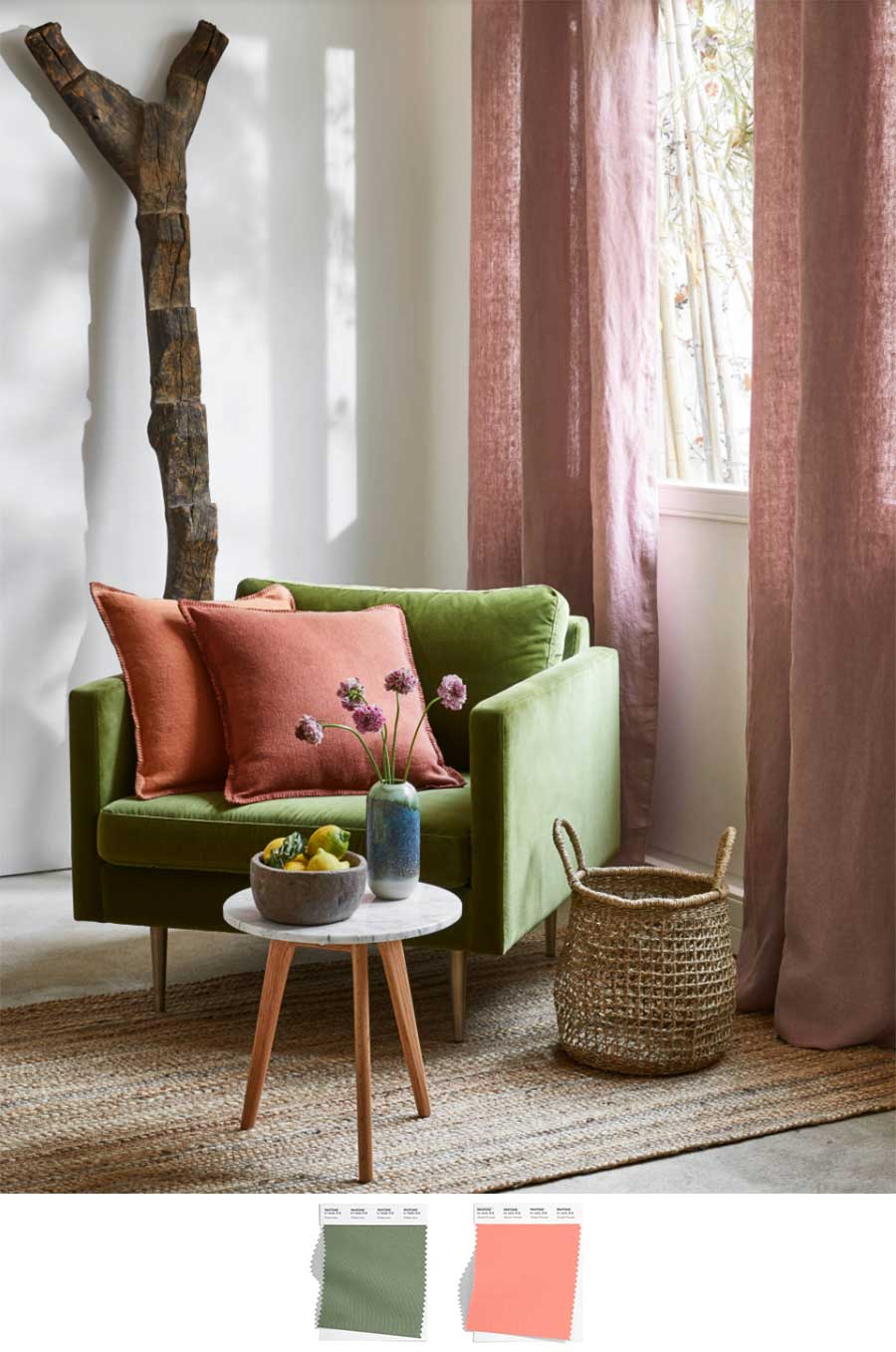 Ready to Incorporate the Latest Trends? 
When you start adding in the vibrant and classic hues of the Pantone Color Institute's top ten color palette for 2024, remember the importance of window coverings in these spaces as well! Not only are they the art of the window but they also provide your home with color, texture, and dimension. If you're interested in finding the perfect window coverings for your home, our team of experts at California Window Fashions is ready to help. Contact us today to schedule a free consultation.