Iris Apfel. Does that name ring a bell? While she's been loving life for nearly a century now, she's really only been in the spotlight since 2005. That's when the Metropolitan Museum of Art showcased a smashingly successful exhibit of clothing and accessories from her personal collection. Since then, she's captivated the design world with her confidence and charisma in both fashion and interior design. Style icon Iris Apfel exudes bold thinking and pure joy in everything she wears, decorates, and does. Wouldn't it be amazing to hear some style advice from this inspirational tastemaker? Well that's just what we have for you today! Take a look at these four lessons in design from style icon Iris Apfel…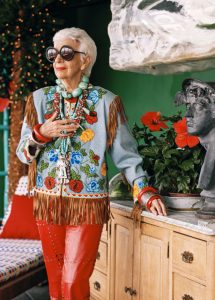 Source: Harper's Bazaar
#1 Express Yourself
Few things in life will bring you more joy than simply loving who you are. And few people live this out better than style icon Iris Apfel. Standing in her home or in her very presence you can tell she adores life and all the things that make her, well, her. From her wardrobe to her decor, Iris expresses all that she is and loves, and that brings her unending delight. So, think about all the things that make you unique. Think about the personality traits that run deepest within you. Think about what you love the most. Then, put all of those things on display! The result will be a home that looks and feels absolutely right to you. It'll be the gorgeous, personal space you've been dreaming of and that you most certainly deserve.
#2 Embrace Colors You Adore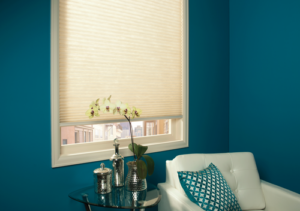 Right now, all types of colors are trending. Pantone picked vibrant "Greenery" as its Color of the Year 2017, while Sherwin-Williams went with a beautiful neutral in "Poised Taupe." Other companies are loving shades of purple-gray and even sunshine yellow. All that goes to show that the colors you love are truly a matter of taste. So, don't worry too much about what everyone else is doing. Surround yourself with hues that make your heart happy. Style icon Iris Apfel is the ultimate expert on that front. Her wardrobe and her home are filled with color combinations that are all her own. You can tell that she takes pleasure from living in them and loving them to the core!
#3 Fill Your Spaces with Stories
After 95 trips around the sun, style icon Iris Apfel certainly has no shortage of stories to tell. From growing up with a glamorous mother who owned a fashion boutique to traveling the world with her late husband Carl, Apfel's memories are a living part of who she is today. And, looking at photos of her Manhattan apartment, you can see so many of those stories and memories displayed throughout her spaces. That's the key to meaningful decor: telling your story. Let the furnishings, accents, and art in your own home reflect your history and adventures. It'll create an atmosphere that speaks to you and that offers up great conversation starters!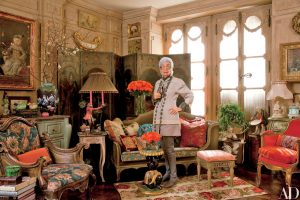 Source: Architectural Digest
#4 Dare to Do What You Love
When it comes to pearls of wisdom and insights on life, style icon Iris Apfel has a treasure trove. Here's one of our favorites: "You have to try it. You only have one trip. You've got to remember that:" So, dare to do what you love. Have a quirky design piece you adore hiding in your basement? Find a place for it, and display it proudly. Been wavering on whether to try a wild pattern you've had your eyes set on because you're not sure it fits with today's trends? Go for it! Apfel herself makes no apologies for her maximalist decorating style–which is the complete opposite of today's strive for minimalism. Her home is chock full of everything she loves, and it's fabulous! Your home is just that…yours. Don't be afraid to make it everything you want it to be.
Style Icon Iris Apfel…Be Inspired!
Iris's individuality, confidence, and zest for life is truly inspiring. So much so that Hunter Douglas decided to team up with her for fashion-focused innovation. Together, they're ready to help you improve the quality of your home and your life, and so are we! Our team of design experts here at California Window Fashions is dedicated to providing you with a customized, personal experience that'll help you enhance style, function, and happiness within your home and your life. Come visit us at one of our exclusive Hunter Douglas galleries, or invite us into your home. Contact us for your free, in-home consultation today!