When people think of this part of the country, they think of sunny days, warm weather, and gorgeous views. Bringing beautiful, natural light into our homes can be great, but it can also be disastrous. Consider a room transformation; one that will let you enjoy everything you love about this area, but won't negatively impact your atmosphere. It's all about lighting. Take a look at the room transformation in this before and after to see just how important lighting is for any space.
Perfect Design, But One Issue…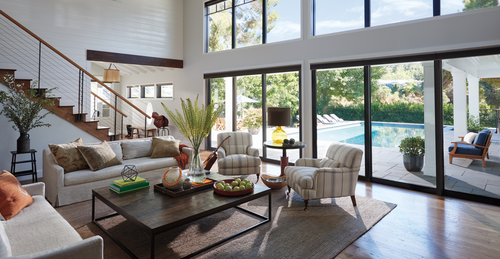 Take a look at this room. The furniture is laid out beautifully, the accent colors add life, and it features a designer style. But, this space needs a room transformation. Why? The windows. They're bare, meaning the entire atmosphere of this elegant room may be ruined. See how…
#1 No Light Control
As we said, this area sees bright, sunny days. It's impossible to control the amount of light that enters with bare windows. Imagine sitting in this room while the sun pours through the windows. You would have to squint to be able to see…not to mention the awful glare if working on a laptop or watching TV! Did you know that the sun can actually damage your decor? The UV rays shine onto your furniture and floors, causing them to fade. And, let's not forget about the heat…this space is sure to feel hotter than the outdoor weather. It's time for a room transformation.
#2 No Privacy
The view outside is amazing, but there is no privacy. Even though this space looks out into a private pool, it would be hard to feel comfortable and secure with wide open windows. Are your windows looking out onto a busy street or your neighbors' homes? You probably know how uncomfortable it can feel without control over your privacy. This home needs a room transformation!
Room Transformation: Control Your Atmosphere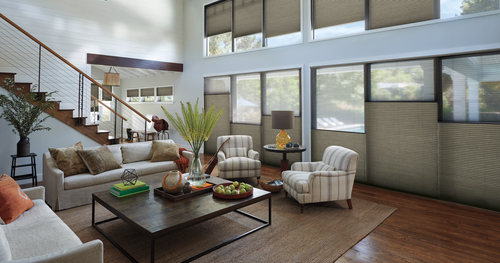 These homeowners chose Duette Duolite shades to gain control over their space. This room transformation took an uncomfortably bright and hot room, and turned it into a place of privacy, control, and beautiful style. By adding shades, the amount of sun that enters can be controlled. The view doesn't have to go away, either…simply adjust the window treatments to the desired level, or close them off for complete privacy. Because of these shades, the temperature is comfortable, the light is great, and the design is impeccable.
If you feel like you have no control over the environment of your home, it's time for a room transformation. California Window Fashions is here to help. Come visit our Hunter Douglas Gallery in Rocklin, CA or contact us for a free, in-home consultation. We'll walk you through solutions for your home. Let's get started!