The sun is out longer, the weather's warming up, and spring is upon us. Do you love opening your doors and windows to let in the fresh air? Although it's great to enjoy the sunshine, don't forget to cover sliding glass doors. If you have bare doors, you've probably struggled to control the environment of your space. Now's the time to enjoy the gorgeous weather and sun; don't let bare windows ruin your home's atmosphere. If you have bare glass doors, we have solutions. Take a look at what you'll gain when you cover sliding glass doors.
Incredible Function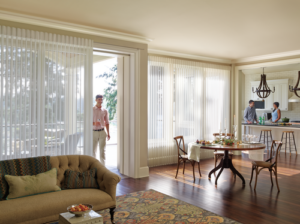 The most important feature of your sliding glass door is function. You probably don't realize how many times you slide the door open and close all day. When you cover sliding glass doors, it's important that the function is still great. Are they still as easy to use? Can your children open them safely? Will they damage the window treatments? These are all things to consider. Two of our favorite systems are motorization and push/pull control. If you choose vertical shades or blinds, use a wand to open, close, or rotate to your liking. Or, use a cordless system, like LiteRise, for horizontal operation. Motorization is also a great option, especially if you like the convenience of home automation. You can control both horizontal and vertical coverings with automation! Create a schedule to fit your lifestyle, or control your doors shades at the touch of a button.
Designer Style

It's important to consider the design of your home when you cover sliding glass doors. Which windows surround your glass doors? When you are deciding on the best window treatments for your doors, coordinate with the windows in the same vicinity. You don't need the exact same window treatments, though. It's all about the fabric you choose. We offer a variety of gorgeous fabrics, so it's easy to match to your home's decor. If you want the same type of window covering, like roman shades, add designer style to your home by changing the orientation. No matter what you're looking for, we'll help you find the perfect style combination for your home.
Comfortable Environment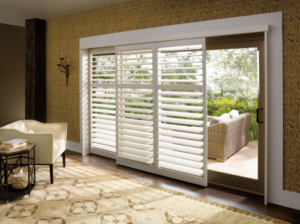 It's the perfect time to enjoy the outdoor weather, but it's also important to make sure your home environment is comfortable. Before you cover sliding glass doors, think about the issues that come along with having a bare door. The sun brightens your space, but too much light can be uncomfortable…not to mention the heat! Also, your furniture and decor is at risk of damage from the harsh UV rays. There's little to no privacy with bare glass doors, leaving you to feel uncomfortable. You deserve comfort in your own home. When you cover sliding glass doors, you gain control over light, temperature, and privacy.
Let's Cover Sliding Glass Doors In Your Home
Our team at California Window Fashions is here to help you cover sliding glass doors and find solutions for your home. Is there a certain style you love? Are you wondering which fabric will match best? Maybe you're unsure of where to start. We're here to help. Let us guide you to the best solutions for your home project. Contact us today at California Window Fashions to get started.