Living in beautiful, sunny California, we use our doors a lot. They are high traffic areas – friends and family in and out all throughout the day. Your doors, more than anything, need proper window coverings. Depending on the style and location, your doors may bring in light and air, just like windows. However, many homeowners don't have solutions for these tricky spots – either you believe it's not possible, or you don't think they will function easily. At California Window Fashions, we can prove these myths wrong! Find solutions that will provide window coverings for your doors with easy access for function, light control solutions, privacy – and don't forget about style! We have chosen some of our favorite solutions to feature below, but don't be fooled – there are many styles that will let you enjoy all the benefits you deserve with window coverings for your doors!
Luminette Privacy Sheers
For modern style, providing the ultimate experience in adjustable light control, Luminette Privacy Sheers are a great option when searching for window coverings for your doors and entryway.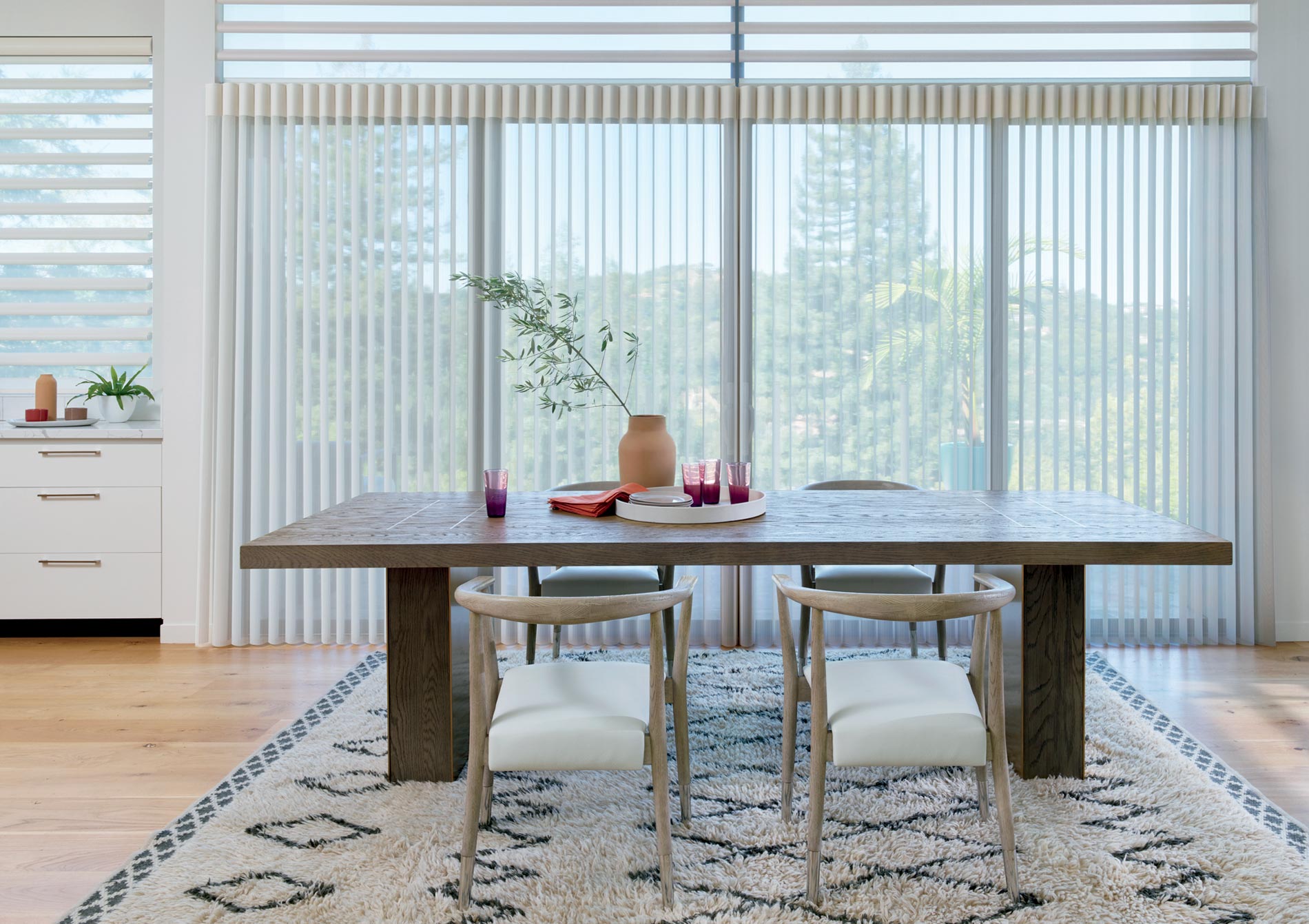 The unique design of adjustable window coverings means that the harsh light will be diffused, creating a well-lit space without glare. Modern innovation has also brought the luxury of motorization. Control your once out-of-reach windows with the push of a button on your wall plate, remote or favorite device. Use Hunter Douglas' Smart Shades, and watch the automation of your shades happen on a set schedule!
Duette Shades
For a contemporary, clean appearance, window coverings, like the energy efficient Duette Shades, allow you light control and privacy options with features of style to coordinate your home. Speaking of style, you can choose window coverings to either match or provide complementary design for your other window coverings in the same shared space.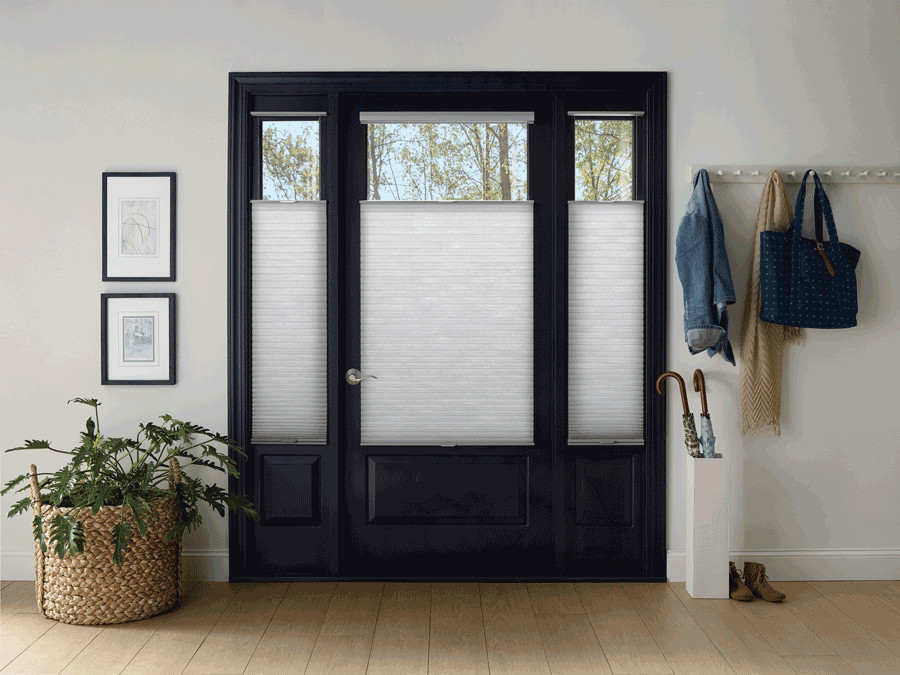 Window coverings that offer operating features of top/down, bottom/up, you can experience natural light filling your home, while still enjoying your privacy. Want more options for sidelights, or windows surrounding your entryway? Our design experts are happy to provide you with options of window coverings for your doors!
Solutions for French Doors & Patio Doors
French doors and patio doors are a beautiful addition to your home. They let the natural in, allow for heavy traffic and provide a beautiful view of your outside space.  Comprised of mostly glass, framed like your windows, they can provide frustration if you don't have some type of window coverings. Window coverings for your doors, specifically french doors and patio doors need to provide solutions to fit your lifestyle.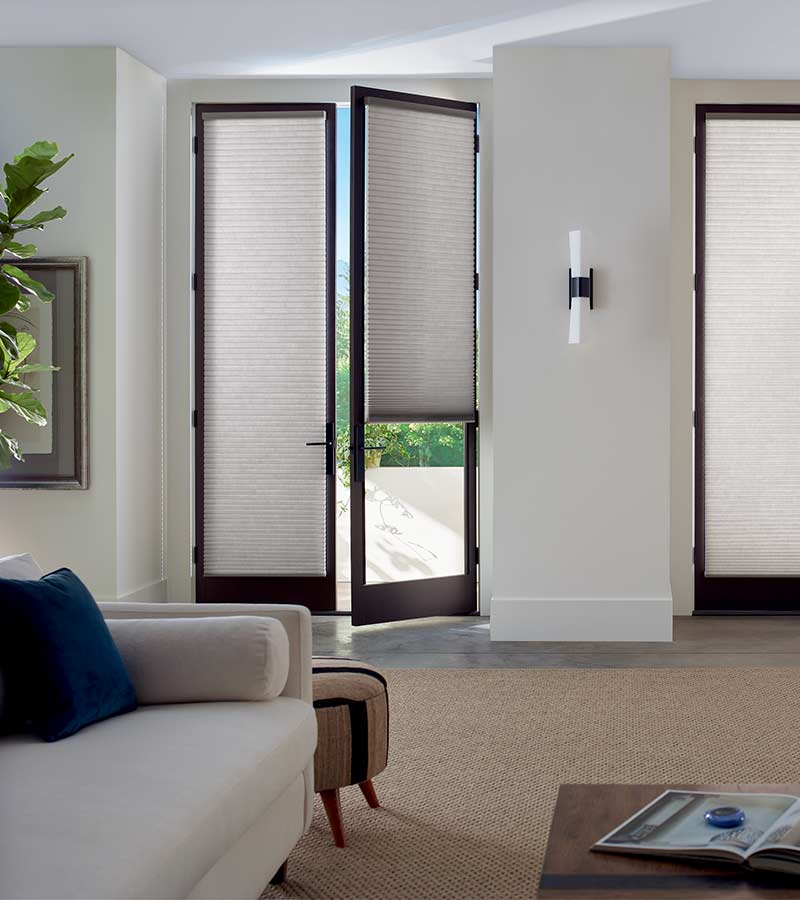 TrackGlide is an innovation that easily covers french doors and patio doors that are comprised mainly of glass. The track is slim, adhering to the edge of the frame, allowing the shade to adjust up, down and anywhere in between.
The Beauty of Shutters
The beauty and sophistication of shutters offers you home a unique, and highly customized, appearance. With handle cut-outs, you will use your doors as they have always been used.  The light control of your doors will be adjustable so you can direct sunlight, or simply block it out. The view-through will showcase the beauty of your outdoor space, while your doors are framed in the classic style of plantation shutters.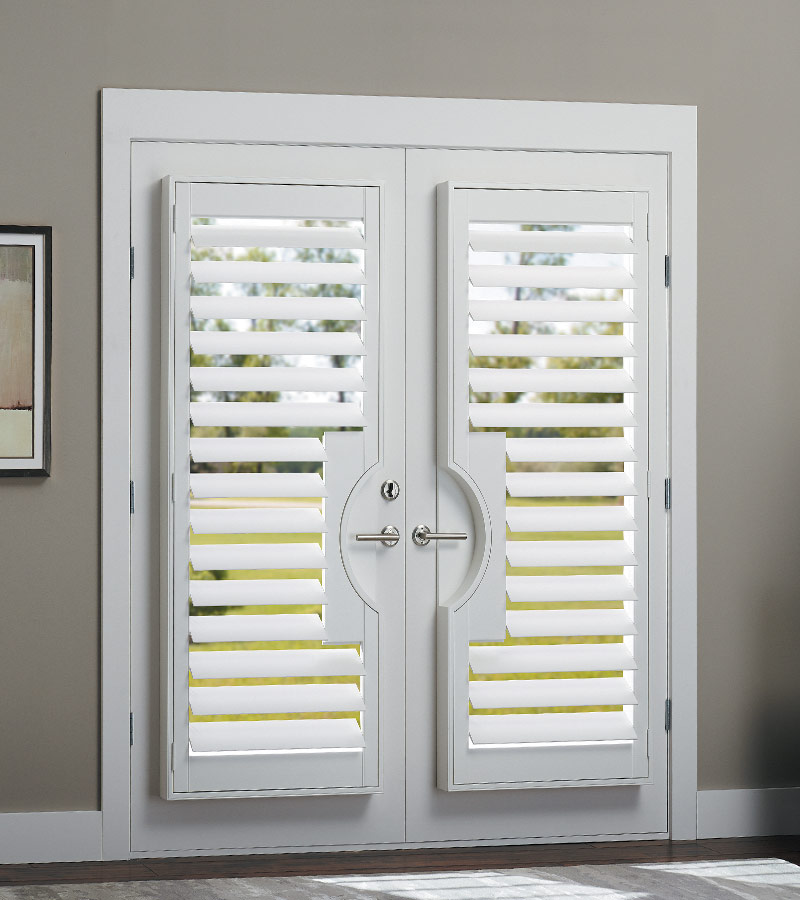 Light control, privacy and UV protection will be yours with simple, tilt adjustment. The only thing you need to decide is whether you want the clean, crisp appearance of white, or other popular painted shutters, or the traditional romance of wood. Customization will bring out the style of your home and complement your decor.
Vignette Modern Roman Shades
For the soft look of flowing fabric, these window coverings for your doors will rise and lower – just like any other window in your home. Vignette Modern Roman Shades are one of the choices that provide energy efficiency, light control, UV protection and privacy. They operate with the same features as window coverings, which make them an ideal choice for your french doors and patio doors.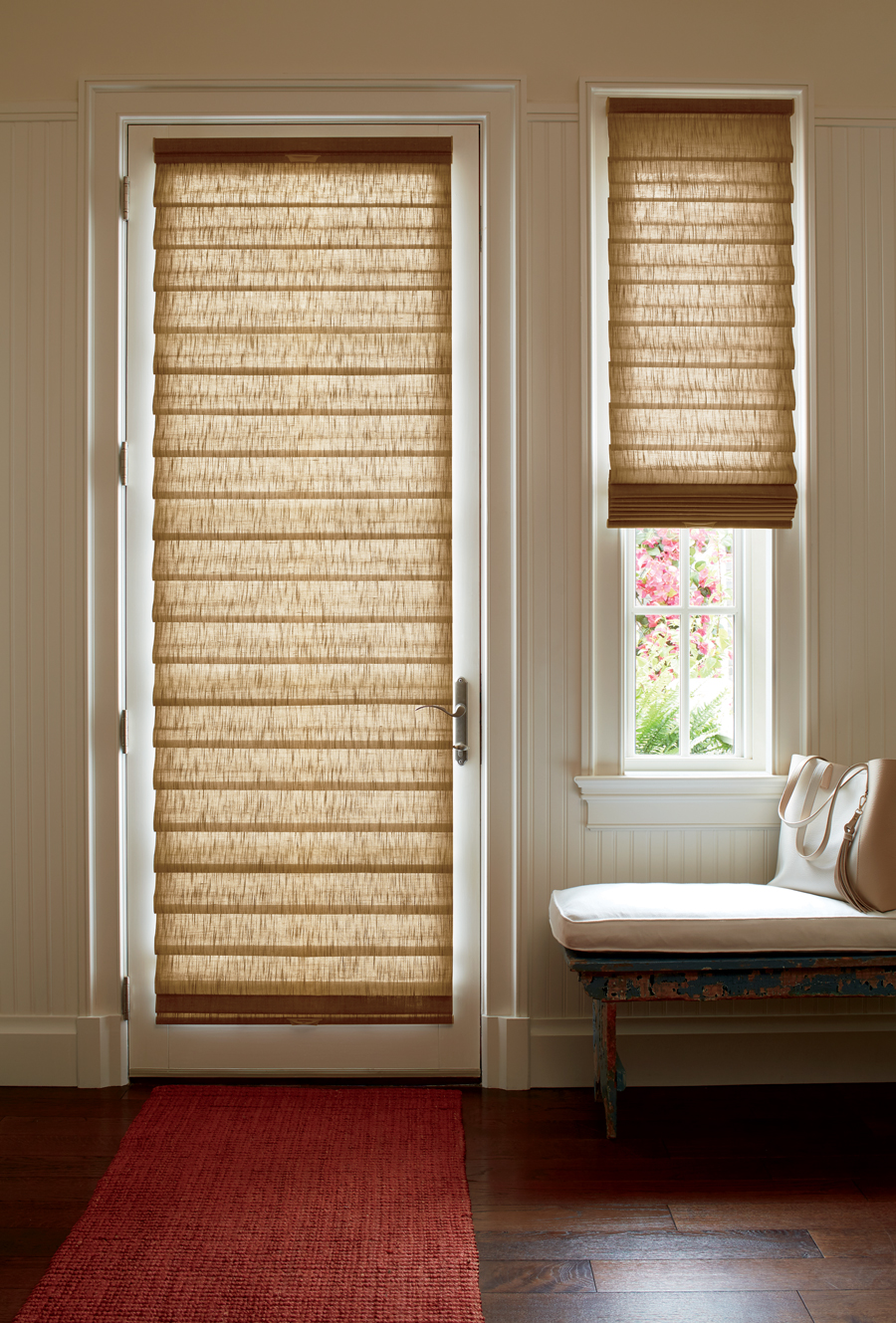 The fabrics and materials will provide designer appeal with style options to add to the beauty of your home by coordinating with elements of decor and other windows for a unique look. The low profile design will allow you to preserve the functional qualities of your doors to fit your lifestyle.
What Works for Sliding Glass Doors
Open, close, open, close. Sliding glass doors never stop. And yet – they can provide the same amount of sunlight as your largest windows. Using them constantly, while feeling the problems of uncovered windows is a challenge we tackle on a regular basis.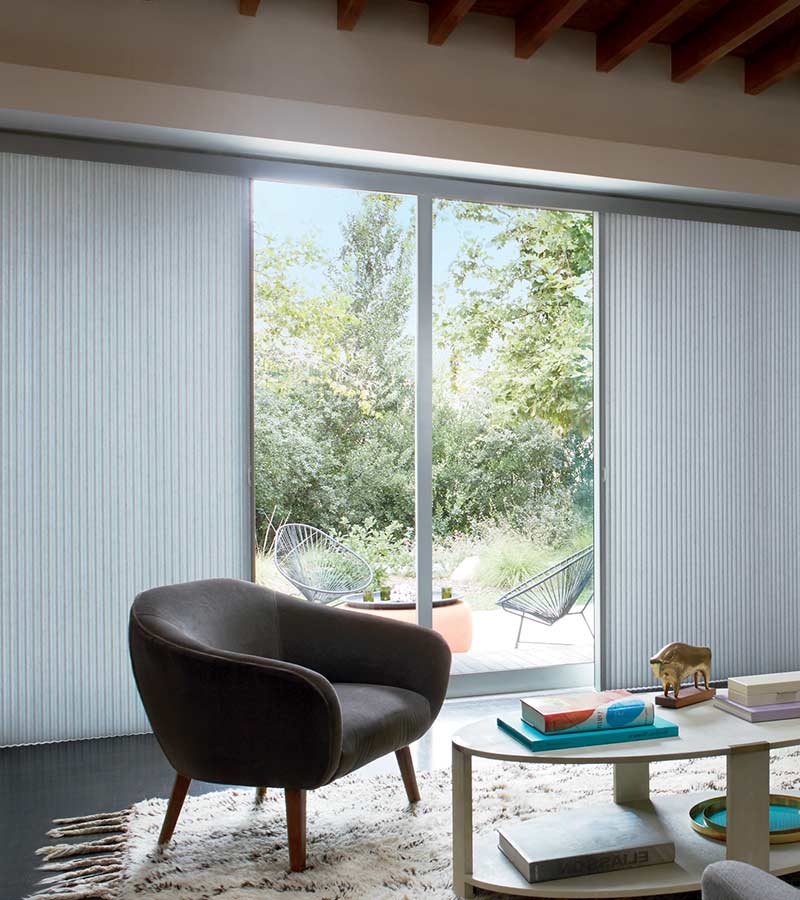 Skyline Gliding Panels
One of our favorite options for window coverings for your doors, when dealing with sliding glass doors, are Skyline Gliding Panels from our Alustra Collection. With the flip of your wrist, these panels zip open and closed. Easy peasy. Kids can function these, which makes them ideal for high traffic areas.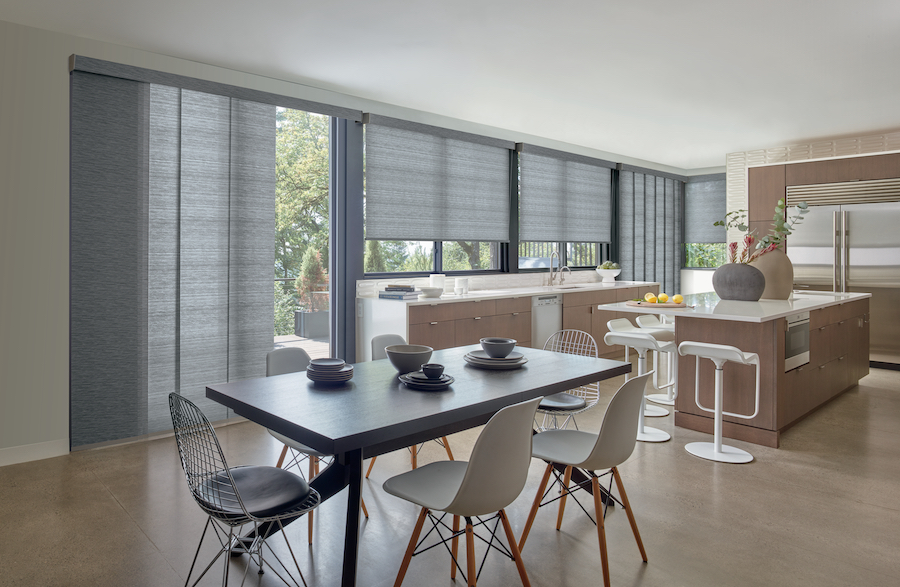 The materials used are durable and easy to clean. And the look of these wide panels offer contemporary appeal. Featured as an element of Hunter Douglas' Counterparts Design, you can complement other window coverings in the same space, bringing your home together with a polished appearance. Enjoy the light and landscape when you want; block it out when you need to.
Window coverings for your doors? No problem.
At California Window Fashions, we've got you covered! From sliding glass door solutions to entryway innovations, your home will never be the same with window coverings for your doors. Experience the light control, privacy and design you've always dreamed of, as we customize window coverings for functional use and the perfect atmosphere to fit your lifestyle! Contact us for a free, in-home consultation.