Does the morning sunlight flood your bedroom when you're trying to sleep in on the weekends? Do you feel like your neighbors can see directly into your home? Are your current blinds old, outdated, or not your style? It may be time for a home transformation using design help from experts. That's where we step in. Our expert designers will make it easy to select fabrics, solutions, and products for your home. We know you may be hesitant, but don't let these common worries stop you from transforming your space.
#1 Embarrassing, Outdated Blinds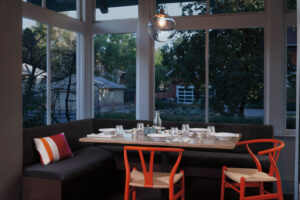 Are you living with window treatments that the previous owner of your home chose? You shouldn't be! They represent their style, not yours. Don't be embarrassed by old window treatments. Are your windows completely bare? That's okay! With our design help, we'll give you the style and function you've been needing. It's all about features, function, and fashion. What's your style? What features are you interested in? Tell us what you're looking for, and we'll take it from there.
#2 A Messy House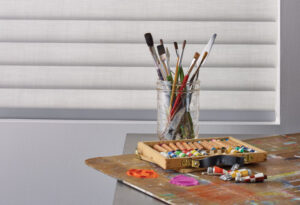 Feeling nervous about inviting visitors over because your house is too messy? We don't mind at all–we promise! Don't worry about the dishes in the sink, piles of laundry laying around, or even your child's half-eaten breakfast. Leave it all, and invite us in to show you life-changing solutions for your home. It begins with your windows and doors. Gain the control you've been craving with window treatments. Slide over those uneaten pancakes, and sit down with us. We'll work together to find the best solutions for your lifestyle.
#3 Too Many Choices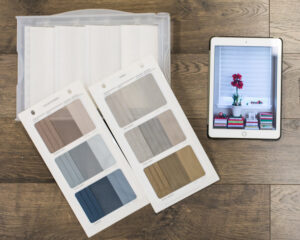 We know, it can be difficult to decide which window treatments are best. There are so many blinds, shades, and shutters, as well as fabrics and features. Where do you begin? By getting design help from our experts! Don't waste time scrolling through an online gallery, or troubling yourself with crowds at your local big box store. Instead, experience your options in the comfort of your home. We'll come to you for an in-home consultation. Your designer will walk you through different ideas and narrow down choices to fit your desires. Just tell us what you're looking for, and we'll take care of the rest.
Ready for Design Help?
You've been wanting to explore your options for new window coverings, but you don't know where to start. Set your worries aside and invite us over for design help. Work one-on-one with an expert designer to figure out what styles, features, and functions work best for your home and lifestyle. Plus, we'll make your shop-at-home experience fun and relaxed. Let's figure out what you need to revamp your home–together. Contact our team at California Window Fashions today to schedule your free, in-home consultation.